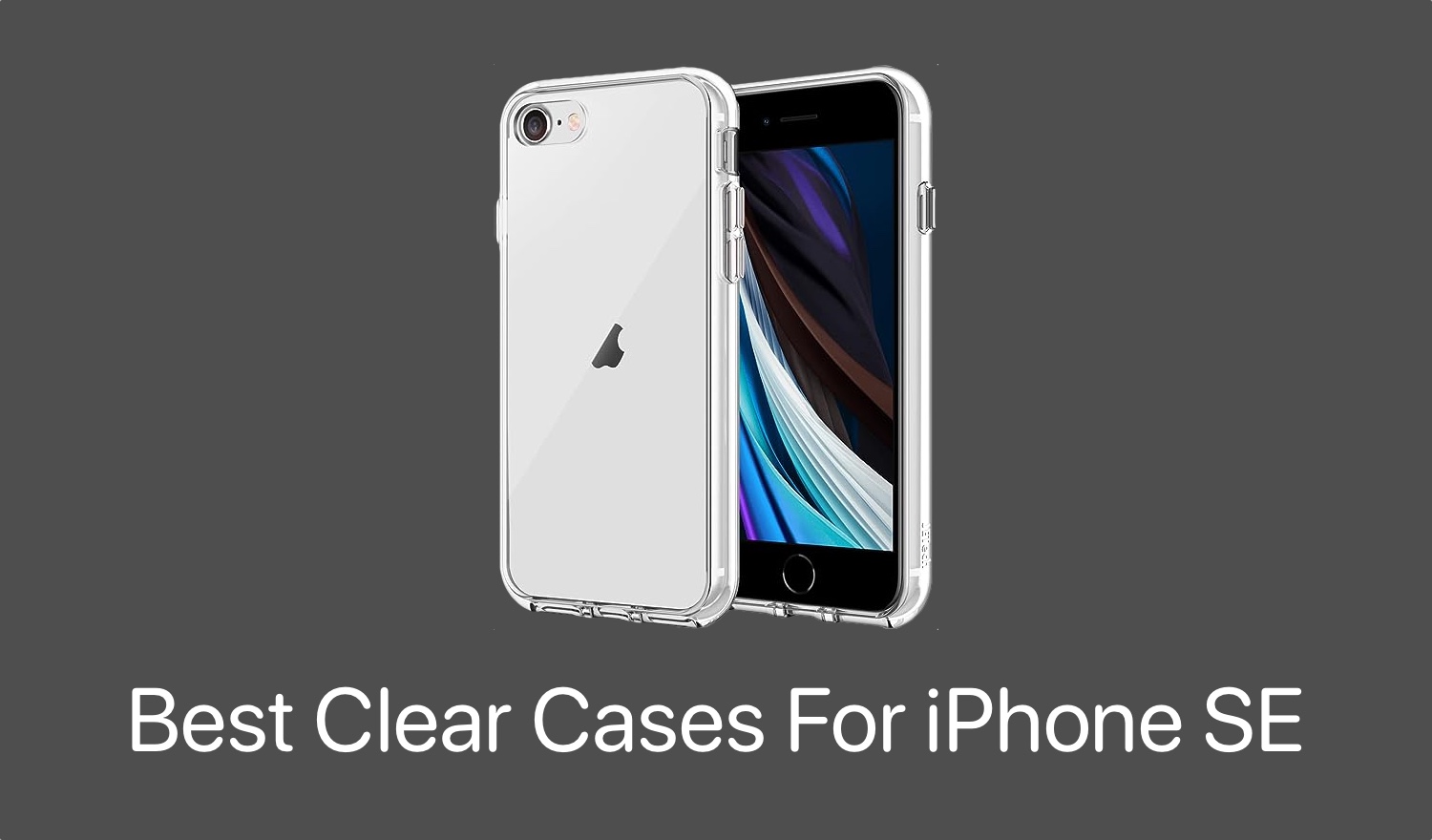 Best Clear Cases For iPhone SE 3 In 2023
In this buying guide, we'll dive into the top-notch iPhone SE clear cases that blend protection with style, ensuring your device remains as stunning as the day you unboxed it.
Your iPhone SE is a pocket-sized powerhouse, no doubt about it. With its compact size and impressive performance, it's a phone that's got your back in the tech world.
But in a world where beauty meets fragility, you'd also know that safeguarding this gem is a top priority.
Let's be real – no matter how powerful iPhones get, they're not invincible. Whether you're a self-proclaimed klutz or just want to keep your device new and pristine forever, a clear case is your phone's new best friend.
As many different iPhone models share the same design, you can use all of these cases on the following models.
iPhone SE 3
iPhone SE 2
iPhone SE
iPhone 8
2023's Must-Have iPhone SE 3 Clear Cases
The sleek lines, the vibrant colors, the iconic Apple logo – all on full display, protected by a barely-there shield. A clear case adds a layer of personality to your iPhone, making it the perfect accessory – subtle, complementary, and totally your style.
We've scoured the options, scrutinized the designs, and tested the durability, all to bring you the lowdown on the most stylish, protective, and downright irresistible clear cases out there. Let's discuss each in detail:
1. JETech iPhone SE Clear Case
JETech iPhone SE 2022 clear case is all about providing top-notch protection without compromising on style. Designed for iPhone SE 3/2, iPhone 8, and iPhone 7 with a 4.7-inch screen, it's tailored to fit your device like a glove.
Crafted from a combination of PC and TPU materials, it's not just tough but also lightweight and slim. You won't feel like you've added extra bulk to your sleek iPhone SE. However, its winning feature is the inner tiny dots design. This prevents that annoying watermark effect that can happen with some clear cases, leaving your phone's back and sides looking flawless.
The raised bezels provide the much-needed barrier, guarding the screen and camera against scratches and minor drops. Plus, its unique shock-absorption design at the four corners helps to cushion your phone from those unexpected bumps. 
Moreover, with perfect cutouts for speakers, camera, and other ports, you'll have no trouble accessing all the controls and features of your iPhone SE. 
Buy the JETech iPhone SE Clear Case at a price of $9.99.
2. OtterBox iPhone SE Clear Case
For those who want extra protection, the OtterBox clear case for iPhone SE in 2023 is a solid choice. It's known for its rugged durability and drop protection. Plus, it's clear, so your iPhone SE's aesthetics aren't hidden. What sets it apart? Well, it's ultra-sleek, adding minimal bulk to your phone, making it pocket-friendly and stylish.
The wireless charging compatibility is where this case wins the game. You don't have to remove the case every time you want to juice up your phone wirelessly. This case takes away that inconvenience, giving you nothing but ease.
Now, let's talk protection. This case is more than just a pretty face. It's built tough with dual-material construction, ready to absorb shocks and withstand drops. The raised beveled edge adds an extra layer of safety by keeping your touchscreen and camera away from direct contact with surfaces.
Oh, and if the mood strikes, OtterBox offers this case with various patterns and solid colors – you get to choose what suits your style best.
Buy the OtterBox iPhone SE Clear Case for $25.96 here.
3. ESR Air Armor iPhone SE Clear Case
ESR's Air Armor iPhone SE clear case strikes a balance between protection and style. It's designed to be lightweight while offering excellent drop protection. And the clear back lets your iPhone SE's color shine through.
Boasting the shock-absorbing Air-Guard corners, these nifty corners are like your phone's personal bodyguards absorbing the impact of drops and bumps, so your precious device doesn't have to bear the brunt of it. Whether it slips out of your hand or takes a tumble from your desk, these corners have you covered.
Thanks to hybrid protection, it combines a hard acrylic back with flexible polymer sides, ensuring your iPhone SE is shielded from all angles. So, you get that robust protection without compromising on the slim profile of your device.
A bonus? The scratch-resistant hard acrylic back. It not only keeps your phone looking brand new but also resists those annoying scratches that can mar your device's appearance over time. 
Buy the ESR Air Armor iPhone SE Clear Case for $9.99 here.
4. TENOC iPhone SE Clear Case 
TENOC's clear case for iPhone SE 2022 is an affordable option for keeping your phone safe. It's slim, easy to install, and provides basic protection against scratches and minor bumps. Plus, it won't yellow over time and you don't have to compromise on style when you choose protection with this case.
Speaking of protection, the TENOC case is no slouch in that department. While it maintains a slim profile, it's not flimsy. It's designed to absorb shocks and protect your phone from scratches. This means you can confidently carry your iPhone without worrying about everyday bumps and knocks.
Installing and removing the case is a breeze, thanks to the soft TPU material it's made from. This flexibility makes it easy to put on and take off when needed. Plus, it features precise cutouts for your speakers, power port, audio port, and buttons, ensuring that all your phone's functions remain easily accessible. It's a fantastic value for a case that combines looks and protection.
Buy the TENOC iPhone SE Clear Case for $3.99 here.
5. MATEPROX iPhone SE Clear Case 
MATEPROX transparent case for iPhone SE 3 takes clear cases up a notch with its elegant design. This case isn't just your average cover; it's a clear shield with some serious advantages.
This case is clear, thin, and sleek – a perfect fit for your pocket and your style. Made exclusively for the 4.7-inch iPhone 7, 8, and SE, it wraps around your phone with a touch of seamless style. The graphics and colors seamlessly integrate, giving your device a fresh and polished look.
Now, let's talk protection – it's all about heavy-duty defense. The bumpers are crafted from shock-absorbent TPE materials, combined with a rugged clear PC back. This duo provides complete 360° protection, safeguarding your device from everyday knocks and accidents.
The case features shockproof air cushions at all four corners, thanks to the TPE material. These cushions act as buffers, ensuring that your iPhone stays safe no matter which angle it takes a tumble from. 
Buy the MATEPROX iPhone SE Clear Case for $13.99 here.
6. Elago iPhone SE Clear Case
Elago's anti-yellowing iPhone SE case offers a simple, transparent look for your iPhone SE. It's slim and lightweight, preserving the phone's slim profile. The precise cutouts ensure easy access to all ports and buttons.
What sets it apart? Well, for starters, it's designed in-house from scratch. That means it's not a generic, mass-produced case; it's a carefully crafted accessory tailored specifically for your iPhone SE. From concept to the finished product, every step is overseen in-house to ensure you get a case that fits perfectly, offers superb drop protection, and looks fantastic. 
The clever combination of two materials: polycarbonate and TPU creates the Elago Hybrid case, a powerhouse that provides incredible everyday protection. It's your shield against drops, dirt, dust, and oil. You can count on it to keep your iPhone SE safe in various situations without adding unnecessary bulk.
Buy the Elago iPhone SE Clear Case at a price of $7.99 here.
7. HOOMIL iPhone SE Clear Case
Last but not least, the HOOMIL clear case offers a great mix of protection and functionality. One of the best clear cases for iPhone SE, it has shock-absorbing corners, a slim profile, and a raised edge to keep your screen safe.
What makes it one of the best cases is its crystal clear transparency, which not only showcases your iPhone's design but also boasts anti-yellowing technology. With this case, you won't have to worry about it turning yellow over time, ensuring it stays looking brand new.
Crafted from a combination of flexible TPU and rigid PC materials, it offers a comfortable grip that feels just right in your hand. This blend of materials strikes a balance between durability and comfort. Featuring four-corner shock absorption, it's designed to effectively absorb shocks and impacts, providing extra protection to your iPhone. 
Additionally, the raised edges around the screen and camera add another layer of security, ensuring they're fully shielded from flat surface impacts.
Buy the iPhone SE Clear Case for $11.96 here.
Clear and Secure
Remember that not all clear iPhone SE Clear Cases are created equal.
From the minimalist charm of JETech to the rugged embrace of OtterBox, each case has its own flair and features. Consider your lifestyle, preferences, and how much protection you need before making your pick.
But here's the golden rule: never compromise on quality.
Your iPhone SE is an investment, and its protection shouldn't be an afterthought. With 2023's array of clear cases, you can rock your style, ensure your phone's safety, and do it all without covering up that Apple elegance.