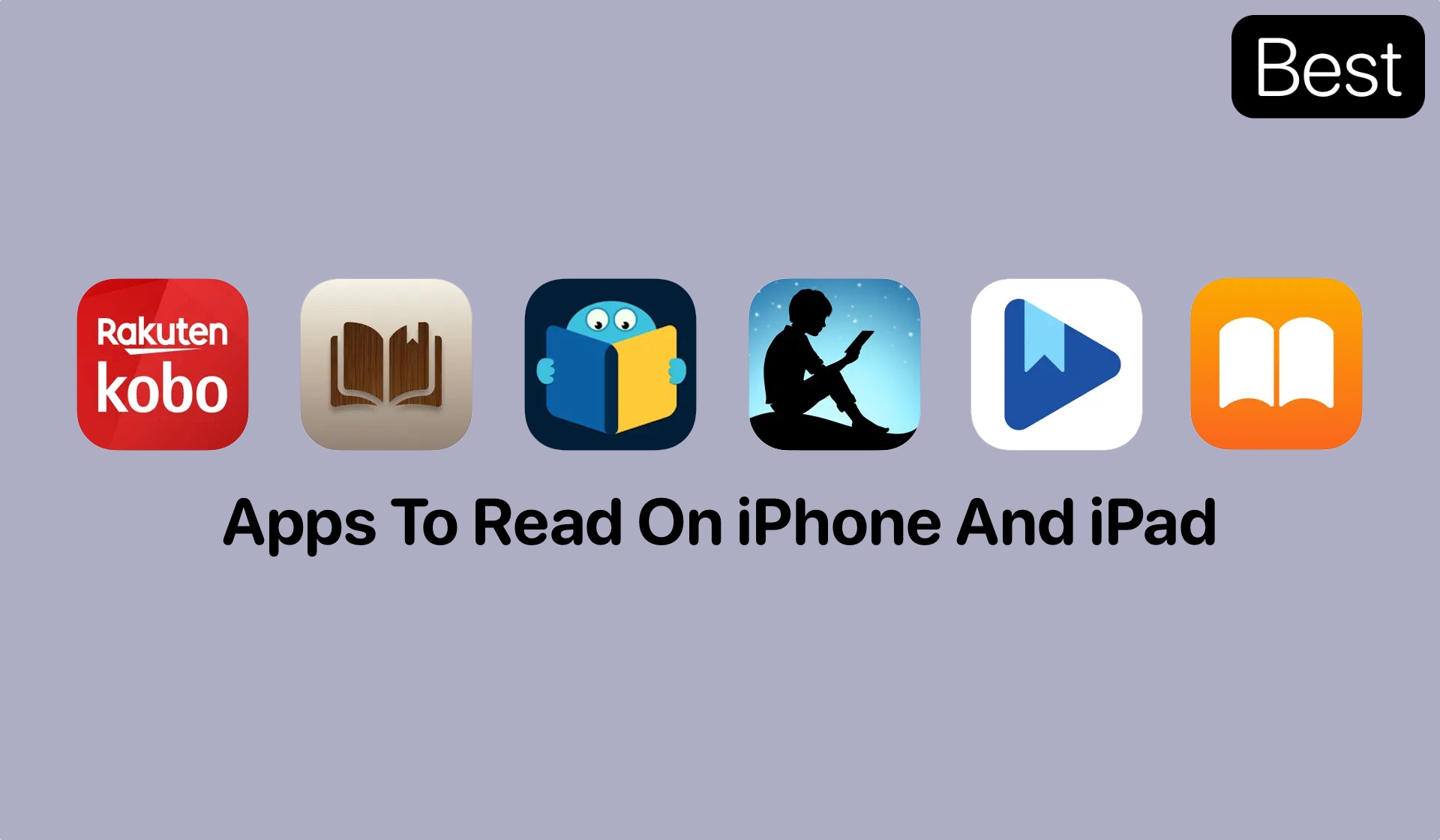 Best Apps To Read Books On iPhone And iPad
In this article, we have listed the best apps to read books on iPhone and iPad as we introduce you to a realm where pages are pixels and stories come to life with the swipe of a finger.
As the sun sets on traditional bookstores, paperbacks seem to be putting on their fanciest attire – complete with hefty price tags. It's like they're preparing for a posh party, but the guests (that's us) are left wondering if we can even afford the entry fee.
The dilemma that's puzzling book enthusiasts everywhere is this: do we sacrifice our budget for the love of paper and ink, or do we embrace digital alternatives that come with their own perks?
If you're up for the latter option, then you're in the right place.
Page-Turners on the Go: The Best Book Reading Apps for iOS
Gone are the days of lugging around bulky (and pricey) tomes – now, the library comes to you, fitting snugly in your pocket or nestled in your bag. 
The scent of pages might be missing, but the thrill of flipping through tales, exploring new realms, and losing yourself in characters' lives? It's all here, and it's even more enchanting.
So, are you ready to unwrap the literary delights that await you?
1. Amazon Kindle
Amazon Kindle is an iPad book reading app that needs no introduction in the bookish world. It's like having a library in your pocket where you can get lost in a world of genres, from romance to sci-fi, and everything in between. 
With over six million Kindle books, magazines, and comics, you're spoiled for choice. Love Audible narration? No worries, we've got you covered. You can explore Amazon Charts' best sellers, browse genres like romance, sci-fi, kids' stories, and even self-help. And guess what? You can sample a book for free before deciding if it's the one for you.
Plus, you can adjust text size, choose your preferred font, tweak margins, and even decide if you want to scroll or turn pages.
For Kindle Unlimited and Amazon Prime members, this is the best app to read books on iPhone. Dive into over 1 million titles, grab audiobooks, and devour current magazines – it's a buffet of words waiting for you.
Download Amazon Kindle now.
2. Apple Books
Ah, the Apple Books app – the minimalist's dream. With a sleek interface and an impressive collection, this app to read on iPad makes reading an art. Breeze through both classics and modern bestsellers, all while marveling at how your device magically transforms into a virtual library.
With the best app to read books on iPhone, it's your portal to a boundless library where bestsellers, classics, and hidden gems await your eager eyes. We're talking fiction, nonfiction, mysteries that'll make your heart race, and those cozy romance novels that you can't get enough of.
Preview books and audiobooks as you browse, find free samples, sync up seamlessly with iCloud, and personalize your reading experience.
If you're into audiobooks, Apple Books delivers a great collection of audiobooks. From actors to authors, these voices will transport you into the heart of the narrative, making your daily commute or workout sessions fly by.
Download Apple Books now.
3. Google Play Books & Audiobooks
Switch between reading and listening seamlessly. Long commute? Turn it into a storytime adventure. Plus, the customization options are so cool, you'll want to redesign your bookshelves IRL.
It's as easy as flipping a page – or should we say, tapping a screen? Dive into this vibrant app, available for your trusty iPhone, iPod Touch, or iPad, and let the adventure begin. With a library brimming with millions of titles, your literary cravings are about to be satisfied in more ways than one with the best app to read books on iPhone.
Got a busy schedule? Download your chosen book – whether it's an enthralling novel or a gripping audiobook – and enjoy it on the go. Picture yourself immersed in a story while commuting or catching a breather at your favorite café. Plus, when you're done, this app to read books on iPhone offers personalized recommendations for your next literary escapade.
Download Google Play Books & Audiobooks now.
4. My Books
Let's get personal with My Books – an eBook app for iPhone that tailors itself to your taste. It's like a literary matchmaker, suggesting reads you'll fall head over heels for. 
Dive into the delightful world of 50,000+ eBooks and audiobooks, and get ready to meet your new fictional bf using the best app to read books on iPhone. We're not just talking about a handful of genres here – we're talking about everything from epic novels to enchanting fairy tales. 
Fancy some classic literature? Ulysses and the Adventures of Sherlock Holmes are waving hello. Curious about books that once caused a stir? Our "Banned Books" section has got your intrigue covered.
But if you want to give your eyes a break and let your ears do the work then head over to My Books' audiobook collection. Listen to timeless tales even when your eyes are too tired to read, and hey, you might just become an expert multitasker.
Download My Books now.
5. Kobo Books
Travel the world through words with Kobo Books. It's a global treasure trove, offering titles from all corners of the earth. And the best part? The iPad book reading app's ComfortLight feature ensures your bedtime stories won't keep you up all night.
One of the best apps to read books on iPhone, get access to over 6 million titles right at your fingertips. From heart-pounding thrillers to heartwarming romances, there's something for every kind of reader and listener. 
With millions of readers around the world, you're in great company. Once you're in, start browsing the digital shelves, pick your next literary adventure, and with a simple click, make it yours. Bought an eBook or audiobook? It magically appears in the app, ready to transport you to distant worlds or whispered stories.
You can customize your reading experience to your heart's content. Choose the text size and style that tickles your fancy. Flip the screen however you like – portrait or landscape, just like a choose-your-own-adventure for your device.
Download Kobo Books now.
6. Oodles Books & Audiobooks
Oodles Books & Audiobooks is a true hidden gem, offering a treasure trove of 50,000 free books and audiobooks. It's the ultimate reading buddy, always ready to entertain you, day or night.
First off, you can cozy up with literary legends without spending a dime. Yep, you heard that right – Oodles lets you read books from some of the world's most renowned authors without costing you a cent. Talk about the best apps to read books on iPhone.
With more than 100 categories to explore, you're in for a smorgasbord of reading options. Whether you're into heart-pounding thrillers, swoon-worthy romances, mind-bending science fiction, or sidesplitting humor, the Oodles app to read on iPad has something that'll tickle your fancy.
Moreover, Oodles lets you carry your library with you, wherever you roam. Even when you're off the grid, you can still lose yourself in a good book – simply download and read offline. And guess what? The audiobooks join the offline party too, making those long commutes a whole lot more enjoyable.
Plus, if you're a lover of languages, Oodles offers books in a variety of tongues – Chinese, German, French, Spanish, and many more.
Download Oodles Books & Audiobooks now.
Unlock Your Bookish Fantasies
The world of reading has undergone a metamorphosis, and we've unveiled the secret passage that leads to this new realm of literary delight. 
Whether you're a nostalgic bookworm who can't resist the feel of pages or a tech-loving trendsetter who's all about the digital wave, the best apps to read books on iPhone have got you covered.
Leave behind the days of carrying stacks of novels in your bag – now, your pocket holds entire libraries, waiting to be unlocked with a tap.