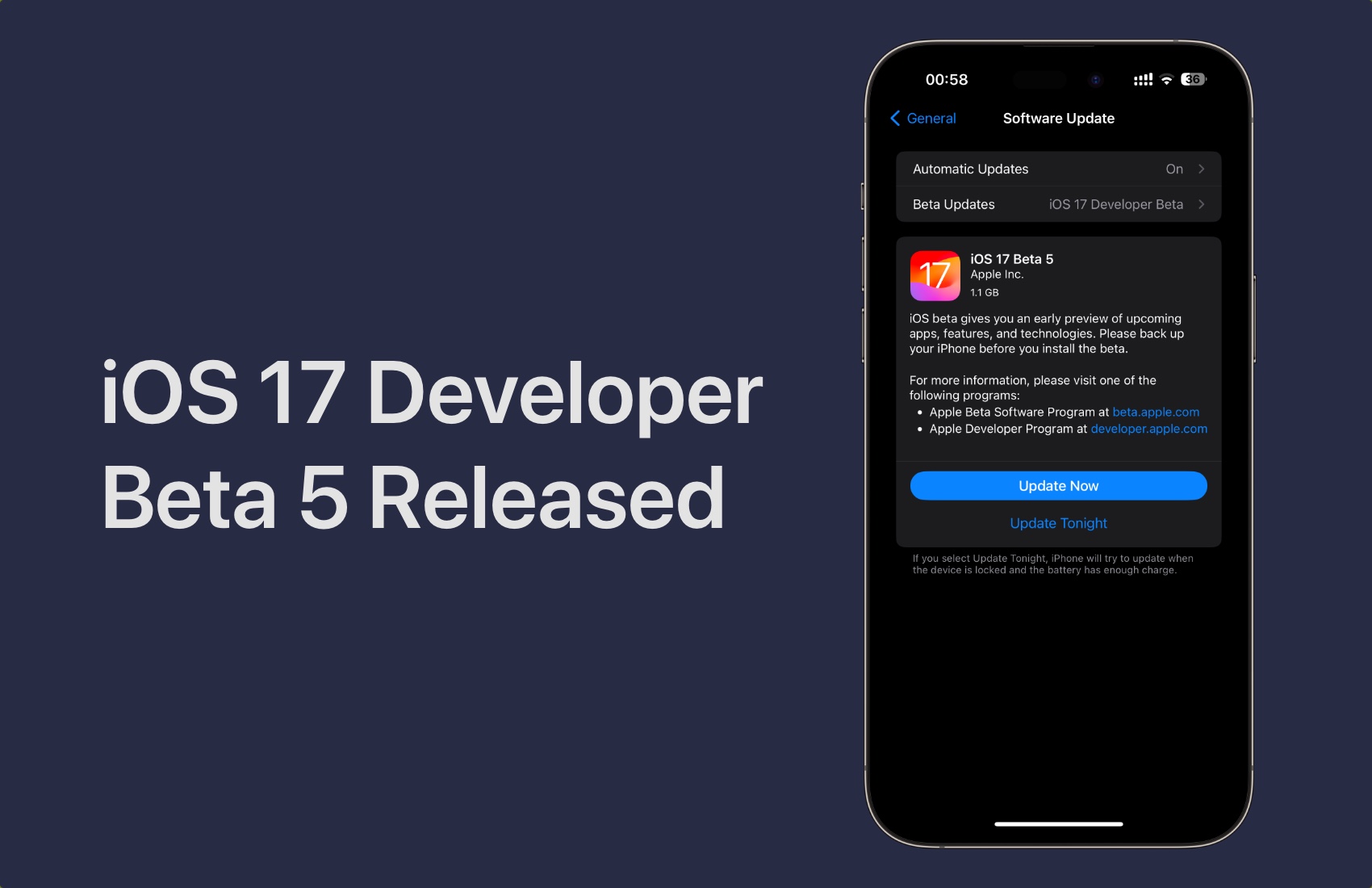 Apple Releases iOS 17 Developer Beta 5, Here's What's New
Apple has released iOS 17 developer beta 5 and the update is now available for download. If you are running iOS 17 developer beta on your iPhone or iPad, then you can head over to the software update section of your device in order to download the new release.
iOS 17 developer beta 5 is accompanied by iPadOS 17 developer beta 5, macOS Sonama Developer beta 5, tvOS 17 developer beta 5, and watchOS 10 developer beta 5. Apple has also released new AirPods Developer Firmware for iOS 17 beta users.
With this fifth installment of the iOS 17 developer beta, we are heading closer to the public release of iOS 17, which is scheduled for the mid of September.
Anyone who wishes to try out iOS 17 or wants to participate in iOS 17 developer beta can download the developer beta on their devices.
Apple no longer requires users to have a paid developer account in order to download the developer betas, as users can simply create a free Apple developer account and install all of its developer beta offerings.
Changes in iOS 17 Developer Beta 5
Apple's new Live Voicemail feature now features an amended message prompt for people who are calling you, making the feature less confusing than before. While in previous betas the person calling you heard the text "the person you're calling may pick up", the updated text now says the following:
"Your call has been forwarded to voicemail. The person you're trying to reach is not available. At the tone, please record your message. When you have finished recording, you may hang up."

via MacRumors
A new splash screen has been introduced for the private browsing feature. The splash screen explains the feature to the user and gives them the option to turn this feature on.
In the App Store app the Get, Open, and Update buttons no longer feature all uppercase text. The button labels are now in title cases, which gives them a cleaner look.
A new popup in Control Center's Remote app has been added that introduces the Apple TV locate feature to the user.
A new graphic is displayed when opening the Health app's Mood Tracking feature. Other cosmetic changes have also been made to the colors and symbols used for each mood.
New Shortcut app icons for Safari actions have been introduced. Now each Safari-related option has a new icon that is more relevant to what the action does.
Messages app's Check In feature's example screen that shows what information will be shared with your family and friends now shows the battery charge and iPhone locking information.