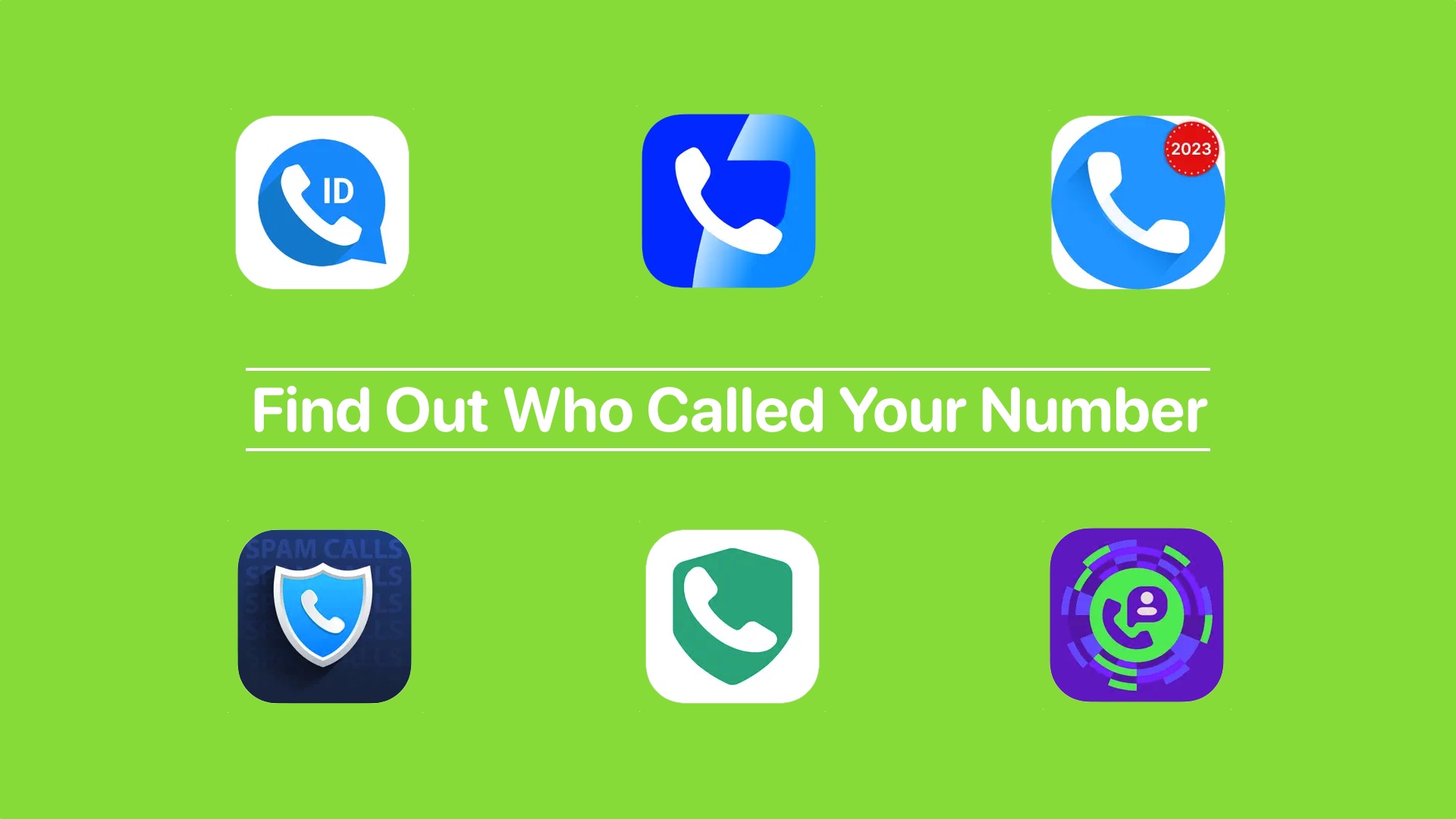 Best Apps To Find Out Who Called Your Number
Ever experienced that mysterious missed call, leaving you in a suspenseful limbo of curiosity? The quest to unveil the enigma behind those unidentified numbers is a universal riddle we've all tried to solve. Whether it's a potential missed connection or just your long-lost pizza delivery guy trying to reach you again, the intrigue is undeniable.
Fortunately, we live in an age where technology not only keeps us connected but also aids in unraveling the mysteries of our incoming calls.
In this digital era, where information is power, we've sifted through the app store haystack to find the caller ID apps for iPhone that will not only tell you who's calling but might just turn your phone into a detective's magnifying glass.
Another major benefit of these caller ID services and phone number lookup apps is you can save yourself from scams. According to studies, scams not only cost Americans over $5.8 billion per year but they also affect their mental health. The ability to check who's called your number can bring some mental peace to you and protect you from scams.
Best Apps to Find Out Who Called
Get ready to transform your smartphone into a mystery-solving sidekick with the best apps to check who called you on your iPhone and unveil the secret identities behind those ringing digits!
1. Truecaller: Caller ID & Block
Tired of annoying spam calls and messages disrupting your day? Enter Truecaller, your ultimate communication guardian. With over 350 million users contributing to a community-based spam list, Truecaller is your go-to app for identifying and blocking unwanted intrusions seamlessly.
For those who love a bit of organization, Truecaller's call recording feature is a game-changer. Record incoming and outgoing calls effortlessly, and let AI do the heavy lifting with features like AI-generated call subjects, call summaries, and transcriptions.
Truecaller doesn't just stop at call screening and recording – it's your all-in-one spam-fighting hero. Automatically identify spam, fraud, and robocalls, and use Live Caller ID to suss out those mysterious unknown numbers. Take control with the best spam call blocker for iPhone, blocking unwanted callers and SMS with just a few taps in the settings.
You can install this app from the App Store for free.
2. WhoCalled
If you do not wish to install yet another app on your iPhone, then WhoCalled is the perfect solution for you. This is a who called me service that is specially designed for UK residents. Using this reverse phone lookup service you can enter any UK phone number and reveal the identity and location of the caller.
On this website, you can also view ratings given by other community members, which is helpful in finding out if the number that called you is safe or a scam.
The website is free to use and there are no hidden charges. You can visit the who called website from the Safari browser and enter the number you want to get information on.
3. ViewCaller: Caller ID 
Imagine a world where you never have to worry about spam calls disrupting your day. ViewCaller brings that reality closer with its spam identification feature. It effortlessly sifts through the noise, allowing you to focus on what matters most.
The app goes beyond basic caller ID. It empowers you to verify the true Dialer ID of unfamiliar numbers, giving you the control to decide whether to answer or let it go to voicemail.
The Smart Search feature adds an extra layer of convenience. Looking for information on a specific number? Simply enter it into the app, and let ViewCaller do the rest. It's like having a personal detective for your phone, helping you stay in the loop without compromising your peace of mind.
ViewCaller app is available through the App Store as a free download.
4. Call ID – Call Blocker
Call ID – Call Blocker is your ultimate tool for taking control of your incoming calls and messages. Imagine instantly knowing if the call is from a friend or just another annoying spammer. With Caller ID lookup, this app to see who's calling on iPhone goes beyond showing the location and provides business information. No more guessing games – decide whether to pick up or block right away.
Banish unwanted callers from your life – robocalls, telemarketers, and those persistent scam calls. You're in charge. Choose to block or identify calls based on your preferences for each category. Let the app do the work for you, so you only engage with the calls that matter.
Stay ahead with an up-to-date database that regularly updates to protect your privacy and security. We handle unwanted numbers so you can focus on what's important. Plus, you can contribute to the cause by adding numbers to our user-shared database, all while keeping your contacts confidential.
Download Call ID – Call Blocker app from the App Store for free.
5. Show Caller ID & Spam Blocker
Show Caller ID & Spam Blocker goes beyond just displaying numbers; it unveils the true identity of your incoming calls. Imagine having billions of phone numbers at your fingertips – that's exactly what Show Caller ID offers. With its extensive database, the app accurately identifies real callers, providing you with detailed information and even real photos of your contacts.
What sets Show Caller ID apart is its reverse phone lookup feature. When an unknown number rings, the app instantly scans its vast database to give you the lowdown on the caller. It's like having a personal detective for your phone, helping you decide whether to take the call or let it go to voicemail.
But that's not all – Show True Caller's ID takes it up a notch by fetching real photos for your saved contacts. No more struggling to put a face to a name; the app does it for you. The smartphone dialer is another gem, allowing you to search for contacts effortlessly.
As you type, it suggests True Name Tags, Truecaller's, Get contact real Photos, Whos call, making dialing a breeze. Show Caller Name also includes a smartphone dialer that allows users to quickly and easily search for contacts and make calls without having to navigate through their phone's contact list.
Show Caller ID & Spam Blocker app is available for free in the App Store.
6. WHO: True Caller ID & Lookup
Tired of spam calls interrupting your day? WHO acts as your shield, intelligently blocking unwanted telemarketers and fraudsters. It's like having a personal bouncer for your calls, ensuring your conversations are authentically yours.
Real-time spam detection is where WHO takes the lead. Even if spammers try to hide behind fake numbers, WHO unveils their true colors. Your safety and peace of mind are top priorities, and WHO keeps you one step ahead of those pesky spammers.
Customize your experience with WHO's personalized whitelist, ensuring important calls get through seamlessly. And with a constantly updated spam number database, you're armed against the ever-evolving tactics of spammers. Be part of the solution by effortlessly reporting suspicious numbers – your involvement enhances the entire WHO community's spam detection capabilities.
WHO not only offers transparent caller insights and seamless conversations but also boasts a user-centric interface designed for your ease. Privacy is non-negotiable, and WHO strictly adheres to confidentiality standards, ensuring your personal information is always safeguarded.
WHO: True Caller & Lookup can be downloaded from the App Store for free.
7. Caller ID: True number finder
Imagine having a massive global community at your fingertips with a whopping 2 billion contacts. No more guessing games when your phone rings – instantly know who's calling and make informed choices. Say goodbye to spam and hello to essential calls with automatic identification and blocking of annoying calls or texts. Plus, give your contacts a visual upgrade by adding photos effortlessly to your phone dialer and address book.
This app isn't just about calls – it's about making your entire communication experience seamless. Connect instantly to your favorite messaging and calling apps like WhatsApp, Facebook, WeChat, Viber, Telegram, and more, all in one place. It's like having a communication command center in your pocket.
Need to look up a number? No problem. Enter any digits to unveil names and contact info. Caller ID: True Number Finder is not just an app; it's your go-to tool for enhancing your communication game.
Managing your contacts has never been easier. Add photos, edit details, search for unknown numbers, bookmark important contacts, and dive into a world of convenience. This app isn't just about answering calls; it's about elevating your entire communication game. Upgrade to Caller ID – True Number Finder and embrace a future where every call is a known and welcomed connection.
Caller ID: True Number Finder app is available for free in the App Store.
If you are running iOS 17 or later, then you can use the built-in Silence Unknown Callers feature, that lets you silence phone calls and FaceTime calls from callers that are not in your Contact list.
To Conclude
In the vast landscape of digital communication, where our phones serve as constant companions, the quest to uncover the mystery behind missed calls has led us to a realm of innovative solutions.
From the sleek interfaces to the powerful algorithms working tirelessly behind the scenes, the best apps to find out who called your number have truly transformed the way we navigate the enigma of unknown callers.
As we bid farewell to the guessing game and embrace the clarity these caller name apps for iPhone provide, it's evident that technology continues to be our ally in decoding the signals of the digital age. So, these apps stand as digital detectives, unraveling the intrigue of each incoming call in this ever-evolving symphony of ones and zeros.
More apps you should download:
Disclosure: iOSHacker may receive a commission if you purchase products through our affiliate links. For more visit our privacy policy page.