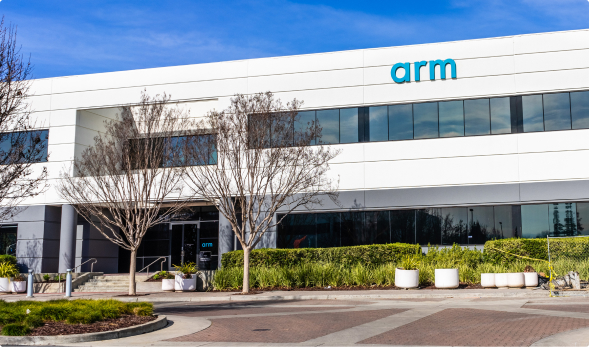 Arm valued at over $54 billion in this year's biggest tech IPO, shares priced $51 apiece
British chip design firm Arm has been gearing up to go public for quite some time, and now, the chipmaker has set the stage for one of the most significant initial public offerings (IPOs) of 2023. In a move that marks a resurgence in the tech IPO market, Arm revealed that it has priced its IPO at $51 per share, the top end of its expected price range. This move ensures that Arm raised approximately $4.87 billion, something that puts the valuation of the British chip designer at a fully diluted market cap of $54.5 billion at the $51 offer price. Arm is set to commence trading on the Nasdaq under the ticker symbol "ARM," and the shares are expected to begin trading on Thursday, September 14.
Arm is going public in style, with the largest IPO of the year thus far – surpassing the $4.37 billion listing by Johnson & Johnson consumer health spinoff Kenvue (which was in May). It marks a significant milestone not only for Arm but also for the broader tech industry and the IPO market, which has clocked a rather lacklustre performance this year. The IPO consists of 95.5 million American depository shares (ADSs), and its pricing is at the top end of the previously-expected range of $47-51 per share. Underwriters will have the option to purchase up to an additional 7,000,000 ADSs to cover over-allotments, if any, for 30 days after the date of the final prospectus, and the IPO is expected to close on September 18, 2023, subject to customary closing conditions.
While Arm's IPO marks a step toward independence, it's important to note that SoftBank, the Japanese conglomerate, which acquired Arm in 2016 for $32Bn, will maintain substantial control. SoftBank will still hold about 90% of the company's outstanding shares. This unique structure allows SoftBank to continue benefiting from Arm's growth while offering public investors a slice of the action. Raine Securities LLC is acting as financial advisor in connection with the IPO, while the likes of Barclays, Goldman Sachs & Co. LLC, J.P. Morgan, and Mizuho are acting as joint book-running managers for the IPO.
Arm has established itself as one of the hottest players in the massively complicated chip-designing industry. This distinction allows the company to focus on designing efficient, power-saving circuits that are widely used across various devices, including mobile phones, computers, and even data centers. In fact, Arm's technology is integral to 99% of mobile processors worldwide. Beyond traditional applications, Arm is positioned to play a significant role in emerging tech fields like artificial intelligence (AI). The increasing demand for AI chips positions Arm as a strategic player in this evolving landscape. AI systems require immense computing power, opening up substantial market opportunities for chip makers and suppliers like Arm. This also comes months after Silicon Valley chip maker Nvidia had abandoned an effort to buy Arm for $40 billion.
Although Arm had initially focused on the mobile phone market when founded in 1990, it's now aiming to expand into new territories. Arm has outlined plans to design more chips for data centers and AI applications. By diversifying its offerings, the company hopes to tap into a chip design market projected to be worth about $250 billion by 2025.
If Arm's stock performs well in its initial trading days, it could invigorate the broader tech IPO market, something that is sorely needed. The tech IPO arena has been somewhat subdued as of late due to factors like rising interest rates and inflation concerns. Successful tech IPOs like Arm's can act as a catalyst, encouraging other tech companies to explore public offerings. Some of the other names that plan to go public in the coming weeks include the likes of grocery delivery service Instacart, marketing automation firm Klaviyo, and German sandal maker Birkenstock.