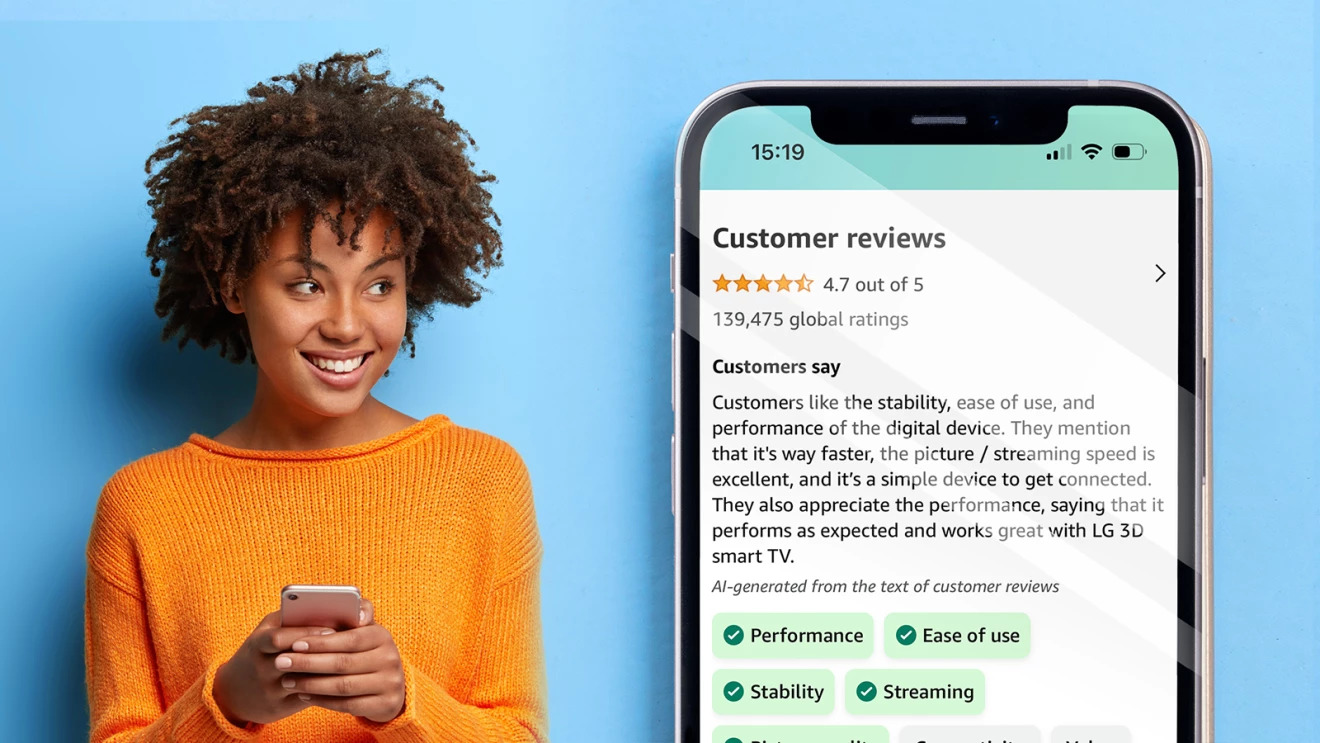 Amazon introduces AI-generated customer review highlights and summaries
It seems that e-commerce major Amazon is jumping on the generative AI wagon to enhance its customer experience. In an official statement, the company introduced an innovative feature that summarizes product reviews, enabling customers to quickly grasp sentiments and opinions from other buyers without delving into individual reviews – a move that saves a lot of time. This feature was in testing since earlier this year.
Amazon's latest feature employs generative AI to essentially distill the essence of numerous product reviews into a concise paragraph on the product detail page, highlighting commonly mentioned product attributes and customer sentiments. This streamlined approach empowers customers to make informed decisions about their purchases, saving them time and effort. Amazon notes that the AI-generated summaries have undergone testing and are now available to a subset of mobile users in the U.S. across a wide range of products.
This new feature not only provides review summaries but also spotlights significant product attributes as clickable buttons. For example, customers interested in a product's "ease of use" or "performance" can conveniently access relevant reviews by selecting the respective attribute. This, amongst others, enables shoppers to swiftly grasp the key takeaways from various reviews without investing significant time in reading lengthy individual comments, which enables them to make swift, informed decisions.
Amazon's adoption of AI in customer reviews underscores the competitive nature of the AI race, especially the recent attention to generative AI. As companies like Microsoft, Google, and Meta invest heavily in AI research and development, they are introducing increasingly sophisticated AI solutions across various domains to enhance user experiences and gain a competitive edge. With advancements in natural language processing and machine learning, companies are exploring novel ways to improve user interactions, provide personalized recommendations, and streamline decision-making processes.
"We want to make it even easier for customers to understand the common themes across reviews, and with the recent advancements in generative AI, we believe we have the technical means to address this long-standing customer need. Want to quickly determine what other customers are saying about a product before reading through the reviews? The new AI-powered feature provides a short paragraph right on the product detail page that highlights the product features and customer sentiment frequently mentioned across written reviews to help customers determine at a glance whether a product is right for them," Amazon announced in its press release.
Amazon notes that it may expand this review highlights feature to additional categories and customers in the coming months. Once this rolls out, no longer do users need to scroll through hundreds or thousands of reviews on Amazon's platform to get an idea of the product(s) they are looking to buy – a simple one-paragraph blurb will tell them that. The summary will pop up next to the product detail page. The company added that it will "strictly prohibit fake reviews that intentionally mislead customers by providing information that is not impartial, authentic, or intended for that product or service."