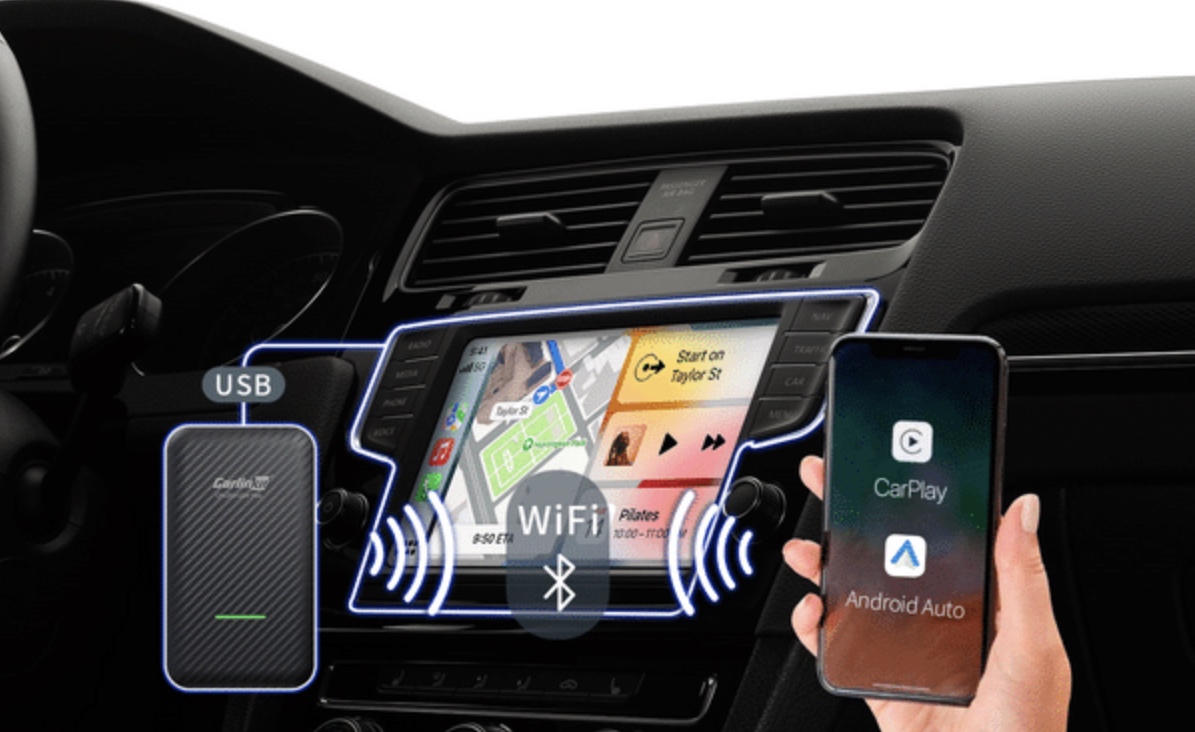 10 Best Wireless CarPlay Adapters To Convert Wired CarPlay
Are you tired of fumbling with those pesky wires every time you hop into your car and want to use Apple CarPlay? Well, you're in luck because we've got the ultimate solution for you.
In this exciting roundup, we're going to introduce you to the top 10  wireless CarPlay adapters for Apple that will transform your wired CarPlay setup into a hassle-free, wireless wonderland.
Say goodbye to tangled cables and hello to seamless connectivity as we dive into the world of the best wireless CarPlay adapters on the market. Get ready to experience the future of in-car entertainment right here!
Best Wireless CarPlay Adapters
These are the best wireless CarPlay adapters that you can buy for your car. These amazing wireless CarPlay adapters turn your wired CarPlay head units into wireless.
1. OTTOCAST Wireless CarPlay Adapter 
The OTTOCAST wireless CarPlay adapter offers a straightforward installation process. Simply plug the adapter into your car's USB port, activate your iPhone's Wi-Fi, and establish a Bluetooth connection with the adapter. Within moments, you'll enjoy the convenience of wireless Apple CarPlay, transforming your infotainment system.
Set it up once, and it takes care of the rest. The adapter is equipped with a built-in 5G chip, ensuring rapid processing and compatibility with 5GHz Wi-Fi rates. This results in a stable connection, rapid responsiveness, and eliminates any audio lag, all without the need for expensive decoders.
This wireless CarPlay adapter supports Voice Control, Siri, and GPS Navigation with real-time updates, online music apps, phone calls, iTunes, the Music app, and Messages. It seamlessly integrates with your vehicle's original control methods, including touchscreen functionality, buttons, and knobs. Experience the future of in-car connectivity with our wireless CarPlay adapter.
Buy the OTTOCAST Wireless CarPlay Adapter for $109.95 here.
2. HEI LIANG Wireless CarPlay Adapter
Are you in search of a CarPlay wireless adapter that's compatible with a wide range of car models? Look no further, as this one of the best Wireless CarPlay adapters iOS 17 is compatible with over 600 different car models.
Wireless CarPlay Adapter offers a user-friendly solution designed with simplicity in mind. Its plug-and-play design ensures ease of use for all drivers, eliminating the need for additional drivers, applications, or complex system upgrades. Once set up initially, this adapter seamlessly activates the CarPlay wireless connection each time you start your vehicle.
Once installed, this CarPlay wireless adapter transforms your driving experience into a fully automated one. When your car's engine ignites, the adapter automatically establishes a wireless connection with your iPhone using its built-in 5GHz WIFI module. Moreover, this CarPlay wireless adapter offers support for various control options, including voice control, steering wheel, touchscreen, and knob operation, enhancing your convenience and safety on the road.
Buy HEI LIANG Wireless CarPlay Adapter for $89.95 here.
3. CarlinKit 5.0 Wireless CarPlay Adapter
The days of cumbersome wired connections for Android Auto are over as well. The CarlinKit 5.0 Android Auto wireless dongle offers a convenient solution to upgrade to a wireless Android Auto experience. You can still harness the complete suite of Android Auto functions while preserving your vehicle's native operations, including navigation, music playback, Google Assistant, phone calls, and more. This wireless Android Auto dongle is designed for Android phones like Samsung and Google, operating on Android 11 or a newer version.
Experience seamless connectivity with ease. Once you've completed the initial pairing, the CarlinKit 5.0 ensures rapid and automatic reconnection in subsequent uses, typically taking less than 10-25 seconds. Equipped with an integrated 5G chip boasting exceptional processing speed and compatibility akin to a 5.8GHz WiFi rate, it delivers a more stable connection, reduced audio and video playback latency, and faster response times. Say hello to a truly wireless and enhanced in-car entertainment experience.
Buy CarlinKit 5.0 Wireless CarPlay Adapter for $104.99 here.
4. URJD Wireless CarPlay Adapter
Simply plug in and pair this device with ease in just three simple steps. It harnesses the power of 5Ghz WiFi to provide a faster, more reliable connection, ensuring a lag-free experience. Once the initial setup is completed, the wireless CarPlay adapter seamlessly activates the CarPlay wireless connection within 5-12 seconds each time you start your car.
Compatible with iPhone 6 and newer, as well as iOS version 10 and above, this adapter supports a wide range of car models. It is designed to work with nearly all vehicles equipped with Factory Wired CarPlay from 2015 onwards.
Featuring a compact form factor and a minimalist design, this wireless CarPlay adapter discreetly integrates into your center console, staying out of your way. You can connect your car to the adapter using either the built-in USB-A or USB-C connector, making it incredibly convenient to use.
Buy URJD Wireless CarPlay Adapter for $69.99 here.
5. AutoSky – Factory Wired CarPlay
The AutoSky Wireless CarPlay Adapter for iPhone boasts a sleek Carbon Fiber finish, complete with a protective coating to shield it from the wear and tear of daily use. This makes it an excellent choice for vehicles with Carbon Fiber dashboards.
Much like our other fast wireless CarPlay adapters, this device performs like pure magic! It features dual 2.4GHz and 5GHz modules for the fastest and most seamless connection and experience possible. The CarPlay adapter package also includes a USB-A to USB-A cable extension for those tight-fit areas and a USB-A to USB-C cable for cars equipped with stereo systems featuring USB-C ports.
The AutoSky – Pro Slim Edition – Wireless CarPlay Adapter connects effortlessly and automatically once paired. All you need to do is pair it via Bluetooth and ensure your WiFi settings are enabled!
Buy AutoSky – Factory Wired CarPlay for $48.88 here.
6. Peveork Wireless CarPlay Adapter
Experience the full spectrum of Apple CarPlay functionality seamlessly and without any delays or disruptions. With wireless connectivity, you can effortlessly access features like GPS navigation, music and podcasts, phone calls, Siri voice assistance, messaging, and more. Your vehicle's original controls, including the touchscreen, steering wheel controls, and knob controls, remain fully functional.
Setting up the CarPlay Adapter is a breeze, taking just a few minutes and involving three simple steps. No additional apps or drivers are needed. Once paired successfully for the first time, the wireless Apple CarPlay adapter will automatically re-establish the connection with your phone every time you use it, delivering unparalleled convenience and an enhanced driving experience.
You won't need to agonize over selecting the right adapter for your car, as the Peveork CarPlay wireless adapter boasts wide compatibility with vehicles equipped with Apple's wired CarPlay.
Buy Peveork Wireless CarPlay Adapter for $69.99 here.
7. KAMING Wireless Carplay Adapter with Netflix & YouTube
This wireless CarPlay adapter with Netflix boasts enhanced hardware and software, featuring a high-quality 4-core smart chip and the latest software system for improved usability, clearer screen display, and reduced sound delay. It supports both 2.4G and 5G dual-channel wireless networks, enhancing its overall functionality.
With the WORLD TV app, you can access TV channels from around the globe when connected to a wireless network or mobile hotspot in your car. Plus, built-in apps like Netflix, YouTube, Prime Video, and Disney+ enable you to enjoy online movies and TV series. Even without an internet connection, you can play videos and music via a USB Flash Drive.
Additionally, this product supports screen mirroring from your mobile device to your car, TV, or projector, creating a mobile cinema experience on the go.
Buy KAMING Wireless Carplay Adapter with Netflix & YouTube for $179.99 here.
8. NIZLUZY Wireless CarPlay Adapter
Simply plug the wireless CarPlay adapter into your car's USB port designed for wired CarPlay. This device utilizes your iPhone's Wi-Fi and Bluetooth capabilities, serving as a receiver for your car. It automatically connects to your iPhone when you start your vehicle, even if your phone is in your pocket or backpack.
This CarPlay wireless adapter is compatible with all cars equipped with factory-installed CarPlay systems. It includes two cables (USB-C to USB-C and USB-C to USB) to fit various car center consoles. Wireless connectivity is supported for iPhone models running iOS 12 or newer with CarPlay functionality.
Experience wireless CarPlay functionality in your car with this dongle, eliminating the need to physically connect your iPhone. It ensures a reliable, uninterrupted connection, allowing you to access your iPhone's features and apps, such as calls, texts, music, and more, directly from your car's touchscreen display.
Buy NIZLUZY Wireless CarPlay Adapter here.
9. Elecdov Wireless Carplay Adapter
This one of the best  Wireless CarPlay adapters iOS 17 is all about making your in-car experience super smooth and hassle-free. It's designed to connect without any delays, giving you that instant plug-and-play experience. When you turn it on, it remembers your last connection, so you can dive right into using it without any fuss.
What's cool is that this CarPlay wireless adapter is certified for both 2.4GHz and 5GHz data transmission. This means your connection will be not just stable, but also super efficient. Whether you're using CarPlay or other apps, it's going to be a seamless experience.
And guess what? No need to mess around with extra apps or deal with annoying wires. Just plug in the wireless CarPlay adapter, connect via Bluetooth, and you're good to go. CarPlay will fire up, and you can enjoy all the convenience this adapter brings to your car experience. It's really that easy!
Buy Elecdov Wireless Carplay Adapter for $63.96 here.
10. Carbon Fiber 2023 Wireless Carplay Adapter
Wireless CarPlay is designed to be sleek and high-end, offering a stable 5GHz connection with no delays. It supports Siri voice control, allowing you to use your car's original touch screen, steering wheel, and knob controls seamlessly. Whether you want to access your favorite music, and videos, or use Siri for navigation, you can do it effortlessly while maintaining your car's original interface. This upgrade ensures a comfortable and fully intelligent driving experience.
The Apple CarPlay adapter is incredibly convenient and user-friendly. It's a plug-and-play device, so you won't need to install extra drivers or download apps. Just turn on Bluetooth and Wi-Fi, and it connects automatically. It even reconnects when you start your car, even if you're on a call. Achieving efficient and reliable driving is as simple as a few easy steps.
The adapter's surface features a stylish carbon fiber finish and a protective coating to reduce everyday scratches. It's compact and lightweight, taking up minimal space in your car. Plus, it offers three connection options: USB-A, USB-C, and the original plug, making it compatible with various car ports. This ensures top-notch performance and convenience.
Buy Carbon Fiber 2023 Wireless Carplay Adapter for $49.99 here.
To Conclude
The world of in-car entertainment and connectivity is rapidly evolving, and these 10 best wireless CarPlay adapters represent the pinnacle of this advancement. You can convert wired CarPlay into wireless as they offer a seamless and convenient way to stay connected while on the road. Whether you're an audiophile seeking premium sound quality, a tech enthusiast looking for the latest features, or simply someone who values the freedom of a wireless experience, there's an adapter on this list to suit your needs. Say goodbye to tangled cables and hello to a more enjoyable, safer, and hassle-free driving experience.