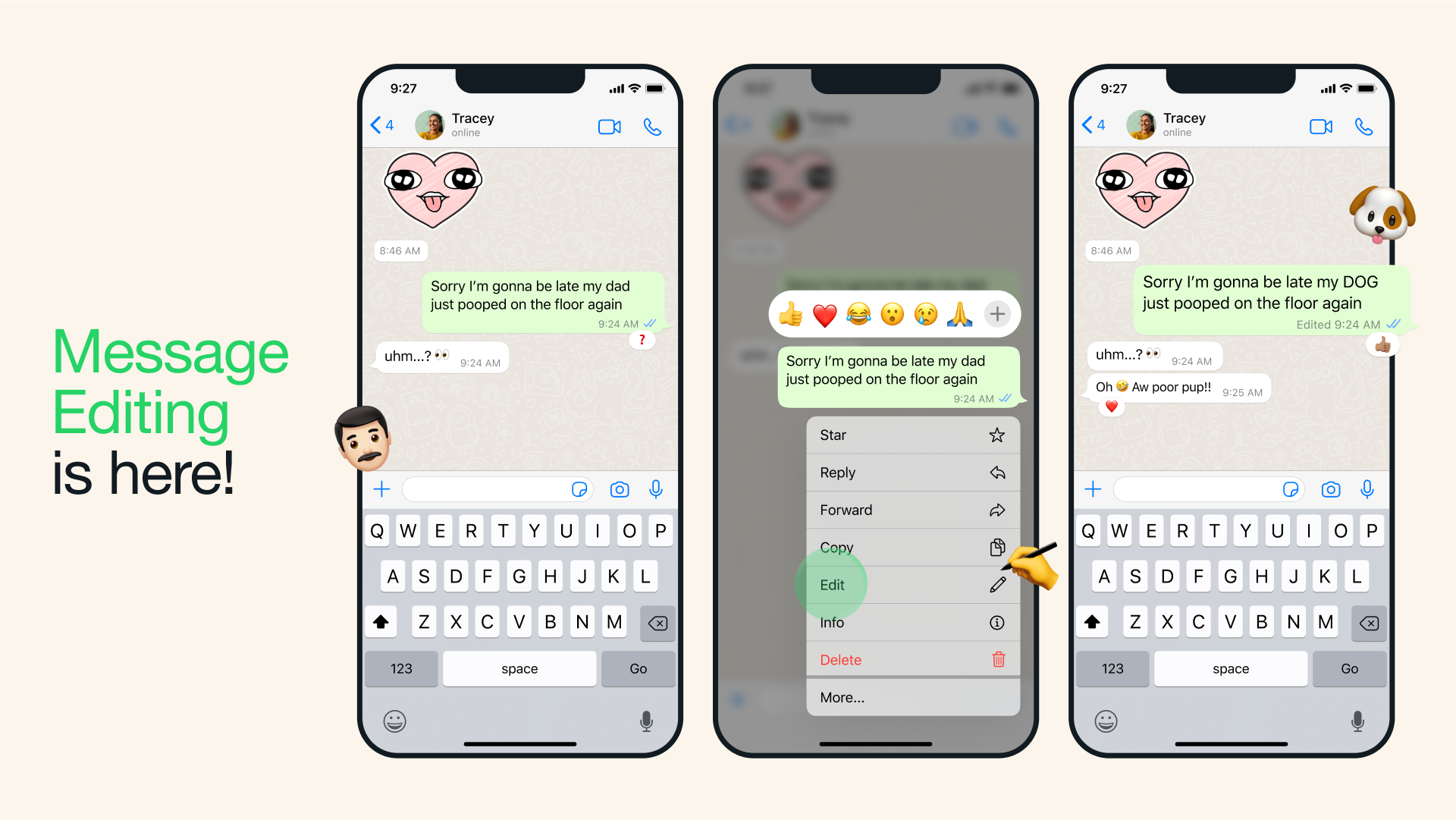 You can now edit WhatsApp messages within a 15-minute window
For a long time, the only recourse to correct a typo on WhatsApp is to delete the message and resend the corrected one. This was because unlike Discord or Telegram, WhatsApp lacked the feature that allowed users to edit messages on its platform. This changes today, with WhatsApp announcing that it will now let users edit their messages on the platform. The introduction of the edit feature addresses a long-standing concern among WhatsApp users – the inability to modify or rectify errors in sent messages. Now, users can correct typos, clarify ambiguous statements, or add crucial information to ensure clearer and more accurate communication.
"IT'S HERE. Message Editing is rolling out now. You now get up to 15 minutes after sending a message to edit it. So, you don't have to worry if you duck it up," WhatsApp wrote in its tweet.
IT'S HERE 📣 Message Editing is rolling out now.

You now get up to 15 minutes after sending a message to edit it. So you don't have to worry if you duck it up 🦆 pic.twitter.com/JCWNzmXwVr

— WhatsApp (@WhatsApp) May 22, 2023
There is a catch, however. Users can edit the messages they have sent only within 15 minutes of sending the message. Once the time limit has passed, the message becomes permanent and can no longer be altered and users need to resend the correct message to the intended recipient(s). Nonetheless, the arrival of the message editing feature is a significant development for WhatsApp, which finally decided to take a page out of Discord and Telegram's books, and aligns WhatsApp with other messaging platforms that already offer similar message editing capabilities.
The introduction of the editing feature on WhatsApp comes as a welcomed development for millions of users worldwide. Until now, once a message was sent, it remained unchanged and uneditable. This limitation often led to misunderstandings or the need to send follow-up messages to correct errors. The new edit feature addresses this concern, allowing users to quickly rectify mistakes and ensure the accuracy of their messages without resorting to additional messages or explanations, as well as bypassing the embarrassment or awkwardness caused by sending incorrect or incomplete messages.
To edit messages, users need to press and hold on to it. The new edit option will appear, and users need to click on it to edit the message. Once the message has been edited, the edited messages will show an "edited tag" alongside them so that recipients can know that the message was edited. However, Meta noted that it will not show the edit history, meaning that the recipient(s) will not be able to see how the message was altered.
Meta CEO Mark Zuckerberg noted this in a post on Facebook, announcing the arrival of what is surely One of the most requested features on the Meta-owned messaging service. WhatsApp noted that this feature has started rolling out to users across the globe, and will be made to all of its users "in the coming weeks," so users may have to wait for a few days to get their hands on this feature. The feature eliminates the need to delete and resend messages, and is expected to enable them to promptly rectify errors, clarify information, or update relevant details within the window of 15 minutes.
"For the moments when you make a mistake or simply change your mind, you can now edit your sent messages on WhatsApp. From correcting a simple misspelling to adding extra context to a message, we're excited to bring you more control over your chats," Meta wrote in its official statement.