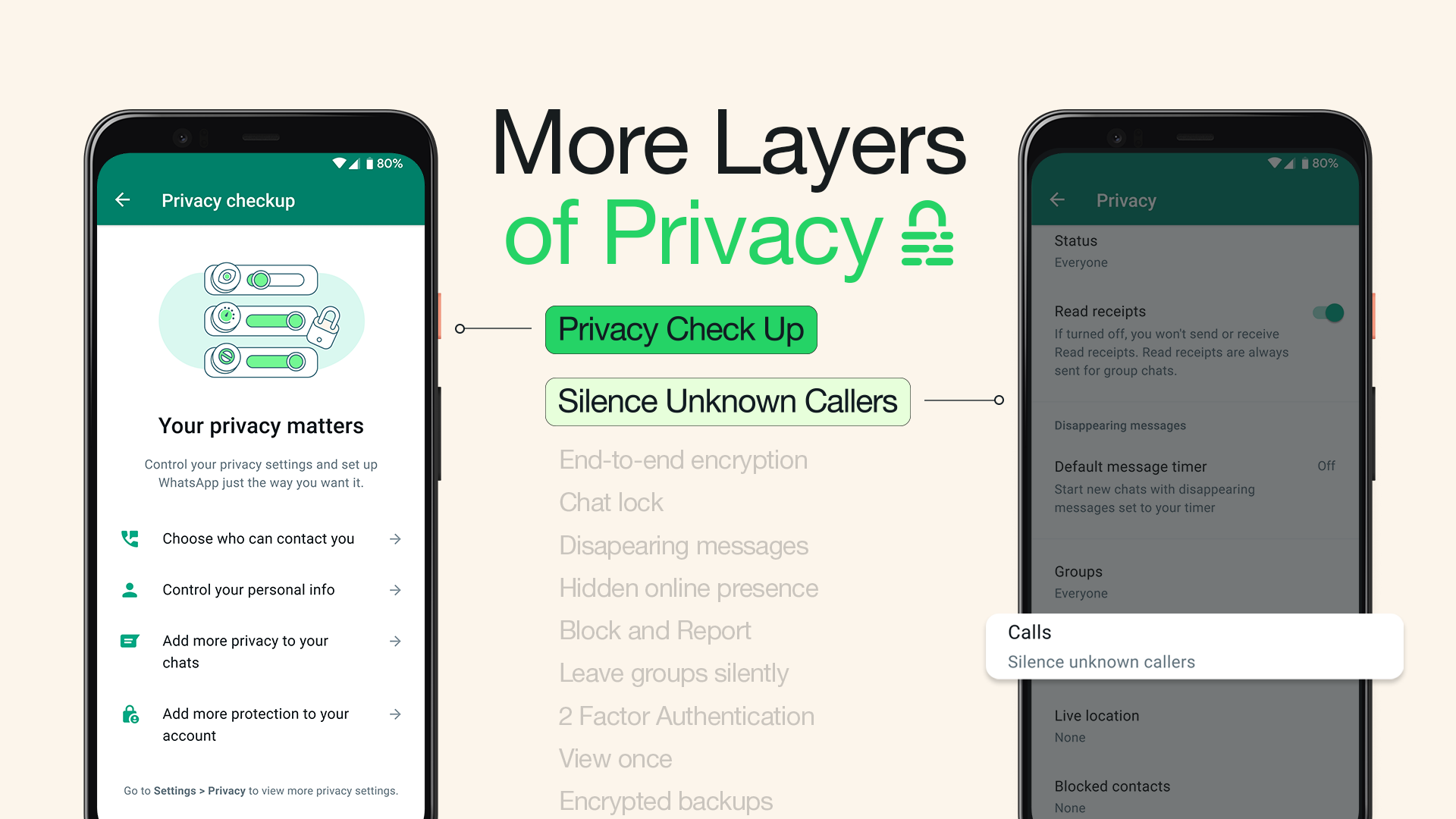 WhatsApp to let users silence unknown calls, rolls out new Privacy Checkup
Indian users are (unfortunately) intimately familiar with spam calls, and the increasing incidence of the same has been a significant annoyance for many users. Now, Meta-owned messaging service WhatsApp is taking the matter at hand, and it announced new privacy protections for users on its messaging app, bolstering its already-impressive arsenal of privacy-protection tools.
This update comes in response to the growing concerns of users in India, where the app has a massive user base of over 500 million users, regarding the rise in spam calls. One of the newly unveiled features is Silence Unknown Calls, which helps to automatically screen out spam, scams, and calls from unknown people. By empowering users to filter out unwanted calls from unknown contacts, WhatsApp aims to enhance privacy, reduce disruptions, and create a more seamless communication environment.
The other feature to be rolled out is called Privacy Checkup, which, according to WhatsApp, is "to help make sure everyone knows about the options of protection" on the platform. Users can select "Start checkup" in their Privacy settings to go through the multiple privacy layers that "strengthen security of your messages, calls, and personal information."
By introducing the ability to silence calls from unknown numbers, and ensuring that they do not ring on the phone (but show up on the Call List), WhatsApp aims to address this issue and provide a more seamless and secure user experience. The introduction of the call silencing feature holds significant implications for users. Firstly, it offers enhanced privacy by allowing individuals to filter out calls from unfamiliar numbers. This becomes particularly valuable in protecting users from potential scams, phishing attempts, or unsolicited promotional calls that often disrupt daily routines and invade personal space. By automatically muting such calls, users can focus on meaningful conversations and avoid unnecessary disruptions, fostering a more seamless and enjoyable messaging experience.
By silencing calls from unknown contacts, users can avoid potential privacy breaches, unwanted solicitations, and scams. It empowers users to have better control over their incoming calls and ensures that their communication remains more personal and secure. The option to automatically silence incoming calls from unknown contacts on WhatsApp can be turned on this option by going to Settings, where they need to go to the Privacy tab. Once there, they need to go to Calls and select the "Silence unknown caller" option.
"Protecting the privacy of your messages remains the driving force behind what we're building at WhatsApp. While End-to-end encryption is the foundation to ensure your calls and messages are secure, we continue to add more layers of privacy on top including the recently launched Chat Lock to protect sensitive chats behind a password, Disappearing Messages that vanish, screenshot blocking for View Once, and the ability to keep your online presence private," WhatsApp explained in a blog post.