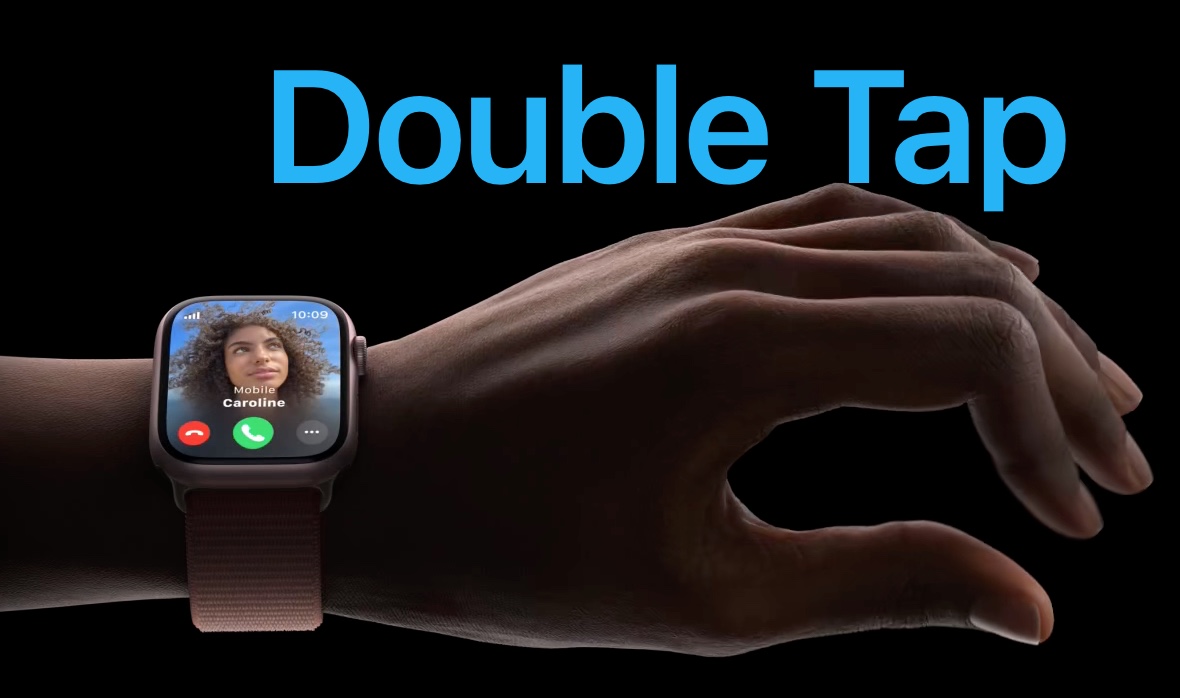 What Is Apple Watch Double Tap Feature And How To Turn It On
In this guide, we'll spill the beans on everything you need to know about the Apple Watch Double Tap feature – from what it is to how to set it up on your Apple Watch. 
If you've ever found yourself juggling a million things while trying to navigate your Apple Watch, this one's for you.
Double Tap is here to simplify your life, offering an innovative way to interact with your smartwatch, whether you're on the go, multitasking, or simply want to make the most of your wrist companion.
So, let's dive in and find out everything there is to know from how to use double tap gesture on Apple Watch to how to enable double tap gesture.
What is Double Tap on Apple Watch?
Ever wished you had an extra hand to navigate your Apple Watch when life gets hectic? Well, that's where Double Tap swoops in to save the day. It's a fresh, gesture-based feature designed for the newest Apple Watch models, and it's all about making your life smoother, especially when your hands are tied up.
So, what can you do with the nifty Apple Watch double tap feature? Simply double-tap your thumb and index finger together, and you can answer calls, pause your music, and perform a whole bunch of other handy tasks. But, fret not, we'll talk about how to use the double tap gesture on Apple Watch in detail below.
How Does Double Tap Work?
Wondering how the Double Tap feature on the latest Apple Watch Series 9 and Apple Watch Ultra 2 works its magic? Well, it's all thanks to the cutting-edge S9 chip's faster Neural Engine. This incredible piece of technology is what sets the Apple Watch double tap feature apart, making it exclusive to these models.
But here's the thing: it's not just about the hardware, Apple has also put some serious brainpower into this. They've crafted a clever algorithm that can detect the unique signature of your wrist movements and even changes in blood flow when you tap your index finger and thumb together. It's like your watch can read your intentions. How cool is that?!
What Can You Do with Double Tap Gesture on Apple Watch?
The Apple Watch double tap feature is like having a personal assistant right on your wrist. It's all about simplifying your interactions, especially when you're on the go or have your hands full. Here's a quick rundown on how to use double tap gesture on Apple Watch:
Answer Calls: When your phone rings, just double tap, and you're on the line. Hang up with the same gesture when the call's done.
Media Control: Whether you're jamming to tunes or catching up on a podcast, Double Tap lets you pause, resume, or skip through your content effortlessly.
Timer Control: Need to pause or resume a timer? Double Tap does the trick. And when the timer goes off, another double tap will silence it.
Snooze Alarms: Those early mornings are a breeze with Double Tap. Give your alarm a little extra shut-eye with this handy gesture.
Camera Remote: If you're taking a group photo with your iPhone, use Double Tap to snap the picture remotely.
Quick Messaging: Receive a text message? Double Tap enables you to reply with a voice message in a snap.
Notification Management: Dismiss those notifications with ease. A simple double tap takes care of the clutter.
Smart Stack Access: Get a one-handed view of your frequently used widgets by invoking the Smart Stack from the watch face.
So there you have it – Double Tap streamlines your Apple Watch experience, putting essential functions right at your fingertips with a simple thumb-and-finger tap. Enjoy your one-handed Apple Watch adventures.
How Do I Turn On Double Tap On My Apple Watch?
Want to harness the power of Apple Watch double tap feature? Well, you're in the right place. Double Tap doesn't come pre-activated but don't worry, we've got a simple setup guide that'll have you tapping away in no time. 
Whether you prefer fiddling with your watch or doing it from the comfort of your iPhone, you've got options. Plus, you can customize your Media Playback and Smart Stack settings to your liking. Here's how to enable double tap gesture:
On Your Apple Watch:
First, open the Settings app right on your watch.
Next, tap on "Gestures."
Look for "Double Tap," and once you find it, just toggle the switch next to it to "on."
If you see a message pop up, relax – just tap "Turn off Accessibility Features" at the bottom of the alert.
The fun part – pick your preferences for "Playback" (Play/Pause or Skip) and "Smart Stack" (Advance or Select).
On Your iPhone:
Head over to the Watch app on your trusty iPhone.
Select the "My Watch" tab.
Tap on "Gestures."
Look for "Double Tap" and toggle the switch next to it to "on."
If you see an alert regarding accessibility features, don't worry, just tap "Turn off Accessibility Features."
Customize your "Playback" and "Smart Stack" settings to match your preferences.
If you're wondering how to disable double tap gesture, simply go to Gestures and tap on Double tap to turn it off. 
Which Models Support Apple Watch Double Tap Gesture?
Apple Watch double tap feature is an exclusive treat for the lucky owners of the Apple Watch Series 9 and Apple Watch Ultra 2. This fantastic feature is all set to make its grand entrance with watchOS 10.1 or later. watchOS 10.1 is slated for release in October. But, if you're the kind of person who can't resist a sneak peek, you can install the beta version on your watch right now. Just remember, your iPhone needs to be rolling with the iOS 17.1 beta to make it happen.
Now, here's the kicker for those of you with older Apple Watch models. If you're thinking, "What about me?" Don't fret. There's a little something called AssistiveTouch available on Series 4 and newer models. While it might not be as fancy as Double Tap, it's still a nifty feature to enhance your Apple Watch experience.
Wrapping Up
No matter which model you own, there are ways to level up your Apple Watch game. It's all about keeping you in control and making your life a tad easier, regardless of the watch on your wrist. 
So, go ahead, tap your way to Apple Watch glory, and enjoy the simplicity and control it brings to your daily life. Whether you're on a leisurely walk, wrestling with grocery bags, or just trying to hold onto that hot cup of coffee – Double Tap has got you covered. 
Stay tuned for more exciting features and updates from the ever-evolving world of Apple. Happy tapping, and stay in control!
Disclosure: iOSHacker may receive a commission if you purchase products through our affiliate links. For more visit our privacy policy page.