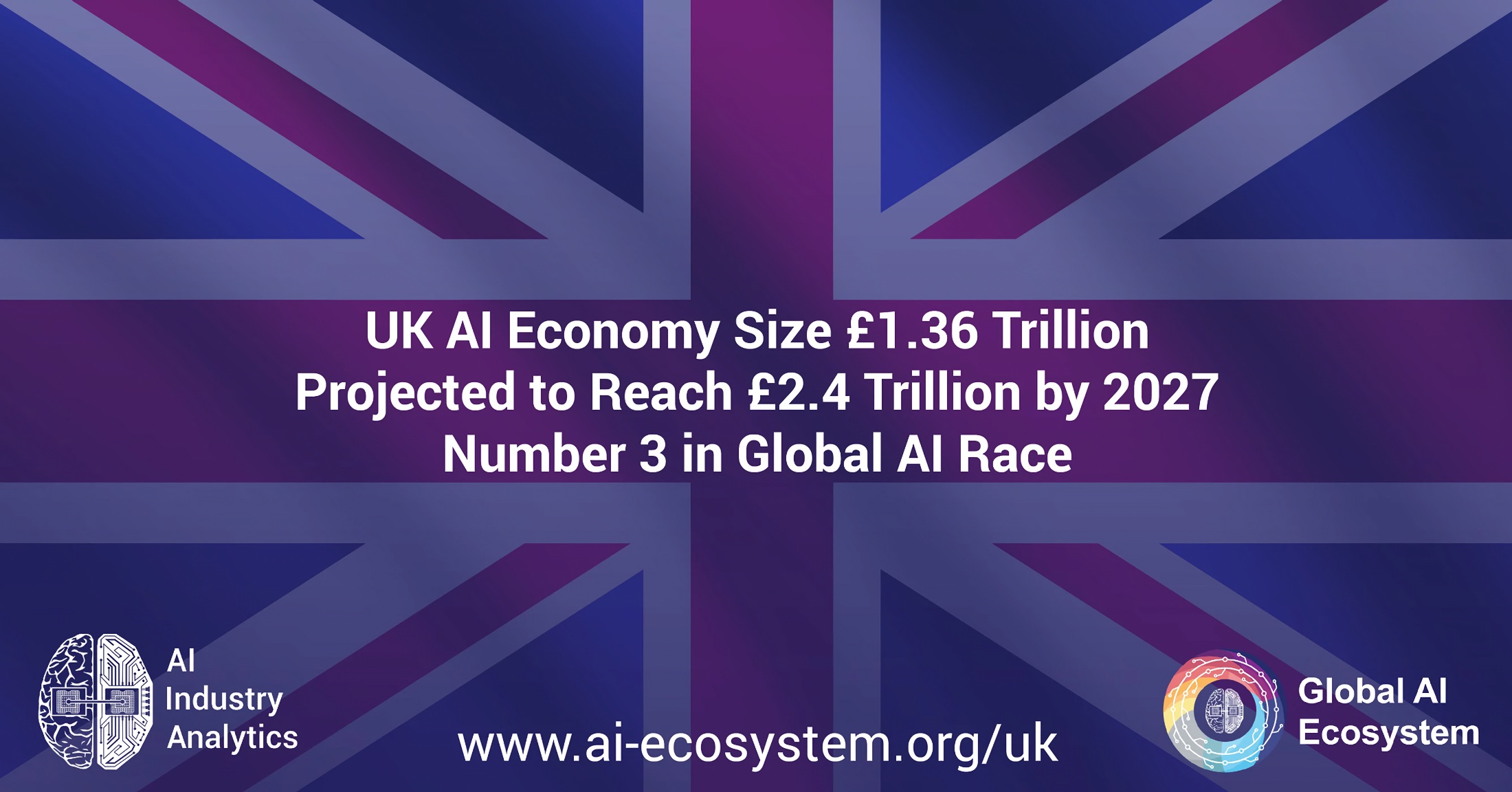 UK's AI ecosystem to hit £2.4T by 2027, third in global race
Projections released by the newly launched Global AI Ecosystem open-source knowledge platform indicate that the UK's AI sector is set to skyrocket from £1.36 trillion ($1.7 trillion) to £2.4 trillion ($3 trillion) by 2027. The findings suggest the UK is set to remain Europe's AI leader and secure third place in the global AI race behind the US and China.
The Global AI Ecosystem platform is developed with support from AI Industry Analytics (AiiA) and Deep Knowledge Group. Designed as a universally accessible space for community interaction, collaboration, content sharing, and knowledge exchange, it has become a vital hub for AI enthusiasts and professionals.
AiiA, in its Global AI Economy Size Assessment report, conducted groundbreaking research showcasing the rapid expansion of the UK's AI industry.
With over 8,900 companies operating in the sector, the UK AI economy's valuation of £1.36 trillion underscores its substantial contribution to the national GDP. Approximately 4,100 investment funds are dedicated to AI, with 600 of them based in the UK.
A robust workforce of 500,000 UK-based AI specialists is driving innovation, solidifying the nation's position in the global AI landscape. This skilled workforce not only bolsters GDP growth but also acts as a safety net against unemployment.
The UK government's active prioritisation of its national AI agenda is a significant factor in this remarkable growth. Last month, UK Deputy PM Oliver Dowden called AI the most 'extensive' industrial revolution yet.
With 280 ongoing projects harnessing AI technology, the UK's commitment to AI is clear. AI is a major pillar of the country's national industrial strategy, making the UK one of the most proactive nations in shaping its AI future.
Dmitry Kaminskiy, Founder of AI Industry Analytics (AiiA) and General Partner of Deep Knowledge Group, said:
"Despite an economic downturn and other challenges, the UK stands as an undoubtable, dynamic, and proactive leader in the global AI arena, having surpassed £1.3 trillion in 2023 and projected to reach £2.4 trillion by 2027.

There is no question that AI is poised to be the major driver for economic growth, fuelling the further development of the entire UK DeepTech industry, and creating a cumulative, systemic, positive impact on the full scope of the nation's integral infrastructure."
Key cities like London, Cambridge, Manchester, and Edinburgh have emerged as leading AI hubs, fostering collaboration and providing access to essential resources. With nearly 5,000 AI companies in London alone, it competes with entire countries on the global AI stage and solidifies its European leadership status.
AiiA's estimation of the UK AI economy size used AI algorithms to map the global AI industry, profiling 50,000 companies, 20,000 investors, 2,000 AI leaders, and 2,500 R&D hubs. Building upon previous reports, it conducted the most comprehensive assessment of the Global AI Economy to date, projecting a global AI economy exceeding £27.2 trillion ($34 trillion) by 2027.
The UK's position as a hub for science, R&D, DeepTech, and AI governance places it in good stead for leveraging AI as a core engine of technological progress and driving economic growth.
(Image Credit: Global AI Ecosystem)
See also: UK government outlines AI Safety Summit plans
Want to learn more about AI and big data from industry leaders? Check out AI & Big Data Expo taking place in Amsterdam, California, and London. The comprehensive event is co-located with Digital Transformation Week.
Explore other upcoming enterprise technology events and webinars powered by TechForge here.