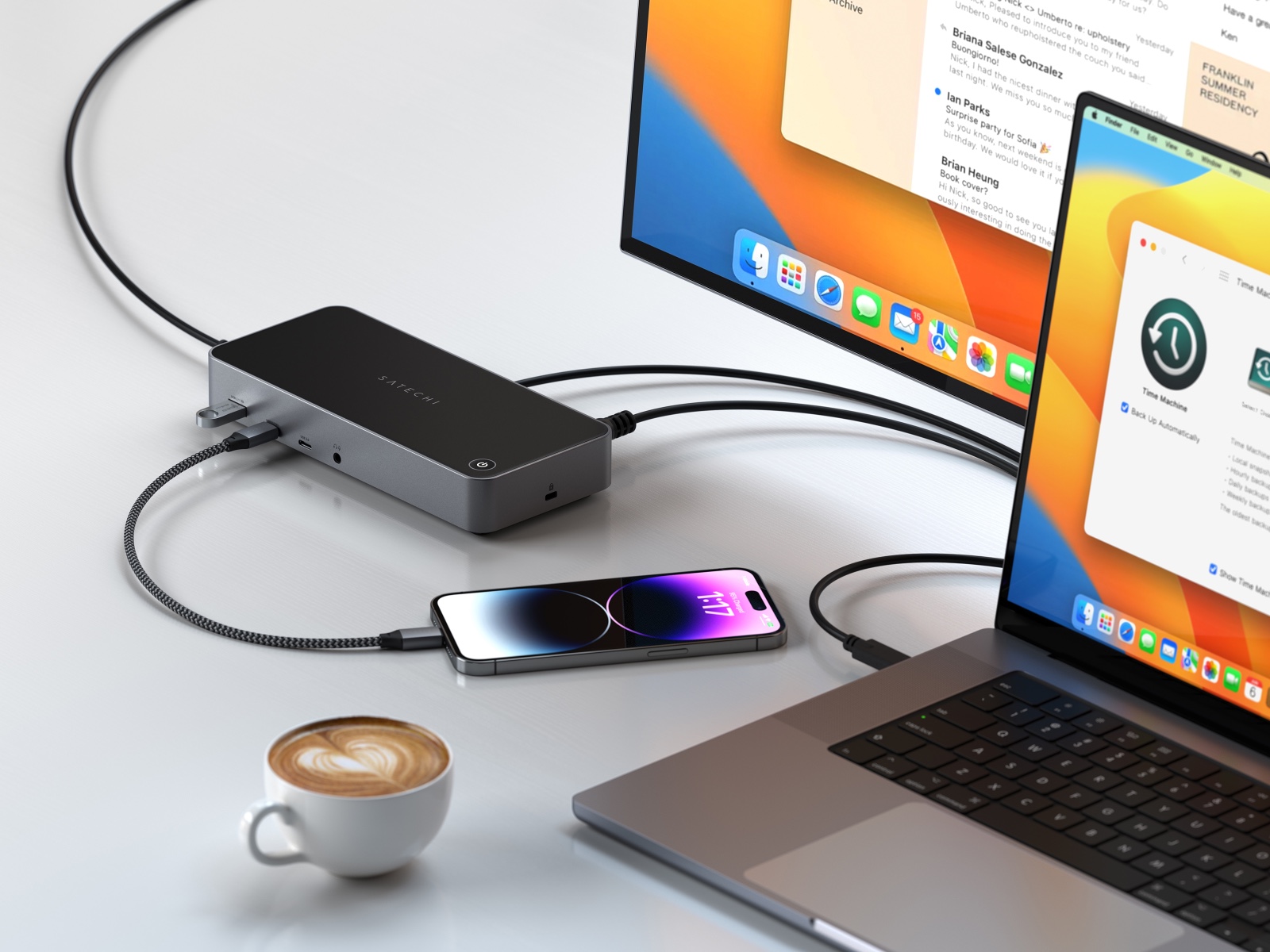 Satechi Launches Triple 4K Display Docking Station for Mac
Satechi has unveiled its newest docking station designed to fit Apple's MacBook M1 and M2 models, including the newest 15-inch MacBook Air M2 announced at the WWDC 23.
The Satechi Triple 4K Display Docking Station provides convenient access for all ports and peripherals while delivering an elegant solution for the single display limit on laptops. 
MacBooks are known for lacking ports and connectivity. To go with a more sleek and portable device, MacBooks come with USB-C ports that are just not enough, leaving users with unwanted limitations. 
Moreover, although a multi-display setup is not needed by most, the extra screen real estate does offer convenience to those working in finance, video editing, programming, designing, architecture, and printing industries. 
Many work tasks demand the use of multiple-display workstations. From designing and editing to spreadsheet analysis, multi-display setups make work life easier and more productive.  
The 4K Display Docking Station for Mac offers a convenient solution to both these problems. The new device is compatible with any devices that support DisplayLink Software with a USB-A or USB-C port. Thus, allowing users to move from single-display laptops to triple-display workstations without a hassle. 
While it is important to note that there are other similarly configured docking stations in the market, only a handful offer access to DisplayLink technology. 
This one add-on allows personal computers and laptops without built-in support for triple or dual monitors the ability to upgrade to three 4K displays. This is especially vital for M1 and M2 Mac users who often find themselves restricted to a single display.
The extra ports transform your laptop into a full-fledged workstation with an instant connection to several computer accessories.
The Satechi Triple 4K Display Docking Station comes with 12 ports to expand Windows or macOS laptops and desktops. These 12 ports include two DisplayPort 1.4 and three HDMI 2.0 ports that will allow users to connect up to three 4K displays with a refresh rate of 60Hz in extended mode.
When it comes to its build and construction, the 4K Display Docking Station for Mac sports a sleek and stylish design. It is made from high-quality materials that ensure a reliable and durable device. 
Additionally, Satechi follows a more minimalistic design by placing its charging and data ports on the front line. The host port, on the other hand, is located on the left side of the 4K Display Docking Station for Mac.
Thanks to its decluttered port placement, users can avoid getting looped up in wires and employ more efficient cable management. 
Docking stations are known to get overheated easily as the outer shell radiates heat that feels warm to the touch. Overheating can reduce the life of your docking station and damage the sensitive inner components.
To target this problem, the bottom of the Satechi Triple 4K Display Docking Station has vents that ensure better airflow and ventilation.
Satechi's 4K Display Docking Station for Mac is not just limited to Mac systems. It can be used to expand the single-display Windows desktops as well. 
The latest cross-platform docking station has been launched and costs $299.99.