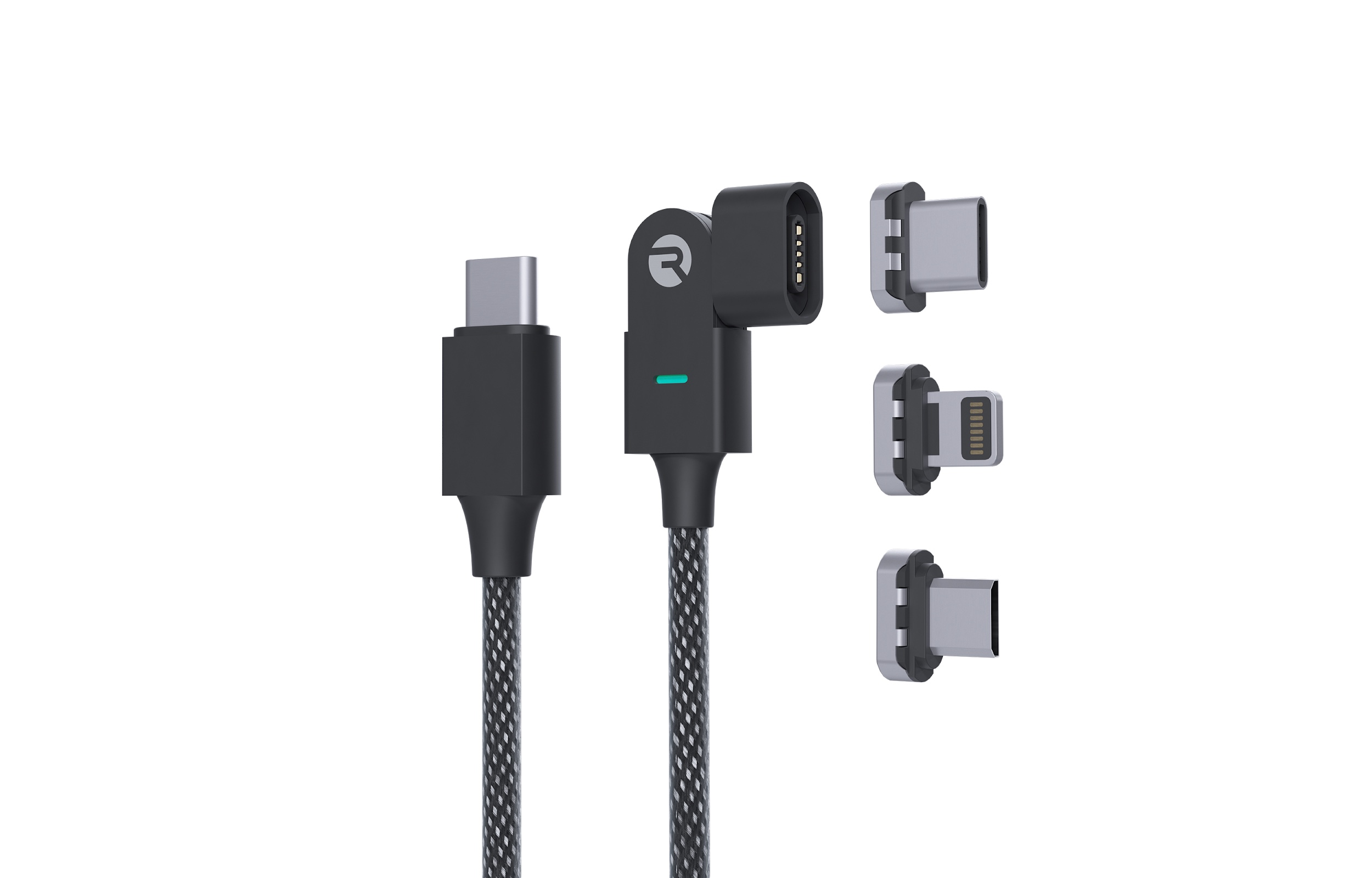 Raycon Global Launches Magic 180 Cables That Magnetically Attach To Your iPhone
Accessory maker Raycon Global has launched its new Magic 180 and Magic 180 Pro cables to help you charge multiple types of devices using a single cable. These cables can charge your devices no matter if you have a lightning device, a USB-C device, or a micro USB device.
These are multi-purpose charging cables that enable users to charge different kinds of devices. This makes them perfect for those who don't want to carry different cables in their backpack or during their travels.
Raycon Global Magic 180 and Magic 180 Pro cable comes with magnetic tips that you can attach to your devices permanently. There's a tip for Lightning, USB-C, and micro USB.
Then when you are ready to charge any of these devices, you can simply magnetically attach the cable to the magnetic tip that is already in one of your devices and start charging. You can easily disconnect the magnetically attached cable by simply pulling it.
A Closer Look at the Magic 180 Cables
These cables come in two variations, the Magic 180 Cables and the Magic 180 Cables Pro, each designed to cater to a wide range of needs and preferences.
Magic 180 Cable ($24.99)
The Magic 180 Cable is your all-in-one solution for charging Lightning, MicroUSB, and USB Type-C devices. With a maximum power delivery of 100 watts, it packs a powerful punch. Here's a closer look at its features:
1. 180 Rotation
One notable feature of the Magic 180 Cable is its 180-degree rotation capability. This unique design prevents the typical wear and tear seen in conventional charging cables while also offering enhanced comfort for various tasks, such as playing games, using apps in portrait mode, or watching videos while charging.
2. Magnetic Tips
Equipped with magnetic tips, the Magic 180 Cable offers enhanced protection for your device's charge port, guarding against damage and fraying. These magnetic tips facilitate quick and effortless attachment and removal, ensuring the safety of your device during charging.
3. Fast Charge
The Magic 180 Cable excels in terms of charging speed, delivering a remarkable 8-fold increase in charging speed compared to regular charging cables. This accelerated charging capability eliminates the frustration of lengthy charging times, allowing you to power up your device swiftly.
4. Army-Grade Durability
Crafted with a hard-wearing nylon exterior and a bulletproof fiber core, the Magic 180 Cable is engineered to withstand over 20,000 bends. In fact, it's made with the same braided nylon used by the US Army, making it nearly impossible to tear.
5. Intelligent Chip
To provide users with peace of mind during charging, the Magic 180 Cable features a built-in intelligent chip. This chip regulates power delivery to your device, preventing overheating and overcharging, and ensuring the safety of your device throughout the charging process.
Magic 180 Cable Pro ($34.99)
The Magic 180 Cable Pro takes charging convenience to the next level with its premium features. Here's what sets it apart:
1. Rapid Charging
Equipped with a 100W power delivery capability, the Magic 180 Cable Pro can charge your phone up to 8 times faster than conventional cables. This feature is particularly beneficial for individuals who require a quick and efficient power boost while on the move.
2. Silicon Cord
The Magic 180 Cable Pro features an upgraded silicone cord, providing maximum protection for your devices. Its 180-degree rotation design makes it comfortable to use for various tasks while charging.
3. Extra Defense
Similar to its counterpart, the Magic 180 Cable Pro includes magnetic tips that shield your device's charge port from dust, humidity, and other potential contaminants. This added layer of defense safeguards the integrity of your device, helping it remain in pristine condition over time.
Versatile Charging for Every Device
One of the standout features of the Magic 180 Cables is their adaptability to various devices, including smartphones, earbuds, and laptops. Each cable is equipped with a flat-style magnetic tip that can be easily swapped out, making it incredibly versatile. The 180-degree swivel ensures that the cable moves with you, preventing fraying and damage.
Pricing and Availability
The Magic 180 Cable and Magic 180 Cable Pro are competitively priced at $24.99 and $34.99, respectively, making them an affordable and valuable addition to any tech enthusiast's collection. They are available for purchase here.
The Magic 180 Cables: A Game-Changer in Charging Convenience
The Magic 180 Cables bring a new level of convenience and versatility to the world of charging cables. With their 180-degree rotation, magnetic tips, and rapid charging capabilities, they are poised to become essential accessories for tech-savvy consumers looking to streamline their charging experience.