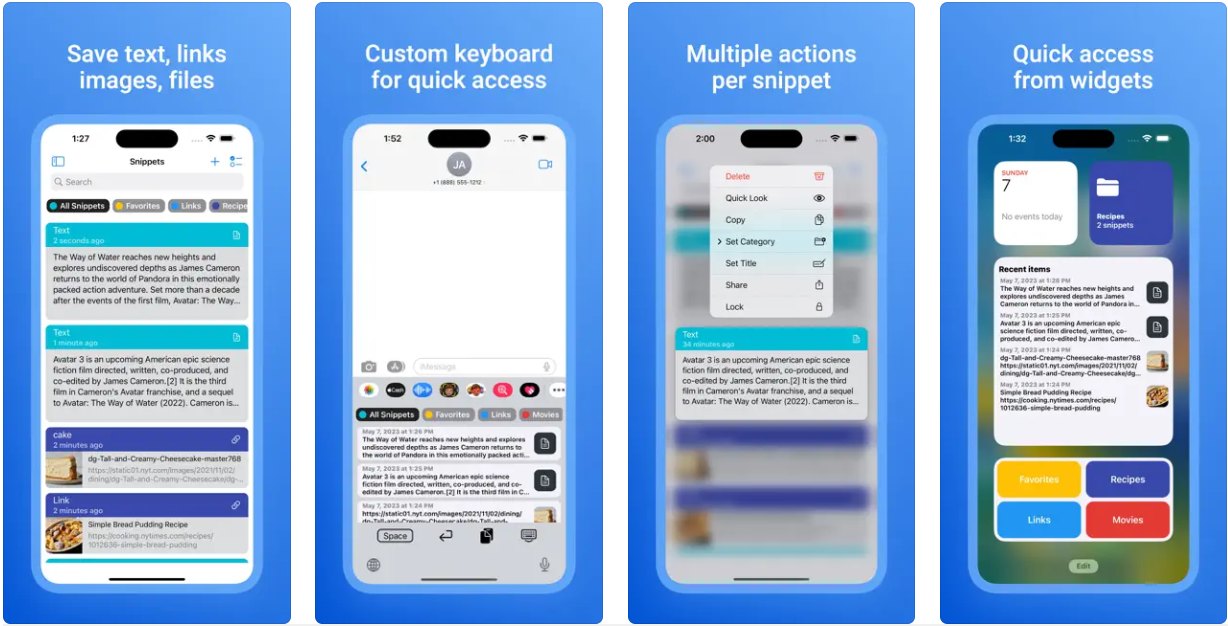 Pycopaste Is A Universal Clipboard Manager For Your Apple Devices
In this article, let's discuss the third-party clipboard manager app, Pycopaste, that makes copy-pasting a breeze on your Apple devices. 
Have you ever found yourself in the sticky situation of copying something on one Apple device and desperately wishing you could paste it on another without the hassle? 
Well, you're about to meet your new digital best friend – Pycopaste.
Let's face it, the copy-paste hustle is like a never-ending dance routine. You copy a link on your Mac, and shuffle over to your iPad, only to realize Apple's Universal Clipboard has failed to sync your link.
But hey, fear not, because Pycopaste clipboard manager for iPhone, iPad, and Mac is here to bring the party to your clipboard management game. Think of it as the ultimate backstage pass to copy-paste harmony on all your Apple devices.
Also check out: 9 Best Clipboard Managers for iPhone, iPad, And Mac
What is Pycopaste About?
Pycopaste clipboard manager for iOS and macOS is like a super-smart overseer of your clipboard, enabling you to seamlessly copy and paste between your iPhone, iPad, and Mac devices. 
You will no longer need to send emails to yourself or utilize third-party note apps to bridge the gap between your devices. With Pycopaste, it's all about simplicity, efficiency, and a touch of magic.
Magic Unleashed: Features of Pycopaste to Marvel At 
Picture this: you're working on your Mac, copying crucial information for that important presentation. But wait, you need that information on your iPad for a client call in a few minutes. 
Enter Pycopaste iPad clipboard manager, the ultimate clipboard manager designed to effortlessly bridge the gap between all your iOS and macOS devices. With Pycopaste, your copied content is your oyster, available wherever and whenever you need it.
On that note, let's discuss the features that make this third-party clipboard manager app oh-so-great:
1. Bring Intelligence To Work With Background Clipboard Monitoring
Ever felt like your clipboard had a mind of its own? Pycopaste clipboard manager for iPhone introduces Background Clipboard Monitoring, a Jedi-level feature that stealthily tracks your clipboard activity. 
Every copy becomes a saved treasure, ready to unleash whenever you please. Say goodbye to the heartache of lost snippets and the frantic re-copying dance. Pycopaste has your back, always.
2. Access Your Clips, Anywhere, Anytime With iCloud Sync
The magic of iCloud takes center stage as Pycopaste third-party clipboard manager app unites your clips across iOS and macOS devices. Imagine copying a recipe on your iPad and effortlessly pasting it into your grocery list on your iPhone. 
It's like having a digital twin that mirrors your every clipboard move. Seamlessly synchronize, securely store, and stay in the flow, no matter which Apple device you're wielding.
3. Organize with Finesse Using Categories Management
Life is about categories, and Pycopaste clipboard manager for iPhone agrees. Imagine a space where your clips are neatly sorted into categories of your choice. 
Your travel plans, project notes, and delightful memes have a home. Categories Management declutters your workspace, making retrieval as effortless as a flick of the wrist.
4. Fortify Your Secrets With Biometric Protection 
Your secrets are safe with Pycopaste third-party clipboard manager app. Lock away your sensitive clips with the digital equivalent of a fortress.
With the power of Touch ID, your valuable clips remain under lock and key. Biometric Protection is your digital vault, ensuring your secrets are for your eyes only.
5. Rescue the Unintentional Delete With Thrash Support
Oops, deleted something important? Don't sweat it, for Pycopaste clipboard manager for iPhone has a lifeboat for you – the Thrash Support. No more mourning the loss of precious text. Retrieve what you deleted and carry on like the clipboard pro you are.
6. Utilize Link Previews & Searchable Clips in Spotlight
Copied URLs often lead to a world of mystery. Not anymore. Pycopaste's Link Previews offer a sneak peek, giving you a visual preview of the link's content. Say hello to informed decisions and efficient link management.
Oh, and your clips deserve the Spotlight, too. This third-party clipboard manager app seamlessly integrates with Spotlight, making searching a breeze. From a snippet of code to that perfect recipe, finding it is as easy as typing.
Time waits for no one, and neither does Pycopaste clipboard manager for Mac. Integrate it with Shortcuts, and your clips are just a tap away. Enhance your workflow with quick access that makes you feel like a digital wizard.
As for the Share Sheet, it just got a fantastic upgrade. Add clips to Pycopaste third-party clipboard manager app from any app with ease. It's sharing, saving, and streamlining at its best.
8. Avoid Blacklisted Words & Utilize Status Menu Bar
Bye-bye irrelevant or sensitive content. Pycopaste's blacklisted words feature helps you keep those unwanted clips at bay, ensuring your clipboard history remains pure and useful.
And for the rest of your clips, keep an eye on them without breaking a stride. Pycopaste's clipboard manager for Mac status bar menu provides swift access, even allowing you to drag and drop items – it's like magic at your fingertips.
9. Images and Files Uploads Supported
It's not all about the text. This third-party clipboard manager app proudly supports images and files, so you can easily store visuals and documents for quick retrieval.
10. Customizable Clip History Duration
Tailor the retention settings to your liking. Whether you're a "clean slate" kind of person or a digital hoarder, Pycopaste clipboard manager for Mac lets you decide how long clips hang around.
In Conclusion…
Gone are the days of chasing after fleeting bits of copied content like a digital detective on a wild goose chase. With Pycopaste, you're not just managing your clipboard; you're orchestrating a symphony of efficiency, creativity, and organization.
No more device hopping, no more re-copying that same link for the umpteenth time. Pycopaste third-party clipboard manager app is your trusty sidekick, your digital companion, and your shortcut to streamlined productivity. 
It's time to bid farewell to the limitations of the native clipboard and embrace a world where copy-pasting is as smooth as butter on warm toast.
Download Pycopaste third-party clipboard manager app now.