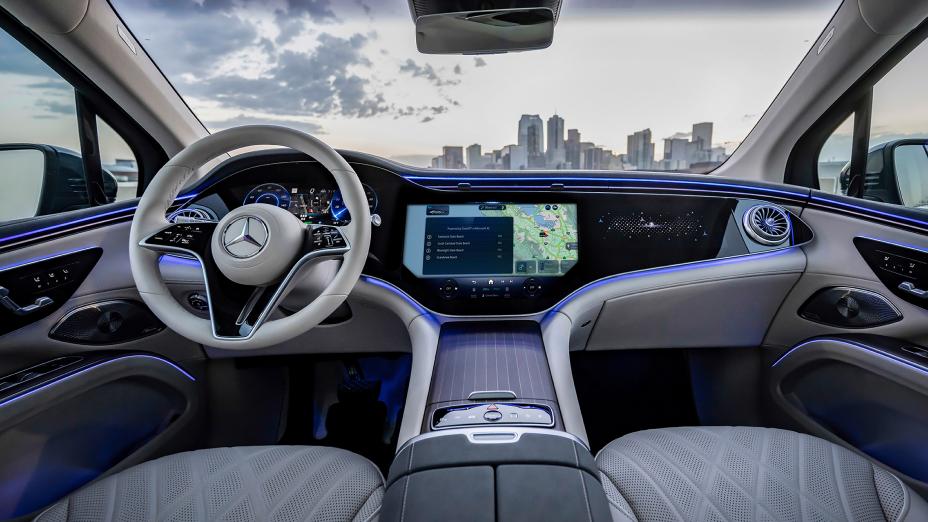 Mercedes-Benz to bring ChatGPT to over 900,000 vehicles in the US
So far, OpenAI's conversational AI chatbot ChatGPT is being used on PC and iOS, while Android users are still waiting their turn to get their hands on the viral chatbot in the form of an app. Now, ChatGPT may be arriving in an entirely new platform – cars. For the first-time ever, the popular chatbot is making its debut in vehicles.
You read that right, and this development comes amidst Mercedes-Benz's increasing push into AI. In an official statement, the automaker announced that it has joined forces with tech titan Microsoft to introduce AI (in the form of ChatGPT) in over 900,000 vehicles across the US. This partnership marks a significant step towards enhancing the in-car experience by leveraging advanced AI technology. The collaboration aims to augment the capabilities of Mercedes-Benz's MBUX voice assistant, Hey Mercedes, offering users a more intuitive and comprehensive automotive experience.
ChatGPT, Mercedes-Benz noted, will be arriving to customers in the US via Microsoft's Azure OpenAI Service. Starting tomorrow, June 16, US owners of models that use MBUX will be able to opt into a beta program, one that activates ChatGPT functionality. With this, drivers can engage it in a variety of conversations and further augment the vehicle's conversation skills. Want to know how far your destination is or search for a new recipe for your dinner? Simply ask ChatGPT while keeping your hands on the wheel and eyes on the road. To join the beta program, customers can go to the via the Mercedes me app, or they simply need to tell their vehicle, "Hey Mercedes, I want to join the beta program."
The beta program will be rolled out over-the-air, the company noted, and is expected to last for a period of three months. It remains to be seen whether Mercedes-Benz can sort out the issues that will undoubtedly crop up during the program – chief among which is the potential distraction that extensive voice interactions may pose to drivers. Currently, Mercedes vehicles have voice-command capabilities that enable drivers to use the phrase, "Hey, Mercedes," followed by a short command to do simple tasks, such as adjusting the temperature in the vehicle or finding directions to the destination.
When it comes to AI and chatbots, user privacy is one of the biggest concerns. Mercedes-Benz noted that the voice command data is collected and stored in the Mercedes-Benz Intelligent Cloud, where it is anonymised and analysed.
"The integration of ChatGPT with Microsoft in our controlled cloud environment is a milestone on our way to making our cars the center of our customers' digital lives. Our beta program boosts the existing Hey Mercedes functions such as navigation queries, weather requests and others with the capabilities of ChatGPT. This way, we aim to support conversations with natural dialogues and follow-up questions. Our customers can always rely on us to ensure the best possible protection of their data privacy. Everything is under one big goal: Redefining the relationship with your Mercedes," Markus Schäfer, Member of the Board of Management, Mercedes-Benz Group AG, and CTO of Development and Procurement, said in the statement.
With the integration of ChatGPT, Mercedes-Benz plans to revolutionize voice-based interactions within their vehicles. By utilizing the currently-viral chatbot, the automaker seeks to enhance the capabilities of its voice assistant, further enabling users to make audio requests and engage in natural, conversational interactions with their vehicles. This, in turn, is expected to lead to a more seamless and intuitive driving experience, especially at a time when most voice assistants are limited to predefined tasks and responses.
Furthermore, the expanded capabilities of Hey Mercedes with the help of ChatGPT may extend beyond standard voice commands. Users may now engage in more complex and dynamic conversations with their vehicles, enabling them to access a wider range of features and services. This could include anything from navigation assistance, weather updates, personalized recommendations, and even controlling various in-car functions.
The company noted in its release that it "combines the best of both worlds, enhancing the validated data of the MBUX Voice Assistant with the more natural dialogue format of ChatGPT. Users will experience a voice assistant that not only accepts natural voice commands but can also conduct conversations."