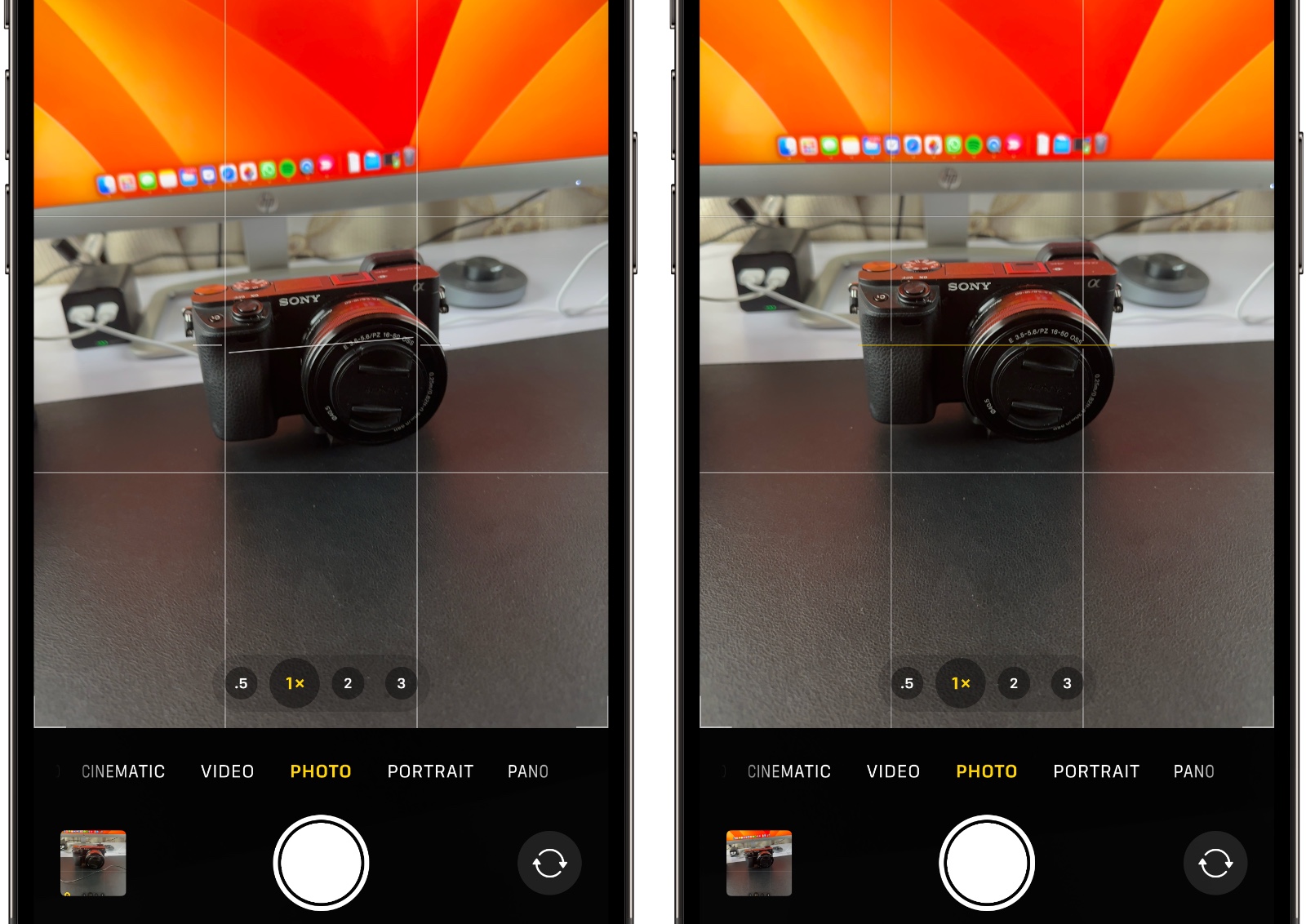 iOS 17 Adds A Level Tool To Camera App, Here's How To Turn It On Or Off
With iOS 17 users will have access to a new Level tool in the Camera app. This tool helps them in straightening their shooting angle while taking photos on their iPhone or iPad.
When using the stock Camera app to shoot photos or record videos users will see a broken straight white line right in the middle of the screen. Taking advantage of the device's accelerometer line moves accordingly as you tilt your iPhone left or right.
This line will help users in straightening their iPhones to take better photos and videos. The level tool appears no matter if you are taking a photo or video in landscape or portrait orientation.
A great thing about iOS 17's Camera leveling tool is that it gives very subtle haptic feedback when the user has successfully lined the shooting angle. At this point the white line turns yellow and then disappears, only to reappear when you mess up the shooting angle again.
How to enable or disable iOS 17 Camera app's Level feature
While the new Level tool in the Camera app is not intrusive and does not disturb you when you are trying to take photos or videos, you have the option to turn it on or off.
Follow the steps below in order to enable or disable iOS 17 Camera app's Level feature.
Step 1. On your iPhone or iPad running iOS 17 or later go to Settings and then to Camera section.
Step 2. On the Camera page find the 'Level' option under the Composition section.
Step 3. Enable the toggle for Level to turn this feature On. To turn off Level simply move the toggle to the off position.
The new Camera Level tool joins the '+' level tool, which was already part of the Camera app. The '+' tool allows users to take better top-down shots by displaying two '+' signs in the middle of the screen. Users can tell when the device has leveled when the two '+' signs become one.