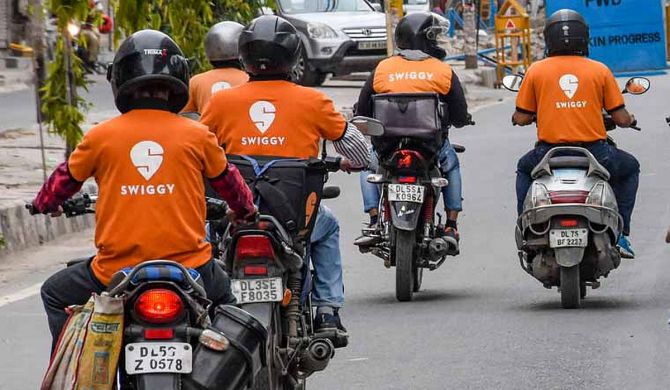 Invesco is increasing Swiggy's valuation by 42% to $7.85 billion
In an otherwise dull tech startup fundraising environment, Swiggy is getting a dash of some better news. US-based fund manager Invesco, a major stakeholder in Swiggy, has done an internal correction to the fair value of the Bengaluru-based company. Invesco is now valuing Swiggy at $7.85 billion (about ₹65,000 crore), reflecting a remarkable uptick from the previous valuation of $5.5 billion as of July 31. This revision signifies a total increase of 42%.
This development comes after Invesco slashed Swiggy's valuation twice in four months. Invesco currently holds a total of 24,844 shares in Swiggy with a cumulative value of $135.6 million.
Swiggy's valuation has been on a rollercoaster ride over the past year. In January 2022, Invesco's investment led to Swiggy becoming a decacorn, with a valuation of $10.7 billion after raising a massive $700 million. However, as market conditions shifted and the food delivery industry faced challenges, valuations took a hit. In March 2023, Invesco reduced Swiggy's valuation to $8 billion, before further cutting it to $5.5 billion in July. This latest adjustment brings the valuation closer to its earlier peak, but it's still 30% below the January 2022 valuation.
This revision in Swiggy's valuation could have important implications for the company, especially as it gears up for a potential IPO in 2024. Swiggy has been proactive in addressing its financial health by implementing measures to achieve profitability. One such move was the introduction of a platform fee for users, a step toward a more sustainable financial trajectory.
The food delivery giant's valuation will likely continue to evolve in conjunction with the performance of its publicly listed peers and its own financial health. The food delivery sector, including Swiggy and its rival Zomato, encountered challenges as market growth slowed down. The once-soaring valuations saw corrections as the industry grappled with market saturation and changing dynamics. Interestingly, Zomato's valuation also took a hit but has seen a significant recovery due to an improvement in its financial health, with the current valuation exceeding $11 billion. As of October, Zomato has a market cap of $11.74 billion, which is decently high considering it is now publicly traded.
Swiggy's drive toward profitability has also yielded results. The company reported profitability in its food delivery business during the March quarter of FY23, and the company's monthly cash burn reduced to $20 million. Cost-cutting measures, including layoffs and the introduction of the platform fee, played a role in achieving this financial milestone. Swiggy's monthly cash burn also significantly decreased, indicating positive changes in its financial outlook.