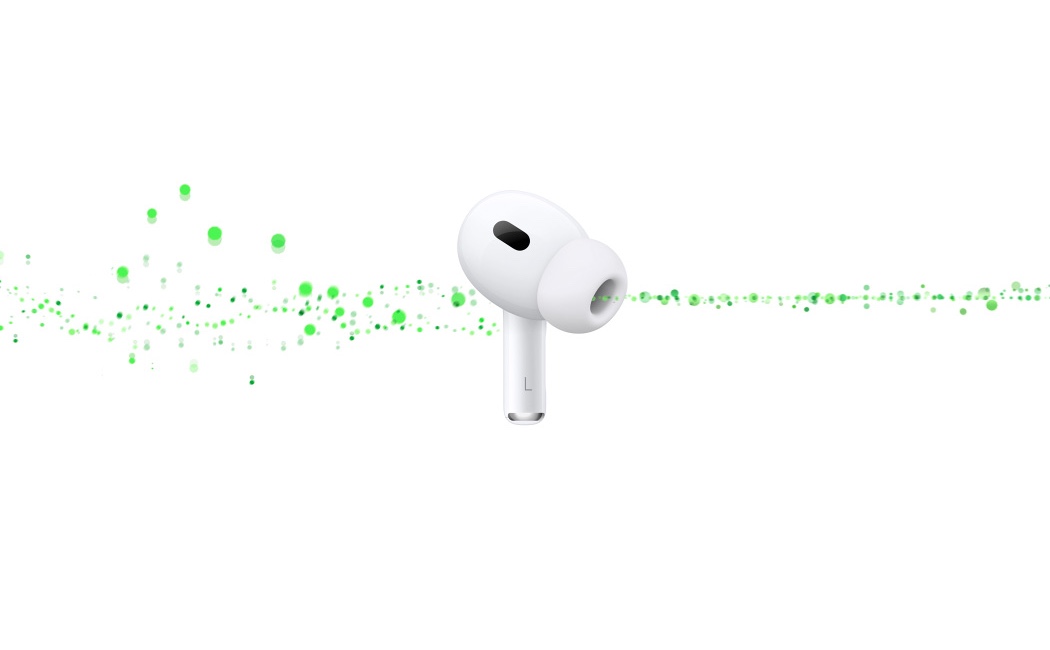 How To Enable AirPods Pro Adaptive Audio Mode In iOS 17
In this guide, we'll walk you through the process of how to turn on AirPods Pro Adaptive Audio Mode in iOS 17, shedding light on its functionalities and providing tips for a superior auditory experience.
Have you heard the buzz from the tech sphere? In the ever-evolving world of technology, Apple continues to push boundaries with each new update.
iOS 17 introduces an exciting feature for AirPods Pro 2 users – Adaptive Mode. 
What is AirPods Pro Adaptive Mode?
AirPods Pro Adaptive Mode is a new feature that is being introduced in iOS 17 update. This groundbreaking capability allows your AirPods Pro to seamlessly transition between noise-cancellation and transparency modes, adjust the volume in response to your environment, and enhance voice clarity. 
Imagine a world where your music seamlessly dances with the sounds around you, where you can groove to your beats without missing out on life's rhythm. 
Get ready to unwrap the mesmerizing innovation that's about to take your AirPods Pro experience to a whole new level.
How AirPods Pro Adaptive Mode Works in iOS 17
Before we dive into learning how to turn on AirPods Pro Adaptive Mode, let's talk about how it works. AirPods Pro Adaptive Audio is a trio of automatic features that Apple has orchestrated with absolute finesse.
First up, we have the star of the show – "Adaptive Noise Control." This maestro of sound dynamically fine-tunes the external noises you encounter by blending the levels of noise cancellation and transparency. 
Next in line is the "Personalized Volume." Think of this as your audio companion with a sixth sense. It elegantly adjusts the volume of your media according to the vibes of your surroundings. Whether you're in the bustling city streets or a serene café, your AirPods Pro will make sure the volume is just right.
But hold on, the symphony doesn't end there. Enter "Conversation Awareness." This magical note ensures that your interactions with the world are effortless. When you begin to converse, your AirPods Pro automatically shifts to transparency mode, inviting the outside world into your auditory experience, all while reducing your media volume to let conversations take center stage.
The Secret Behind This Enchanting Performance
It's all in the finesse of the crossfade-like effect that AirPods Pro Adaptive Audio brings. 
There's no jarring switch between modes; it's as smooth as silk. The transition between noise cancellation, transparency, and volume adjustments is so seamless that it feels like a magical wave transforming your audio landscape in the blink of an eye.
Step-by-Step Guide to Enable Adaptive Mode on AirPods Pro
First things first, let's answer the "Which AirPods Pro models support Adaptive mode" question before it gets complicated. 
The Adaptive Audio is your backstage pass exclusively for AirPods Pro 2 users. The feature will be rolled out to all users with the release of iOS 17. For those looking to try it right now, you'll need the iOS 17 developer beta and the AirPods beta installed. Remember, it's a developer beta, so install it with a little adventure spirit.
With that said, let's learn how to turn on AirPods Pro Adaptive Mode:
When you install the AirPods beta, keep your eyes peeled for a splash screen asking if you want to turn on Adaptive Audio. 
If that's a no-show, no worries. You've got the power to turn on this feature manually, like a true tech maestro.
With your AirPods all snug and connected, go to Control Center by swiping down from the top-right corner. Spotted the volume slider? Give it a long press. 
Now, tap the Noise Control button, and tap on "Adaptive." 
Congratulations! Your AirPods Pro 2 are now officially enrolled in the Adaptive Audio groove.
Get Set to Customize: Tailoring Your AirPods Experience
Hey, we all love to have our own vibe, right? Your AirPods Pro 2 can be your perfect dance partner if you customize it as per your needs. Here's how you can turn on AirPods Pro Adaptive Mode using custom options:
Navigate to your iPhone's Settings app and tap on your AirPods at the top. 
Head into the "Press and Hold AirPods" section, and find your Left or Right option (whichever is associated with Noise Control). 
By default, your AirPods Pro stem presses serve up a magic switch between Adaptive Audio and noise cancellation – pretty neat, right? 
But wait, there's more. You're in the captain's chair here. You can amp up your control game by adding transparency and an off option to the mix. 
So, the next time you give your AirPods stem(s) a confident press-and-hold, you'll be cycling through these fantastic controls like a pro.
A Little Birdie Told Me: Conversation Awareness
Now, let's talk about vibes. Conversation vibes, to be precise. 
When you start chatting with the world, your AirPods Pro 2 smoothly shifts into transparency mode, and the volume gets a bit cozy, all in the name of making conversations sparkle. 
But wait, you're the boss of your vibe. Want to focus more on your audio symphony? Here's what you need to do:
Turn off Conversation Awareness in your iOS Settings > AirPods > Audio
Give a tap to disable Conversation Awareness, Personalized Volume, or Loud Sound Reduction (whichever you want to disable).
Seeing (Hearing) is Believing: The Finishing Flourish
As you turn on AirPods Pro Adaptive Mode Audio, keep your ears perked for a unique sound effect that confirms you've taken a step into the audio future. Look at that Adaptive icon – it's like the spotlight is on it, with a color wheel backdrop. 
So, when you're rockin' the AirPods Pro Adaptive Audio, just watch the symphony unfold. Smooth transitions, crossfade-like magic – all keeping you in the groove, no matter the audio landscape.
And hey, if you're all about making the most out of every beat, let us tell you, Adaptive Audio's automagic is here to make sure you're never out of sync. 
Who wants to juggle modes when you're busy belting out your favorite tunes? Unless, of course, you're belting out a duet with your favorite artist – then you might want to pause that Conversation Awareness.
Join the Excitement: Stay Connected!
Turn on AirPods Pro Adaptive Mode and get ready to dive into a world where your music blends seamlessly with the world around you, enhancing your AirPods Pro experience in ways you never imagined.
Groove to a new rhythm where technology enhances your bond with both music and your environment. Dive deep into these incredible audio modes, unlock their potential, and make them work according to your style. 
So, keep those ears perked, and brace yourself for an AirPods Pro experience that's about to be taken to new heights, thanks to Apple's innovative audio strides.