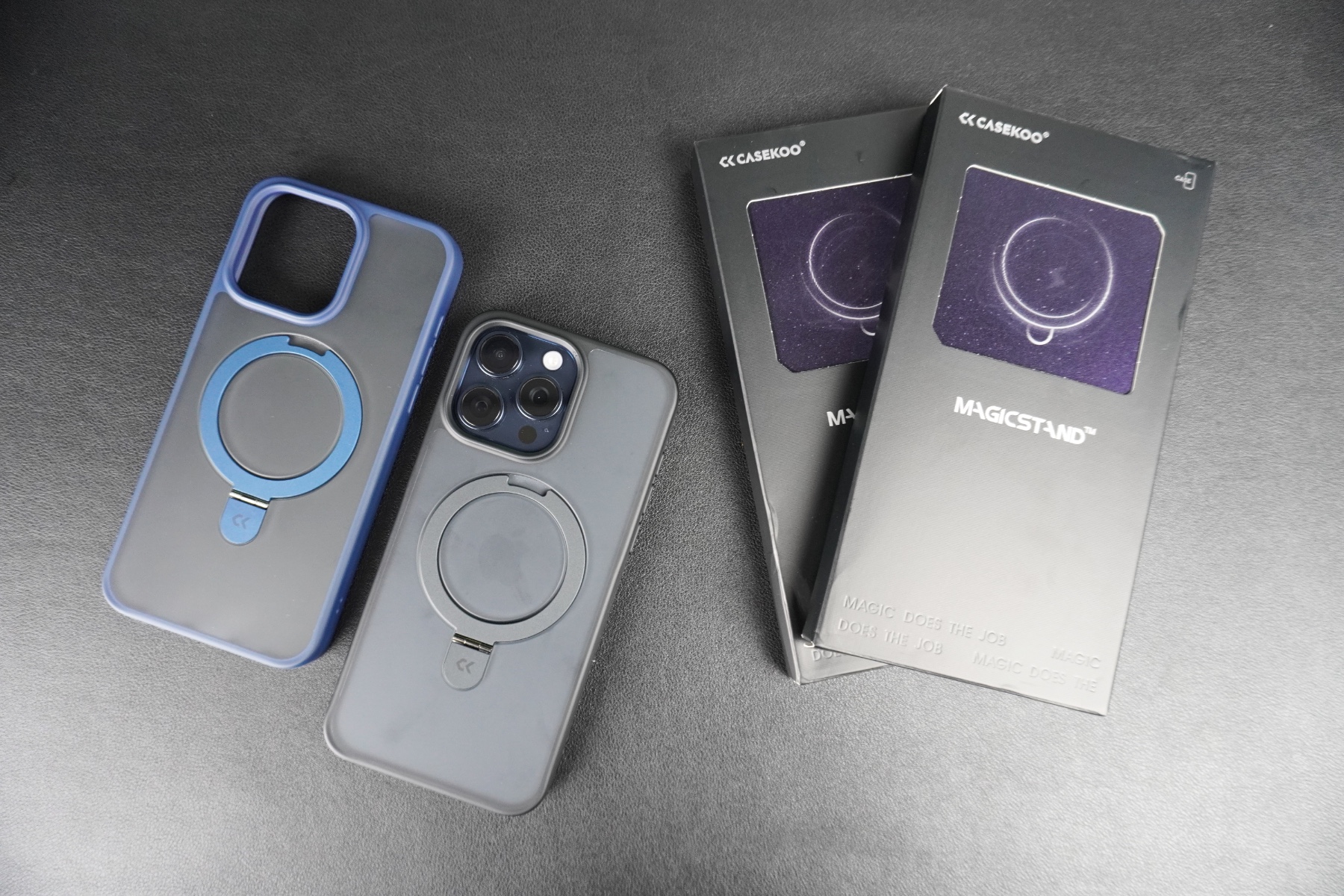 Casekoo Magic Stand Cases For iPhone 15 Pro Max With Built-in Kickstand (Review)
Whenever you buy a new iPhone, the first order of business is to get yourself a good protective case. And if you are currently going through that phase, and are looking for an iPhone case, that is more than just an iPhone case, then you might want to continue reading.
There's no shortage of iPhone 15 Pro Max cases out there, and finding the right option that you can use for several months is no easy task. We have tested our fair share of iPhone cases and can safely conclude that not all cases are built to last or fully protect your device.
So is the CASEKOO Magic Stand Series Kooshock Version Case for iPhone 15 Pro Max worth your money and trust? That is precisely what we are going to discuss in this detailed review.
Design, Material, and build quality
Regarding design CASEKOO Magic Stand Series Kooshock Version Case does not disappoint. It features a minimalist design with a matte finish on the sides and the back. This matte finish gives a nice soft feeling to your hand when you are holding the device while also providing a non-slip grip.
The case features shockproof polycarbonate back and airbag cushions on the sides, which provide military-grade drop protection to your device. The airbags make sure your device is not harmed in case you end up dropping it on the floor.
With the CASEKOO Magic Stand Kooshock Case, you also get 1.5mm raised lips on the front, which provide protection to the screen in case you put your iPhone upside down. Similarly, a 2.5mm offset border is found around the rear camera cutout that provides much-needed protection to your iPhone's rear lenses.
Features, cutouts, wireless charging
A big pet peeve of mine when it comes to cases is that they make the buttons too hard. That's not an issue with the CASEKOO Magic Stand Series Kooshock Case for iPhone 15 Pro Max. The case features soft buttons for volume up and down, power, and the new Action button. Speaking of the Action button, you find a dedicated soft button for the iPhone 15 Pro Max's new Action button unlike many cases out there that just have a cutout.
At the bottom you get cutouts for the speaker grills and the USB-C charging port, making it easier for users to connect any sort of USB-C cable to their device.
This case fully supports Qi Wireless Charging, so you can place your iPhone on any Qi-compatible wireless charger and charge your device. MagSafe is also fully supported. In fact, that case features built-in N52 magnets, which provide a secure attachment to any MagSafe attachment. In my testing, the magnetic connection between the case and Apple's MagSafe charger was so strong that it required two hands to remove the charger from the device.
Magic Stand Kickstand feature
One of the main highlights of the CASEKOO Magic Stand Series Kooshock Case for iPhone 15 Pro Max is its Magic Stand. This kickstand makes it possible for users to place their iPhones both vertically and horizontally and enjoy their iPhones hands-free.
The best thing about the Magic Stand in this case is that it is invisible when not in use, as it doubles as the MagSafe circle that you find in most cases. When you want to take advantage of the kickstand you can easily open it with one hand.
The Magic Stand offers multiple viewing angles, so you can position your iPhone in whatever position you like. The kickstand angles range from 40 degrees to 120 degrees, giving you a huge room to play with. So no matter if you want to watch YouTube, enjoy Instagram reels, TikTok, or FaceTime with your family, the kickstand has got you covered.
The kickstand feels strong and sturdy and it does not feel like it will break no matter how you use it. Opening and closing the kickstand is also easy and satisfying.
Pricing, Availability, And Discount
You can buy the CASEKOO Magic Stand Series Kooshock Case for iPhone 15 Pro Max from the company's official website at a price of $32.99. You can get a 10% discount on your case order by entering the discount code iOSHacker10 at checkout.
The case comes in Black, Natural Titanium, and Blue Titanium color options.
Conclusion and rating
After using the CASEKOO Magic Stand Series Kooshock Case for iPhone 15 Pro Max for over 2 weeks I can say that this is one of the best iPhone 15 Pro Max cases out there. The design of the case, the matte feel of the materials in hand, and most importantly the Magic Stand make this a must-have case for any iPhone user out there.
I am especially a fan of its minimalistic design and the protection it provides to the device thanks to the airbag cushions.
So if you are looking to get yourself a good iPhone 15 Pro Max, then CASEKOO Magic Stand Series Kooshock case should definitely be on your shortlist.
Disclosure: iOSHacker may receive a commission if you purchase products through our affiliate links. For more visit our privacy policy page.