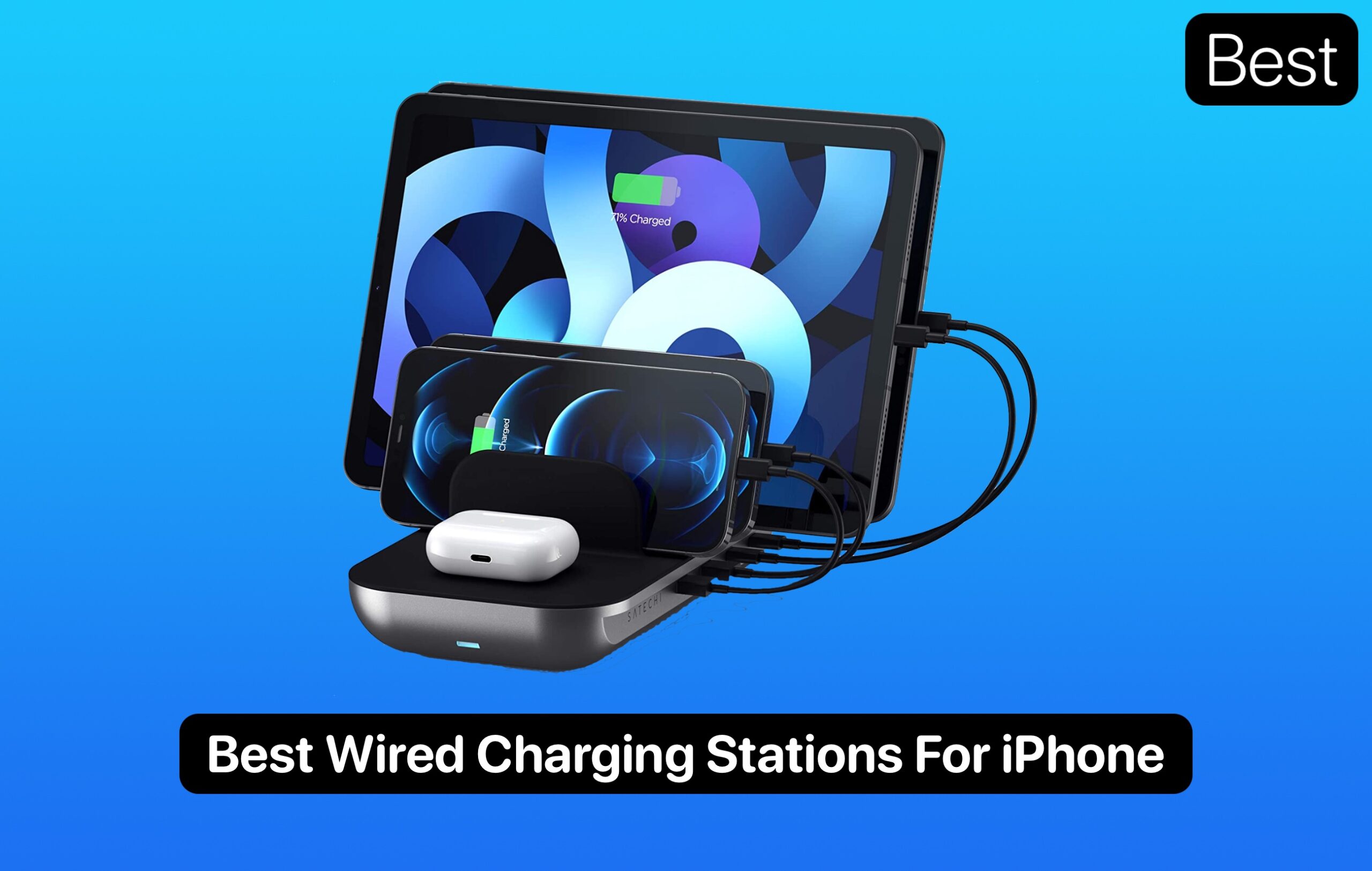 Best Wired Charging Stations For iPhone, iPad, And AirPods
In this article, we have listed the best charging stations that keep your Apple devices powered up and ready to go.
Are you tired of your Apple gadgets conspiring to drain their batteries simultaneously? Sick of searching for charging cables like a detective searching for clues? 
Do you wish you had a magical charging solution that keeps all your Apple devices powered up at once?
Somebody (a genius!) out there felt your struggles and came up with the perfect solution: wired charging stations.
Get Organized with the Best Charging Stations
No more juggling between wall outlets, no more cable chaos – just pure charging bliss for all your devices including multiple iPhones, iPads, Apple Watch, AirPods, and more. With multi-device charging stations, you can keep your gadgets fully charged and ready for action, like the ultimate dream team. 
Also, these best charging stations add a touch of tech-chic to your space, making you the envy of all your gadget-loving friends.
1. Satechi Dock 5 Wired Charging Station
With the Satechi Dock 5 wired charging station your family home, workspace, or classroom will be transformed into a tidy and clutter-free charging oasis.
This charging powerhouse is a multitasking master that simultaneously charges up to five USB devices. It's got a Qi wireless charging slot, two USB-C PD ports, and two USB-A ports, all ready to deliver a total charging frenzy.
And to add a sprinkle of charm, there's a cute LED indicator that lets you know your gadgets are happily charging away.
Lastly, what makes this one of the best charging stations is the ETL and CE certifications, ensuring a secure charging experience for all your devices. No more worries about overheating as over-temperature protection is on standby to grant you peace of mind. 
Buy the Satechi Dock 5 Multi-Device Charging Station from Amazon for $59.99.
2. Nexwell 7 Ports Wired Charging Station
Keep your iPhone, iPad, and AirPods ready for action at all times. This multi-device charging station means business when it comes to power. 
With a jaw-dropping 100W power output, it's like having a charging superhero at your service. No more waiting around – this bad boy can fully charge your iPhone in just 30 minutes.
This best charging station from Nexwell is a multitasking marvel with 7 charging ports. Two USB-C Power Delivery ports, each boasting 35W of charging goodness, and five USB ports, each strutting a cool 12W. 
Moreover, it's got your back with features like overcharge, overcurrent, overload, surge, and short circuit protection. Plus, it's made from anti-Fire PC Material, ensuring nothing but the best for you and your precious devices.
But here's the best part. It automatically detects all connected devices and adjusts the output accordingly. Talk about intelligent charging.
Buy the Nexwell Multi-Device Charging Station from Amazon for $39.99.
3. Catlyn 5 Ports Wired Charging Station
Catlyn's multiple iPhone charging station is designed to keep all your devices charged, organized, and happy in one sleek and compact package.
The 7-in-1 charging station includes a 10W wireless charging pad and 5 fast charging ports. It's like having a gadget wonderland at your fingertips, where you can conveniently charge any 6 devices plus an Apple Watch at once.
One of the best charging stations, it comes equipped with a 20W PD USB-C and an 18W QC 3.0 fast charging port. Your iPhone 13 & 12 series will be singing with joy as they charge up to 3 times faster than with the original 5W charger. 
Plus, QC 3.0 compatibility means your devices will charge up to 80% in just 35 minutes – 50% faster than traditional chargers.
Buy the Catlyn Multi-Device Charging Station from Amazon for $39.99.
4. Creative Design 6 Ports Wired Charging Station
The Creative Design iPhone and iPad charging station is a true hero when it comes to handling multiple devices at once. It comes with a fantastic lineup of 3 Lightning cables, 2 type-c cables, and 1 micro USB cable. 
Plus, there's an Apple Watch holder that keeps your smartwatch charged and ready to roll.
This little genius packs a punch in the charging speed department too. Each 2.4A port charges a blazing 80% faster than regular chargers, making it one of the best charging stations.
As for safety, it's equipped with multi-protection features to keep your devices safe from short circuits, overheating, or overcharging mishaps. And thanks to the silicone pad in each slot, your gadgets will be well-protected from scratches and annoying sliding around.
Buy the Creative Design Multi-Device Charging Station from Amazon for $27.99.
5. Creative Design 6 Ports Wired Charging Station
Wait, did we repeat this one? Nope. Unlike the one we mentioned earlier, this Creative Design charging station doesn't have an Apple Watch stand.
Contrary to its counterparts, this wired charging station comes with not one, not two, but a whopping six charging cables. With three lightning cables, two type-c cables, one micro USB cable, and even a Type-A to Type-C Adapter Converter, it's the ultimate all-in-one solution for your charging needs. 
One of the best charging stations, it is a speed demon! Each 2.4A port charges a staggering 80% faster than those regular 2A chargers. 
Made of premium flame-retardant ABS material and equipped with short-circuit, overheat, and overcharge protection, it's like having a fortress for your gadgets. With wide and sturdy slots, each equipped with a silicone pad to prevent slipping, your devices will stay cozy and secure while charging.
Buy the Creative Design Multi-Device Charging Station from Amazon for $36.99.
6. MACRRO 5 Ports Wired Charging Station
One of the best charging stations from MACRRO, it is like a tech-savvy magician, juggling multiple devices effortlessly. 
With 5-in-1 charging magic, it can handle four of your gadgets simultaneously. You'll get 2 Smart USB-A Ports, 2 Smart USB-C Ports, and a dedicated Watch Stand in this multi-device charging station.
The USB-C and USB-A ports deliver lightning-fast charging, with up to 5V/3A maximum current at full speed. Your devices will be charged up and ready for action in no time.
Thanks to the 10W Max Wireless Charger, no more plugging and unplugging cables. Just place your wireless charging-compatible device on the station, and let the magic happen. 
Plus, it adapts to your device's power needs, so you can enjoy 10W fast charging with a touch of convenience.
Buy the MACRRO Multi-Device Charging Station from Amazon for $35.99.
7. MSTJRY 6 Ports Wired Charging Station
Say goodbye to charging stress with this magnificent six-port multiple iPhone charging station. 
Safety first, right? Absolutely. This charging station comes equipped with a super-smart and advanced intelligent chip that's like a protective knight for your devices. It guards against over-charging, over-current, short-circuit, and overheating, ensuring you and your gadgets stay safe and sound.
Packing a total output power of 90W and three 20W fast charging ports, it is ready to turbocharge your PD protocol-compliant electronics. The MSTJRY charging dock is your versatile companion. 
With 2 C to C cables, 1 C to A cable, 2 USB-C cables, and 1 micro USB cable, it's like having a universal charging VIP pass. But, what makes it one of the best charging stations is its universal compatibility.
Buy the MSTJRY Multi-Device Charging Station from Amazon for $43.99.
Charge Like a Pro
Gone are the days of frantically searching for charging cables, enduring the dreaded low battery warning, or dealing with a cluttered charging area. 
With these best charging stations by your side, you'll be armed and ready to conquer the day with your fully charged Apple army.
These iPhone and iPad charging stations not only supercharge your devices but also bring style and organization to your charging setup.
So, give your tech gear a VIP charging lounge where they can chill and power up in style, today!