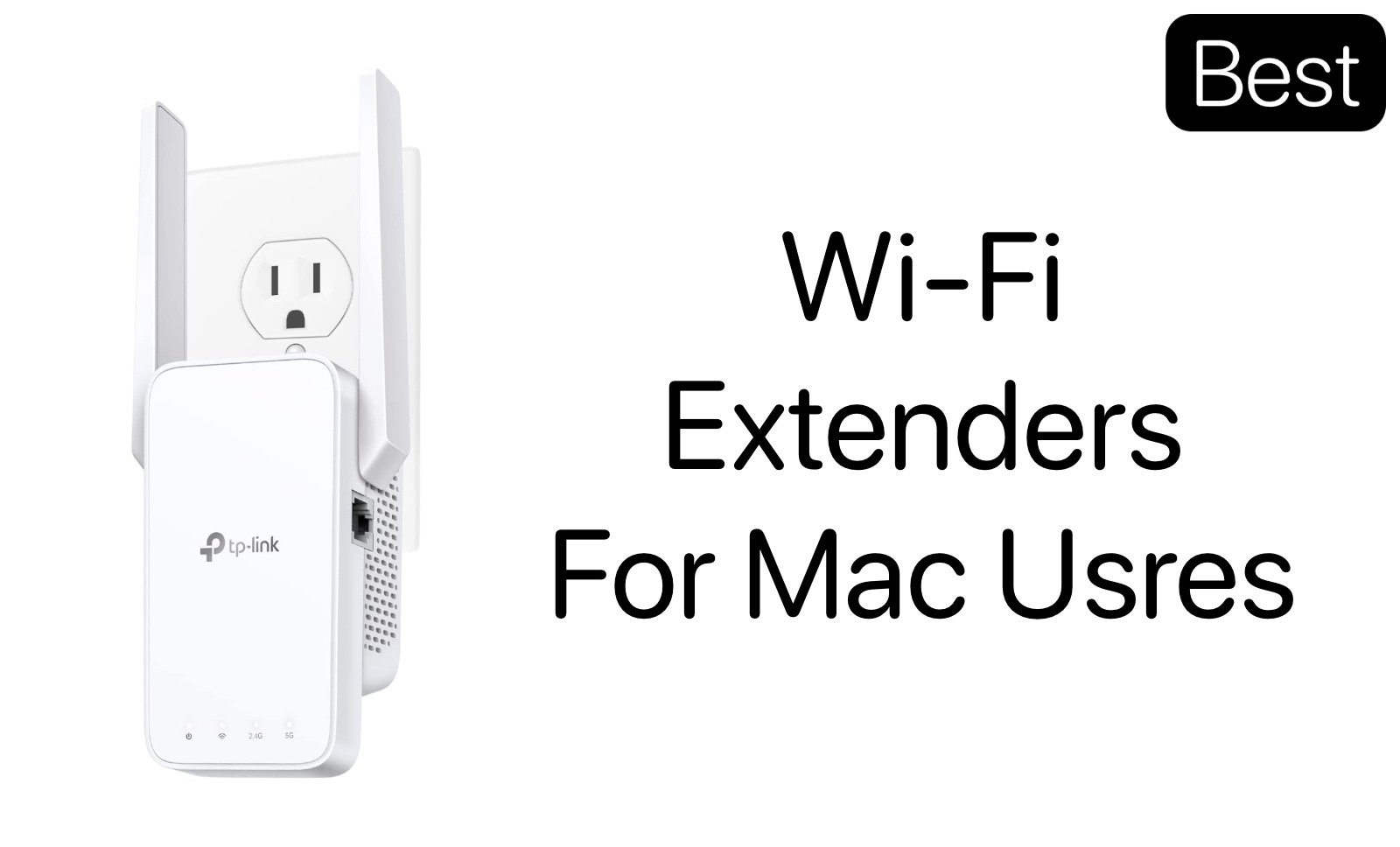 Best Wi-Fi Range Extenders For Mac Users
In this article, we will discuss the best wireless range extenders of 2023 you'll need to add an extra room's worth of coverage. 
With so many of us steering toward remote work and relying on smart home tech, having a strong and stable connection is turning into a need more than a want.
You can pay extra bucks for faster speed or buy a new router. But, if your router isn't strong enough to generate a wider signal, there's no point in doing that or more. 
A Wi-Fi range extender is a better and cheaper alternative to boost those dead corners without a hassle. 
This compact, relatively affordable plug-in device gives you connectivity in the farthest zones of your property going through your garage to the backyard. And unlike the latest mesh network systems, these aren't worth a king's ransom.
Scroll down to see our tried and tested list of some of the best Wi-Fi extenders.
1. TP-Link Wi-Fi Extender (RE315)
TP-Link's RE315 is a great wireless Wi-Fi range extender for boosting a network, wirelessly adding an Ethernet jack to another room, or installing an access point in a prewired home.
You can boost your Wi-Fi coverage up to 1500 Sq. ft and connects up to 30 devices for under $40. The fast ethernet port allows users to experience wired speed and reliability in the farthest corners of their property.
Key Features:
Turns your wired connection into a wireless access point. 
Acts as a wireless adapter to connect all wired devices wirelessly.
Universally compatible with all Wi-Fi-enabled devices, routers, and access points.
Supports the TP-Link OneMesh technology.
Offers 1200Mbps Data Transfer Rate.
Promises super easy and convenient setup and Wi-Fi management.
Buy the TP-Link Wi-Fi Extender (RE315) from Amazon for $29.99.
2. Netfun Wi-Fi Extender Signal Booster
The Netfun Wi-Fi Extender Signal Booster is an excellent Wi-Fi range extender for Mac that allows users to easily connect with their home wireless network.
Covering up to 9956 Sq. ft of area, this signal booster penetrates floors and walls to extend your internet connection to every corner of your house. It ensures an ultra-stable bandwidth, making it perfect for uninterrupted online gaming, video chatting, streaming 4k HD videos, and more. 
Key Features:
Utilizes M7 Bionic Chip and 4 external antennas to boost internet connection speed up to 300 Mbps.
The one-tap setup takes away all the complications.
For routers without WPS, set up connections with a smartphone or browser in under 3 minutes.
Universally compatible with all routers.
Connect up to 40 devices at a time.
Buy the Netfun Wi-Fi Extender Signal Booster from Amazon for $59.75
3. Krevi Wi-Fi Extender
A small and visually appealing signal booster covers up to 7000 Sq.ft with 300Mbps on 2.4GHz and 1200Mbps on 5GHz. just for $39.99. Plus, you don't need to worry about hiding a bulky or ugly device behind the couch or the door. 
The dual-band Wi-Fi extender boosts Wi-Fi signals on a low budget so you can enjoy a fast and stable connection anywhere indoors and outdoors. 
Key Features:
Universally compatible with any Wi-Fi router, gateway, and access point. 
Connects up to 20 devices at a time. 
Easy to install and use with one-click setup and convenient Wi-Fi management.
Supports WEP and WPA/WPA2 wireless security protocols. 
Offers Repeater Mode, AP Mode, and Router Mode.
Buy the Krevi Wi-Fi Extender from Amazon for $39.99.
4. Uppoon 2023 Wi-Fi Extender
Anyone with a big house looking to add steady Wi-Fi coverage in blind spots should look at the reasonably priced Uppoon 2023 Wi-Fi Extender. 
This Wi-Fi range extender amplifies your connection covering up to 8500 Sq. ft This means, your connection will reach not only the backyard, front porch, and garage, but the basement, garden, and any other dead zones with 8500 Sq.ft of your property.
Key Features:
Equipped with a 2.4Ghz ultra-core processor and 4 antennas, it maximizes your network quality while ensuring fast and stable data transmission
Users can choose repeater, bridge, client, access point, or router mode to capture any and all connection needs. 
Universally compatible with all standard routers
Supports WPA/WPA2 PSK wireless security protocols. 
Buy the Uppoon 2023 WiFi Extender from Amazon for $59.99.
5. Lyrqbiu Wi-Fi Extender
A solid alternative to the Netfun signal booster, the Lyrqbiu Wi-Fi range extender for Mac users is one of the fastest plug-in range extenders on this list. This signal amplifier covers up to 9880 Sq. ft of the area while connecting a whopping 86 devices.
Promising a smooth, lag-free experience, Lyrqbiu's wifi extender doesn't lack in the security department either. Rather, it maximizes network security, prevents net theft, protects important data, and prevents privacy problems.
Key Features:
Provides stable, high-speed connection for multiple users
Compatible with mobile phones, tablets, laptops, smart TV, security cameras, printers, and other device connections. 
Offers Repeater mode and AP mode to meet different requirements.
The two Ethernet ports and 2 External Antennas allow connecting to any wired Ethernet device 
Buy the Lyrqbiu Wi-Fi Extender from Amazon for $45.99.
6. AERVY 2023 Release Wi-Fi Extender
2023 Release WiFi Extender Signal Booster for Home, 4X Faster Longest Range Up to 9,800sq.ft and 35+ Devices, Internet Repeater with Ethernet Port, WiFi Amplifier Easy Setup
The AERVY 2023 Release Wi-Fi Extender is among the best Wi-Fi range extenders available in the market today. This piece of technology will allow you to wirelessly connect to your Mac without getting looped into the wirey mess. 
Not only that, AERVY's WiFi extender offers great performance at a reasonable price. It can cover up to 9,800 square feet utilizing an advanced central processing unit and a powerful new-generation chip.
Key Features:
Equipped with a 2.4 GHz super core processor and two high-gain antennas to maximize connection quality and range.
Uses bank-level financial security intelligence chips that support advanced WPA/WPA2 security protocols.
Complies with FCC and IEEE802.11b/g/n standards. 
Buy the AERVY 2023 Release Wi-Fi Extender from Amazon for $59.80.
Conclusion…
When choosing your next signal booster, pay close attention to the ranges and connectivity the device offers as it can significantly impact the speed and steadiness of your connection. 
To be on the safe side, research the baud rate, ease of installation, security protocols, and network standards the device offers as well. 
Although, if you buy any of the above-mentioned Wi-Fi range extenders of 2023, rest assured that you won't have to perform any extra research. We've done that for you.