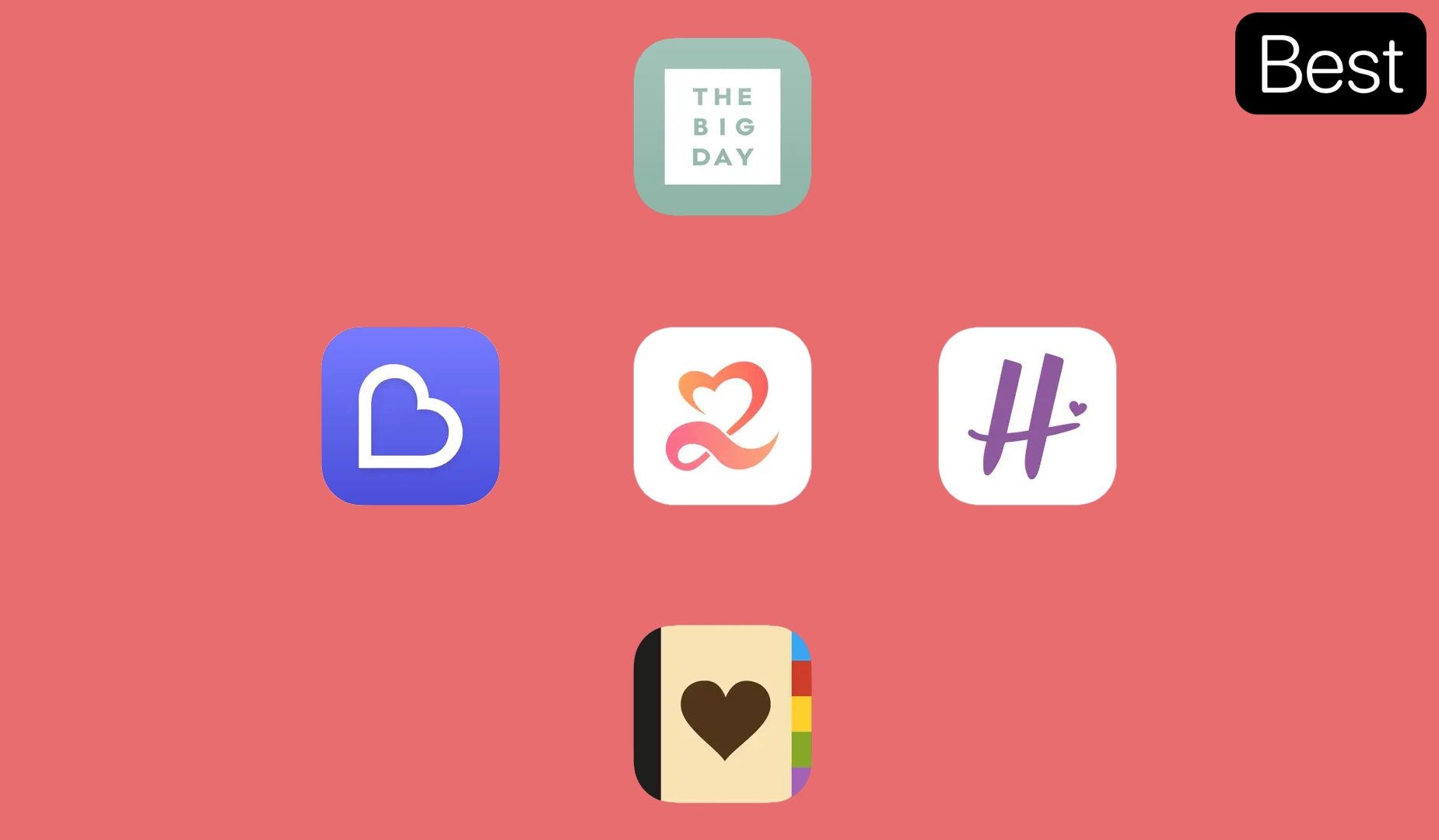 Best Wedding Planner Apps For iPhone Users
In this blog, we explore the best wedding planner apps that are bound to turn your wedding planning journey into a joyous celebration.
Attention all lovebirds, wedding bells are chiming, and we're here to make your journey to the aisle an absolute breeze! 
Say goodbye to those never-ending checklists and endless sticky notes. We've got the secret recipe for planning the perfect day, and it all fits snugly in your iPhone!
Imagine this: you, your soulmate, and your trusty smartphone teaming up to create the most unforgettable day of your lives. 
No more frazzled nerves or last-minute hiccups. 
We're talking about the kind of wedding that leaves your guests in awe, your photographer clicking non-stop, and you dancing the night away with a heart full of joy.
Get ready to unleash the wedding planner extraordinaire within you! 
Say "I Do" to Stress-Free Planning: The 5 Best Wedding Planner Apps
Think of these iPhone wedding planner apps as your digital wedding fairies, holding your hand through every decision, from picking the perfect flowers to nailing that mesmerizing wedding theme.
Whether you're dreaming of an intimate garden soirée or a grand ballroom affair, these wedding planning checklist apps have got your back. 
So grab a comfy spot, gather your Pinterest boards, and let's embark on this thrilling adventure of love, laughter, and epic planning hacks. 
1. Bridebook
We've got the perfect solution to your "how-do-I-plan-this-amazing-day" woes: Bridebook, the best wedding planner app that fits snugly in your pocket. 
This gem is like having a personal cheerleader for your wedding planning journey. From finding stunning venues to tracking your budget (yes, even amidst all the shoe shopping!), Bridebook is your fairy godmother. 
With Bridebook's countdown feature, get ready to mark off the days until you get to start your happily ever after with your soulmate. Oh, and here's a neat trick – you can even link your Bridebook account with your partner to plan together! Teamwork makes the dream work, right?
This iPhone wedding planner app lets you master your Guest List game effortlessly. RSVPs, +1s, and dietary requirements? Check, check, and check! 
Now, let's talk suppliers. From dressmakers to DJs, photographers to florists – Bridebook has a treasure trove of trusted suppliers ready to make your wedding dreams come true. Because you deserve nothing but the best.
Download Bridebook now.
2. Hitched
This wedding planner for iPhone is like your digital wedding encyclopedia, covering everything from inspiration-filled mood boards to nifty checklists. 
With the best wedding planner app,  you've got thousands of top-notch UK wedding venues and suppliers right at your fingertips. No need to search high and low – just browse, book, and voilà. Real couples' reviews, amazing wedding deals, and shortlisting your favorites? Consider it done.
But wait, there's more! 
Hitched's got a whole arsenal of free planning tools to turn you into the ultimate wedding planning pro. Seating plan? Check. Guest list? Double-check. Budget tracker? Triple-check! Oh, and that never-ending to-do list? Fear not, because, with Hitched, you've got it all under control.
Join the lively forum, dive into real wedding stories, and imagine yourself as the next star. 
With Hitched's free wedding websites, impress your guests effortlessly – it's a digital invitation suite like no other!
Download Hitched now.
3. WeddingHappy
Are you a stickler for staying organized? Then WeddingHappy is your knight in shining armor! 
This wedding planning checklist app is all about conquering your wedding to-do list like a boss. It'll keep you on track with timely reminders and even syncs with your calendar.
The magic begins when you input your wedding date – behold, your personalized schedule with a to-do checklist and suggested deadlines is ready to roll! But hey, it's flexible – change any task or date to match your vision.
Stay on top of your spending with the nifty payment tracking feature, ensuring you know when and what to pay for each element. You'll feel like a budget-savvy pro as you keep tabs on your expenses, see what's left, and even calculate the cost per guest. 
One of the best wedding planner apps, vendor management becomes a breeze with Contacts integration. You can associate tasks with specific pros, and you're all set.
Download WeddingHappy now.
4. Wedding Planner
If you're a DIY darling, Wedding Planner is your trusty sidekick. 
With Wedding Planner, you'll never forget a single detail, and the best part? You can track your progress, making it a total lifesaver for those moments when you can't remember if you've booked that fabulous cake designer.
But hold on, there's more! Wedding Planner isn't your average one-trick pony.
This iPhone wedding planner app also offers a fantastic seating plan wizard, saving you from the dreaded "Aunt Jane can't sit next to Uncle Bob" fiasco!
Sync and backup your data, so your partner can jump in on the wedding planning fun too. It's teamwork at its finest. And if you're feeling a tad overwhelmed, no worries. 
The best wedding planner app lets you keep your favorite photos, add your special song, set your budget, plan and share the timeline of events, and more. 
Download Wedding Planner now.
5. The Big Day
From creating a jaw-dropping wedding website to managing RSVPs, this best wedding planner app has got it all. Keep your guests in the loop with real-time updates and let them gush over your love story in one centralized location!
With The Big Day app, you can create not just one but multiple event countdowns. Your engagement party, bridal shower, dress fitting – you name it, and you can count down to it! Plus, to add a personal touch, you can jazz up your countdowns with a photo that melts your heart.
Now, let's tackle that ever-growing to-do list. With a handy-dandy checklist feature, keep your tasks in order and check them off as you go, like a wedding-planning superhero. 
And no more scrambling through scattered notes or endless folders. Keep all your supplier info organized in one place with this wedding planner for iPhone.
Download The Big Day now.
Your Happily Ever After Begins Here
Are you ready to embark on the exhilarating journey of wedding planning but feeling a little lost amidst the confetti of tasks? Our dear iPhone-toting lovebirds, download any of these best wedding planner apps to make your special day a truly unforgettable one! 
From staying organized to adding that touch of personalization, these  wedding planning checklist apps have your back from the moment you say "Yes!" to the final "I do." 
Happy planning, and here's to a wedding day that's your own personal fairytale brought to life.