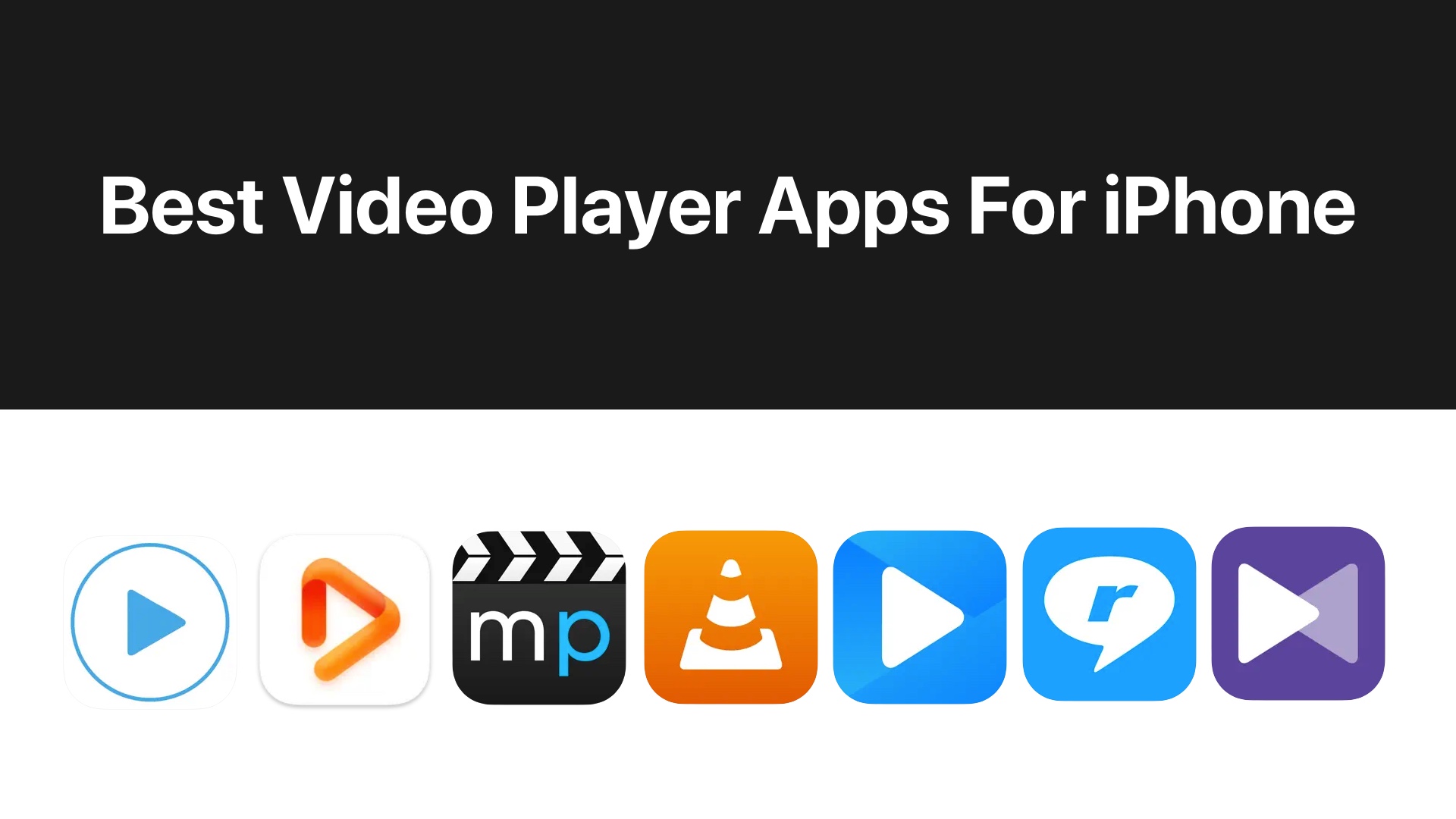 Best Video Player Apps For iPhone And iPad
In this blog, we discuss the best video player apps for iPhone that ensure that your movie nights are nothing short of extraordinary.
Are you the kind of person who lives for movie nights, eagerly anticipates the next episode of your favorite series, or can spend hours engrossed in the captivating world of anime? We understand the passion and dedication that comes with being a true entertainment aficionado. You demand top-quality visuals, crystal-clear sound, and a seamless viewing experience that immerses you completely. 
But what's the use of having an extensive collection of your beloved content if you don't have the right tools to enjoy it to the fullest?
No Strings Attached: Get the Best iPhone Video Player Apps for Free
From a smooth playback experience to support for various video formats and nifty features, these iOS video player all formats apps have got you covered. Whether you're a movie buff, a TV series fanatic, or just love watching videos on your iPhone, this blog will help you discover the best video player apps for iPhone to take your movie nights to the next level.
1. Infuse 
Infuse is a top-notch iPad video player app that shines with its user-friendly interface and excellent format support. Forget about the hassle of converting files – Infuse can handle almost any video format you throw at it. From MP4 and MKV to M4V and MOV, it's got you covered. Plus, it supports Dolby and DTS audio for an immersive sound experience, making it the best video player app for iPhone.
It allows you to stream videos from various sources without any syncing fuss. You can easily browse and play videos stored on your Mac, PC, NAS, Wi-Fi hard drive, or from apps like Plex, Emby, and Jellyfin. And if that's not enough, you can even access your video content from cloud services like Dropbox, Google Drive, OneDrive, Box, pCloud, Yandex.Disk, MEGA, and Aliyun Drive – all in one place.
With Trakt 2-Way Sync, you can connect with Trakt to sync your watched history, submit ratings, and post comments. Plus, if you need subtitles, Infuse has you covered with its optimized subtitle support powered by OpenSubtitles. The features are endless.
Download Infuse now.
2. VLC Media Player
VLC, a household name in the world of media players, is also available for iOS. It's an open-source iPhone video player app that supports all formats and boasts an impressive list of features. One of its standout features is its ability to play your movies, shows, and music in a wide range of formats directly, eliminating the need for conversion hassles. Whether it's that old MKV file or a high-definition MP4, VLC handles it all with ease.
Moreover, VLC simplifies your life by offering file synchronization options with popular cloud storage platforms like Dropbox, GDrive, OneDrive, Box, and iCloud Drive. And you can also manage your media through iTunes, direct downloads, and Wi-Fi sharing. This extensive file management support ensures that you have all your content at your fingertips, making it the best video player app for iPhone.
Furthermore, it supports advanced subtitles, offering full SSA compatibility. Multi-track audio ensures you can switch between different audio streams effortlessly. Plus, you have control over playback speed, allowing you to customize your viewing experience.
Download VLC Media Player now.
3. KMPlayer 
KMPlayer is not just known as an iPhone video player app free of cost but for its versatility as well. Firstly, it supports high-resolution videos, music, and a variety of subtitle files, ensuring you can enjoy your favorite content without any compatibility issues.
Then comes its intuitive and user-friendly interface, which includes quick buttons for easy access to player settings. The control color settings give you control over brightness, light intensity, hue, saturation, and gamma information, ensuring you can fine-tune your viewing experience to your liking.
Additionally, the player offers equalizer settings, allowing you to save separate equalizer profiles for music and video, optimizing the audio experience. You can customize subtitles by changing their color, size, and position to ensure readability and integration with the video content. But what makes it the best video player app for iPhone is that it's not limited to your local library, as it supports various network protocols, including FTP, UPNP, SMB, and WebDAV, ensuring easy access to your content across different devices. 
Download KMPlayer now.
4. MX Player
MX Player's privacy control makes it the best video player app for iPhone in 2024. Plus, it supports a wide range of video formats, including MP4, AVI, MKV, and more, ensuring that you can play almost any media or movie file you throw at it. 
With an attractive user interface, it makes it easy to navigate through your mobile and gallery videos. It's like having a cinema in your pocket, and it plays full HD videos with exceptional clarity. Plus, it's not just for videos, you can enjoy audio playback as well, with support for various music and audio file formats. Moreover, it handles mp4, mpeg-4, mov, avi, m4v, and more. This means you won't encounter the frustrating "unsupported format" message when you're excited to watch your favorite content.
In addition to format support, MX Player also caters to your multimedia needs with features like subtitle support. Plus, it offers multi-audio support, so you can switch between different audio tracks effortlessly, making it one of the best video player apps for iPhone.
Download MX Player now.
5. Video Player
Video Player comes with a media library that allows you to organize and manage your audio and video files conveniently. You can even browse folders directly, making it a breeze to find your favorite content, which is one of the reasons why it's considered one of the most powerful video player apps iPad users have witnessed.
Needless to say, it supports all video formats, including 4K, HD, MKV, AVI, MOV, MP4, 3GP, MPEG, and more so you won't have to worry about format compatibility. And its ability to synchronize files with your computer and iCloud Drive makes it the best video player app for iPhone. 
Furthermore, it supports multi-track audio, making it perfect for videos with multiple audio tracks in different languages. You can control playback speed and adjust screen brightness and volume effortlessly, ensuring that your viewing experience is tailored to your preferences. To top it off, this app is a full port of the VLC media player to the iOS platform, meaning you get the reliability and functionality of VLC on your iPhone or iPad.
Download Video Player now.
6. RealPlayer 
RealPlayer offers a seamless video playback experience. Its standout feature allows you to seamlessly sync downloads between your mobile device and your PC or vice versa. No more worries about where your video files are stored as RealPlayer ensures they are accessible wherever you need them. 
An iOS video player all formats compatible, it can cast any video from your mobile device to the big screen with Chromecast or AirPlay, transforming your viewing experience. Whether you're watching a movie, a series, or your favorite viral videos, RealPlayer makes it a breeze to enjoy them on your television. For those on the move, RealPlayer ensures your videos are readily available, even when you're off the grid.
Moreover, RealPlayer's remote access feature allows you to access your RealPlayer PC library from anywhere securely, making it the best video player app for iPhone. No need to worry about being tied to your desktop, your video library is at your fingertips, regardless of your location. Plus, you can also stream videos directly from your PC or the RealPlayer Cloud, providing a seamless and flexible viewing experience.
Download RealPlayer now.
7. Movie Player 3
Movie Player 3 is your ultimate video companion that supports an extensive array of video formats, including divx, avi, flv, mov, wmv, and many more, ensuring you can enjoy your favorite films without the hassle of format conversion. But that's not all. You can easily transfer your films through iTunes, Dropbox, or WiFi to your iOS device, giving you the flexibility to access your video library wherever you are. Plus, you can even play films directly from your Dropbox, making cloud integration seamless.
This iPad video player app takes integration to a whole new level, allowing you to watch videos not only from your device but also from E-mail attachments, web browsers, and other apps. Sorting and organizing your films is simplified with the ability to create folders, and you can rename your movies right within the app, making it one of the best video player apps for iPhone. 
Running low on device space? No problem. Movie Player allows you to delete movies directly from your device, freeing up precious storage. You can also fine-tune your video experience with the Color Adjustment Add-On, which lets you adjust brightness, contrast, and color. 
Download Movie Player 3 now.
Your Pocket Cinema Awaits
No more limitations, no more frustrations – just smooth, seamless entertainment at your fingertips. Whether you choose the versatile VLC, the user-friendly Infuse, or any of the other best video player apps for iPhone that we've explored, you're in for a treat. 
These iPhone video player apps that support all formats turn your iOS device into a powerhouse of video playback, offering features that make your viewing experience more enjoyable, customizable, and user-friendly. So, as you embark on this digital adventure, remember to choose the app that best suits your needs. 
Disclosure: iOSHacker may receive a commission if you purchase products through our affiliate links. For more visit our privacy policy page.