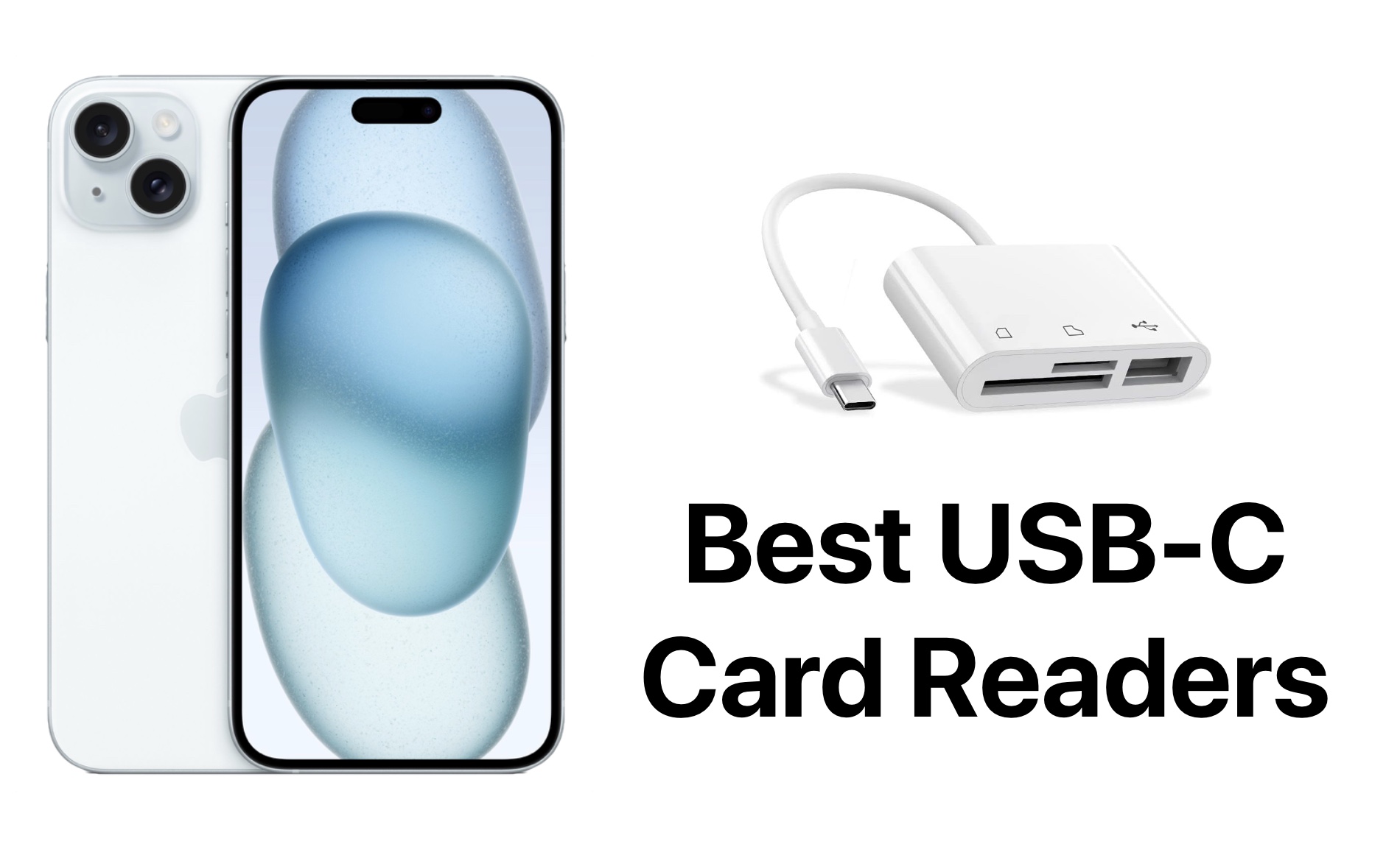 Best USB-C SD Card Readers For iPhone 15 And iPhone 15 Pro
Are you tired of the endless battle to free up space on your iPhone 15 or iPhone 15 Pro, trying to decide which precious memories to delete just to make room for new ones? Well, fret not, because we've got the perfect solution to your storage woes!
In the era of high-resolution photos and 4K videos, having a trusty iPhone 15 Pro SD card reader can be a game-changer. This is all made possible thanks to the powerful features of the USB-C port on the iPhone. Whether you're a photography enthusiast looking to transfer your DSLR's RAW images or simply want a quick and convenient way to back up your precious data, we've scoured the tech-scape to bring you the very best card readers for iPhone 15 that seamlessly complements your experience.
Say goodbye to those pesky "storage almost full" notifications, and say hello to a world of expanded possibilities. Let's dive into the top options that will elevate your iPhone 15 or iPhone 15 Pro to a whole new level!
If card readers are not enough for your external data storage needs, then we recommend you check out the best small SSDs for iPhone 15 Pro here.
Best USB-C Card Readers For iPhone 15
Here are the best USB-C card readers for iPhone that you can use to read SD cards and microSD cards on your iPhone 15, iPhone 15 Plus, iPhone 15 Pro, and iPhone 15 Pro Max.
1. RayCue USB C to Micro SD TF Memory Card Reader
The RayCue USB C to Micro SD TF Memory Card Reader is your ticket to hassle-free data transfer and connectivity. No more downloading apps or fumbling with complicated setups. Just plug and play!
This little gadget makes transferring photos and videos a breeze, whether it's from an SD/TF card or any other USB 2.0 device. Speed isn't an issue either; it can handle transfers at a swift 14MB to 16MB per second, so you can share your precious memories with others in no time, no PC required.
What's more, it's not just for memory cards; this nifty adapter can connect a variety of USB peripherals like flash disks, mice, keyboards, card readers, cameras, printers, hard drives, and more. Hook up your keyboard to your USB-C smartphone for lightning-fast typing and chatting. The shell is made from upgraded fireproof material, ensuring the protection of your devices. It's also wear-resistant and impact-resistant while remaining lightweight and compact for easy portability.
Buy RayCue USB C to Micro SD TF Memory Card Reader for $13.99 here.
2. SZHAIYIJIN USB C SD Card Reader
The SZHAIYIJIN USB C SD Card Reader is your photography companion for Canon and Nikon SLR cameras. This nifty little gadget is here to make your photo and video transfer woes a thing of the past. Sporting the latest USB C connector, it's a breeze to transfer your precious memories to your USB-C laptop, iPhone 15 series, or tablet.
This one of the best USB-C card readers for iPhone 15 Pro Max can handle both SD and Micro SD cards with ease. It's like having a Swiss Army knife for your memory cards. It supports cards up to a colossal 2TB, making it perfect for all your photo and video needs.
Best of all, there's no need to hunt for drivers or plug in any extra power sources. It's a true plug-and-play experience. Plus, rest easy knowing your files are protected with over-current and short-circuit protection.
Buy the SZHAIYIJIN USB C SD Card Reader for $9.99 here.
3. JSAUX USB C SD Card Reader
Looking to supercharge your data transfer game? Look no further than the JSAUX USB C SD Card Reader. It's a little powerhouse with a lot to offer. This sleek gadget sports not one, but two card slots, accommodating an impressive array of memory cards – from standard SD to Micro SD, and even their high-capacity siblings like SDXC and Micro SDXC.
It's a time-saver, especially if you're on the USB-C wave. No need to fuss with drivers or search for a power outlet. Just plug it in, and it's ready to roll. It's a breeze with most operating systems – be it Windows, macOS, or Linux.
And let's not forget about its stylish design. Compact and sleek, you can take it anywhere, whether you're hustling at the office, on a business trip, or in the comfort of your home office. It's the perfect companion for the modern multitasker.
Buy the JSAUX USB C SD Card Reader for $12.79 here.
4. uni USB C SD Card Reader
The uni USB-C SD/MicroSD Card Reader is your new best friend in the world of seamless data transfer. This nifty device boasts a Type C port that supports USB 3.0, ensuring your data zips along at speeds up to 5Gbps – and yes, it plays nice with USB 2.0/1.1 too.
What's even cooler? This card reader lets you simultaneously read and write on two cards – no more unplugging and re-plugging. Efficiency at its finest. The design is top-notch too – an optimized connector, durable braided nylon cable, and premium chips make this converter a tough cookie, ready to withstand years of use, even in the great outdoors.
And here's the thoughtful touch – a piece of cable designed to not hog all your computer ports. Worried about slipping and causing damage? Fear not! The anti-skid design has got you covered. The spring-loaded mechanism ensures easy in and out, making this USB C memory card reader a true plug-and-play champion.
Buy uni USB C SD Card Reader for $11.99 here.
5. UGREEN USB C SD Card Reader
Next on our list of the best iPhone 15 Pro microSD card readers is the UGREEN USB C SD Card Reader. It is your convenient solution for managing your memory cards and files with ease. This little wonder supports reading and writing two cards simultaneously, making it a breeze to review files, back up precious photos, and archive videos. It works seamlessly with UHS-I SD, SDHC, SDXC, MICRO SD, MICRO SDHC, MICRO SDXC, MMC, and RS-MMC cards, meaning you won't need to constantly unplug and re-plug.
Speed is the name of the game here, with data transfer capabilities reaching up to 5Gbps. That's a whopping 10 times faster than the standard USB 2.0, allowing you to transfer HD movies and files in mere seconds. Plus, with a maximum card capacity of 2TB, you've got room for all your digital goodies.
The UGREEN SD Card Reader is designed with user-friendliness in mind. It features a braided nylon cable that won't block neighboring ports, ensuring easy access and convenience. And don't worry about overheating or device safety – the aluminum design promotes excellent heat dissipation and offers stable bidirectional transmission for longer service life. It also comes with over-current, over-voltage, short-circuit, and over-temperature protection to ensure your devices are safeguarded.
Buy UGREEN USB C SD Card Reader for $14.99 here.
6. TIANSONG SD Card Reader 
The TIANSONG SD Card Reader is a powerhouse, with a range of interfaces including USB, USB-C (Type C), and Lightning, along with SD and MicroSD card slots.
The best part? It's a plug-and-play device, so you won't need any extra apps, software, or drivers to get it up and running. It's as simple as connecting it to your device. You can copy, edit, move, delete, rename, and share your files with ease. So, while on the go, you can instantly share those travel memories with your family and friends on social media.
This versatile card reader is also designed for iOS 13 to iOS 16 devices, allowing two-way data transfers. Import data from your SD/TF card to your iPhone or export files from your iPhone to the SD/TF card. Whether it's Word documents, PowerPoint presentations, Excel spreadsheets, PDFs, photos, videos, MP3s, or MP4s, this memory card reader for iPhone 15 has you covered.
Buy the TIANSONG SD Card Reader for $12.99 here.
7. T Tersely USB-C SD Memory Card Reader 
The TIANSONG SD Card Reader boasts a robust PVC jacket that provides maximum shielding, making it ready for daily use and tough handling. With a cable length of 14cm, it's just the right size for your convenience, and it supports a max speed of 480Mbps. That means your data will fly between your devices.
This card reader works like a charm with all SD memory cards, including SD, SDHC, and SDXC. Plus, it's backward compatible with more UHS-I memory cards, so you won't be left out in the cold if you've got an older card lying around. It can handle SD cards up to a whopping 512GB in size.
The best part? You won't need to fumble with external power sources or drivers. No apps are required either. Just plug in your SD card, connect it to your USB-C device, and you're good to go.
Buy T Tersely USB-C SD Memory Card Reader for $9.99 here.
To Conclude
The best card readers for iPhone 15 in 2024 have not only shattered the boundaries of storage and data transfer but have also unlocked a new realm of creative possibilities. These compact, best USB-C SD Card Reader iPhone 15 are your gateway to a seamless fusion of mobile and professional-grade photography, videography, and data management.
Say goodbye to storage constraints and hello to a world of creativity that knows no bounds. Embrace the future of iPhone accessories, and embark on a journey where your imagination truly becomes the limit.
Disclosure: iOSHacker may receive a commission if you purchase products through our affiliate links. For more visit our privacy policy page.