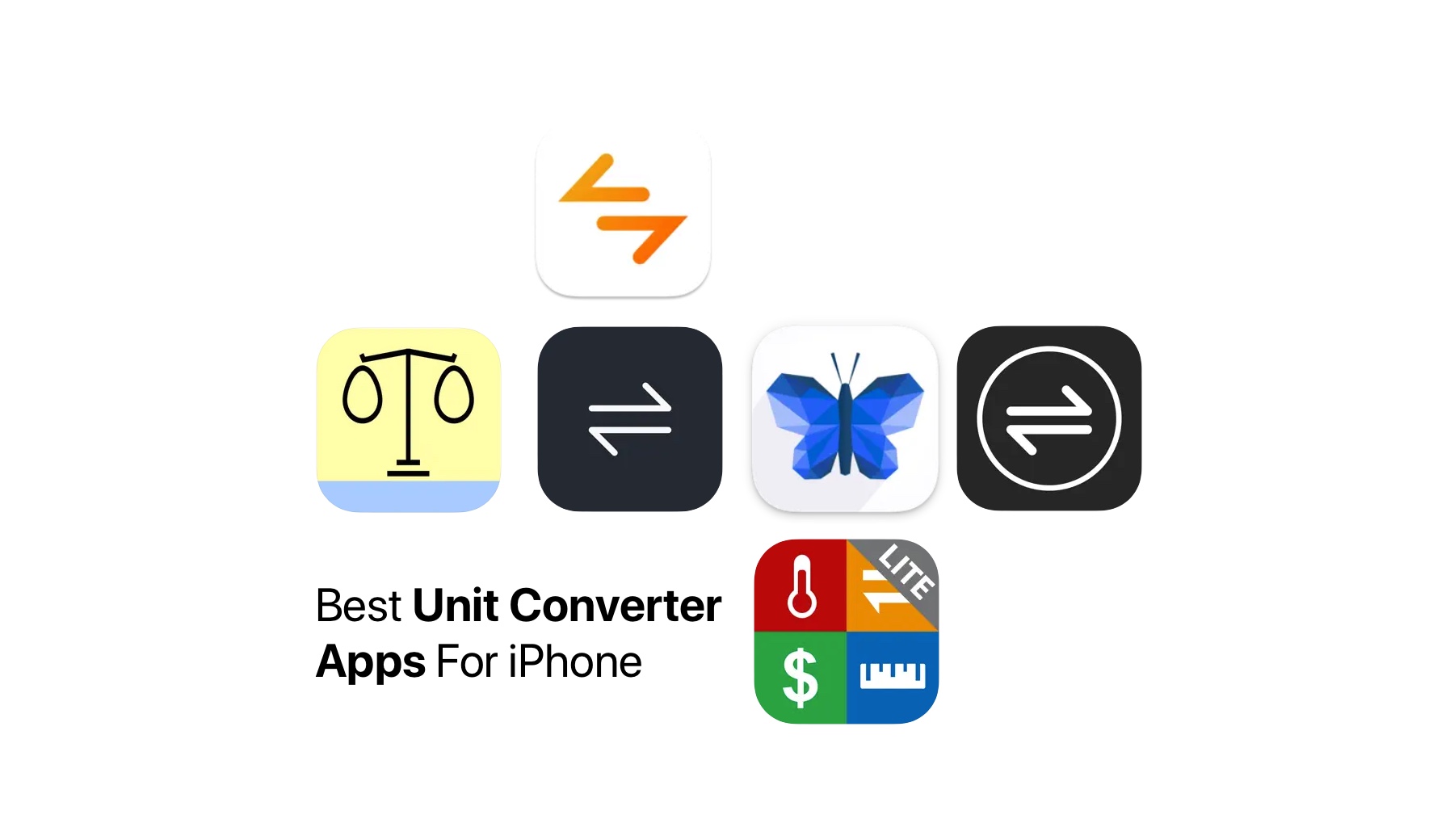 Best Unit Converter Apps For iPhone And iPad
Here you will find a list of best unit converter apps that are available for iPhone and iPad. These powerful yet simple-to-use apps can make your life easier by allowing you to perform quick conversions right on your iOS device.
Ever found yourself scratching your head while trying to convert units on your iPhone or iPad? Well, worry no more because we've got your back. In this tech-savvy age, unit conversion doesn't have to be a brain teaser, thanks to the plethora of fantastic unit converter apps for iPhone and your other trusty iOS devices.
Whether you're trying to figure out how many miles are in a marathon or simply converting cups to milliliters for that recipe you found on Pinterest, we've scoured the App Store to bring you the absolute best unit converter apps that'll make your life a whole lot easier.
Say goodbye to the days of fumbling through equations and hello to seamless conversions at your fingertips.
Best Unit Converter Apps For iPhone
So, let's dive in and discover the handiest apps that'll turn your iPhone or iPad into your personal unit conversion wizard!
1. Amount Plus – Unit Converter
Looking for a top-rated app to convert units that's not just good, but great? Look no further because Amount Plus is here to supercharge your conversion game!
The App developers have taken the award-winning unit conversion app, Amount, and given it a turbo boost. Imagine all the fantastic features you loved about Amount, but with a dazzling new look and even more advanced capabilities to make your life easier.
With over 700 units spanning across 30+ categories, Amount Plus is your one-stop shop for all things conversion. Need to switch between units in the blink of an eye? The app has got you covered with lightning-fast conversions.
The app also includes new ways to search, filter, convert, and even compare units. Say goodbye to endless scrolling and hello to efficient, customized conversion at your fingertips.
Install Amount Plus – Unit Converter from the App Store now!
2. Unit Converter, Convert Units
This ultimate Unit Converter iOS app is your one-stop solution for all conversion needs! What makes it one of the best  unit converter apps for iPad and iPhone? Instant currency conversions! You can effortlessly switch between dimensions like area, length, angle, and volume. It is perfect for scientists, engineers, or anyone who dabbles in measurements.
Mass, weight, and force conversions made quick and easy. Scientists and engineers, The app has got your back. Acceleration, duration, frequency, and speed – simplify your time and motion calculations with our user-friendly interface. Dive into energy units, power measurements, and temperature conversions with a breeze. Illuminate your understanding of energy and light effortlessly. Electrical conversions, anyone? Charge, current, potential difference, and resistance – conquer them all effortlessly.
But the real magic? This app lets you seamlessly switch between converters. Whether you're a student, a pro, or just someone in need of accurate measurements, this app is your go-to for precise calculations across the board.
Install Unit Converter, Convert Units from the App Store now!
3. Converter of Units
Introducing the brand-new standalone app featuring the unit converter from the much-loved aio Calculator! And here's the kicker – it's always free, and the app developers have banished those pesky ads.
Why should you care? Well, this converter is not your run-of-the-mill tool. It's the cool kid on the block with a slick combo of features:
The app works seamlessly on all iPad, iPhone, and iPod devices. You can navigate like a pro with Sidebar and Tab bar, embrace multitasking with multiple windows and Stage Manager. Tailored for iPadOS with drag-and-drop magic. Context Menus for that extra dash of convenience. Quick Notes, keyboard shortcuts – the app has got your back! You can even switch between Light and Dark appearance to suit your mood.
Oh, did we mention it supports over 37 measurements and nearly 500 units? From Acceleration to Volume – the has it all. Nifty date calculators and tank capacity wizardry are also thrown in for good measure. With a comprehensive Info feature, detailed descriptions, and a slick table of contents – finding what you need is a breeze.
Install Converter of Units from the App Store now!
4. Unit Converter – Best Unit App
Introducing the fantastic FREE version of Units Plus Converter!
Swipe and switch units effortlessly with just a tap of the button on your keypad (located in the lower left corner). It's been optimized to shine on your iPhone and iPad Retina display.
This unit converter is not only incredibly simple to use but also boasts a beautiful design. With 12 handy categories and a wide range of units at your fingertips, it's the perfect tool for quick conversions.
Convert everything from Area to Currency (featuring 155 world currencies, updated daily), Data (including byte, kilobyte, megabyte, and more), Fuel Mileage, Length, Power, Pressure, Speed, Temperature, Time (days, weeks, hours, and more), Volume (both dry and wet), and Weight-Mass.
It's your all-in-one conversion companion, right in the palm of your hand!
Install Unit Converter – Best Unit App from the App Store now!
5. Unity: The Best Unit Converter 
With over 600 conversion types available and more being added with each update, Unity is your one-stop solution for all your unit conversion needs.
Unity covers a staggering 18 categories, including Angles, Area, Capacitance, Clothing, Currency/Crypto, Data, Data Rates, Distance, Energy, Mileage, Power, Pressure, Speed, Temperature, Time, Typography, Volume, and Weight.
What's more? Unity lets you save your most-used conversions as favorites, right on your home screen. No more wasting time searching for those tricky pennyweights and millifarads.
Keeping up with currency rates is a breeze with Unity. The app's servers update rates every 60 seconds, ensuring you always have the most current information. You can even refresh rates manually from the conversion view. Plus, Unity provides up-to-date currency graphs, showing rate fluctuations over the past week, month, three months, or year.
Install Unity: The Best Unit Converter from the App Store now!
6. Morpho Converter
Forget the hassle of scrolling through endless menus. With Morpho, it's as simple as open, type, and voilà! You'll instantly get the conversions you need, without any fuss. Well, how cool does that sound?
Customization is key, and the app has made it easy for you! Add your most-used conversions right to your home screen, so you see exactly what you want and nothing else. With a whopping 264 units and 170 currencies to choose from, you'll have all your bases covered.
Morpho goes the extra mile. You can effortlessly view and add common units of measure from a staggering 256 countries and regions. Need quick info for your trip? This app has got you there too – check out electrical details, calling codes, driving sides, languages, and time zones to help plan your adventure.
And for all your currency buffs, the currency widget keeps you in the know. Stay on top of exchange rate changes throughout the day, right from your home or lock screen.
Install Morpho Converter from the App Store now!
To Conclude
These unit converter apps free for iPhone and iPad are like handy Swiss Army knives in your pocket, simplifying the way you handle measurements and conversions. With user-friendly interfaces, frequent updates, and a wide range of supported units, they make converting a breeze.
So, why struggle with conversions when you can have these powerful tools at your fingertips? Download one today and say goodbye to unit-related headaches once and for all.
Disclosure: iOSHacker may receive a commission if you purchase products through our affiliate links. For more visit our privacy policy page.