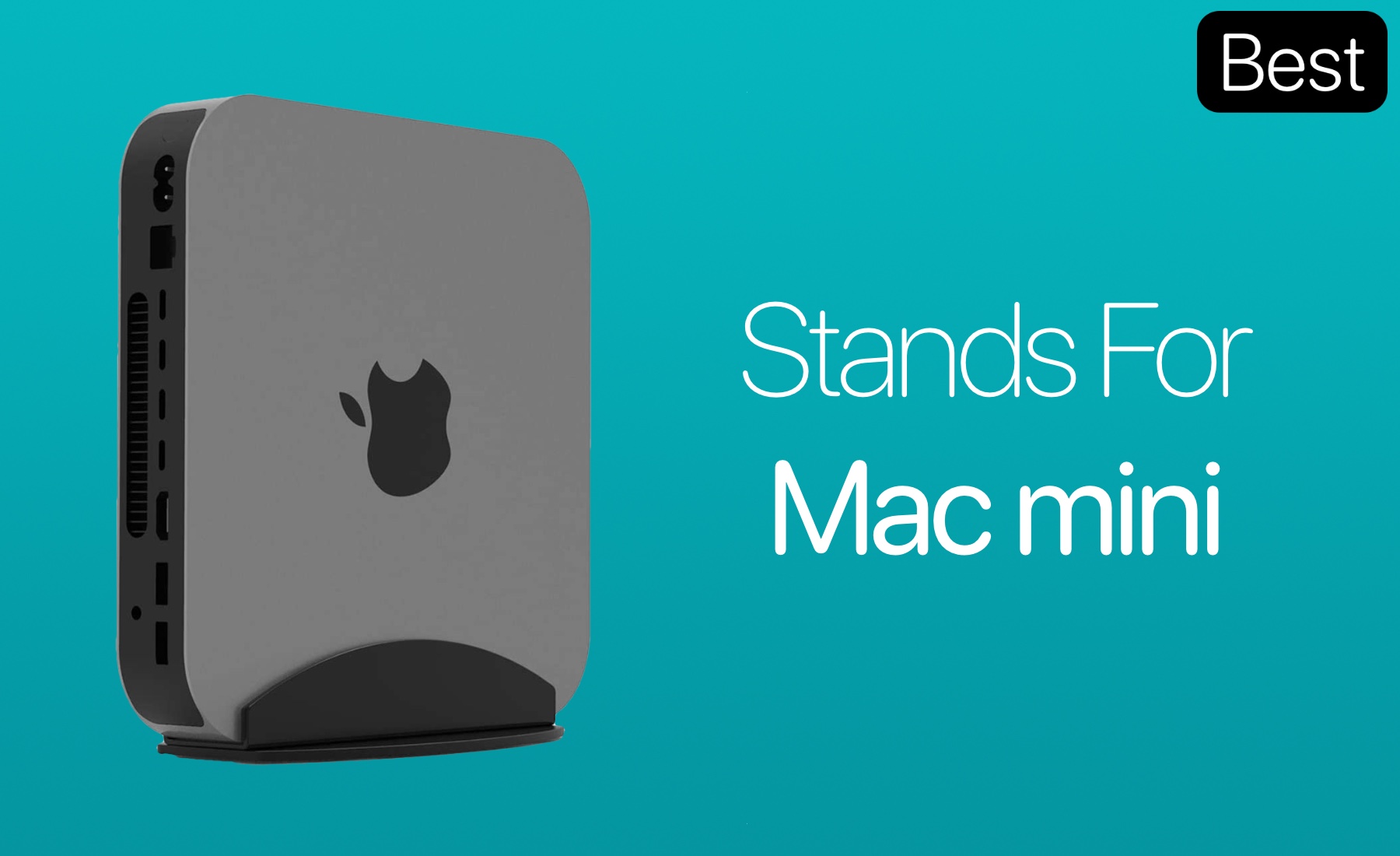 Best Stands For Mac mini In 2023
Turn your Mac Mini into a powerful and compact workstation. In this article, we will discuss the best Mac Mini stands of 2023 that will increase accessibility, convenience, and connectivity.
Mac Mini is a tiny, power-sipping, and quiet-running desktop that despite its low price, does not compromise performance. Perfect for the home or office, this small yet powerful desktop computer can turn any screen into a Mac-powered smart computer. 
Frankly, for a device that brings such robust performance to the table, it needs a proper sitting place on that very table for your own sake just as much as the computer.
For you, the best Mac Mini stands add convenience and comfort while helping you organize and declutter your desk. For your tiny computer, it increases the front-facing port count of the device while preventing it from overheating. 
The benefits, obviously, are not limited to just that.
The point is, your work area should be comfortable rather than a mirror image of chaos. To be able to fully maximize the benefits of your Mac Mini, optimize your workspace. Start by buying your Mac Mini a stand and assigning it to a specific place on your desk.
1. Satechi Mac Mini Hub & Type-C Stand
The Satechi Mac Mini Hub & Type-C Stand is the best Mac mini stand you'll find in the market. 
Created for M1, M2, and M2 Pro Mac Mini, the Satechi Stand & Hub features a USB-C data port, three USB-A data ports, micro/SD card readers, a 3.5mm headphone jack port, and an internal SSD enclosure.
It can sit directly under your Mac Mini and provide convenient front access to all your peripherals. The built-in SSD enclosure space allows users to increase memory storage eliminating the need to add extra devices around the workspace. 
The hub is made from silver aluminum alloy giving it a beautiful finish. After all, it has been designed to fit your Mac Mini in a way that looks like its natural extension rather than an add-on. 
Buy the Satechi Mac Mini Hub & Type-C Stand for $99.99 here.
2. Cxmount Desktop Stand for Mac Mini
The Cxmount Desktop Stand is considered one of the best Mac Mini stands in 2023 for its durability and design. 
What's noteworthy here is the ergonomic design that adds more convenience than you can imagine. 
First, it props your Mac Mini vertically, which means that it does not take up too much space on your desk. Secondly, it is designed to perfectly fit the device, so it won't fall out or be too big for it. Thirdly, the stand is wrapped with a thin padding mat around the groove that prevents your tiny desktop from scratches or damage. 
Last, but not least, the lifted design allows better airflow which ensures less thermal throttling and greater system performance.
Buy the Cxmount Desktop Stand for Mac Mini for $18.99 here.
3. HumanCentric Mac Mini Mount
Not a fan of the vertical or the horizontal stands? How about a mount that sticks to the monitor's back, the wall, under your desk, or anywhere out of sight? Sounds great, doesn't it?
Voted as the best Mac Mini stands at iOSHacker for its mounting abilities, the HumanCentric Mac Mini Mount can VESA mount your device wherever you want.
The sleek design is achieved by custom molding minimalist plastic that not only complements the design of your Mac Mini but also protects it from damage. Plus, anyone can mount it tightly and securely in place with ease.
Protect your Mac Mini from accidental spills and protect your desk from unwanted clutter by mounting the device away from the desk. 
Buy the HumanCentric Mac Mini Mount for $14.99 here.
4. Y-SEKAI Alloy Desktop Stand
Adding another one to the list of vertical stands, the Y-SEKAI Alloy Stand promises an anti-slip home for your Mac Mini.
If it isn't any clearer, the vertical stand is made of high-density, anti-oxidation, and aviation-grade aluminum alloy that ensures that the stand won't give up on you anytime soon. Unlike an iron stand, this one won't rust or deform like a zinc alloy stand.
The sturdy and durable exterior is treated with the same sandblasting oxidation as the Mac Mini along with polished glittering edges, giving it the same allure as the device itself.  
Pair it with 4 rubber feet, anti-skid base pads, and an anti-slip silicone gasket and you get maximum stability with an attractive design.
Buy the Y-SEKAI Alloy Desktop Stand for $24.99 here.
5. JOKItech Aluminum Vertical Stand
The last on our list of the best Mac Mini vertical stands, JOKItech's stand is not just for the Mac Mini. You can use it to store the New Retina Apple MacBook Pro/Air, Apple TV, and iPad Pro as well. 
Sporting a modern and stylish design, it is made from premium quality aluminum body oxidized with polished sharp edges. 
The aluminum body is paired with a heavy weight base that can hold your device sturdily and securely. There's no risk of your Mac Mini slipping out or scratching itself thanks to the protective silicone paddings.
While saving space on your desk, you provide your Mac Mini with a place to cool down properly. Plus, it serves as an efficient cable organizer as well.
Buy the JOKItech Aluminum Vertical Stand for $19.99 here.
6. IFCASE Mac Mini M2 Mount
This is the best Mac Mini mount you'll find for your Mac Mini 2010-2023 M2 Pro. 
The IFCASE Mac Mini M2 Mount should be bought for three reasons: anti-scratch design, unique heat dissipation structure, and long-lasting design. 
Compatible with a VESA hole, the mount provides better airflow ensuring the device cools down quickly and properly. Moreover, the interior is covered with silicone anti-scratch inner pads that offer added device protection. 
The long-lasting feature is courtesy of the solid aluminum alloy material that never rusts or distorts. 
Buy the IFCASE Mac Mini M2 Mount for $18.99 here.
Dock Up Your Mac Mini!
Clear the space in your surroundings to clear up your mind as well. The more clutter you surround yourself with, the more muddled your brain will be – believe it or not. 
The best Mac Mini stands not only clear up some space but also provide your device with a safe and stable home. You may not have spent over $1000 on this computer, but it still doesn't come cheap. 
Don't risk an accident, just go order yourself any one of these stands.