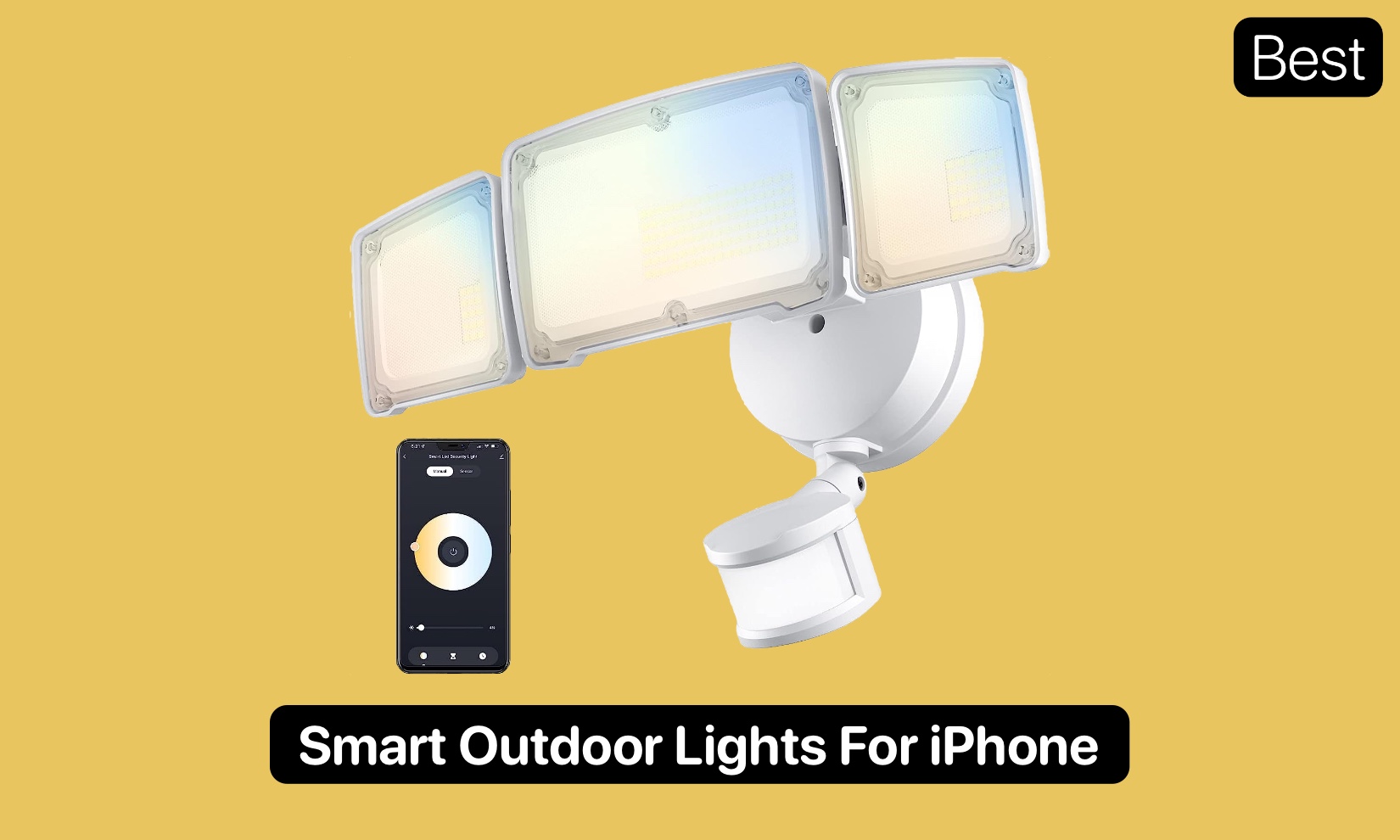 Best Smart Outdoor Lights You Can Control With iPhone
In this article, we explore the best outdoor lights you can control with iPhone. Take your yard from drab to fab in a snap!
On summer nights, your friends gathered around, laughter filling the air, and your garden shining like a starlit wonderland. Those backyard escapades with your favorite people create memories that warm your heart even on the chilliest days. 
But, do you wanna know how to kick those fun nights up a notch and make them unforgettable?
Smart outdoor lights.
As the sun sets and the stars begin to twinkle, you whip out your iPhone and with a flick of your finger, your garden comes alive with a mesmerizing glow. 
It's like having your own secret superpower – the power of perfect lighting! Your friends are in awe, and you, my friend, are the ultimate host with the most.
Smart Outdoor Lights for the Ultimate Backyard Adventure
No more fumbling with switches or getting tangled up in cords. The best outdoor lights are here to make your life easier and your evenings more delightful. 
Whether you're throwing a dance-off, hosting a movie night, or simply want to bask in the tranquility of a starlit sky, these smart outdoor lights have got your back.
1. Philips Hue Lucca Smart Outdoor Lights
Works seamlessly with Amazon Alexa, Apple HomeKit, and Google Assistant, Philips Hue Lucca brings elegance and intelligence to your outdoor spaces. 
Sync them up with your iPhone, and you have the ability to set the perfect ambiance for any occasion. Romantic dinner under the stars? Check. Thrilling outdoor movie night? Double-check. These iPhone-compatible outdoor lights have got your back.
But here's the best part – you'll never have to stumble around in the dark again. With the best outdoor lights, you can automate your lights to turn on at dusk and off at dawn. While you get to enjoy features like away-from-home control, geofencing, and scheduling as well.
As for its durability, these lights are built to withstand the elements like true outdoor warriors. Weatherproof and high-quality, they're designed to shine bright for up to 25,000 hours.
Buy the Philips Hue Smart Outdoor Light from Amazon for $69.99.
2. Philips Hue Welcome Smart Outdoor Lights
With Philips Hue Welcome, your outdoor lighting becomes an experience, not just a necessity. It's like having a personal lighting assistant. With easy adjustment, you can illuminate your entryway, porch, decks, or even your garage.
One of the best outdoor lights, it's as tough as nails and fully weatherproof. Rain, snow, heat, or dust, it's ready to take on Mother Nature with a grin.
Like most outdoor lights you can control with iPhone, it's compatible with Amazon Alexa, Apple Homekit, and Google Assistant so you can have a full-on conversation with your floodlight.
Plus, this little wonder packs a serious punch, giving you bright light that's equal to not one, but TWO PAR38 security halogen floodlights. 
Buy the Philips Hue Welcome Smart Outdoor Light from Amazon for $79.95.
3. Amico LED Smart Outdoor Lights
Calling all eco-conscious iPhone users. Amico LED smart outdoor wall lights not only save energy but also give you the power to set schedules and customize brightness levels. Moreover, you can control them straight from your phone. 
Just download the "joinin home" app, pair it up with your lights via 2.4Ghz WiFi, and you're the master of your illuminating universe. Best buddies with Alexa and Google Home, you can simply say, "Alexa, turn on the smart security light," and let the magic happen.
The best outdoor lights come with a motion sensor mode to protect your space. These clever lights automatically switch on when they detect movement – whether it's people, animals, or even cars passing by and can be adjusted as needed.
Buy the Amico LED Smart Outdoor Lights from Amazon for $59.99.
4. Govee Outdoor String Lights
Here's a string of pure joy. Govee Outdoor String Lights are an instant mood lifter, making them one of the best outdoor lights.  If you're looking to take your garden decor to the next level, these lights are your shining knights in RGBIC armor.
Get ready to immerse your outdoor space in 16 million vibrant colors and 47 scene modes that will leave you in awe. Using the DIY mode, upload a photo, and like magic, the Govee Home app will recognize the colors and bring your outdoor patio decor to life with those colors.
To make your patio pop, these smart outdoor lights offer the magical RGBIC lighting effect. You can set each LED light bulb to dance to its own colorful tune, creating a breathtaking display that's sure to be the envy of the neighborhood.
Buy the Govee Outdoor String Lights from Amazon for $99.99.
5. Govee Outdoor Spot Lights
With 35 scene modes to choose from, your outdoor space will be oozing with ambiance, creating the perfect setting for any occasion. Their stronger and more focused beams cover a larger area, giving your plants, sculptures, flags, and outdoor patio decor the attention they deserve. 
One of the best outdoor lights, These spotlights work like magic with Alexa and Google Home, responding to your every command with hands-free voice control. 
Moreover, not only are they waterproof outdoor lights (with an IP65 rating) but also heatproof, ensuring they can withstand whatever Mother Nature throws their way. 
Made from high-strength aluminum material, they are built to last up to an impressive 20,000 hours. Talk about lighting up your life for the long haul.
But the Govee Outdoor Spot Lights from Amazon for $69.99.
6. WiZ Color String Lights
Dim the lights, choose from millions of colors, and throw unforgettable parties with the best outdoor lights from WiZ.
One of the best parts about these smart outdoor lights is how easy they are to set up. No complicated installations or extra gateways are required. Simply plug them in, download the user-friendly WiZ app, and you're ready to dive into a world of colorful possibilities.
Speaking of possibilities, get ready to embrace a rainbow of 16 million colors. From striking shades to soothing pastels, the choice is all yours. WiZ gives you full control – and it's all right there in the app or available through voice commands.
You can schedule them to turn on or off according to your daily routine. And with the vacation mode, WiZ will keep your space well-lit.
Buy the WiZ String Lights from Amazon for $84.81.
7. Nocturne Outdoor Solar Floor Lamp
Nocturne Outdoor Solar Floor Lamp is here to save the day (and the night). Connect it to your iPhone, and you've got yourself a sustainable source of illumination. 
Plus, the smart outdoor light is portable, so you can take them camping or just move them around for a change of scenery. 
This lamp is the life of the party, ready to transform your backyard, deck, or patio into a welcoming haven of light and music. Its diffuse glow provides comfortable and bright lighting that'll make you want to stay outside all night long. 
With its built-in Bluetooth speaker, you can stream all your favorite tunes from any device. Adjust the volume without leaving your seat – your music, your rules, making it one of the best outdoor lights.
Buy the Nocturne Outdoor Solar Floor Lamp from Amazon for $199.99.
Crack the Code of Perfect Ambiance
We hope this article has shed some light (pun intended) on the incredible possibilities that await you. 
With the best outdoor lights at your disposal, you're no longer bound by the limitations of traditional lighting. Your creativity can run wild as you transform your garden into a radiant wonderland, tailor-made for every occasion.
Now it's your turn to embrace the brilliance and embark on your own luminous adventure.