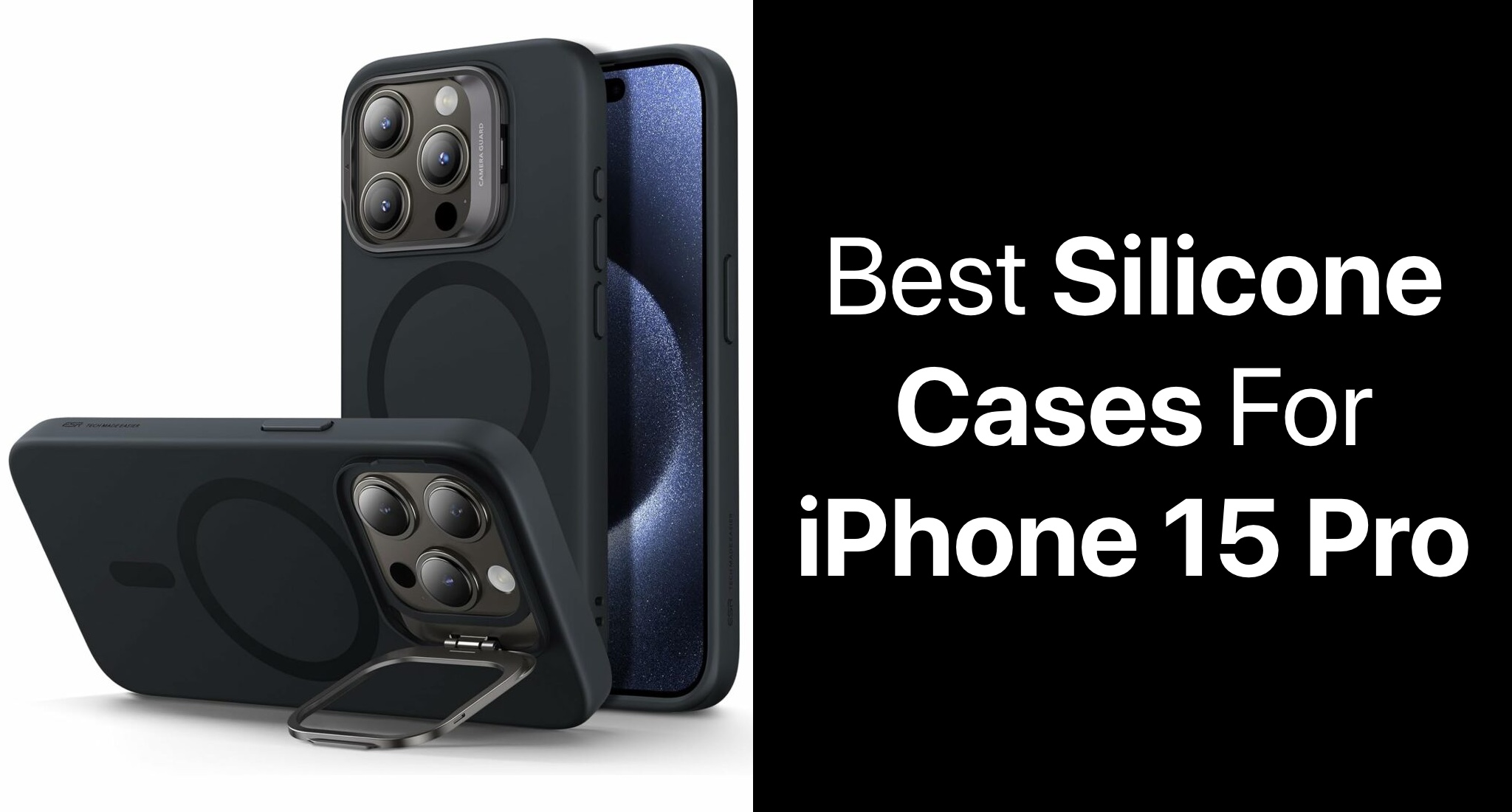 Best Silicone Cases For iPhone 15 Pro
In this blog, we have discussed the best Silicone cases for iPhone 15 Pro that you should buy right now. These amazing protective cases make sure your device stays undamaged from all sides when dropped on any kind of surface.
As we eagerly embrace the cutting-edge technology of the iPhone 15 Pro, one thing's for sure – you want to keep your sleek gadget in pristine condition. Enter the unsung heroes of smartphone armor: iPhone 15 Pro silicone cases. We get it, finding the perfect balance between style and protection can be a quest worthy of its own epic saga.
But fear not, fellow tech enthusiasts, because we've scoured the digital landscape to bring you the lowdown on the best silicone cases for iPhone 15 Pro. From slim profiles that won't bulk up your pocket to vibrant designs that scream personality, these cases are more than just protective gear; they're an extension of your style.
Best iPhone 15 Pro Silicone Cases
Let's dive into the world of silicone sanctuaries for your prized possession – your iPhone 15 Pro.
1. ORNARTO Liquid Silicone Gel Rubber Cover
Crafted from genuine Liquid Silicone, ORNARTO Liquid Silicone Gel Rubber Cover stands out in the crowd. It doesn't just shield against dust (better than 95% of its silicone counterparts) but also cleans up like a breeze. Feel the difference with its soft-to-touch experience that doesn't turn yellow over time.
This isn't just a case; it's a style upgrade. The iPhone 15 Pro silicone case doesn't just shield against scratches and drops; it elevates the look of your device. Complete coverage includes the bottom, buttons, and the crucial camera lens and screen.
Rest easy knowing the ORNARTO iPhone 15 Pro case is certified in 𝐆𝐑𝐒/SGS/RoHS/FDA. They are not just committed to your well-being, but also to the environment. Because great protection should come with great responsibility.
Buy ORNARTO Liquid Silicone Gel Rubber Cover for $14.99 here.
2. Apple iPhone 15 Pro Silicone Case with MagSafe
Picture this: you're holding your iPhone 15 Pro, and it's wrapped in a luxurious silicone case that feels incredibly silky and soft to the touch. But it's not just about the exterior. Inside, there's a gentle microfiber lining, adding an extra layer of protection for your precious device.
This MagSafe-compatible iPhone 15 Pro Silicone case isn't just any case. It's designed with built-in magnets that align flawlessly with your iPhone 15 Pro, creating a seamless, almost magical attachment experience. And when it's time to power up, there's no need to fumble around. Simply leave the case on your iPhone and snap on your MagSafe charger, or effortlessly place it on your Qi-certified charger.
Apple has put this beauty through rigorous testing, spanning thousands of hours throughout the design and manufacturing process. So, not only does it look stunning, but it's also engineered to safeguard your iPhone from those everyday mishaps, like scratches and accidental drops.
Buy an Apple iPhone 15 Pro Silicone Case with MagSafe for $49 here.
3. FireNova Silicone Upgraded Phone Case
Next on our list of the best simple silicone cases for iPhone 15 Pro is the FireNova Silicone Upgraded Phone Case. It is a sleek blend of style and functionality.
Crafted with premium environmentally friendly silicone, this case offers a secure, non-slip grip that's both safe and easy to hold. Inside, a soft microfiber lining ensures your phone stays scratch-free while providing a luxurious touch.
This case is wireless charging compatible, making your life even more convenient. As a bonus, you'll receive 2 Pack 9H Hardness 3D Round Edge Military Explosion-proof Tempered Glass Screen Protectors.
The hydrophobic and oleophobic coating protects your screen from pesky fingerprint marks and liquid residue, maintaining the original response sensitivity and ultra-clarity. Worried about your camera? Fear not. The unique built-in camera cover shields the lens, ensuring it stays safe from scratches and dust.
Buy FireNova Silicone Upgraded Phone Case for $12.97 here.
4. ESR MagSafe Silicone Case with Stand
The ESR MagSafe Silicone Case with Stand is your go-to for seamless wireless charging and versatile viewing on the fly!
Thanks to its powerful built-in magnets rocking a solid 1,500g of holding force, this iPhone 15 Pro silicone case with MagSafe is all about that quick place-and-go wireless charging action. It locks securely onto any MagSafe accessory for a worry-free experience.
But here's the kicker – flip out the adjustable Stash Stand cleverly positioned around the camera frame. It stays incognito when folded away, leaving your MagSafe ring 100% unobstructed. So you've got the freedom to enjoy a stable view for binge-watching your favorite shows wherever you please.
Besides, it's military-grade, folks! The shock-absorbing Air Guard corners team up with raised screen edges and a dedicated Camera Guard. The result? Test-certified protection against drops, bumps, and scratches.
Buy ESR MagSafe Silicone Case with Stand for $26 here.
5. Cordking Silicone Ultra Slim Case
Cordking Silicone Ultra Slim Case is your phone's new style companion! Choose from a range of vibrant colors to suit your vibe. This case isn't just about looks – it supports wireless charging, and its 1.2mm raised lips ensure your iPhone 15 Pro screen and camera stay protected.
But here's the cool part – the soft microfiber lining inside won't pull a scratchy move on your phone, unlike some other cases out there. It's like a cozy blanket for your device.
The unique premium silicone material not only offers a sleek look but also provides a grip that's just right – not too slippery, not too clingy. Plus, Cordking nailed the art of precision with cutouts for easy access to all ports, ensuring you won't miss a beat. And no worries about interference – your microphone gets the spotlight it deserves.
Did we mention it's slim and adds zero extra bulk to your iPhone 15 Pro? It's like a stylish second skin for your tech.
Buy the Cordking Silicone Ultra Slim Case for $11.86 here.
6. elago Liquid Silicone Case
Why settle for those run-of-the-mill phone cases when you can have something truly special? ELAGO doesn't just churn out generic cases; they craft them right here, from the ground up. We're talking about a perfect fit that offers top-notch protection for your everyday adventures while adding a pop of style.
Not convinced yet? Well, here's the kicker – Elago's silicone cases have been Amazon's top sellers for four straight years. That's no fluke; it's a testament to our commitment to getting better with every model.
With an ELAGO case, you get a secure hold on your phone, guarding it against everyday bumps and drops. Plus, they come in vibrant colors that'll make your device stand out.
These cases are full-coverage champs, compatible with your iPhone 15 Pro. They wrap around your phone, covering every nook and cranny, including the buttons and the bottom. Plus, Elago has thrown in a raised lip to safeguard your screen and camera from nasty scratches caused by direct contact with surfaces.
Buy Elago Liquid Silicone Case for $14.99 here.
7. OTOFLY Silicone Shockproof Phone Case
Meet the perfect companion for your iPhone 15 Pro – OTOFLY Silicone Shockproof Phone Case isn't just a protector, it's a style statement! With 18 vibrant color options, finding the perfect match for your daily vibe is a breeze.
Crafted from premium liquid silicone and coated with nano magic, it feels like a dream in your hands. No more annoying smudges – just sleek, anti-smudge perfection. Worried about those accidental drops? OTOFLY has got you covered with excellent shockproof protection and 1.3 mm raised lips guarding your screen and camera.
Inside, a soft microfiber lining cradles your phone, ensuring it stays scratch-free. This case doesn't just protect, it complements – maintaining the iPhone 15 Pro's slim profile, so you can flaunt that sleek design without added bulk. Get ready for a confident hold that blends style with substance! And yes, it's wireless charging-friendly – because convenience should never be compromised.
Buy an OTOFLY Silicone hockproof Phone Case for $ here
To Conclude
In a world where our iPhones are practically an extension of ourselves, finding the best iPhone 15 Pro Silicone cases that support MagSafe is more than just a matter of protection – it's about style, comfort, and personal expression. We've journeyed through this article, exploring a range of top-notch options, from slim and sleek to shockproof and reliable.
So, go ahead, and pick the silicone case that resonates with your unique personality and needs. Your iPhone 15 Pro deserves nothing but the best, and with these silicone cases, you'll not only safeguard your device but also make a stylish statement while doing so. Here's to protecting your iPhone in style!
Disclosure: iOSHacker may receive a commission if you purchase products through our affiliate links. For more visit our privacy policy page.