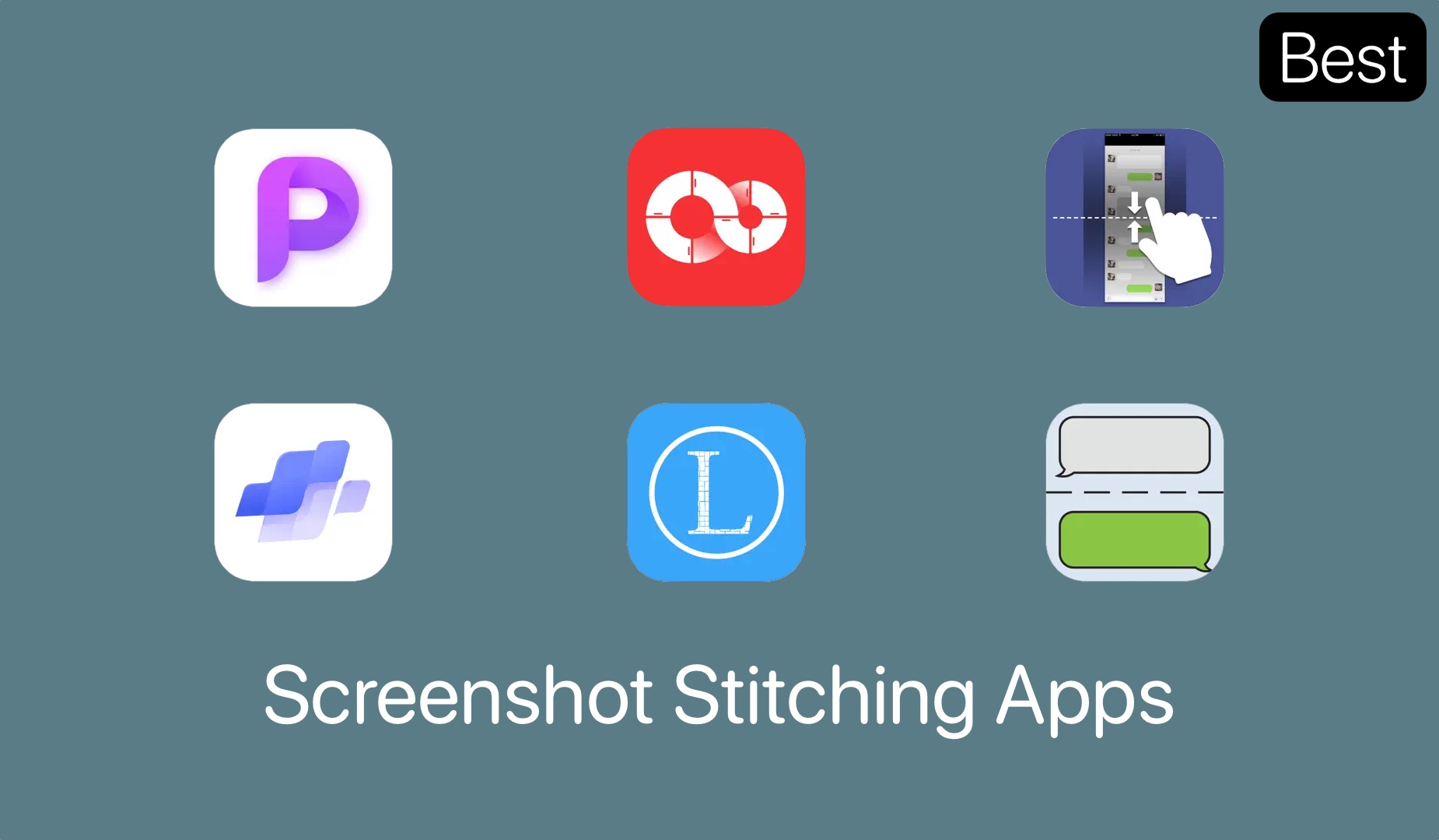 Best Screenshot Stitching Apps For iPhone And iPad
In this article, we explore the best screenshot stitching apps that will take your image game to a whole new level.
Do you often find yourself in screenshot heaven, capturing all those hilarious memes, epic gaming wins, or those mouthwatering recipes? 
But here's the thing – sometimes those screenshots are just a smidge too big to fit in one frame, leaving you with an incomplete masterpiece.
 Ugh, talk about frustrating, right?
Well, that's where these magical screenshot stitching apps swoop in to save the day.
These apps enable you to stitch or join multiple screenshots together in a single image, which you can easily share with others. YOu can use it to stitch screenshots with long conversations, large images, long documents, and more.
Game-changing Screenshot Stitching Apps for iOS users
No more chopping up your screenshots into puzzle pieces or settling for incomplete visuals. 
These quick screenshot stitching apps will effortlessly weave your screenshots together, creating stunning panoramas, captivating collages, and even funky flipbooks.
Get ready to unlock a whole new world of possibilities for your cherished screenshots.
1. Picsew Screenshot Stitching App
This nifty app is a pro at stitching together your screenshots effortlessly. It's like having a digital needle and thread to weave your pics into a masterpiece.
First up, it creates scroll shots directly through screen recording so you can avoid the hassle of taking multiple screenshots to capture that epic moment. 
And get this, it's not just your run-of-the-mill stitch iPhone screenshots with the app. Picsew boasts an advanced screenshot-merging algorithm that's ahead of the pack. We're talking about picture-perfect merges that blend seamlessly, making your collages look like they were crafted by a pro.
Want to control the process a bit more? No problemo! You can stitch manually, both vertically and horizontally. It's like being the director of your very own visual masterpiece. Have multiple pictures to stitch? Choose up to 300 photos to stitch together without a hassle. Are you worried about losing image quality? Picsew ensures high-resolution photo stitching and output. It's got you covered on all ends.
Download Picsew now.
2. Tailor Screenshot Stitching App
No more shortchanging your screenshots with Tailor.  This app to stitch iPhone screenshots measures up perfectly and stitches your images with precision. It's like a tailor-made solution for all your screenshot woes.
Avoid the hassle of capturing endless screenshots to capture long conversations, epic websites, or those never-ending notes. It effortlessly weaves together multiple screens, giving you a complete and seamless view of your content. 
Plus, it supports a wide range of content for stitching – from conversations to websites and even your favorite notepad scribbles. 
So, whether you're sharing a hilarious chat with your BFF, bookmarking an important web article, or saving your notes in style, Tailor is the trusty assistant you can count on.
But Tailor isn't just about stitching and exporting – it's a one-stop-shop for all your photo editing needs too! Channel your inner artist with features like adding text, playful graffiti, cropping, and even mosaic effects.
Download Tailor now.
3. StitchPics Screenshot Stitching App
Unleash your inner artist with StitchPics. This quick screenshot stitching app threads your screenshots together, creating a delightful collage that's Instagram-ready in a snap.
Save yourself from the pixelated nightmares. With StitchPics, you can save your original images with utmost clarity intact. No more sacrificing quality for the sake of stitching – this app knows how to keep your pics looking sharp and fabulous.
Whether you're a hands-on DIY enthusiast or prefer the magic of automation, StitchPics has got your back. It supports both automatic and manual stitching, allowing you to stitch your screenshots just the way you like them – effortlessly.
Moreover, StitchPics supports Web Snapshot Action Extension, making it a breeze to capture and stitch images directly from your web browser. So when you stumble upon that perfect meme or inspiring quote, just snap, stitch, and share away.
Download StitchPics now.
4. Stitch It Screenshot Stitching App
Looking to knit your screenshots into a cohesive story? With Stitch It free screenshot stitching app, you'll weave a seamless narrative that's too good to resist sharing.
Capture those hilarious, heartfelt, or downright crazy text conversations and share them with the world on your favorite platforms. Oh, and here's the kicker – sometimes there might be a juicy detail or two in those conversations that you'd rather keep under wraps. Stitch It has got you covered with the ability to redact or remove private info with ease.
Now, let's break it down into a few easy-peasy steps. First, snap those screenshots of your text messages – simple as that. Next, use the app's transparent overlay crop tool to stitch those seams together. And you've got yourself a seamless, shareable masterpiece in the palm of your hand.
And hey, this app automatically saves every stitched image to your photo library, tucked safely for you to revisit them whenever you want.
Download Stitch It now.
5. Long Pic Stitch – Screenshot Stitching App
For those panoramic screenshots that just can't be contained, Long Pic Stitch is your best friend. Stitch iPhone screenshots with the app and rid yourself of the chopped-up landscapes and welcome a complete visual adventure.
With this app, all you need to do is take a few overlapping screenshots – that's it. No fancy operations or tech wizardry required. 
Long Pic Stitch works its magic behind the scenes, seamlessly stitching those screenshots together into one glorious collage.
And hey, we're not just talking about chat conversations here.
You don't have to struggle to fit it all in or cut your cherished content short. Long Pic Stitch is your ultimate collage maker that ensures your conversations and articles flow like a beautiful, uninterrupted story.
Download Long Pic Stitch now.
6. Stiiitch – Screenshot Stitching App
Turn your screenshots into a captivating flipbook with Stiiitch. 
Let's talk about speed first. Stiiitch is like the Flash of the stitching world. Whether you have a single screenshot or a series of consecutive ones, this app to stitch iPhone screenshots automatically recognizes and stitches them in a flash. 
Stiiitch is a versatile little genius that can be used in chat history, WeChat, QQ, SMS texts – you name it. Got long articles in apps or important bills and checklists to save and share? Stiiitch has your back, making sure everything stays seamless and neat.
Oh, and let's not forget about WeChat chat history stitching! Stiiitch works its magic even if your chat background is a custom image. It is all about convenience and efficiency. The app allows you to create long screenshots with screen recording – no more multiple manual shots required. One recording, and you've got yourself a fantastic long screenshot, ready to be stitched.
Download Stiiitch now.
Snap, Click, Stitch
The world of seamless visuals and jaw-dropping panoramas is now at your fingertips, thanks to these incredible screenshot stitching apps for iPhone and iPad.
Whether you're an aspiring social media guru, a mobile gamer, a traveler, or simply someone who loves capturing memories – these quick screenshot stitching apps are a game-changer for all.
Go ahead and stitch those moments together, and let your creativity shine. Your screenshot game will never be the same again.