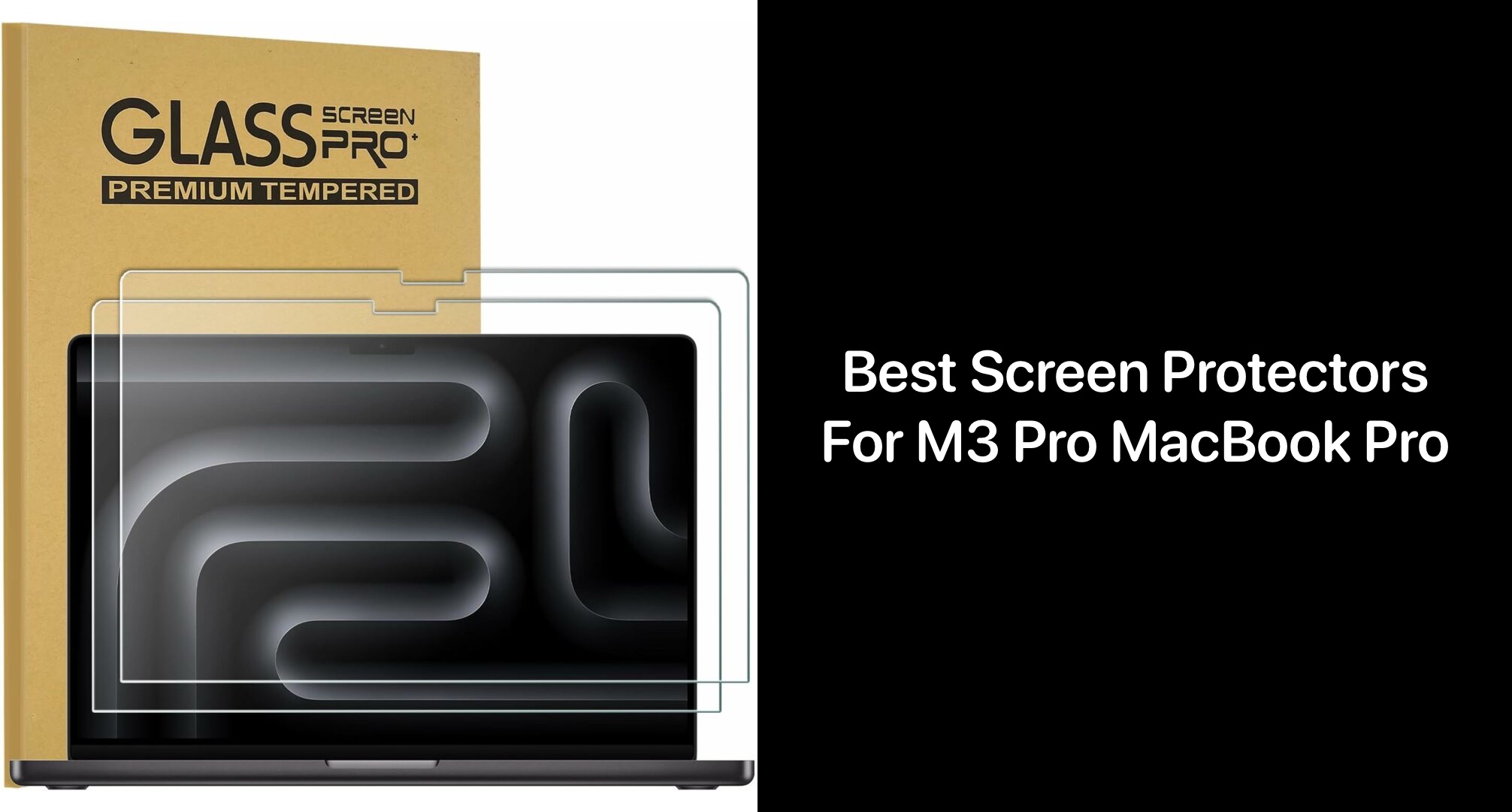 Best Screen Protectors For M3 Pro MacBook Pro (16-inch)
Attention, proud owners of the M3 Pro MacBook Pro 16-inch – we know your precious laptop is more than just a piece of tech; it's practically a member of the family. And just like your cousin Larry's questionable taste in fashion, accidents can happen. That's where the unsung heroes of the gadget world come into play – best screen protectors for M3 Pro 16-inch MacBook Pro!
These transparent warriors are here to save your laptop from scratches, smudges, and the occasional coffee spill. But don't worry, we've scoured the digital realm to find the crème de la crème of screen protectors for M3 Max MacBook Pro 16-inch.
Get ready to armor up in style, because we're about to unveil the best screen protectors that'll make your M3 Pro shine brighter than Larry's neon socks at the next family reunion.
The Best Screen Protectors for M3 MacBook Pro 16-inch
Here you will find the best screen protectors for M3 Pro MacBook Pro 16-inch. These glass screen protectors protect your MacBook Pro's screen from scratches and other forms of damage.
1. amFilm Tempered Glass Screen Protector
amFilm Tempered Glass Screen Protector is a little piece of tech magic offers some serious protection. We're talking stronger than anything else out there. The 0.3mm thickness is like an invisible shield for your MacBook's screen, allowing you to close it without a worry when you're on the go.
But what sets this 16-inch MacBook Pro M3 Pro screen protector apart is its black frame silicone seal. It's like a snug hug for your screen. It attaches bubble-free, so no frustrating air pockets to deal with. Plus, the best part? When you're ready to part ways with it, it comes off without any risk of damage to your screen.
The amFilm protector maintains that crisp, original screen appearance with 99.9% transparency. No more glare or weird tints – just pure, ultra-clear goodness. Your MacBook deserves the best, and this screen protector is here to deliver it.
Buy amFilm Tempered Glass Screen Protector for $27.99 here.
2. KEANBOLL 2-Pack Tempered Glass Screen Protector
With the KEANBOLL Tempered Glass Screen Protector, you're giving your device the defense it deserves, and ensuring a clear, clean, and crisp visual experience. It has a remarkable hardness rating of 9H, that makes it practically impervious to scratches from sharp objects like keys, coins, or even knives – keeping your screen pristine and scratch-free. The 2.5D rounded edges not only enhance the look but also ensure a comfortable touch experience.
In the face of a sudden impact or an accidental drop, this tempered glass protector steps up, preventing shattering and keeping your screen intact. What sets this protector apart is its ultra-clear and transparent design, delivering a vivid high-definition display without any distortion or blurriness. Plus, the special oil and dirt-resistant layer helps fend off fingerprints, sweat, and other oils, making it a breeze to clean and maintain.
And the cherry on top? The oleophobic coating reduces those annoying smudges and fingerprints on your screen, preserving the pristine look and protecting your finger skin from damage.
Buy KEANBOLL 2-Pack Tempered Glass Screen Protector for $17.98 here.
3. MasiBloom Anti Blue Light Screen Protector 
The MasiBloom Anti Blue Light Screen Protector is your go-to solution for safeguarding your eyes and your device. Crafted from high-quality PET material, it's not just durable but also ultra-thin. This protector is designed to reduce reflections and radiation, helping to relieve eye strain and protect your precious peepers.
With a 4H hardness rating, it offers robust protection against scratches and abrasions, effectively extending the lifespan of your device. And let's not forget about its premium performance – it's a shield against dust, dirt, water, scratches, fingerprints, and other stains. Plus, it's a breeze to clean.
Applying the protector is a cinch, and removal leaves no sticky residue behind. Just remember to give your screen a good clean before applying to prevent any pesky dust from getting in the way.
Buy MasiBloom Anti Blue Light Screen Protector for $12.99 here.
4. Spigen Privacy Filter Screen Protector
Looking to protect your privacy on your MacBook Pro 16-inch? Meet the Spigen Privacy Filter Screen Protector! This sleek accessory is designed to keep your personal data safe from prying eyes while maintaining the clarity of your screen.
What sets it apart? Well, it's crafted from premium and durable materials, ensuring long-lasting privacy protection. The magnetic attachment makes installation a breeze, and the residue-free base means no sticky mess when you decide to remove it. Plus, the precise cutouts fit perfectly around your MacBook Pro's webcam.
Here's a neat feature – it comes with a storage folder to keep your privacy filter safe when it's not in use. And the best part? It's reusable! Just rinse it with water and let it dry completely to reactivate the Nanotac adhesive before reinstalling.
Buy Spigen Privacy Filter Screen Protector for $31.99 here.
5. F FORITO Anti Blue Light Laptop Screen Protector
Say goodbye to annoying glare and reflections with advanced anti-glare technology that tames even the brightest of environments. Whether you're working outside or in a well-lit room, this screen protector has got your back. Plus, F FORITO Anti Blue Light Laptop Screen Protector doubles up as a protective shield to keep your precious screen looking pristine.
Worried about scratches and smudges? Fear not! This screen protector boasts superpowers against scratches and resists fingerprints like a pro. Cleaning it is a breeze, giving you a crystal-clear view every time.
Experience high-definition heaven with top-notch light transmission. Your MacBook's display quality remains intact with crisp images and text, no blurriness, no distortion. It's like having a personal cinema in your lap. Crafted with premium materials, this protector is as tough as it is sleek. It's ultra-thin, so it won't interfere with your laptop's closure, and the precise cut ensures a snug fit.
Buy F FORITO Anti Blue Light Laptop Screen Protector for $18.99 here.
6. Supershieldz (3 Pack) Anti-Glare (Matte) Screen Protector
Say hello to Supershieldz Anti-Glare (Matte) Screen Protector, your knight in shining armor for your device! This pack of three screen protectors is like having insurance for your screen. The anti-glare (matte) film is engineered to cut down on annoying glare and those pesky fingerprints that seem to appear out of nowhere. It's made from high-quality Japanese PET film, so you know you're getting top-notch protection.
Installation is a breeze, and you won't have to worry about sticky residue when it's time to remove it. Plus, the real touch sensitivity gives you that natural feel and flawless touch screen accuracy, so your device remains as responsive as ever.
Not only does it fight off glare and fingerprints, but it's also a shield against daily scratches, dust, and scrapes. Keep your screen looking sharp with Supershieldz – because your device deserves the best!
Buy Supershieldz Anti-Glare (Matte) Screen Protector for $9.99 here.
To Sum Up
In a world filled with delicate screens and countless potential dangers, choosing the right 16-inch MacBook Pro screen protector is more important than ever. Whether you're a creative professional pushing the limits of your machine or a student taking notes during a lecture, this small investment can make a world of difference in preserving the clarity and longevity of your display.
We've explored a range of options for the best screen protectors for the 2023 MacBook Pro 16-inch, each with its unique advantages, so you can find the perfect fit for your needs. Remember, it's not just about protecting your screen; it's about safeguarding your daily companion on this digital journey.
So, go ahead, find the protector that suits you best, and keep your M3 Pro MacBook Pro screen looking sharp and shining, no matter where your adventures take you.
Disclosure: iOSHacker may receive a commission if you purchase products through our affiliate links. For more visit our privacy policy page.