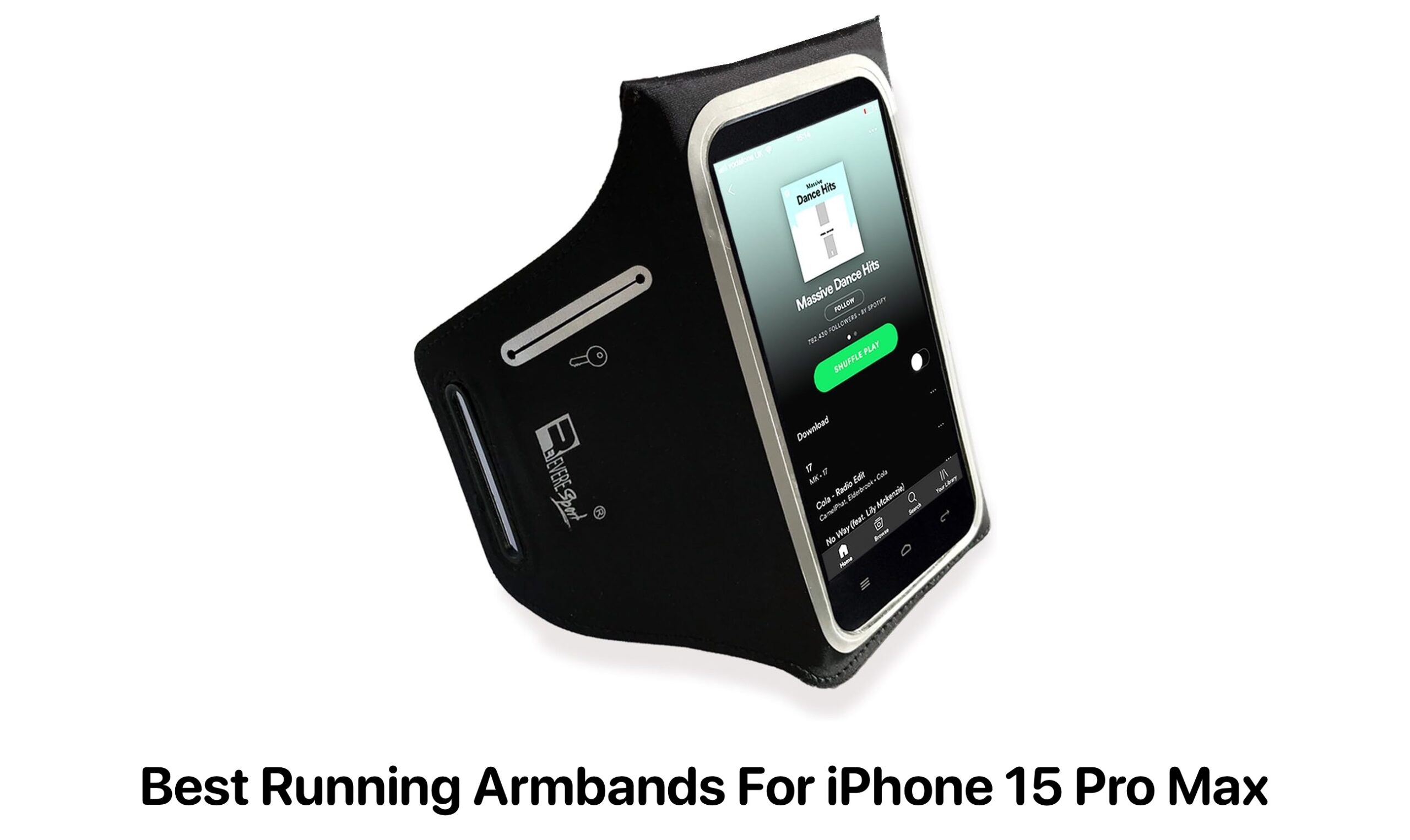 Best Running Armband for iPhone 15 Pro Max
In this buying guide, we have highlighted some of the best running armbands for iPhone 15 Pro Max. These armbands let you carry your iPhone safely while you are running, cycling, at the gym, or doing any physical activity.
Picture this: you're hitting the pavement, the rhythmic thud of your sneakers against the asphalt echoing in sync with your pounding heartbeat. The sun is casting a golden glow, and your iPhone 15 Pro Max is your trusty companion, ready to serenade you with the perfect running playlist.
But, wait – juggling your phone while trying to break a personal record? Not exactly ideal. Enter the unsung hero of your running escapades: the best iPhone 15 Pro Max running armband. It's like a snug, high-tech hug for your phone, ensuring it stays securely strapped to your arm while you conquer miles and milestones.
In the world of fitness and tech synergy, finding the best running armband for iPhone in 2024 is akin to discovering the perfect running buddy – reliable, supportive, and seamlessly synced to your pace.
Best Running Armband for iPhone 15 Pro Max
Let's dive into the top contenders that'll keep your phone snug and secure, allowing you to focus on what really matters: the exhilarating rhythm of your feet hitting the pavement.
1. RevereSport Waterproof Running Armband
The RevereSport Waterproof iPhone Pro Max Running Armband is not just secure; it's practically weightless, giving you that "don't even notice you have it on" feeling. The secret? A snug No Bounce fit that keeps your phone securely in place, so you can focus on breaking your personal records without any distractions.
The advanced Lycra material isn't just lightweight; it's also waterproof! That means you can confidently run in the rain or push through a sweaty gym session, knowing your phone is shielded from the elements. (Just a heads up – it's not for swimming.)
Worried about fit? Don't be. This armband is adjustable and comes with a bonus extender strap, accommodating arm circumferences from SMALL 9″ to LARGE 17.5″ inches.
Night owl or early bird? The extra bright reflector strip ensures high visibility during those nighttime runs. And that's not all – the larger key pocket keeps your essentials safe and sound, accommodating your house key and car key/fob.
Buy RevereSport Waterproof Running Armband for $19.99 here.
2. JEMACHE Gym Running Workouts Arm Band
The JEMACHE Gym Running Workouts Arm Band is your flexible fitness buddy, bending and twisting without losing shape. Worried about your device slipping or feeling constricted? Fear not! The adjustable strap ensures a secure and stable fit.
Need quick access to your essentials? The armband boasts a built-in key pocket, rear pocket for your house key, ID, credit card, and cash – all while you break a sweat.
Ever fumbled with your phone during a workout? Not anymore! With user-friendly power and volume button pattern printing, controlling your device is a breeze.
Plus, stay connected with three cutout holes for headphones/USB cables, and manage calls, playlists, or your stopwatch through the protective screen cover without missing a beat. Heading out when it's getting dark? The reflective strip has your back, ensuring visibility in low-light conditions
Buy JEMACHE Gym Running Workouts Arm Band for $7.99 here.
3. RUNBACH Armband 
Designed with your comfort in mind, RUNBACH Armband is made from high-grade water-resistant Lycra fabric that's not only soft and lightweight but also sweatproof.
Worried about your phone's safety during intense workouts? The armband holder for running boasts a super grasp that keeps your device securely in place. Plus, it's water-resistant, providing protection against rain and sweat.
The thoughtful design includes a built-in zipper pocket and card pocket, ensuring a safe spot for your AirPods, car keys, and cards.
This armband features precise cutouts for your headphones and charger, allowing seamless usage. Worried about visibility during nighttime runs? The reflective stripe has got you covered, ensuring safe running in low-light conditions.
And here's the cherry on top – it's fully adjustable for all arm sizes, from 6″ to 16″, thanks to the double-sided Magic Tape. Plus, the extra Extension strap gives you the flexibility to lengthen it by 8.85 inches if needed.
Buy RUNBACH Armband for $9.99 here.
4. VUP Running Armband
Designed with upgraded silicone straps, this VUP Running armband for iPhone 15 Pro ensures a perfect fit for all screen phones, without blocking Face ID or essential phone features. The 360° rotation capability allows you to check your phone at any angle, and the dual buckle loops with an adjustable elastic band make it suitable for all arm sizes.
Made from breathable lycra and neoprene, the armband provides a soft, odor-free, and lightweight wearing experience. It's not just functional but also stylish – perfect for running, cycling, walking, hiking, and high-intensity workouts.
The extra fabric layer adds sweat resistance, and you can easily clean it with water. Plus, with complete access to all buttons and controls, you'll stay connected and look cool while staying active.
Buy VUP Running Armband for $19.99 (discounted at $12.79) here.
5. Sporteer Entropy E8 Running Armband 
With easily removable and replaceable armband straps in different sizes and styles, finding your perfect fit has never been easier. Whether on a bare arm or over clothing, the Sporteer Entropy E8 Running Armband guarantees a snug and comfortable feel.
The soft memory foam backing ensures a secure fit even for larger phones, and it's designed to resist the toughest of workouts with exceptional sweat resistance. The touch screen provides full access to your phone, allowing you to effortlessly control your apps with just a swipe.
No more rattling zippers – this armband comes with locking zippers for a noise-free experience. Plus, stays visible during nighttime runs with reflective trim on both the armband and straps. With internal pockets and extra space, you can conveniently carry your ID, cards, cash, keys, or any small essentials.
Buy Sporteer Entropy E8 Running Armband for $29.99 here.
6. GUZACK Running Armband
GUZACK Running Armband goes beyond just securing your phone; it's a game-changer with a sleek zipper pocket to stash your earphones or keys. Need a spot for your cards and ID? No worries, there's a hidden pocket for that too. Worried about sweat seeping in? The closed cap has got you covered. Plus, the anti-trip buckle ensures your phone stays put during even the most intense workouts.
For night owls hitting the pavement, the GUZACK armband has reflective strips surrounding the screen for added visibility. It's not just for runners either; whether you're biking, climbing, hiking, or hitting the gym, this armband is your trusty sidekick.
Adjustable Velcro accommodates arm circumferences from 10 to 16 inches, and the upgraded design makes it a snug fit for strong arms – just remove the extra Velcro to avoid any skin irritation. Worried about unlocking your phone? Fear not, the clear TPU screen supports various unlocking options without removing your device.
Buy GUZACK Running Armband for $12.99 here.
7. RevereSport Waterproof Running Armband with Case On 
The RevereSport Waterproof Running armband for iPhone 15 is not just secure; it's practically invisible when you're on the move. The lightweight design ensures a snug, no-bounce fit, making you forget your phone is even there.
Whether you're hitting the gym or running in the rain, our advanced Lycra material with a waterproof coating has your back (and your phone's front). And don't worry about arm size; our adjustable armband fits all with a bonus extender strap included.
But that's not all – the armband isn't just about your phone. The extra bright reflector strip keeps you visible during nighttime runs, and the larger key pocket secures your house and car keys or fob. Plus, there's a handy pocket for your cash, credit cards, and ID.
Buy RevereSport Waterproof Running Armband with Case On for $19.99 here.
To Conclude
As we wrap up our exploration of the best iPhone armband, it's clear that finding the perfect companion for your runs goes beyond mere functionality—it's about seamlessly blending tech and lifestyle. Much like a reliable running buddy, the right armband should complement your pace, adapt to your style, and keep up with your ambitions.
Whether you're chasing personal records or simply chasing the sun, the ideal armband is more than a mere accessory; it becomes an integral part of your running journey.
So, as you strap on your iPhone 15 Pro Max for that next exhilarating run, let your armband be the unsung hero that elevates your experience, allowing you to focus on the rhythm of your feet hitting the pavement, the beat of your favorite playlist, and the joy of conquering each stride.
Disclosure: iOSHacker may receive a commission if you purchase products through our affiliate links. For more visit our privacy policy page.