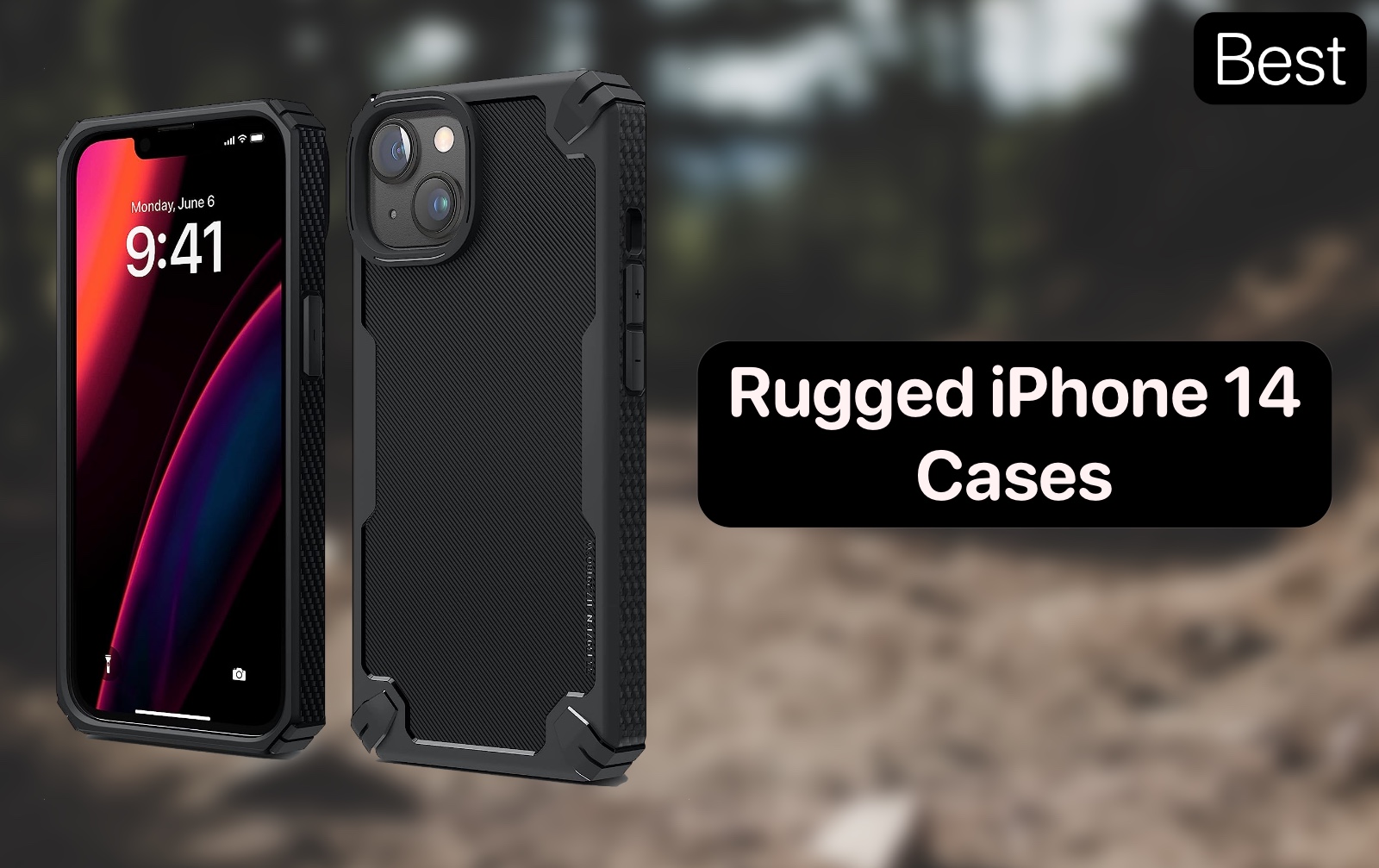 Best Rugged Cases For iPhone 14 (6.1-inch)
Protect your iPhone from scrapes, scratches, and shatters by encasing it in a strong defense system. In this article, we discuss our top picks from tried and tested rugged cases for iPhone 14. 
The iPhone 14 (6.1 inches) was all the rage last year thanks to all the improvements Apple brought with it. Built with strong and durable materials paired up with a ceramic shield, the iPhone 14 lineup ensures great protection. 
However, it still does not eliminate the need for an additional layer of protection.
Most iPhone 14 rugged cases you'll find in the market offer military-grade protection, shock absorption, cushioned protection, and more.
Let's discuss our eight favorite rugged cases for iPhone 14 that promise to protect your iPhone from getting scuffed or scratched from daily wear and tear. Also, if your phone is prone to accidental drops, a rugged case is your iPhone's best friend.
1. SUPCASE Unicorn Beetle Pro Rugged Case for iPhone 14
The Supcase Unicorn Bettle Pro iPhone 14 rugged case gives your phone 360-degree protection so your phone is shielded from all sides. 
It offers 20-foot drop protection combined with a multi-layer design that perfectly blends back and screen protection into one case. 
While the built-in screen protector ensures a smooth and scratchless screen, the back sports deep bezels that ensure camera protection at its best. Plus, the dual-layer hybrid polycarbonate back and TPU impact-resistant bumper keeps your phone safe and secure. 
Whether you drop it on the pavement or bump it against the wall, it will keep your iPhone safe from all accidents. 
The back cover is removable and houses a belt clip holster and a kickstand supporting portrait and landscape hands-free viewing.
Buy the SUPCASE Unicorn Beetle Pro Case from Amazon for $24.99.
2. Rokform Rugged Case for iPhone 14
Rokform's phone cases are known for their durability and mountable design, making them a top choice of heavy-duty cases for iPhone 14. 
The iPhone 14 magnetic case comes with a 5x stronger hold on all MagSafe-compatible accessories and magnetic surfaces. This means you can reap the benefits of wireless charging without having to take the case off.
The built-in industrial-grade magnets ensure a stronger grip while the military-grade reinforced corners offer better screen and camera protection. 
As for added security, the case offers shock protection, drop protection, and scratch resistance 4x better than other cases. 
Lastly, courtesy of the Twist Lock system, you can easily attach your iPhone to all Rokform bike mounts, motorcycle mounts, and car mounts. 
Buy the Rokform iPhone 14 Pro Rugged Case from Amazon at a price of $69.99 here.
3. TIPIWIME Rugged Case for iPhone 14
TIPIWIME is well known for waterproof cases that offer excellent protection. This time, it combines a waterproof case with a rugged case, giving us the best of both worlds. 
The iPhone 14 tough case comes with a built-in screen protector while the back is made from a blend of high-grade TPU and polycarbonate materials. Paired with TIPIWIME's extreme protection tech, it enables a shock-resistant and drop-proof case that can withstand drops as high as 6.6 ft. 
Fully protect your phone in the toughest of situations without adding unnecessary bulk to your iPhone. Super slim and clear, the case also features wireless charging capabilities.
Moving on to the winning feature, let's talk about the IP68 Waterproof Standard. You can safely and fully submerge your iPhone to 6.6'/2 m for 1 hour without risking death by drowning.
Buy the TIPIWIME Waterproof Case from Amazon for $25.99.
4. Poetic Revolution Rugged Case for iPhone 14
Poetic Revolution brings rugged protection while maintaining a modest design. 
In the list of thick cases for iPhone 14, Poetic Revolution's rugged case makes the mark for its military-grade protection from all angles. It comes with two-piece construction; a TPU exterior and a front polycarbonate shell with a built-in screen protector.
While the screen protector doesn't affect screen responsiveness, the extra raised lips and corners of the front hard frame make your iPhone shockproof, drop-proof, impact-resistant, and scratch-proof.
Although it is similar to other options featured in this list, it does maintain functional advantages like its raised lips and built-in kickstand.
Buy the Poetic Revolution Case from Amazon for $16.95.
5. Diverbox Rugged Case for iPhone 14
Want an iPhone 14 rugged case that boasts a simple and sleek design while offering tough protection? If so, the Diverbox case is a perfect choice for you. 
It offers multi-layer defense with a soft interior and hard exterior that ensure shock absorption, keeping damages at bay. The three-in-one combination of military-grade heavy armor offers tough protection while also giving you open access to ports and speakers.
Raised lips on the front and raised camera bezels fiercely protect the screen and the camera. As for the corners and sides, they're armed up as well. 
Moreover, the case also comes with the Diverbox tempered glass camera lens protector.  And no, it does not affect the camera quality at all.
Buy the Diverbox Phone Case from Amazon for $14.99.
6. Elago Armor Rugged Case for iPhone 14
This slim yet strong heavy-duty case for iPhone 14 is made from TPU material paired with Carbon Fiber Texture that ensures strong protection and a sturdy anti-slip grip.
The precise cutout and detailed design fit perfectly with the iPhone 14 (6.1 inches) giving users uninterrupted and open access to all functions and buttons of the phone. Although the buttons are covered, the case ensures ultra-responsive buttons.
Since the Elago cover does not come with a screen protector, it fills the gap with raised lips that protect the screen and camera against scratches. As you place your phone, it will not come in direct contact with the surface.
Buy the Elago Armor Phone Case from Amazon for $13.99.
7. URBAN ARMOR GEAR Rugged Case for iPhone 14
The first of the Pathfinder Series, Urban Armor Gear's first slim yet rugged case is designed for adventure junkies. You get an iPhone 14 tough case with all the protection and none of the bulk. 
The feather-light case is constructed with UAG's patented hard external armor shell and a shock-resistant soft internal core. But, the USP of this case is that it comes with an integrated torsion screw detail.
Tested to 18 ft. (5.5 meters) drop protection, the rugged case boasts certified military-grade protection. 
Offering a tactile grip, the Pathfinder case delivers a crisp and click-feel functionality for all buttons. Plus, the screen and ports do not get blocked at all. Therefore, users get full and bee-line access to all functions.
Additionally, it comes with an integrated lanyard anchor, softly raised screen and camera bezels, scratch-resistant skid pads, and sculpted designed corners to provide protection against drops and bumps.
Buy the URBAN ARMOR GEAR Phone Case from Amazon for $33.95.
8. Warsia Rugged Case for iPhone 14
If you're hesitating to get a rugged and thick case for iPhone 14 worrying it will take away the wireless charging feature and the slim design, then go for Warsia's case. 
Warsia's rugged case is designed for users who want to maintain a slim and sleek design without compromising on protection. You won't even have to remove the case every time you want to wirelessly charge your phone or use its functions. 
The precise cutouts give easy access to all buttons, ports, and screen functions without a hassle. 
Moreover, the ergonomic design & TPE material delivers a firm and comfortable grip without adding any bulk. Your iPhone won't be slipping out of your hand with this case on.
Lastly, the core is made from flexible TPU and polycarbonate materials paired with four cushioned corner bumpers and raised lips. Together, they protect your screen, back, and camera from accidental drops, bumps, dust, and scratches.
Buy the Warsia Phone Case from Amazon for $4.99.
Protect Your iPhone!
All iPhone 14 rugged cases offer military-grade protection without compromising on design and aesthetics. That is, as long as your aesthetics don't revolve around cute designs and patterns.
While some of these cases add some bulk, most cases mentioned above are lightweight. 
Although, in our opinion, bulk is a small price you pay for hefty protection.