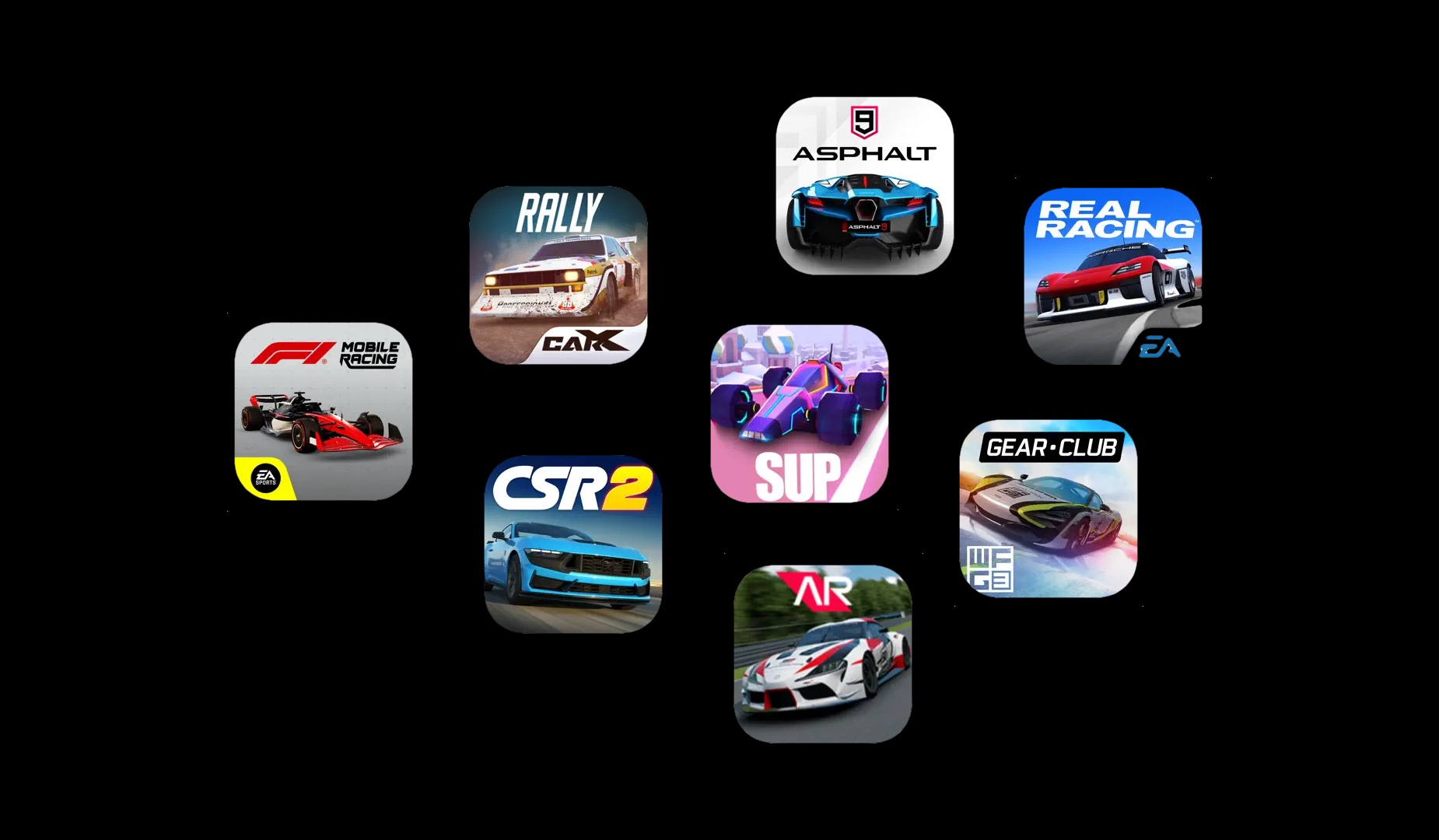 Best Racing Games For iPhone And iPad
In this article, we discuss the best racing games for iPhone and iPad that can turn your mundane moments into heart-pounding adventures.
Do you yearn for the adrenaline rush of racing, the thrill of overtaking opponents, and the joy of crossing that finish line in triumph? 
Racing games are not your ordinary speed boosters nor are they just about mindless entertainment. They're an immersive, heart-pumping, high-octane adventure that will keep you on the edge of your seat, from start to finish.
With stunning graphics, realistic physics, and the sound of screeching tires and roaring engines, you'll be transported to a world of adrenaline-fueled action that feels almost tangible.
Fuel Your Gaming Passion: The Best Racing Games for iOS
Maneuver through sharp bends, drift like a pro, and zoom past opponents in a quest for victory. The excitement is real, and the fun is limitless. 
With the best racing games for iPhone, the racetrack becomes your playground, and every race is a chance to prove your mettle as the ultimate speed demon.
So, let's rev those virtual engines and hit the road, shall we?
1. Real Racing 3
One of the best racing games for iPhone, it is not just your average racer – it's the real deal. We're talking about real cars, real people, and real motorsports – all packed into one thrilling package.
It boasts an impressive lineup of officially licensed tracks with a whopping 40 circuits at 19 real-world locations. Imagine zooming through iconic places like Silverstone, Hockenheimring, Le Mans, and Yas Marina, all in stunning detail that'll leave you speechless. 
But the thrill doesn't stop there. 
Real Racing 3 puts you in the driver's seat of over 250 meticulously detailed cars from top manufacturers like Porsche, Bugatti, Chevrolet, Aston Martin, and Audi. Moreover, the best racing game for iPad keeps the excitement flowing with over 4,000 events to conquer. 
From heart-pounding Formula 1 Grands Prix to intense Cup races, Eliminations, and Endurance challenges, you'll never run out of adrenaline-fueled action.
Download Real Racing 3 now.
2. Asphalt 9: Legends
If high-speed stunts and intense arcade action are your thing, Asphalt 9: Legends has got you covered! And you get to do it all in over 150 hypercars and take your customization game to the next level. 
Upgrade stats, pick brake caliper colors, and add carbon parts – the possibilities are endless when it comes to making your rides truly one-of-a-kind.
Once you're done drooling over the cars, get ready to defy gravity and experience the thrill of racing across 185 heart-pounding tracks in 13 real-world locations. 
Race around tornadoes in the vast American wilderness, dodge landslides in the mighty Himalayas, and so much more in this iPad racing game.
What makes it one of the best racing games for iPhone is the option to race 900+ solo career events or challenge friends in the live 8-player races. Engage in daily events and participate in Special Events or take on dedicated game modes. The excitement never ceases.
Download Asphalt 9: Legends now.
3. Gear.Club
Gear.Club racing game for iPhone offers not only heart-stopping races but also an incredible level of car customization. Tune your ride to perfection and leave your opponents in the dust with one of the best racing games for iPhone.
Experience the heart and soul of racing with fully simulated engines, powertrains, suspensions, and aerodynamics. And the best part? You get to choose how you steer your way to victory, thanks to multiple control schemes supported.
Moreover. You can create and develop the ultimate Performance Shop, where you can collect, upgrade, and customize the most gorgeous exotic cars you've ever laid eyes on.
And here comes the cherry on top – as if the cars weren't already awesome, you get to engineer specific parts to boost your machines beyond their maximum capacity.
Download Gear.Club now.
4. CSR Racing 2
Test your reaction time, shift gears like a pro, and dominate the drag racing scene with this free racing game for iPhone. Say goodbye to ordinary racing game visuals as CSR2 sets a new standard with its jaw-dropping graphics and immersive gameplay. 
The thrill doesn't stop there. You'll be competing against live players from all corners of the globe, showing off your custom-built supercars and leaving them in awe.
With 16 legendary vehicles to choose from, reawaken those childhood dreams and live the fantasy of driving legendary classic cars. 
And the fun doesn't end here. CSR2 lets you collect and customize some of the most iconic cars from different decades to your taste.
From the 60s to the 90s, you can make these beauties your own and restore them to their former racing glory in the Legends workshop, making it one of the best racing games for iPhone.
Download CSR Racing 2 now.
5. SUP Multiplayer Racing
SUP is your ticket to realistic graphics, stunning tracks, and a garage filled with dream machines as you join forces with friends, conquering challenges and claiming victory. 
What sets SUP apart from the rest of the iPad free racing games? Well, it offers a variety of vehicles to discover, from Formula 1 racers to monster trucks, rally cars to quad bikes, and even tanks.
But what truly makes it one of the best racing games for iPhone is that it is incredibly easy to control with just two buttons. Just choose your direction, hit that speed boost when needed, and leave your rivals in the dust.
Collect from a collection of over 30 cars, upgrade, and personalize them with a wide range of fun and funky options. But wait, it gets even better! You can create your own custom tracks using the level editor. Add hills, bridges, and trackside banners.
Download SUP now.
6.  F1 Mobile Racing
Dream of becoming an F1 superstar? F1 Mobile Racing iPad racing game brings the intensity of Formula 1 racing to your fingertips. 
One of the best racing games for iPhone users addicted to F1 racing, this game delivers high-speed motorsport as you experience the thrill of competing against the best F1 drivers on the planet. 
In F1 Mobile Racing, you get to be the mastermind behind your very own F1 car. Customization is the name of the game. From the ground up, you can develop and personalize your dream car, making it a true reflection of your racing style. 
And here's the best part – you can race for one of the 10 official F1 teams, adding a dose of prestige to your adrenaline-fueled journey.
Master precision driving and feel the rush of competing at breakneck speeds. The real-time 1v1 races will test your skills and strategy. And as you climb up the Leagues, you'll earn fantastic rewards to prove your worth as an elite racer.
Download F1 Mobile Racing now.
7. CarX Rally
Who says the best racing games for iPhone are limited to smooth roads? 
CarX Rally takes you off the beaten path. Slide, drift, and soar through dirt and snow as you prove your worth in the wild world of rally racing games for iPhone.
Get ready to experience the most realistic physics and damage as you make strategic decisions. Choose to drift like a pro or go for that full grip on the terrain, it's all up to you.
Your mission is simple – go from point A to point B, but here's the twist – don't miss any checkpoints along the way. It's not just about speed; you've got to be brave enough to tackle the challenges and make it to the end of the race.
With a wide selection of cars to pick from and 35 tournaments available for both regular and muscle cars, you'll have ample opportunities to rise to the top as a true rally champion.
Download CarX Rally now.
8. Assoluto Racing
Assoluto Racing iPad free racing game demands precision and finesse.
Step into the driver's seat and get ready to unleash the power of some of the most beautiful officially licensed cars from top manufacturers worldwide. 
One of the best racing games for iPhone, it's a next-gen driving experience that will blow your mind. Whether you're a fan of JDM, European, or American classics, Assoluto Racing has got the perfect wheels to satisfy your racing cravings.
With the most realistic physics engine on mobile, you'll have unmatched control on the road and under the hood. You can purchase, tune, and customize every aspect of your ride, from adjusting gear ratios to improving torque and horsepower.
Download Assoluto Racing now.
Ready, Set, Go!
The world of best racing games for iPhone and iPad is an exhilarating adventure like no other. 
From the heart-pounding action to the immersive gameplay, these free racing games for iPhone deliver an experience that will keep you coming back for more, race after race.
Whether you're a racing aficionado or a casual gamer seeking some adrenaline-pumping fun, these apps have something special for everyone. 
So, grab your iPhone or iPad, and get ready to drift, speed, and challenge your way to victory, all while having an absolute blast!