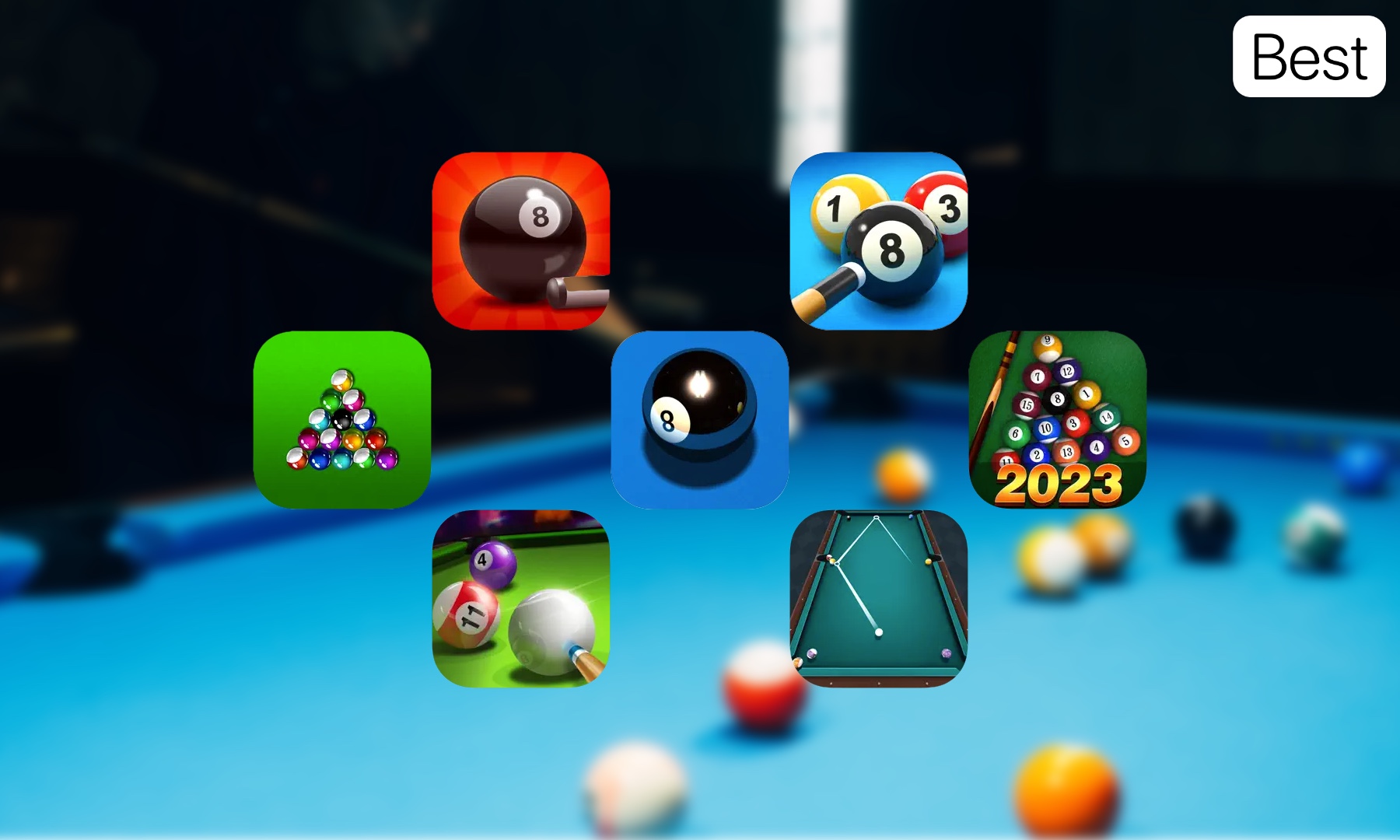 Best Pool Games For iPhone And iPad In 2023
Here you will find the best pool games for iPhone and iPad that you can download in 2023. These games offer the true pool experience that is fun for both amateurs and experts of the game.
Get ready to pocket some fun with the best pool games for iPhone and iPad in 2023! Whether you are a seasoned cue master or a pool newbie looking to sink some virtual shots, these games will have you hooked faster than you can say, "eight-ball in the side pocket." 
Prepare for a pocketful of laughs, thrilling gameplay, and enough cue-ball antics to keep you entertained for hours. So, grab your chalk, polish your skills, and let us break into the colorful world of ball-tastic adventures!
Top-rated 2023 Pool Games for iPhone
With stunning graphics and smooth controls, players can immerse themselves in the thrilling world of virtual billiards on their iPhones. 
Whether challenging friends in real-time multiplayer matches or honing precision in solo mode, the following free pool games for iPhone and iPad guarantee an enjoyable experience for casual players and seasoned enthusiasts.
8 Ball Pool™
Dive into the immersive world of iPhone pool games with 8 Ball Pool™! Experience the thrill of real 3D pool challenges as you engage in addictive gameplay and compete against friends online. Become a master of the pool and showcase your skills!
Prepare for exciting pool matches on various tables as you take on your friends in thrilling PvP mode. Each round will test your pool strategy and cue finesse, making every level more challenging than the last. Whether it's multiplayer or PvP mode, the game offers an array of pool tables to keep you engaged and entertained.
Joining multiplayer tournaments with friends is a breeze – sign in with your Miniclip or Facebook account for free, and you're ready to challenge your friends straight from the game! Take your best shots with a customized cue and compete in the thrilling online 3D PvP tournament. 
Install 8 Ball Pool™ from the App Store now!
King of Billiards
Immerse yourself in this exhilarating arcade game designed for solo players seeking a challenge. Embark on a thrilling journey into billiards tournaments, where you will encounter a fusion of 8-ball billiards and stunning themes from around the globe. 
Discover the talk of the town, an offline single-player billiard game that offers an exceptional experience. Step into the cool pool hall and face over 500 demanding stages, spanning from thrilling Seoul Tournaments to captivating Hong Kong Tournaments and beyond. Or you can simply refine your pool skills through a multitude of challenging scenarios, seize prizes, and gain access to exclusive cues!
Powered by an advanced 3D physics engine, "King of Billiards" boasts realistic graphics and sound effects, immersing you in an authentic pool table game like never before. It is like playing a real 8 Ball in person with hundreds of exciting challenges. Revel in the beauty of various pool table themes and choose from an array of cues, each more alluring than the last. 
Install King of Billiards from the App Store now!
Pooking – Billiards City
Step into a modern arcade-style pool game that offers an immersive experience for single players. If you are a fan of a laid-back game of 8 ball, this is the game you've been waiting for!
Prepare to be amazed by the gameplay offered in Pooking – Billiards City. This iPhone iPad pool games app harnesses the power of cutting-edge technology to deliver the most realistic and thrilling 8 Ball simulator ever created. Thanks to stunning HD graphics, seamless playability, and ultra-realistic ball physics, you can immerse yourself in the game like never before.
Challenge yourself against various opponents, each with varying skill levels, from beginners to seasoned pros. As you sharpen your skills and enhance your game, you'll conquer your adversaries, unlock new city bars, earn prestigious trophies, and ultimately claim the title of Pooking – Billiards City Champion!
Install Pooking – Billiards City from the App Store now!
Pool
With the option to play in either one-player or two-player modes, you can take on the challenge solo or invite a friend for some thrilling head-to-head action. Whatever your preferred playing style, you will find the game perfectly tailored to your needs.
Prepare to be dazzled by the stunning real 3D ball animations that bring every shot to life, making you feel as if you're right on the felt-covered table in a bustling billiards hall. Each ball rolls, bounces, and interacts with the environment just like in a real-life pool game, enhancing the authenticity and excitement of the gameplay.
So, grab your mobile device, invite your friends, and step into the thrilling world of 8-ball pool. 
Install Pool from the App Store now!
Real Pool 3D
Discover the ultimate 3D pool experience with Real Pool 3D, a game that sets the bar for addictive fun and realism. Whether you want to challenge your friends or take on AI players, this is the best pool game you will find.
Real Pool 3D boasts a range of thrilling game modes, including 8 Ball, 9 Ball, UK 8 Ball, Snooker, Time Trial, Matrix Mode, and Practice Mode, catering to every billiards enthusiast.
The Time Trial mode amps up the excitement with a thrilling 4-minute countdown. You must pocket balls swiftly to rack up a higher score. Consecutive pocketed balls boost your multiplier, increasing both your score and remaining time, adding an extra layer of challenge.
Intriguingly, Matrix Mode introduces strategic gameplay. Your score is influenced by the difference between the previous and current ball numbers, with higher multipliers for ascending and divided scores for descending ones. Skillful decision-making is vital in this mode.
Install Real Pool 3D from the App Store now!
Pro Pool 2023
Prepare to experience one of the most immersive and lifelike pool games ever crafted for mobile devices. With its fully textured game environments and cutting-edge 3D rigid body physics, Pro Pool 2023 offers a gaming experience catering to casual players and serious enthusiasts.
Embracing an intuitive click-and-play interface, you can swiftly dive into the game and enjoy it immediately. But that's not all – for those seeking a more challenging and skill-driven experience, Pro Pool 2023 also boasts cue ball control. Unleash your mastery over the cue ball as you execute advanced shots, including backspin, topspin, left spin (Left English), right spin (Right English), and even ball swerves.
Whether you seek a delightful and easygoing snooker game or a fully immersive simulation, Pro Pool 2023 has something exceptional in store for you. Prepare to be captivated by the unrivaled realism and endless entertainment that awaits in this remarkable pool gaming masterpiece.
Install Pro Pool 2023 from the App Store now!
Pool Billiard Championship
The game features a diverse array of balls, each with its distinct role: balls 1 to 7 are colorful, while balls 9 to 15 are strikingly striped. Your ultimate objective is to demonstrate your prowess by potting all the target balls into the pockets and, with a flourish, sink the 8th ball to claim victory.
Dive into the excitement of competing against billiard enthusiasts from all corners of the globe in thrilling multiplayer matches. Test your mettle as you venture through various stages, each with unique settings and challenges. In stage mode, you can skillfully navigate perilous situations using two powerful items, providing you with the edge needed to triumph.
For those seeking to hone their skills, the practice mode beckons, offering engaging games against intelligent A.I. players. Customize your experience further by choosing from a selection of cue stick designs, each exuding its flair. 
Install Pool Billiard Championship from the App Store now!
To Conclude…
Whether you are a seasoned pool shark or a casual player looking for some leisurely fun, the best pool games for iPad and iPhone have something to offer everyone. As technology continues to advance, we can only anticipate even more immersive and enjoyable pool gaming experiences in the years to come. 
So, dive into the virtual cue sports world and rack them up – the best pool games are waiting to be conquered!