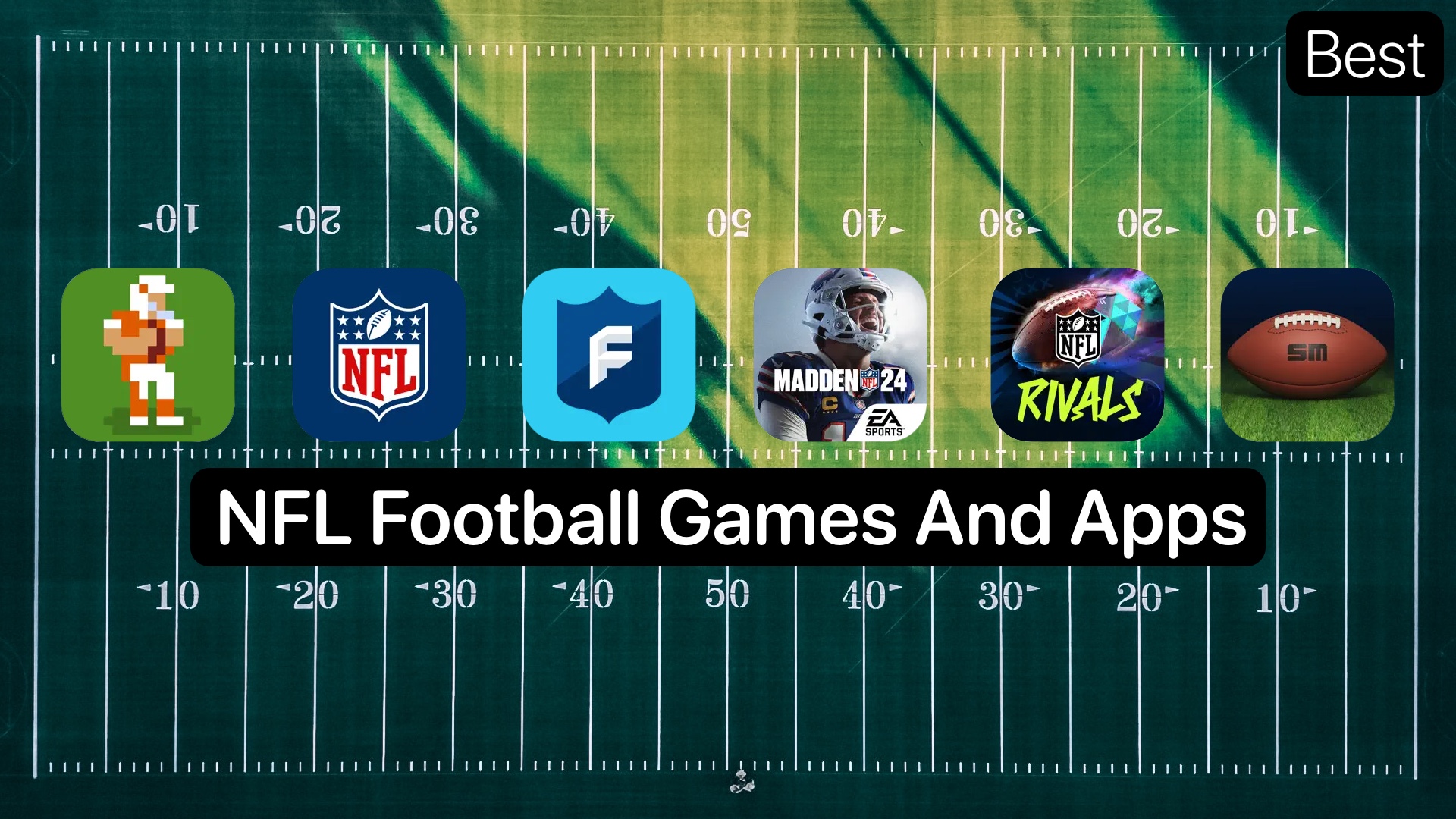 Best NFL Football Apps And Games For iPhone
In this article, we discuss the best NFL apps for iPhone that will have you celebrating victories, managing teams like a pro, and diving headfirst into the electrifying world of football frenzy. 
Are you tired of waiting for game day to roll around, and find yourself craving that sweet rush of adrenaline that only the NFL can deliver? 
Well, guess what? The wait is over because we've got the ultimate game plan to keep you in the thick of the action 24/7. Imagine having the power to call the shots, build your dream team, and bask in the glory of every touchdown, all from the palm of your hand. 
Unleash Your Inner Quarterback with the Best NFL Apps
With these iPhone and iPad NFL game apps in your corner, you're not just a spectator anymore – you're an MVP in the making. 
So, whether you're a die-hard fan or a casual observer looking to spice up your screen time, we've got the playbook you've been waiting for.
So grab your iPhone, charge up that battery, and get ready to go from sideline supporter to digital gridiron guru in a matter of swipes. Let's huddle up and kick off the adventure with the best NFL apps for iPhone, shall we? 
1. NFL
Kicking off the list is the official NFL app. From real-time game updates to exclusive video highlights, this app is the best NFL app for iPhone and the ultimate playbook for staying in the loop. 
When it comes to gameplay, the NFL App delivers an experience that's as immersive as being in the stadium. You'll find a host of features that keep you on top of the game, starting with live out-of-market Preseason games that you can catch on any of your devices. 
But that's just the warm-up, Get ready for the real action as you follow every thrilling moment of live local and primetime Regular Season games right on your phone and tablet.
The best NFL games for iPhone, the NFL App has you covered for the Playoffs and Super Bowl LVII, delivering the grand finale straight to your screens. And hey, if you're one of those fans who can't resist the electrifying calls of game audio, you're in luck. 
Download NFL now.
2. Madden NFL 24 Mobile Football
Looking for a game that lets you build your ultimate dream team and conquer the gridiron? Look no further than Madden NFL 24 Mobile Football. Draft players, call the shots, and experience the thrill of victory right at your fingertips with the best NFL apps for iPhone.
As you fire up the iPhone NFL game, you're greeted with a visual feast that's all about celebrating the essence of NFL football. Vintage programs, iconic artwork, and legendary players from the annals of the game's history come alive, offering a nostalgic twist to the mobile sports gaming experience. 
Live Service events ensure you're not missing out on a single heartbeat of the real-world NFL season. From the excitement of kickoff weekend to the intensity of the NFL Draft, you're right there in the midst of it all. 
Download Madden NFL 24 Mobile Football now.
3. NFL Rivals – Football Manager 
If you've ever fantasized about calling the shots from the coach's box, NFL Rivals is your chance to shine. Manage your team, make strategic decisions, and lead your squad to championship glory with the best NFL game for iPad. 
NFL Rivals offers a one-of-a-kind sports management experience that combines the thrill of arcade-style football with the strategic finesse of managing your own team. 
Collect digital cards of your favorite NFL players, from star quarterbacks to tenacious linebackers, and strategically construct a lineup that'll send shivers down your rivals' spines. Thus making it one of the best NFL apps for iPhone.
Whether you want to guide your team from the owner's suite or make the play calls on the field, NFL Rivals lets you choose your path to gridiron glory. With each exhilarating multiplayer match, you'll earn in-game rewards that will help you unlock more player cards, upgrade your roster, and watch your team transform into a powerhouse.
Download NFL Rivals now.
4. Retro Bowl
Feeling a bit nostalgic for the old-school arcade vibes? The Retro Bowl iPad NFL game is here to fulfill your retro cravings. This charming pixel-art game is the best NFL app that lets you build a dynasty and conquer the league while basking in some seriously cool throwback visuals.
So, here's the deal: you're in charge of your team, from the lineup decisions to those precious post-game press interviews. Yep, you're managing egos and tackling roster changes like a seasoned coach while playing one of the best NFL apps for iPhone available today.
Every choice you make carries weight, and every move could mean the difference between victory and defeat. As you navigate the season, you'll face challenges that will test your coaching skills and decision-making prowess.
It's not just about winning games, it's about building a legacy. Can you prove that you're not just a casual gamer, but a true football strategist with what it takes to win it all?
Download Retro Bowl now.
5. NFL Fantasy Football
Unleash your inner fantasy football guru with the best NFL game for iPhone. Assemble your dream team, make smart lineup decisions, and prove that you've got what it takes to outwit your friends in the quest for fantasy dominance.
One of the best NFL apps for iPhone, you assemble your dream team by drafting real NFL players to join your ranks. And each week, you'll go head-to-head with other fantasy teams, making strategic lineup decisions to outscore your opponents. 
With features like Next Gen Stats and player comparison tools exclusive to this app, you'll have the edge you need to emerge as the fantasy football champ in your circle. Create your very own league, customize it to your heart's content, and invite friends and family to join the fun. 
And let's not forget about the added perks. Dive deep into player analysis and exclusive news, and quickly find the perfect addition to your roster using the Compare Players feature.
Download NFL Fantasy Football now.
6.  Pro Football Live: NFL Scores
Pro Football Live is your virtual stadium announcer, delivering live scores, play-by-play updates, and all the latest news from across the league. It's like having a front-row seat to every game, minus the nacho lines, making it one of the best NFL apps for iPhone.
This app isn't just a scores tracker; it's your backstage pass to the heart-pounding world of the NFL. Imagine being able to follow every twist, tackle, and touchdown with up-to-the-second live scores and stats from every single match. 
Whether it's an intense division rivalry, a pivotal game for a sub .500 franchise, or the Super Bowl itself, Pro Football Live has got you covered. Get ready to dive into every NFL match, including the playoffs and the grandeur of the Super Bowl. 
Live scores, play-by-play match commentary, and detailed match stats are just a few taps away. And let's not forget about tracking your favorite team and players. The app lets you follow your club's journey with dedicated team news tabs. From watching all your team's highlights to staying updated with the latest club news and tweets, you'll never miss a beat.
Download Pro Football Live now.
Redefine Game Nights
Turn your iPhone into the ultimate virtual stadium, complete with roaring crowds, heart-pounding plays, and victory dances that would make even the pros jealous. 
With the best NFL apps for iPhone right at your fingertips, you're a star player, a master tactician, and the ultimate football aficionado. The fun is non-stop, the excitement is palpable, and the bragging rights are oh-so-tantalizingly close.
So, the next time you find yourself yearning for a touchdown fix, or you're itching to prove your coaching chops, just remember that these best NFL games for iPad and iPhone have your back.