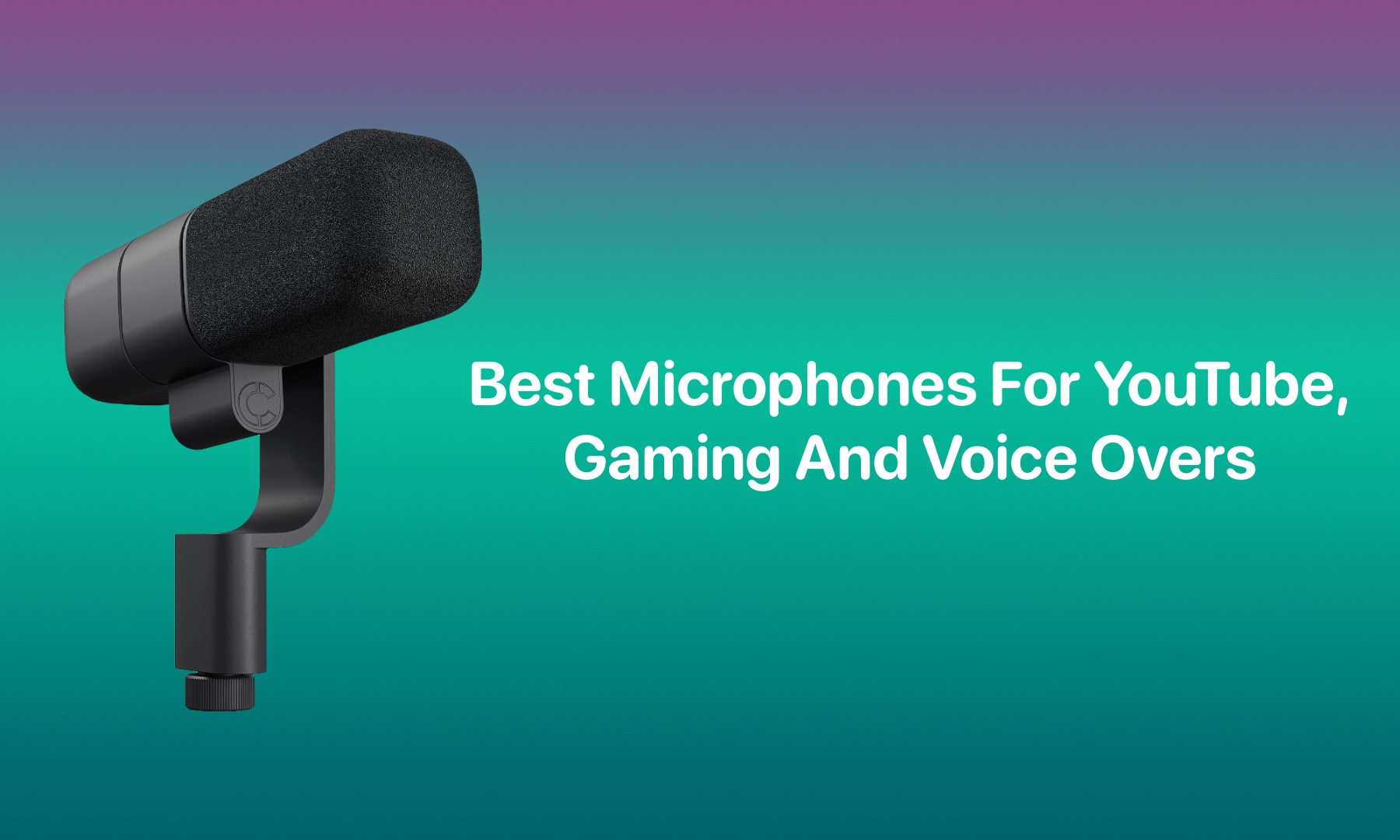 Best Microphones For YouTube, Gamers, And Voice Over In 2023
In this buying guide, you will find the best microphones for Mac that you can buy for YouTube, Gaming, or doing voice overs on your Mac in 2023.
Whether you're a YouTuber crafting captivating videos, a gamer diving into pixelated realms, or a voice-over artist narrating tales that stir the imagination, one thing's for sure: finding the best microphone for Mac is like uncovering a legendary treasure in the digital landscape of 2023.
Best Microphones for YouTubers
With an array of options that could make your head spin faster than a 360-no-scope headshot, fear not!
We've donned our virtual detective hats, sifted through the noise, and emerged with a list of the absolute best microphone for MacBook Pro that will have your audience hanging onto every crisp syllable, thunderous boom, or hushed whisper.
So, whether you're blasting foes in a battle royale or soothing souls with dulcet tones, it's time to upgrade your audio game and let your voice be heard like never before.
1. Samson Technologies Q9U Dynamic Broadcast Microphone
Elevate your audio production professionally with the Q9U Broadcast Dynamic Microphone.
Equipped with XLR output and USB-C connectivity, the Q9U supports an impressive 24-bit/96kHz resolution, delivering a polished and seamless vocal performance that effortlessly bridges the gap between speaker and listener. The Q9U's ingenious design incorporates a robust internal shock mount, effectively isolating the capsule from mechanical interference. Meanwhile, its cardioid pickup pattern ensures remarkable off-axis rejection, masterfully capturing pristine sound without introducing unwanted coloration.
Enhancing your recording experience, the Q9U has an integrated dual-layer windscreen meticulously designed to mitigate plosives. Furthermore, a detachable foam pop filter is included, adding an extra layer of defense against intrusive breath or wind noise that might otherwise compromise the integrity of your production.
Buy Samson Technologies Q9U Dynamic Broadcast Microphone for $129.99 here.
2. Logitech for Creators Blue Yeti Game Streaming Kit with Yeti USB Gaming Mic
Give your game streaming a distinctive flair by incorporating three exclusive Streamlabs themes, available for download. These themes, which come as part of this comprehensive streaming kit for gamers, grant you the power to customize your stream's visual aesthetics. An unlock code for these themes is thoughtfully included.
The Yeti USB condenser is considered one of the best mics for gamers, as it offers dynamic enhancement for both your audio quality and streaming capabilities. Unleash the potential of your voice with an array of enjoyable vocal effects, high-definition samples, and professional studio tools such as EQ, limiter, and Noise Removal—powered by the cutting-edge technology of NVIDIA Broadcast.
The groundbreaking cardioid microphone, equipped with a revolutionary three-capsule array, is meticulously shielded by an internal shock mount, assuring a remarkably clean and articulate auditory output.
Buy Logitech for Creators Blue Yeti Game Streaming Kit with Yeti USB Gaming Mic for $74.99 here.
3. Audio-Technica AT2035 Cardioid Condenser Microphone
Crafted to meet the demands of critical home, project, and professional studio applications, as well as live performances, this remarkable side-address cardioid studio condenser microphone redefines excellence by delivering unparalleled detail and minimal noise distortion. Boasting a switchable 80 Hz high-pass filter and a 10 dB pad, the AT2035 accommodates high sound pressure levels without compromising audio quality.
Incorporating a robust construction and boasting top-tier performance specifications, the AT2035 stands out by offering an unmatched level of uniformity across all its models. For added convenience and protection, each AT2035 microphone is accompanied by a purpose-designed protective pouch and a tailor-made shock mount, ensuring your investment remains safeguarded while maintaining consistent, studio-grade sound capture.
Buy Audio-Technica AT2035 Cardioid Condenser Microphone for $149.00 here.
4. Shure MV7 USB Microphone
The Shure MV7 is a testament to professional excellence, drawing inspiration from the renowned SM7B. Tailored for close-mic applications that demand clarity and a harmoniously balanced tonal profile, this USB/XLR dynamic microphone takes vocal performance to new heights.
With intuitive control at your fingertips, the MV7 boasts a user-friendly touch panel interface on the microphone itself. This panel empowers you to finely adjust microphone gain, headphone volume, monitor mix, and mute functions, granting you a seamless and streamlined recording experience.
Enhancing this external microphone for MacBook is the ShurePlus MOTIV Desktop Application, a versatile tool that opens up a world of possibilities. Users can create and save personalized presets or use auto-gain, compression, and EQ presets for on-the-fly audio optimization. This real-time audio processing capability adds a touch of magic to your recordings.
Buy Shure MV7 USB Microphone for $249 here.
5. Logitech for Creators Blue Sona Active Dynamic XLR Broadcast Microphone
The Blue Sona streaming microphone revolutionizes the conventional dynamic XLR microphone by incorporating cutting-edge technology and a design that prioritizes creators, resulting in an unparalleled studio-quality streaming experience.
Equipped with the ClearAmp technology right within, this microphone offers an impressive +25dB additional gain, ensuring exceptional audio sound quality without needing an external mic booster.
Enhanced by an advanced dual-diaphragm dynamic capsule, this recording microphone delivers a seamlessly rich low-end, impeccable detail, eliminating unwanted noise and hum.
Its sophisticated design and interchangeable windscreens give your stream a personalized aesthetic touch, enabling you to enhance your Twitch streams, YouTube videos, podcasts, video calls, and various other content.
Buy Logitech for Creators Blue Sona Active Dynamic XLR Broadcast Microphone for $349.99 here.
6. RØDE NT-USB Versatile Studio-quality Condenser USB Microphone
RØDE NT-USB Versatile Studio-quality Condenser USB Microphone deserves to be on our list of the best Mac mics in 2023. That's because, irrespective of your setup's destination, the RØDECover 2 remains steadfast in its mission to preserve your RØDECaster Pro II. Crafted from premium, transparent polycarbonate material, it boasts exceptional resilience, ensuring a lasting and durable defense.
Enhance the safeguarding of your RØDECaster Pro II by incorporating the indispensable RØDECover 2. Effortlessly maintain the pristine condition of your console, shielding it from the elements of dirt and dust, regardless of your setup's location.
Elevate your RØDECaster Pro II arrangement to the pinnacle of completion by adding the RØDECover 2. This addition guarantees an enduring sense of elegance and professionalism to your workspace, even during your temporary absences.
Buy RØDE NT-USB Versatile Studio-quality Condenser USB Microphone for $129.00 here.
7. HyperX QuadCast S – RGB USB Condenser Microphone
Personalize captivating RGB lighting and dynamic effects to create a visually striking representation of your unique style.
Utilize the elastic rope suspension system to effectively isolate the microphone and minimize the impact of unintentional vibrations and disturbances.
Employ the user-friendly tap-to-mute feature to proactively prevent audio mishaps, complemented by the LED mic status indicator, which illuminates when the microphone is active and dims when it is muted.
Tailor your recording experience by selecting from a range of four polar patterns (stereo, omnidirectional, cardioid, bidirectional), thus optimizing your broadcasting configuration and ensuring focused capture of your desired audio.
The adaptable adapter seamlessly accommodates 3/8-inch and 5/8-inch threaded setups, making it compatible with a wide array of microphone stands and boom arms. The integrated internal pop filter also eliminates plosive sounds that could impact the microphone's performance. For monitoring convenience, the built-in headphone jack enables real-time audio feedback.
Buy HyperX QuadCast S – RGB USB Condenser Microphone for $129.99 here.
8. AKG Pro Audio Ara Professional USB-C Condenser Microphone
Ara seamlessly adapts to your recording environment. Utilize the integrated base stand for a streamlined desktop setup or opt for a desktop boom arm or traditional microphone stand for elevated flexibility. And for those on the move, Ara remains your steadfast companion. Simply grab an OTG adapter or the Apple Camera Adapter, enabling you to harness the magic of Ara beyond your desktop realm. The plug-and-play simplicity, courtesy of USB connectivity and class-compliant drivers, ensures compatibility with an extensive array of devices, effortlessly adapting to your creative workflow.
Ara empowers you with real-time monitoring capabilities through its integrated headphone jack, allowing you to fine-tune your audio precisely. As an embodiment of our commitment to your creative journey, Ara arrives with a USB cable and a complimentary copy of Ableton Live 11 Lite audio production recording software. This comprehensive package unleashes your artistic potential. Step into a new era of audio excellence with the all-new AKG Ara. Your masterpiece awaits!
Buy AKG Pro Audio Ara Professional USB-C Condenser Microphone for $47.95 here.
To Conclude
Remember, the best mic is the one that lets your passion resonate, your stories flourish, and your audience connect. So, go ahead and let your voice shine because, with one of these best microphones for Mac in your corner, the world is truly your stage, and the possibilities are as limitless as your dreams. Happy creating!