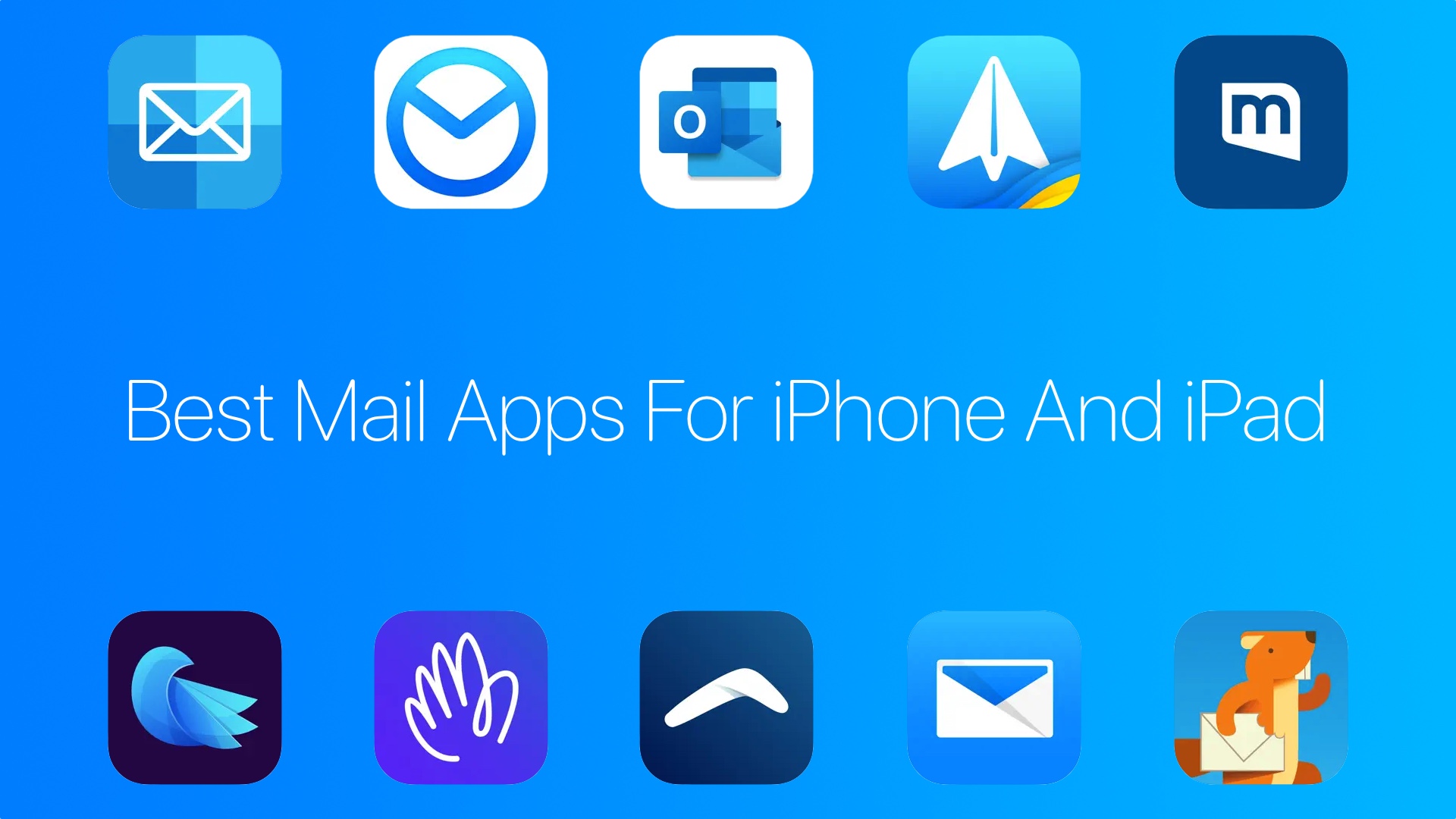 Best Mail Apps For iPhone And iPad
In this blog, we discuss the best mail apps for iPhone that uncover a world of email organization, productivity, and simplicity you never knew existed. 
Are you constantly battling the never-ending flood of emails on your iPhone or iPad? Have you finally given up on frantically searching for that important message buried somewhere in the inbox abyss?  
There's no denying that the default mail apps on your iPhone and iPad are like the plain vanilla ice cream of email management. They get the job done, sure, but why settle for vanilla when you could have a scoop of gourmet gelato? 
So, if you need to add a little more flavor to your emails, consider iPhone and iPad mail app alternatives that completely change the game.
Best Mail App Alternatives on iPhone and iPad
Using Mail app alternatives on your iPhone and iPad isn't about fixing something that's broken. Rather, it's about taking control and enhancing your email experience to fit your lifestyle and preferences. 
So why settle for the basics when you can have a world of convenience, productivity, and customization right at your fingertips? It's time to explore the best mail apps for iPhone and see which one best suits your needs.
1. Microsoft Outlook
Outlook for iOS is your one-stop solution for managing email accounts and calendars, making productivity and organization a breeze. However, its standout feature is the smart inbox, which assists you in focusing on the most important messages, effectively separating them from the rest.
With a simple swipe, you can swiftly schedule, delete, or archive messages, keeping your inbox clutter-free and organized. Another value-adding feature of this iPad mail app is the ability to share your meeting availability with just a tap, simplifying the process of finding suitable meeting times with others.
What makes it the best mail app for iPhone is that you can effortlessly locate anything you need, be it files, contacts, or upcoming travel plans. But that's not all. Outlook allows you to view and attach files directly from your email, OneDrive, Dropbox, and more, without the need to download them to your device, saving you time and storage space.
Download Microsoft Outlook now.
2. Mail App for Outlook
Microsoft's Mail App for Outlook is a game-changer for the next generation of Outlook users. This mail app alternative on iPhone excels in swiftly sorting through your emails, making your email management a breeze.
Its unwavering commitment to user privacy makes it the best mail app for iPhone. Your data remains your own, as it never passes through their servers, providing a secure and trustworthy environment for your emails. But here's the best part. It arms you with fast and intuitive tools for managing your email, so you'll find yourself spending less time navigating your inbox and more time focusing on important stuff.
From composing to organizing, you'll be amazed at how much more you can accomplish in less time. And let's not forget about the instant sync feature. Thanks to secure, all-HTTPS communications you can stay up-to-date and responsive in your email communications.
Download Mail App for Outlook now.
3. Spark Mail + AI
Spark Mail uses AI to prioritize your emails and make your inbox more manageable. This iPad mail app alternative sports the ability to consolidate all your email accounts into one unified inbox. Forget about the hassle of switching between Gmail, AOL, Yahoo, Hotmail, IMAP, GMX, and iCloud. You can get it all in one place now. 
But it doesn't stop there. Spark +AI introduces a game-changing AI email assistant, ready to make your email writing experience smoother and more efficient. Need to reply in a hurry? Let the AI generate a contextually appropriate response in seconds, taking care of grammar, tone, and phrasing. That's why it's considered as one of the best mail apps for iPhone.
Collaboration is at the heart of this app's design. And its smart prioritization system elevates personal and high-priority business emails to the top of your inbox. Meanwhile, newsletters and notifications find their place beneath, reducing distractions and organizing your email workflow. The features are endless, check it out yourself!
Download Spark Mail + AI now.
4. Edison Mail
Edison Mail's Focus Mode filters out the noise, helping you focus on essential emails. It's a productivity powerhouse, offering an array of features that will transform the way you handle emails. 
One of the best email apps for iPhone, its ability to reduce email volume and eliminate inbox distractions is its winning feature. Not only does it fetch emails faster than other mail apps, as confirmed by speed tests, but it also simplifies the process of searching for crucial information. You can effortlessly find subscriptions, travel plans, bills, packages, and more. 
If that doesn't convince you, hear this out. What truly sets Edison Mail apart is its capacity to manage everything in one place. You can link an unlimited number of email accounts and enjoy a unified inbox that neatly compiles all your messages. 
The One-Tap Unsubscribe feature banishes unwanted senders permanently and bids farewell to targeted ads or invasive tracking pixels in your inbox. So, is it one of the best mail apps for iPhone or not?
Download Edison Mail now.
5. Mail.com
Mail.com is designed to be your go-to productivity tool, putting all the essential functionality right at your fingertips. It's optimized for use with a free mail.com email account, giving you access to over 100 email domains like @email.com and @usa.com. 
Whether it's for personal or business use, this iPad email app allows you to set personalized notifications and enjoy organizational features akin to our webmail solution. Plus, it seamlessly syncs your mail.com contacts with your iPhone, making it easy to keep your address book up to date. 
You can even set it as your default mail app on your iPhone, making email management a seamless part of your daily routine. The synchronization feature ensures that you can transition effortlessly from your iPhone to your iPad, maintaining your focus throughout. Thus making it one of the best mail apps for iPhone.
Download mail.com now.
6. Airmail 
Airmail has extended its prowess to iPhone and iPad. It's tailor-made for the latest iOS, supporting 3D Touch, high-quality PDF creation, and native integration with other apps for a seamless workflow.
You'll revel in the customization options at your fingertips. With features like snooze, interactive push notifications, and full inbox synchronization, you're in control when using the best mail app free of cost. Plus, iCloud sync ensures that your experience is ubiquitous, keeping your accounts and app preferences in perfect harmony between your Mac and iOS devices.
With 3D Touch quick access and Peek and Pop functionality, it offers a convenient and efficient user experience. It also boasts a Spotlight search for documents and messages, and you can share documents through the composer extension, making it the best mail app for iPhone. And the best part? Airmail prioritizes your privacy, assuring that it does not store your messages on its servers.
Download Airmail now.
7. Canary Mail
Canary is your all-in-one solution for email management, simplifying the way you compose, organize, and send emails effortlessly. It's the ultimate email assistant you've been waiting for, and here's why it's the best mail app for Gmail on iPhone.
Canary is universal, accommodating all your email accounts, including Gmail, iCloud, Office365, Yahoo, IMAP, and Exchange. But that's a feature of almost all mailing apps on this list. What sets this one apart? The Contact Profiles feature provides access to all your contacts' emails, files, and even their social media profiles, all conveniently in one location. This makes it incredibly easy to stay connected and updated, thus making it one of the best mail apps for iPhone.
Security-conscious users will appreciate Canary's End-to-End Encryption. You can encrypt emails effortlessly using Canary's zero-setup encryption or via PGP, ensuring your email communication is secure and private.
Download Canary Mail now.
8. HEY Email
HEY Email redefines email with its unique approach. Imagine having complete control over your email communications. With HEY, you can screen your emails just like you screen your calls, allowing you to decide who can contact you and who can't. Unwanted senders can be effortlessly screened out, giving you peace of mind, and making this the best mail app for multiple accounts on iPhone.
Say goodbye to the chaotic mess that is your typical inbox. HEY organizes your emails neatly, grouping new messages at the top and previously seen ones at the bottom. No more wading through an inbox jungle with a machete, it's about time you keep things simple.
Opening and closing emails one by one is incredibly inefficient. HEY revolutionizes the reading experience by allowing you to open multiple emails and scroll through them, much like a newsfeed. One of the best mail apps for iPhone, it boasts a game-changing approach that you won't want to part with. 
Download HEY Email now.
9. Boomerang Mail
Boomerang is a productivity powerhouse that brings a host of valuable features to your email management, making it the best email app for iPhone 2024. Whether you use Gmail, Outlook, or Hotmail, this app is your go-to tool for optimizing your email experience. Plus, you can easily share your availability and set up a meeting right from your email, making it seamless and efficient.
Want to stay organized and visually categorize your email accounts? Boomerang allows you to set different colored email accounts, making it quick and easy to distinguish between personal and work emails. Want to control read receipts? You've got it. Want to get notified when no one replies to your email? Done. 
With a feature set that spans scheduling, tracking, AI-assisted writing, and much more, Boomerang is the ultimate tool to supercharge your email productivity. It's no wonder it's considered one of the best mail apps for iPhone.
Download Boomerang Mail now.
10. Chuck 
Chuck is the best mail app for iPad that provides a no-nonsense email experience, simplifying email management with a minimalist design. Okay, so Chuck is your secret weapon for conquering email overload, and it's got some incredible features to help you do just that. 
With a simple swipe left or right, you can delete or archive entire batches of emails in a single tap, making inbox decluttering a breeze. It processes hundreds of messages simultaneously, and you'll be amazed at how quickly your inbox becomes a model of efficiency.
You don't need to limit yourself to a single email provider, Chuck plays well with a wide range of services. Whether you use Gmail, Exchange IMAP, Yahoo, Hotmail/Outlook, iCloud, AOL, Google Apps, Office 365, Fastmail, or any standard IMAP account, Chuck has you covered. It also offers a unified inbox if you have multiple email accounts, making it the best mail app for iPhone and for managing all your communication in one place.
Download Chuck now.
Conclusion
No more digging through endless threads or drowning in a sea of notifications. These best iPhone mail apps for 2024 are the keys to unlocking a more efficient, organized, and enjoyable email experience. 
The default email apps on your iOS devices have served you well, but why settle for good when you can have exceptional ones? These best mail apps for iPhone are like a breath of fresh air in your digital life, simplifying the way you manage your emails.
So, don't hesitate to explore the options we've covered in this blog. Give them a try and find the one that resonates with your needs and preferences.
Disclosure: iOSHacker may receive a commission if you purchase products through our affiliate links. For more visit our privacy policy page.