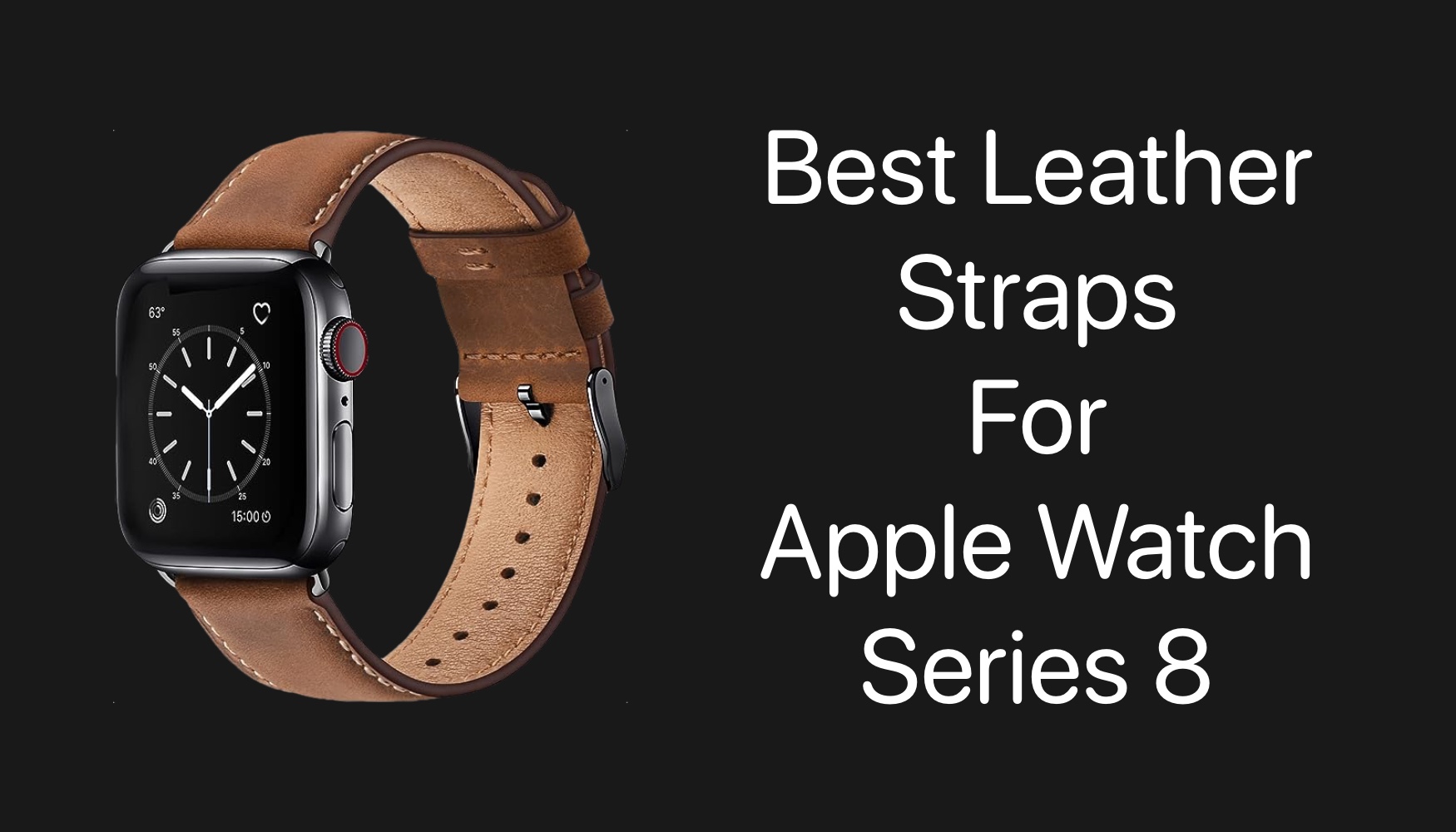 Best Leather Straps For Apple Watch Series 8
In this buying guide we have highlighted some of the best leather straps for Apple Watch Series 8 that you can buy in 2023. These leather Apple Watch straps are an ultimate style statement while also being rugged and comfortable to wear.
Whether you're into the rugged, worn-in look or you prefer the sleek and sophisticated vibe, we've got you covered. Say goodbye to the same old silicone bands and hello to a world of style, comfort, and a touch of timeless elegance.
Join us as we dive into a handpicked selection of the best leather straps for Apple Watch because your wrist deserves nothing but the finest.
1. Nomad Modern Band for Apple Watch
A wrist strap crafted from genuine Horween leather, known for its deep black hue and sourced right from the USA. What's amazing about this leather is that it ages gracefully, developing a rich patina that tells the story of your journey with the case.
But it's not just about the leather, it's about the meticulous artistry that goes into making each strap. The craftsmen behind it employ top-tier materials and cutting-edge manufacturing techniques, resulting in a strap that stands out in uniqueness and quality.
The strap is equipped with specially designed buckle and lugs, meticulously created through a metal injection molding (MIM) process. This isn't just any steel; it's marine-grade 316 stainless steel known for its durability and impeccable finish. The fit is so precise that you'll notice the sharp details that set it apart.
Buy Nomad Modern Band for Apple Watch for $69.95 here.
2. SWEES Leather Band
Crafted from the finest premium top grain genuine leather, this Apple Watch band, available in 41mm, 40mm, and 38mm sizes, offers an exquisite touch that's soft and luxurious. The leather is complemented by the brushed stainless steel metal, which has undergone meticulous surface treatment. To enhance its opulence and durability, top-quality resin has been expertly integrated, resulting in a band that exudes elegance and sophistication while standing the test of time.
Designed to accommodate wrist sizes ranging from 5.5 to 7.9 inches (140mm – 200mm), the ergonomic strap design allows effortless adjustment for a perfect fit. Its simplicity is captivating, lending a charmingly vintage aesthetic to any occasion. The distinctive allochroic design sets it apart, promising a unique visual appeal that dares to stand out.
Equipped with stainless steel connectors on both ends, the vintage retro genuine leather band seamlessly integrates with Apple Watch models measuring 41mm, 40mm, and 38mm. These connectors ensure a secure fit and easy removal. The band's upgraded built-in screws provide an additional layer of security, firmly locking it in place.
Buy SWEES Leather Band for $13.99 here.
3. EDIMENS Leather Bands
Crafted from exquisite crazy horse vintage grain leather, this one of the best straps for Apple Watch boasts a timeless appeal that harmonizes seamlessly with a classic stainless steel buckle. The tactile experience is one of unparalleled softness and smoothness, ensuring utmost comfort during wear.
Designed to accommodate wrist sizes ranging from 6.1 to 8.0 inches (155mm – 205mm), this smartwatch replacement band effortlessly combines simplicity with allure. Its understated yet captivating design exudes a sense of elegance, bestowing a charming retro aesthetic for any and every occasion. Noteworthy is its distinctive allochroic design, which truly sets it apart.
Featuring stainless steel connectors on both ends, this dressy watchband guarantees a secure fit to your Apple watch while allowing for effortless attachment and detachment. A wide array of colors and styles awaits your selection, empowering you to redefine the appearance of your watch to suit diverse contexts.
Buy EDIMENS Leather Bands for $14.49 here.
4. POWER PRIMACY Bands
Fitting wrists ranging from 5.32″ to 7.48″ (135mm to 190mm), this one of the best Apple Watch Series 8 leather straps caters to both men and women. Its length can be fine-tuned using the provided pins and snaps, allowing you to achieve a perfect fit effortlessly.
Crafted from premium leather using meticulous artistry, the strap excels in durability, comfort, and breathability. It remains securely in place, devoid of any slipping issues, and carries no unpleasant odor.
The strap boasts a distinctive snap closure design that is both elegant and uncomplicated. It graces your wrist with a comfortable touch, while simultaneously imparting a splendidly professional aesthetic suitable for any event.
Buy POWER PRIMACY Bands for $9.59 here.
5. SUNFWR Leather Bands
Presenting the SUNFWR retro leather wristband—an epitome of craftsmanship fashioned from exquisite top-grain genuine leather. This choice material bestows a velvety texture that is both gentle on the skin and adept at breathing, effectively absorbing sweat. Its anti-slip attributes further enhance the comfort factor, resulting in a versatile wrist accessory harmonizing flawlessly with both relaxed and formal ensembles.
Crafted with longevity in mind, the leather Apple Watch band boasts a robust constitution. This can be attributed to its premium stainless steel buckles and adapters, alongside meticulous stitching and edges sealed with precision using oil. These meticulous design elements converge to guarantee not only the safety but also the longevity of the band, thus ensuring an enduring companionship marked by exceptional quality.
The ingeniously devised one-step installation and removal connector system simplifies the process of switching bands, rendering it a breeze.
Buy SUNFWR Leather Bands for $18.99 here.
6. OUHENG Compatible with Apple Watch Band
100% crafted from genuine leather, the OUHENG watch band exudes luxury and sophistication. Its premium soft top-grain leather showcases impeccable craftsmanship, resulting in a fashionable and sleek design. The new stylish aesthetic is complemented by its skin-friendly nature, ensuring a comfortable and soothing touch against your wrist. Notably, the interior lining is also meticulously crafted from calf leather, adding an extra layer of refinement.
The OUHENG watch band features an ingenious fusion of leather style and stainless steel buckle, offering both style and convenience. This innovative design allows for effortless interchangeability, making it a hassle-free process.
Moreover, the watch band connectors and buckle are thoughtfully engineered to be fully compatible with a wide range of Apple Watch models, including the Ultra Series 8/7/6/5/4/3/2/1 and SE2 SE.
Buy OUHENG Compatible with Apple Watch Band for $12.99 here.
7. OMIU Square Bands
The connector of the iWatch strap has been meticulously designed to match the color of the Apple Watch itself, ensuring a seamless and flawless aesthetic for your device. Not only does this connector exude visual harmony, but it also boasts enhanced durability, providing steadfast support for prolonged usage of the strap.
Crafted from premium quality leather, the strap showcases a distinctive linear design that not only enhances its elegance but also reinforces its grip, minimizing the likelihood of accidental detachment. Its understated yet comfortable design makes it a versatile accessory suitable for a wide array of occasions, seamlessly blending with different styles.
Designed to be compatible with an array of Apple Watch models including Series SE, Ultra, 8, 7, 6, 5, 4, 3, 2, and 1, the iWatch leather band comes in a spectrum of colors. Additionally, a range of sizes is available to cater to different wrist dimensions.
Buy OMIU Square Bands for $12.99 here.
8. HUAFIY Compatible for Apple Watch Bands 
Crafted from exquisite Italian cowhide with a distinctive Mbox drop pattern, the strap exudes an air of elegance and sophistication thanks to its natural leather texture. The interior lining of the strap shares the same caliber, being meticulously fashioned from calfskin to ensure not only enduring comfort but also resistance to signs of wear.
Embracing a blend of contemporary fashion and timeless simplicity, the HUAFIY strap is a versatile accessory suitable for both men and women. Its inherent style enhances any occasion, perfectly complemented by a stainless steel buckle, available in sleek black or classic silver. The strap features a precision connector, facilitating effortless installation and removal.
Boasting a length of 4.92 inches for the long section and 2.95 inches for the short, the strap accommodates a wrist circumference ranging from 5.5 to 8.0 inches.
Buy HUAFIY compatible Apple Watch Bands for $23.99 here.
To Conclude
Selecting the ideal leather strap for your Apple Watch Series 8 is an opportunity to seamlessly blend style and functionality. With a plethora of options available, ranging from classic designs to modern twists, all the best Apple Watch Series 8 leather Straps mentioned above offer a unique blend of quality, comfort, and aesthetics. Elevate your watch's appearance and experience with these top-tier leather straps, tailored to suit your individual preferences and lifestyle.