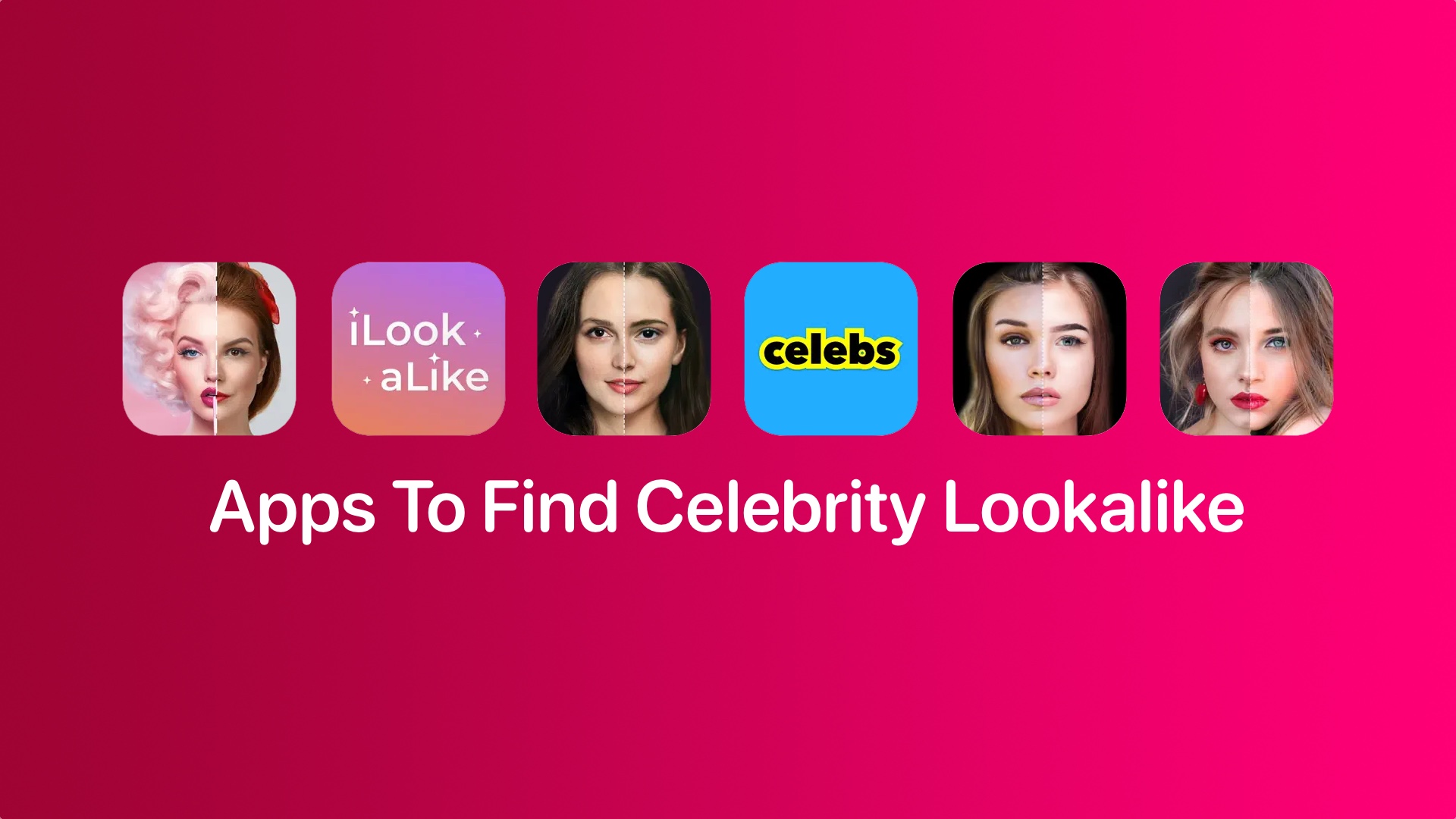 Best iPhone Apps To Find Your Celebrity Lookalike
In this list, we discuss some of the best celebrity look alike apps iPhone users can use to find their celebrity twin.
Are you secretly convinced that you've got a hidden celebrity twin? Have you ever wondered which Hollywood A-lister or pop icon you might resemble?  Well, wonder no more, because the digital age has an answer for your star-studded questions.
From filters that show you how you'll look when you're 80 to how you looked when you were a baby, we've sure come a long way. So, it makes sense that there are apps out there that help you find your celebrity lookalike as well. 
Your VIP Ticket to Hollywood: Celebrity Lookalike Apps (Free)
From Hollywood heartthrobs to chart-topping divas, these apps are your ticket to uncovering your famous doppelganger. Without further ado, let's find your famous twin! 
1. Celebs 
Celebs is a fun celebrity lookalike app free for all that uses facial recognition technology to identify your closest celebrity doppelganger. And with Celebs, the possibilities are endless as you can take unlimited pictures and find your celebrity doppelgänger as many times as your heart desires.
The advanced matching algorithm within Celebs is designed to find your twin with remarkable accuracy. You'll get swift and precise results, allowing you to pinpoint the celebrity you resemble in a flash. And you can share your results on popular social media platforms like Instagram and Snapchat. Moreover, with this celebrity look alike app iPhone your photos and selfies remain securely on your device, as the app runs entirely locally on your iPhone. 
For an even more enhanced experience, you have the option to upgrade to Celebs+. This premium version offers additional features and customization options, providing you with even more accurate and detailed results to find your perfect celebrity match.
Download Celebs now.
2. Looky 
Looky, powered by advanced machine learning algorithms, offers a unique and exciting way to discover your celebrity lookalike. By leveraging the best in machine learning technology, Looky ensures that the information it provides is not only entertaining but also remarkably accurate. 
The celebrity look alike app for iPhone takes a deep dive into your facial features and matches them with those of your celebrity doppelganger. The result is an uncanny resemblance that leaves you amazed. But it doesn't stop there. It also allows you to easily share your match with friends and followers on various social media platforms like Facebook, Twitter, and iMessage, making it one of the best celebrity look like apps for iPhone. 
So, when you've found your celebrity twin, you can quickly spread the excitement and see if your friends agree with the match. After all, it's all about sharing the celebrity love wherever you'd like, ensuring your newfound star-studded connection doesn't go unnoticed by your social circle. 
Download Looky now.
3. Lokify 
Lokify is your celebrity lookalike app free of cost that harnesses the power of neural networks to uncover your celebrity lookalike. It boasts an AI-powered art generator, allowing you to explore various artistic styles and effortlessly transform your pictures into stunning pieces of art. It's like having your very own digital art studio in the palm of your hand. From pop art to impressionism, you can let your creativity soar. And for that reason, it's a celebrity look alike app iPhone users must try.
If you've ever wished for clearer and more detailed photos, Lokify's Image Upscaler is here to make your dreams a reality. It's a handy tool that enhances the quality of your pictures, making them sharper and more vibrant. And the best part? Lokify respects your privacy. It doesn't keep your photos, ensuring your personal data stays secure. You can use the app with confidence, knowing that your images are for your eyes only.
Moreover, once you've transformed your photos and created stunning collages, you can easily share your artistic masterpieces on social media as well.
Download Lokify now.
4. Look Alike
The Face Compare iPad celebrity lookalike app is your ultimate tool for finding your celebrity doppelganger, and it's packed with fantastic features. With Amazon's Artificial Intelligence and Machine Learning, it offers the best face matching available. You can compare your selfies with a whopping 1,000 celebrities, giving you a wide array of potential matches, and making it one of the best celebrity look alike apps iPhone users can enjoy.
The app lets you take a photo, and it goes beyond just finding one celebrity lookalike. It categorizes your match into dozens of categories, making the experience incredibly thorough. And here's the best part – it's completely free to use.
This app is not only fast and fun but also highly accurate. The Face Compare look alike app answers burning questions like, "Which celeb do I look most like?" or "Which famous person do I most resemble?" There's no need for quizzes or questions anymore. Just upload a photo, and the app will compare it to celebrities, presenting you with swift results.
Download Look Alike now.
5. Celebrity Look Alike!
Celebrity Look Alike! is an excellent celebrity lookalike app 2024 has to offer. Using advanced machine learning technology, this celebrity look alike app iPhone provides you with a list of your closest celebrity matches based on a photo of your face. It's the best matcher out there, and it's super accurate, giving you multiple similar celebrity matches in no time, making it the go-to tool for all your star-studded curiosity.
Additionally, with the "Make Me Old" feature, you can take a photo and choose how many years you want to add to your appearance. But if you'd rather turn back the clock, the "Become Young" feature can transport your photo to a time when you looked younger. 
Moreover, with the gender swap filter, you can transform yourself into the opposite sex in a matter of seconds. The app's AI-powered face swap filter and other photo effects bring a new level of entertainment to your picture art experience.
Download Celebrity Look Alike now.
6. Celebrity Look aLike Celebs AI 
If you're still not looking for the perfect "Which celebrity do I look alike app", Celebrity Look aLike Celebs AI offers a slew of value-adding features to help you discover your celebrity doppelganger with ease. Using the best AI algorithm in facial recognition, this app ensures accurate results, making it an excellent celebrity look alike app iPhone compatible.
With I Look aLike, you can easily find your twin and celebrity look-alike, and the best part is it's 100% free. The celebrity matching tool uses cutting-edge technology to analyze your photo and provide you with a list of celebrities who bear a striking resemblance to you. It also allows you to compare your image with these famous figures, giving you a side-by-side view that showcases the similarities.
The ease of use is another significant advantage of I Look aLike. It's fast, fun, and user-friendly, making it a breeze to navigate. You can take unlimited pictures and find your celebrity lookalike as many times as you want, satisfying your curiosity without any constraints.
Download Celebrity Look aLike Celebs AI now.
Conclusion
Beyond the fun and excitement, finding your celebrity lookalike can actually provide a boost in self-esteem and self-identity. Knowing that you share features with a famous figure can be a delightful confidence boost, reminding you that there's something extraordinary in your everyday. 
However, when using the celebrity look alike apps iPhone has to offer, it's important to keep in mind that these apps are created for entertainment, and the results should be taken as such. After all, our uniqueness is what makes us truly special. 
So, go ahead, get the best celebrity look like apps for iPhone, and let your inner celebrity shine brightly!
Disclosure: iOSHacker may receive a commission if you purchase products through our affiliate links. For more visit our privacy policy page.