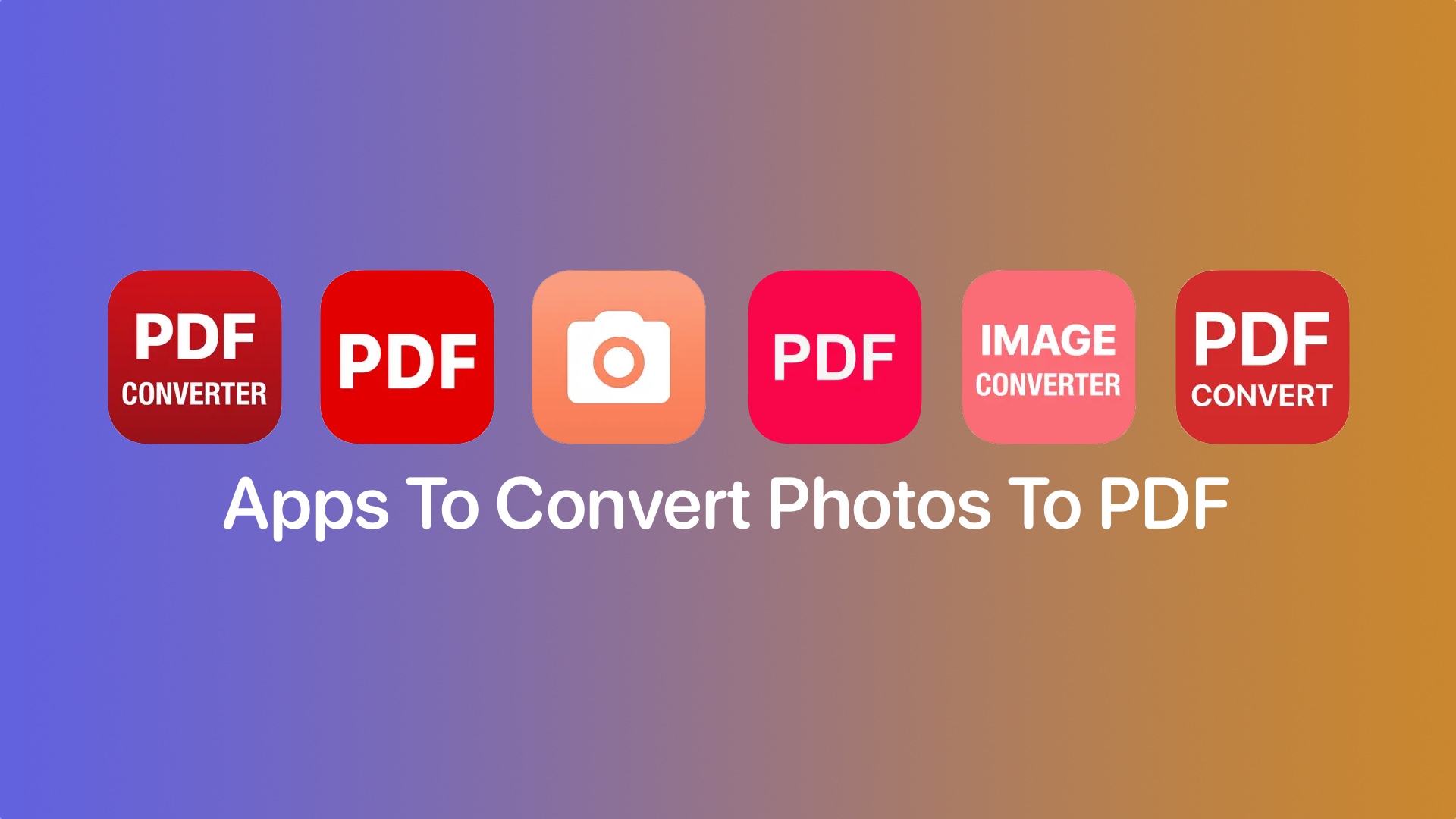 Best iPhone Apps To Convert Photos To PDF
In this article, we'll take you on a journey through the digital realm, exploring the best apps to convert photos to PDF. 
Do you ever find yourself snapping photos of important documents or cherished memories on your iPhone, only to wonder how to neatly organize them into a convenient PDF file? Whether it's preserving receipts, transforming travel itineraries, or simply keeping your favorite recipes in one place, there's no shortage of reasons to convert photos to PDFs. 
Well, good news – the App Store is teeming with innovative solutions to simplify this task, making it easier than ever to turn your snapshots into sleek, shareable PDFs.
Must read: Best iPhone Scan To PDF Apps
Best iOS apps to convert photos to PDF
Here are the best iOS apps that allow you to convert any photo to PDF document, that you can share anywhere you like.
1. Photos PDF : Scanner Converter
Introducing Photos to PDF Converter, the ultimate solution for those tired of dealing with complex apps that turn simple tasks into a hassle. This user-friendly app simplifies the process of converting images into neatly organized PDF documents. In just three straightforward steps, you can achieve this transformation. First, open the app. Second, select the images you wish to convert or capture new ones instantly. Finally, hit the "Convert to PDF" button. It's that easy, and you can say goodbye to confusing features and frustrating interfaces. 
With Photos to PDF, simplicity and efficiency are at the forefront, allowing you to become a productivity champion. The app offers a range of features, ensuring it caters to your needs. It's designed for users of all technical backgrounds, and it even provides options for basic conversions or more advanced image adjustments, including rotation and filters. The conversion process is both fast and secure, as it occurs directly on your device. 
Additionally, the app offers organization tools, such as folder management and custom file naming, to keep your PDFs tidy. If you need to sign documents, Photos to PDF has you covered. You can easily add your signature to your PDFs with a simple "Sign" function. When you're ready to share or print your PDF documents, the app facilitates these actions with just a single tap. 
Install Photos PDF : Scanner Converter from the App Store today!
2. Convert Image To PDF tools
The "Convert Image To PDF" tool is your go-to solution for effortlessly turning your images into high-quality PDF files. It's the perfect tool for making photo albums, saving important documents, and much more.
Using this tool is a breeze. All you have to do is select the images you want to convert from your photo library and click the magic "Convert" button. It's that simple!
This photos to PDF app iPad comes packed with some fantastic features. After the conversion, you can display your PDF file, share it with friends and colleagues, print a hard copy, or even rename it to keep things organized. Plus, if you opt for a subscription, you'll unlock even more functionality and convenience.
Install Convert Image To PDF tools from the App Store today!
3. PDF Converter – Word to PDF
The PDF Converter – Word to PDF app is your all-in-one solution for easily converting a variety of file formats to high-quality PDFs right on your iPhone or iPad. Whether it's photos, documents, or spreadsheets, this app has you covered.
Here's how it works in three simple steps:
Select your input file: Choose the file you want to convert, be it a photo or a document in popular formats like JPG, DOC, XLS, TXT, PPT, and more.
Choose your output format: Select PDF as your desired output format, and the app handles the rest. It's that easy.
Convert: Hit the conversion button, and within seconds, you'll have a professionally created PDF file.
No need for confusing, feature-heavy apps with options you'll never use. This app is all about simplicity and speed, making the conversion process a breeze.
You can convert from various sources, including your iCloud, your photo gallery, or by snapping a new picture. Share your converted files directly from the app via iMessage, open them in other applications, print them, or save them to your iPhone's Files app.
Supported file formats include PDF, JPG, PNG, DOC, DOCX, TXT, RTF, SVG, XLS, XLSM, XLSX, and many more. The app also handles conversions of HEIC, AI, CDR, and various image formats like BMP, GIF, TIFF, and more. The list keeps growing with regular updates!
Install PDF Converter – Word to PDF from the App Store today!
4. PDF Converter – Img to PDF
With the PDF Converter – Img to PDF, converting your images to high-quality PDFs has never been easier or more versatile.
Whether you want to convert photos from your gallery or scan documents with your camera, this photo to PDF app for iPhone has your back. From notes and receipts to invoices, forms, business cards, certificates, and more, it supports a wide range of image formats like jpg, jpeg, png, heic, and others.
You can fine-tune your images before converting them. Resize, crop, doodle, or rotate as needed to get the perfect look for your PDF. You can even optimize your images for a top-notch PDF output.
What's more, sorting your images and resulting PDFs is a breeze, thanks to automatic sorting by name, size, creation date, and modification date. And if you prefer, you can always sort things manually.
Install PDF Converter – Img to PDF from the App Store today!
5. Image Converter: photos to PDF
Convert your images effortlessly and enjoy the convenience of having your files in the format you need, all in one place with Image Converter: photos to PDF.
Here's how to use it:
Select your input file: You can pick images from your photo library, iCloud, or even snap a new photo. Plus, you can share files from other apps seamlessly.
Choose your desired output format from the available options.
Hit the 'Convert' button, and in just a few seconds, your conversion will be complete.
Once your file is converted, you can easily share it the way you prefer or save it directly to your iPhone's Files app.
This  image to PDF app also lets you access your conversion history in a dedicated tab, making it convenient to re-share converted files or tidy up your storage by deleting unnecessary ones.
Install Image Converter: photos to PDF from the App Store today!
6. PDF Converter ©
With PDF Converter, you can effortlessly turn your documents into PDFs or create PDF files from images in a matter of seconds.
You can even source input files from various places, whether it's your iCloud, gallery, or freshly taken photos. Share files directly from other apps, and manage your history of conversion PDF files effortlessly. There's a handy history tab in the app for easy access.
Plus, you're not limited to just one file format. PDF Converter supports a variety of formats, including pdf, jpg, png, doc, docx, rtf, ppt, pptx, xls, xlsx, txt, heic, xps, odt, and more to come! 
Experience the convenience of PDF conversion at your fingertips with PDF Converter. Get started today and enjoy the simplicity of turning your documents into high-quality PDF files with this JPEG to PDF converter iPhone.
Install PDF Converter © from the App Store today!
To Conclude
In a world where our smartphones have become our trusty sidekicks, these top-notch best photo to PDF converter apps 2024 are the unsung heroes we all need. They effortlessly transform moments frozen in pixels into shareable, portable memories. From digitizing receipts to preserving handwritten notes, these apps simplify our lives, one snapshot at a time. 
With these fantastic iPhone photos to PDF apps, you're not just creating PDFs; you're capturing the essence of your experiences and preserving them for the future. 
Disclosure: iOSHacker may receive a commission if you purchase products through our affiliate links. For more visit our privacy policy page.