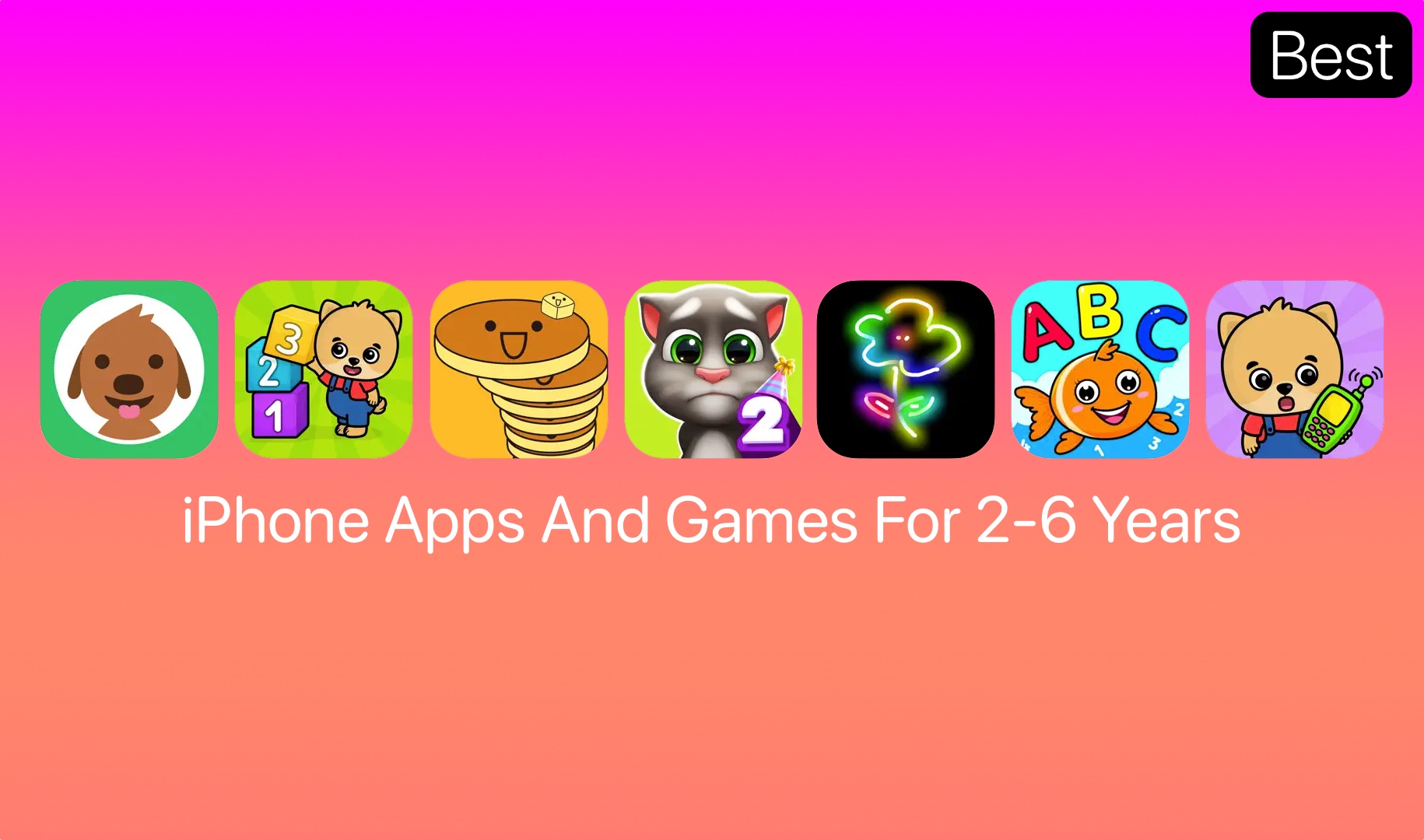 Best iPhone Apps And Games For 2-6 Year Olds
In this article, we explore the best toddler games for iPhone, handpicked to ensure that your little ones have not just a good time but also a valuable learning experience.
The challenge of keeping those energetic 2 to 6-year-olds entertained and educated can be a daily adventure in itself. Whether it's the constant exploration, the endless questions, or the boundless creativity, these little ones are on a mission to uncover the mysteries of the world around them.
But fear not, brave parents and caregivers, for this adventure is not without its tools. In the digital age, we have a secret weapon to keep our young adventurers engaged and eager to learn: iPhone apps and games.
Fun iPhone Games for 2+ Year-Olds That Educate and Entertain
These cleverly designed digital companions can turn a mundane afternoon into a thrilling safari, a rainy day into a grand expedition, and a quiet evening into a captivating journey of discovery.
So, fasten your seatbelts and prepare for an exploration of the best toddler games for iPhone. Together, we'll unlock a world of entertainment and education that will keep your little ones engaged, excited, and ready for whatever adventure comes their way.
1. My Talking Tom 2 
Meet Tom, an iPhone toddlers game about a talking cat that's a hit with the kiddos. 
One of the best toddler games for iPhone, players get to interact with their adorable virtual buddy. It's not just about petting and feeding; this funny cat is eager to learn new skills, try out the latest snacks, and even take care of his basic needs like staying clean and visiting the toilet. It's a fantastic way to teach kids about responsibilities in a playful and engaging manner.
Your child can take their virtual pet on exciting adventures to new and exotic locations. As they travel, they'll have the opportunity to collect a variety of clothes, furniture, and special memories, allowing them to personalize their virtual pet's world and make it uniquely their own.
Download My Talking Tom 2 now.
2. Joy Doodle
Unleash your child's creativity with Joy Doodle, the best iPhone game for 2-6 years olds. This app offers a virtual canvas where your little artist can draw, paint, and create to their heart's content. Let their imagination run wild without worrying about any mess.
Boasting a treasure trove of over 20 magical brushes, it's considered one of the best toddler games for iPhone for offering endless creative possibilities to your little ones. From neon to glow, from ribbon to star sparkles, and even crayon and oil brushes, it's like having a whole art supply store right at your fingertips.
You can take your doodles to the next level by creating an animated movie out of your artwork. The best part? Take your photos sprinkle a little doodle magic on them and share your masterpieces with family and friends, spreading the joy of doodling far and wide.
Download Joy Doodle now.
3. Toddler Games for 3-Year-Olds
Toddlers at the age of 3 are like sponges, soaking up information. This app with games for 2+ year olds packs a variety of games designed to enhance cognitive skills, hand-eye coordination, and vocabulary. 
But what makes it one of the best toddler games for iPhone is a collection of over 350+ kids' learning games that transform education into play. From coloring and puzzles to sorting and tracing, this game collection covers it all. 
These engaging activities not only entertain but also help fine-tune your child's fine motor skills and cognitive abilities. As your child tackles each challenge, they'll develop hand-eye coordination, logical thinking, and creativity – all while having loads of fun.
Safety-conscious parents will love that this app is completely ad-free and designed to be a secure environment for kids. There's no need to worry about unwanted distractions.
Download Toddler Games for 3 Year Old now.
4. 123 learning games for kids 2+
Learning numbers and basic math concepts becomes a breeze with this app packed with free games for 3-year-olds. Through playful activities and colorful graphics, your child will grasp fundamental math skills while having a blast, making it one of the best toddler games for iPhone.
One standout feature of this app is the sheer abundance of educational activities it offers – over 100 to be precise. These activities are carefully crafted to help your child develop essential basic skills like creativity, motor skills, coordination, attention, and memory, all while having fun.
The learning process is made easy and incredibly enjoyable. It covers vital activities like number tracing, math challenges, and counting exercises. These activities are thoughtfully designed to be accessible and engaging for young minds.
Download 123 learning games for kids 2+ now.
5.  Pancake Tower-Game for kids
Who doesn't love pancakes? In this fun game for 2+ year olds, your child can stack virtual pancakes into a towering masterpiece. It's not just about balancing pancakes; it's about fine-tuning motor skills and having stacks of fun.
One of the best toddler games for iPhone, the beauty of this game lies in its simplicity. There's no limit to the number of pancakes one can stack on a dish, making it a never-ending quest to beat your own record or even compete with someone else's towering pancake stack.
The gameplay is a delightful mix of strategy and skill. Children quickly find themself experimenting with different techniques, trying to figure out the best way to keep those pancakes from toppling over. It's all about trial and error, and there are literally a thousand ways to update your record.
Download Pancake Tower-Game for kids now.
6. Baby games for kids, toddlers
Kids and toddlers can dive into a world of interactive games designed just for them. From popping bubbles to tapping on adorable animals, this iPhone toddler games app keeps the littlest ones engaged and entertained.
Specially designed for those adorable little ones aged 1 to 5 years old, it combines playtime with learning, ensuring your child giggles and grows simultaneously.
One of the standout features of this game that makes it one of the best toddler games for iPhone is its ability to help your child learn numbers with the correct pronunciation. 
Through engaging interactions, boys and girls will not only count but do so with precision. The game introduces your child to counting through cute animal characters and their adorable sounds. Thus developing crucial social skills, and making learning feel like playtime.
Download Baby games for kids, toddlers now.
7. Sago Mini World: Kids Games
The enchanting Sago Mini World games encourage exploration, creativity, and problem-solving. Your child can embark on adventures with cute characters and uncover surprises around every corner playing the best iPhone games for 2-6 years olds.
Inside this magical digital realm, your child gets to meet a cast of lovable Sago Mini friends. They can explore outer space, hang out with friendly dinosaurs, build their very own robots, become superheroes, run a bustling diner, and so much more. It's a universe where imagination knows no bounds.
The freedom it gives to young minds is what makes it one of the best toddler games for iPhone. There are no rigid rules to follow here. Your little one can play and explore at their own pace, sparking self-expression, empathy, and confidence along the way. It's a playground for creativity and skill-building.
Download Sago Mini World: Kids Games now.
Parent-Approved Fun Games
In a fast-paced world, these digital tools can help your child develop essential skills while having a blast. The best toddler games for iPhone encourage creativity, problem-solving, and curiosity, all vital traits for a child's growth.
So, the next time you hand your little one your iPhone, you can do so with confidence, knowing that there are games for 2+ year olds designed to engage, educate, and entertain.