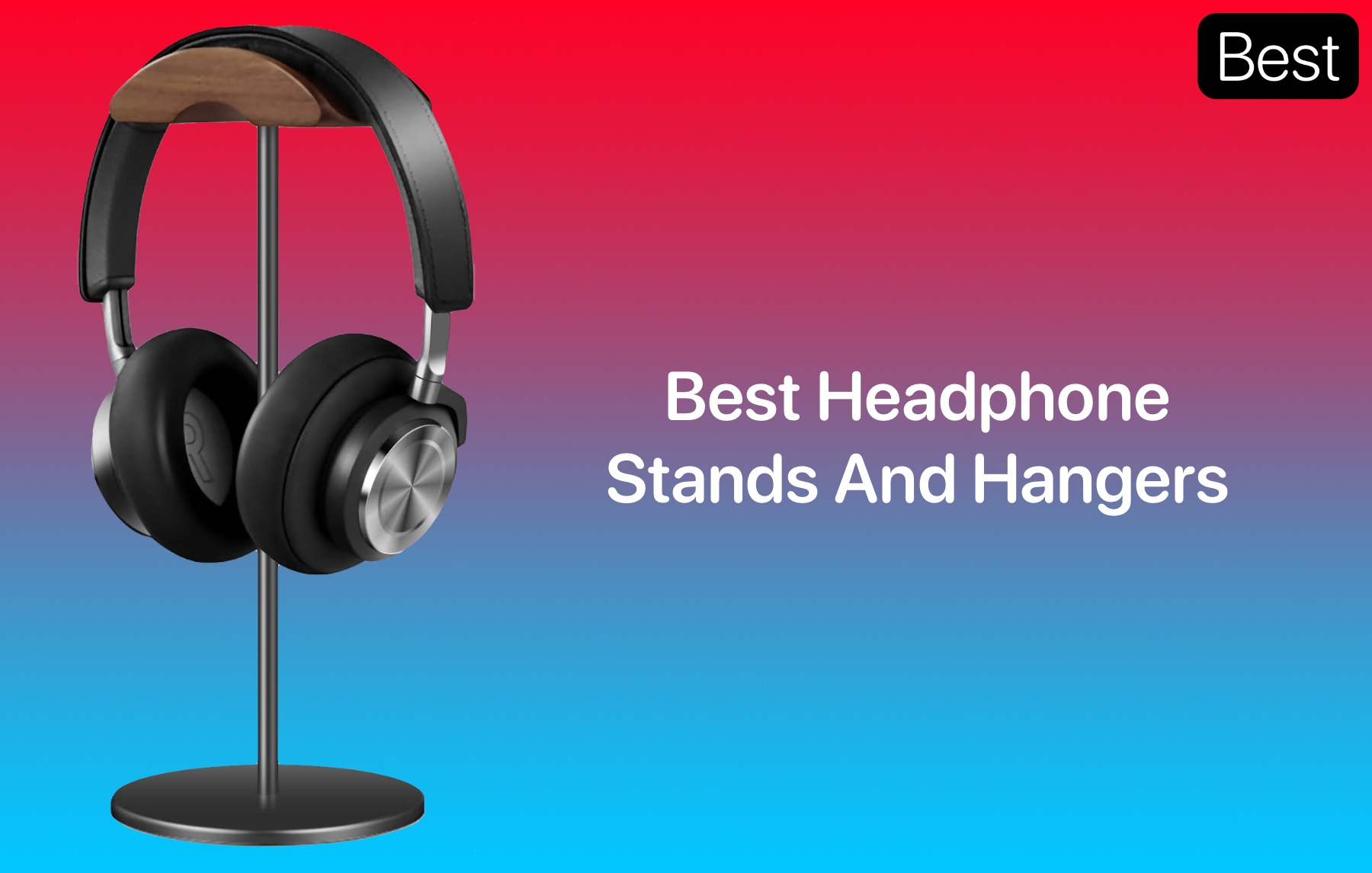 Best Headphone Stands And Hangers For Your Mac Desk Setup
In this buying guide we have listed some of the best headphone stands and hangers that you can buy in 2023. These headphone stands allow you to remove clutter from your desk while also securely storing your headphones until needed.
If you're like me and spend countless hours at your desk, you know that a clutter-free workspace is essential for staying focused and productive.
And what better way to keep things organized than with a sleek, stylish, and minimalistic headphone stands or hanger for your Mac desk setup? Not only do these nifty accessories keep your beloved headphones within arm's reach, but they also add a touch of elegance to your workstation. 
So, whether you're a music enthusiast, a gamer, or simply someone who appreciates a tidy desk, join me as we dive into the world of the best headphone stands for desk setup. Trust me, you won't want to miss out on these game-changers!
1. QinCoon Headphone Stand, Walnut Wood & Aluminum Headset Stand
QinCoon Headphone Stand is an elegant and functional accessory for your beloved headphones. Crafted with natural black walnut and premium metal, this stand exudes a luxurious and sophisticated appeal.
Designed for stability, the solid heavy base features an anti-slip design, ensuring your headphones remain securely in place. 
With its CNC precision crafted finish, this one of the best headphone stands provides reliable protection against scratches, safeguarding the pristine condition of your valuable headphones.
Not only does this stand offer practicality, but it also boasts a unique and stylish design. Whether it's for your home, office, studio, bedroom, or even an exhibition center store display, this stand effortlessly enhances any environment.
Buy QinCoon Headphone Stand, Walnut Wood & Aluminum Headset Stand for $24.99 here.
2. TotalMount Monitor Stand for Headphones and Headsets
Designed to cater to the needs of individuals seeking to optimize their desk space and safeguard their headphones, this Monitor stand for headphones serves as an ideal holder, hanger, and hook all in one. Unlike other stands on the market that may inadvertently cause scratches or damage to your headset bands, the TotalMount Monitor Stand features a soft-silicone holder specifically engineered to protect your precious headphone band.
Whether you own over-the-ear headphones, on-ear headphones, or gaming headsets, this stand is compatible with all these types, accommodating a wide range of headphone models. It offers versatility without compromise.
TotalMount has earned its reputation as the trusted leader in electronics mounting. With a passionate team headquartered near Seattle, the company boasts over 70 patents, garnered over 50,000 five-star reviews, and has a remarkable history of delivering quality products since its establishment in 2007. When you choose TotalMount, you can rely on their unwavering commitment to reliability and premium features.
Buy TotalMount Monitor Stand for Headphones and Headsets for $12.99 here.
3. New bee Headphone Stand Headset Holder
This aluminum headphone stand is compatible with a wide range of headphone models, including popular ones like Sennheiser 202 II HD598 HD 650 HD700, Dre Beats Solo, Koss Porta Pro, Sony MDR7506, Philips, AKG K612, Hyper X Cloud II's, Astro A50's, AT M50's, and TB 420x, and many more.
Crafted with aluminum and TPU rubber, this headphone stand offers a secure and stable foundation for your valuable headphones. It ensures that your headphones are safely stored and easily accessible whenever needed. To ensure optimal stability.
Designed with a unique and stylish aesthetic, this wireless headset stand complements any environment, be it your home, office, studio, bedroom, or even next to your TV. Its compact dimensions of approximately 8.85 inches in height, 3.7 inches in length, and 3.7 inches in width make it incredibly portable. Thanks to its small size, lightweight construction, and, most importantly, its fashionable and distinctive style, you can effortlessly take it with you wherever you go.
Buy New Bee Headphone Stand Headset Holder for $7.95 here.
4. Lamicall Headphone Stand
Designed with the utmost care for your headphones, the stand features a soft rubber pad on the headphone arm to prevent slipping and scratching. You can rest assured that your valuable headphones will be protected without any risk of damage.
This one of the best headphone stands for AirPods Max is equipped with strong adhesive tape, enabling you to easily attach it to smooth and clean surfaces such as plastic, metal, wood, or glass. It provides a secure and reliable hold for your earphones, whether on your desk, office, nightstand, bedside table, headboard, or any other suitable surface.
Installation is a breeze – simply tear off the sticker and stick it under your desk without the need for complicated procedures. Moreover, this versatile headphone hook can be used for hanging cables, hats, and other gadgets in various locations, such as the kitchen counter, bookshelf, studio, or company setting. Its functionality goes beyond just being a headphone holder.
Buy Lamicall Headphone Stand for $9.99 here.
5. OneCut Headphone Stand
Designed with convenience, the OneCut Headphone Stand consists of three detachable parts, enabling quick disassembly when not in use. You can conveniently store it in a drawer, on a bookshelf, or even carry it in your bag while traveling, as it occupies minimal space. Its compact, lightweight, and modern design is practical and environmentally friendly.
Crafted with precision using aviation-grade aluminum and CNC molding, the headphone stand exhibits exceptional durability and a refined aesthetic. The hand-polished finish and the buffer design ensure that it leaves no scratches or marks on your headphones. The silicone pads at the bottom also provide excellent grip on glossy surfaces, preventing any accidental slipping or sliding.
The OneCut Headphone Stand is compatible with most headphones, accommodating headbands with a width of up to 1.7 inches (4.5 cm) and device heights of up to 8.85 inches (22.5 cm). Whether you own Bluetooth headphones, active noise-canceling headphones, gaming headphones, telephone headsets, or even children's headphones, this stand is designed to meet your needs.
Buy OneCut Headphone Stand for $6.80 here.
6. HumanCentric Hook and Charge Headphone Hanger
Designed to hang two sets of headphones or smart accessories, this headphone hanger features headphone hooks that allow you to store your items neatly when not in use. Additionally, it comes with a built-in USB charging station equipped with three USB A ports, enabling you to charge up to three devices simultaneously.
Say goodbye to the mess on your desk caused by gaming accessories or hybrid work equipment. Our low-profile headphone stand serves as a headset mount underneath your desk, freeing up valuable desktop space. To maintain a clean and organized look, we provide two cable clips to help you effectively route the power cord for the USB charger.
Installation is a breeze, thanks to the included adhesive 3M VHB tape or two wood screws. The 3M VHB tape securely adheres to finished surfaces, while the wood screws are ideal for desks with at least 3/4″ thick unfinished surfaces. Whether setting up a gaming station or simply replacing a bulky desktop headphone holder, this under-desk headphone hanger is the perfect choice.
Buy HumanCentric Hook and Charge Headphone Hanger for $24.99 here.
7. Bliocefo Headphone Stand
Crafted from authentic eco-friendly wood, this headset stand exudes the natural texture of the outdoors. Its robust and stable wooden base provides a solid foundation for your headphones. With its unique and stylish design, this wireless headset stand is a perfect fit for your home, office, studio, bedroom, or even next to your TV. It's a simple station that enhances convenience in your daily life.
Considered an essential accessory for all headphone owners, particularly those with high-end models, this headphone stand is crafted from premium quality materials, ensuring versatility and longevity. Whether for your office or home desk, this sturdy wooden holder is ideal for a wide range of headphones. 
Upgrade this headphone storage with our exceptional stand and experience the perfect blend of functionality, style, and sustainability.
Buy Bliocefo Headphone Stand for $11.49 here.
8. Nwubay Headphone Stand Aluminum
This stand is designed to be small, lightweight, simple, fashionable, elegant, modern, safe, and environmentally friendly, making it effortless to carry wherever you go.
Crafted with high-grade ABS and flexible TPU rubber material, complemented by an aluminum alloy girder, this stand ensures exceptional durability, guaranteeing an ultra-long lifespan. Its ergonomic design, easy installation, and detachability allow for compatibility with headsets of various shapes and sizes.
By hanging your headset on this display rack, you eliminate the worry of misplacing it while organizing and tidying up your tabletop, thereby saving valuable space. Not only does it serve as a practical storage solution, but it can also double as a captivating household decoration. Its versatility extends to its suitability for exhibition centers and stores, making it a multifunctional accessory.
Buy Nwubay Headphone Stand Aluminum for $6.99 here.
To Conclude…
Finding the perfect headphone stand or hanger for your Mac desk setup can significantly enhance your workspace's functionality and aesthetics. The options highlighted in this article have been carefully selected based on their quality, design, and user reviews. 
Whether you prefer a minimalist stand, a wall-mounted hanger, or a multi-purpose organizer, there is a solution to suit your needs and personal style. Investing in one of these best headphone hangers or headphone stands lets you keep your headphones safe, organized, and easily accessible while adding a touch of sophistication to your Mac desk setup. 
So go ahead, choose the one that resonates with you and elevate your audio experience while elevating the overall look of your workspace.