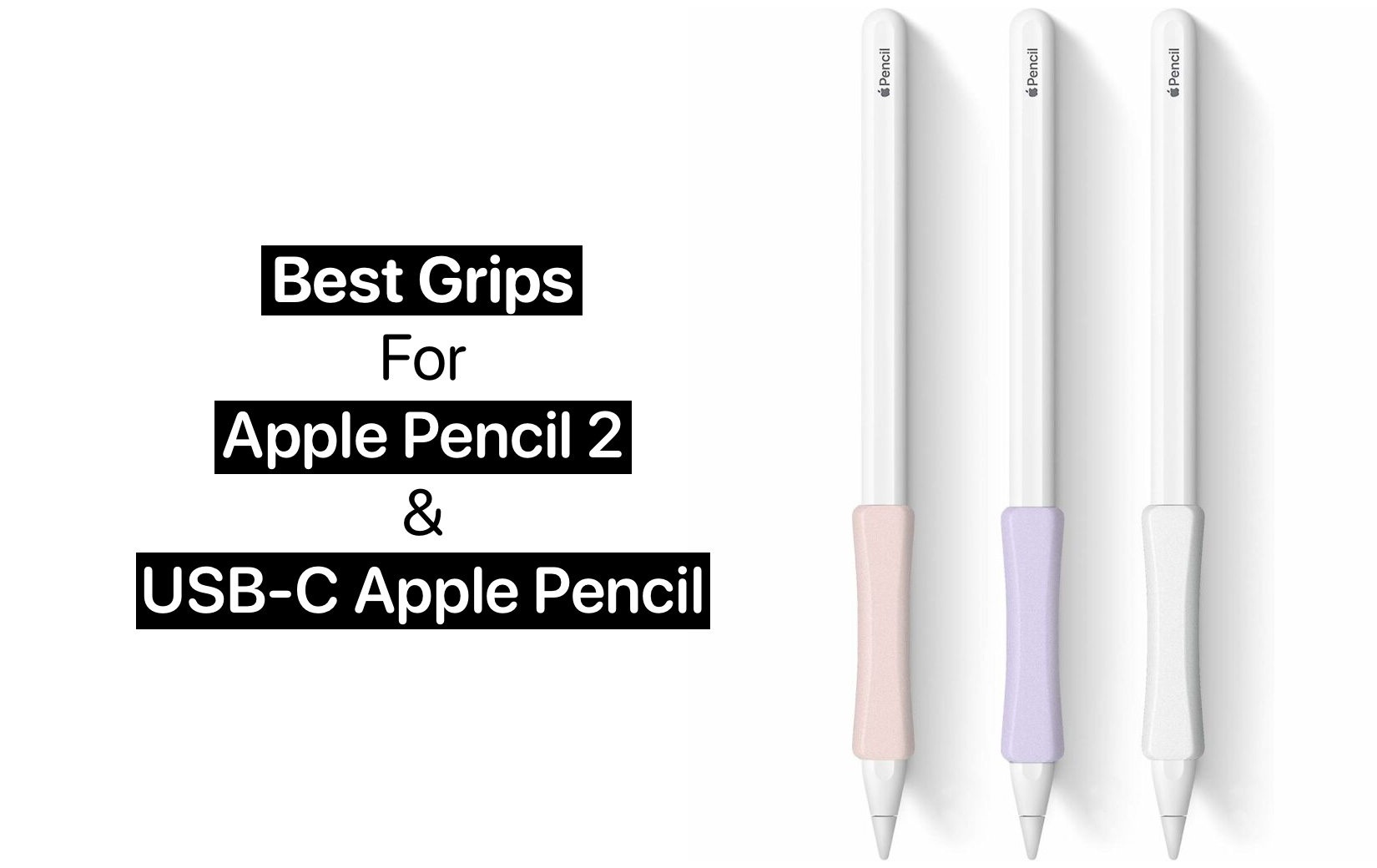 Best Grips For Apple Pencil 2 And USB-C Apple Pencil
In this blog, we discuss the best grips for Apple Pencil 2. From precision-focused options for artists to elegant and stylish choices for note-takers, there's something for everyone.
Apple Pencil 2 grips might not be the first thing you think of when you unbox your Apple Pencil, but they quickly become an essential part of the experience. You see, Apple's design philosophy is all about sleekness and minimalism. While that's fantastic for the overall look and feel, it can be a tad challenging when it comes to maintaining a comfortable and secure grip. 
Without a proper grip, your artistic strokes might waver, or your note-taking precision could suffer. That's where Apple Pencil 2 grips step in, offering that much-needed tactile upgrade. 
Upgrade Your Creative Arsenal with the Best Apple Pencil 2 Grips of 2024
The best grips for Apple Pencil 2 come in various shapes, sizes, and materials, from silicone to textured plastics. Some are even designed to be soft and ergonomic, reducing hand fatigue during marathon drawing or writing sessions. So let's discuss some of your best options:
1. Paperlike Apple Pencil 2 Grips
The Paperlike Apple Pencil 2 grips are designed with high-quality silicone, making them not only durable but incredibly comfortable. When you unbox these grips, you'll find two distinct designs that cater to your unique needs, making them the best grips for Apple Pencil 2.
The first design offers a "Maximum Comfort Grip." This ergonomic marvel is your best friend during extended writing or drawing sessions. It's expertly engineered to reduce hand fatigue and pesky hand cramps, ensuring maximum comfort. On the flip side, the "Maximum Precision Grip" is your go-to choice for those moments when attention to detail is paramount. If you're after flawless, detailed drawings or precision in every stroke, this grip has your back.
Moreover, these grips are designed to stay put, thanks to a non-slip design. Plus, they're incredibly easy to slide on and off, allowing you to switch between the two designs as needed.
Buy the Paperlike Apple Pencil 2 Grips for $29.99 here.
2. UPPERCASE NimbleGrip Apple Pencil 2 Grip
The NimbleGrip USB-C Apple Pencil grip features a comfortable, ergonomic design. With a soft and non-slip texture, it reduces hand fatigue during long drawing or note-taking sessions.  What's more, it features a dust-free coating made of premium silicone. This special coating is a lint-repellent wonder, ensuring that your grip holder remains clean and attractive over time. 
Designed to stay put, the interior of the NimbleGrip is ribbed, which means it securely locks onto your Apple Pencil, making it the best grip for Apple Pencil 2. On the outside, you'll find a smoothly transitioned hexagonal design that not only adds an extra layer of grip but also ensures that your stylus stays exactly where you placed it.
Buy the UPPERCASE NimbleGrip Apple Pencil 2 Grip for $9.95 here.
3. ProElife Apple Pencil 2 Grips
ProElife iPad grip for Apple Pencil 2 is a must-have accessory for anyone using these stylus pens with compatible iPads. Designed with a focus on comfort, this grip holder stands out for its ergonomic grip design. 
The middle of the pencil sleeve is intentionally more concave than both ends, aligning seamlessly with the curvature of your hand. This brilliant design ensures maximum grip and provides relief from hand fatigue during long drawing or writing sessions, making it the best grip for Apple Pencil 2. 
Crafted from high-quality silicone with a special mold, this grip holder is built to last and provides a snug fit for your stylus pencil. Installing and removing it is a breeze, giving you the flexibility to switch it up whenever you desire without any hassle. Plus, the strong friction it offers on the stylus pen's surface keeps your stylus securely in place, preventing any accidental slipping during use.
Buy the ProElife Apple Pencil 2 Grips for $5.99 here.
4. MoKo Apple Pencil 2 Grips
If you're seeking grips for better control over Apple Pencil 2, look no further. MoKo grips are designed with ergonomics in mind. Its specially contoured shape enhances the comfort and traction of your Apple Pencil, giving you a better grip for those long creative sessions. This design is more than just aesthetics. It enables the holder to firmly grasp your Apple Pencil, preventing any accidental slips or slides.
Crafted from high-tensile environmental protection material, this grip holder is made to last. The premium silicone rubber not only ensures durability but also provides a soft yet firm grip, making it a perfect fit for your Apple Pencil. But what sets this grip holder apart is its dust-free coating. Unlike many other grips that tend to attract dirt and smudges, this one stays clean and pristine. Plus, it doubles as protection against hand sweat and water splashes, keeping your Apple Pencil in top-notch condition, making it the best grip for Apple Pencil 2.
Buy the MoKo Apple Pencil 2 Grips for $8.99 here.
5. ELETIUO Apple Pencil 2 Grips
ELETIUO silicone grip for Apple Pencil offers a sleek and minimalistic design. The soft silicone material complemented by a threaded design provides excellent non-slip and anti-sweat properties, preventing those frustrating moments when your hands get clammy during long writing or drawing sessions. It's all about maximum comfort and grip, enabling you to focus on your creative endeavors without interruption.
At just 0.35mm in thickness, these grips maintain the magnet friendliness of your Apple Pencil, ensuring that it can still attach magnetically to your iPad. Plus, they won't interfere with the charging and double-click functions of your pencil, so you can enjoy a hassle-free experience. Thus making Eletiuo's grips one of the best grips for Apple Pencil 2.
As mentioned, these grips are crafted from silicone rubber, which is why they boast impressive durability, ensuring that your investment is built to last. 
Buy the ELETIUO Apple Pencil 2 Grips for $8.99 here.
6. Pro-Draw Apple Pencil 2 Grip
The Pro-Draw grip is a top-notch Apple Pencil 2 grip 2024 has to offer. What sets it apart is its remarkable ergonomics, allowing multiple ways to hold it based on your style and needs. You can even flip the entire grip upside down for a super-wide fit, thanks to its extended length along the Apple Pencil. This feature results in a more natural, balanced drawing experience compared to other smaller grips on the market, making it one of the best grips for Apple Pencil 2.
Whether you have a Gen 1 or Gen 2 Apple Pencil, the Pro-Draw Grip has got you covered. But what truly makes the Pro-Draw Grip shine is its usability. It's built to accommodate the Gen 2 Apple Pencil's double-tap feature, and the patented "finger scoop" design ensures direct contact between your finger and the stylus. This means your inputs register the first time, no more tapping through layers of silicone. Long story short, with the Pro-Draw Grip, you can enjoy the benefits of a grip without sacrificing the double-tap feature of your Pencil.
Buy the Pro-Draw Apple Pencil 2 Grip for $12.99 here.
Conclusion
The USB-C Apple Pencil grips 2024 has to offer are a game-changer. Manufacturers are pushing the boundaries, bringing you grips that not only provide comfort but also style and precision. They've listened to your needs and delivered solutions that cater to both artists and professionals alike.
So, don't underestimate the power of a well-chosen grip. It's the missing piece of the puzzle that can elevate your iPad experience to new heights. With the right grip, your lines become more precise, your notes more legible, and your creativity boundless.
Find the best grips for Apple Pencil 2 as per your style, needs, and ambitions. After all, it's a small investment for a big return – an investment in your creativity and productivity.
Disclosure: iOSHacker may receive a commission if you purchase products through our affiliate links. For more visit our privacy policy page.