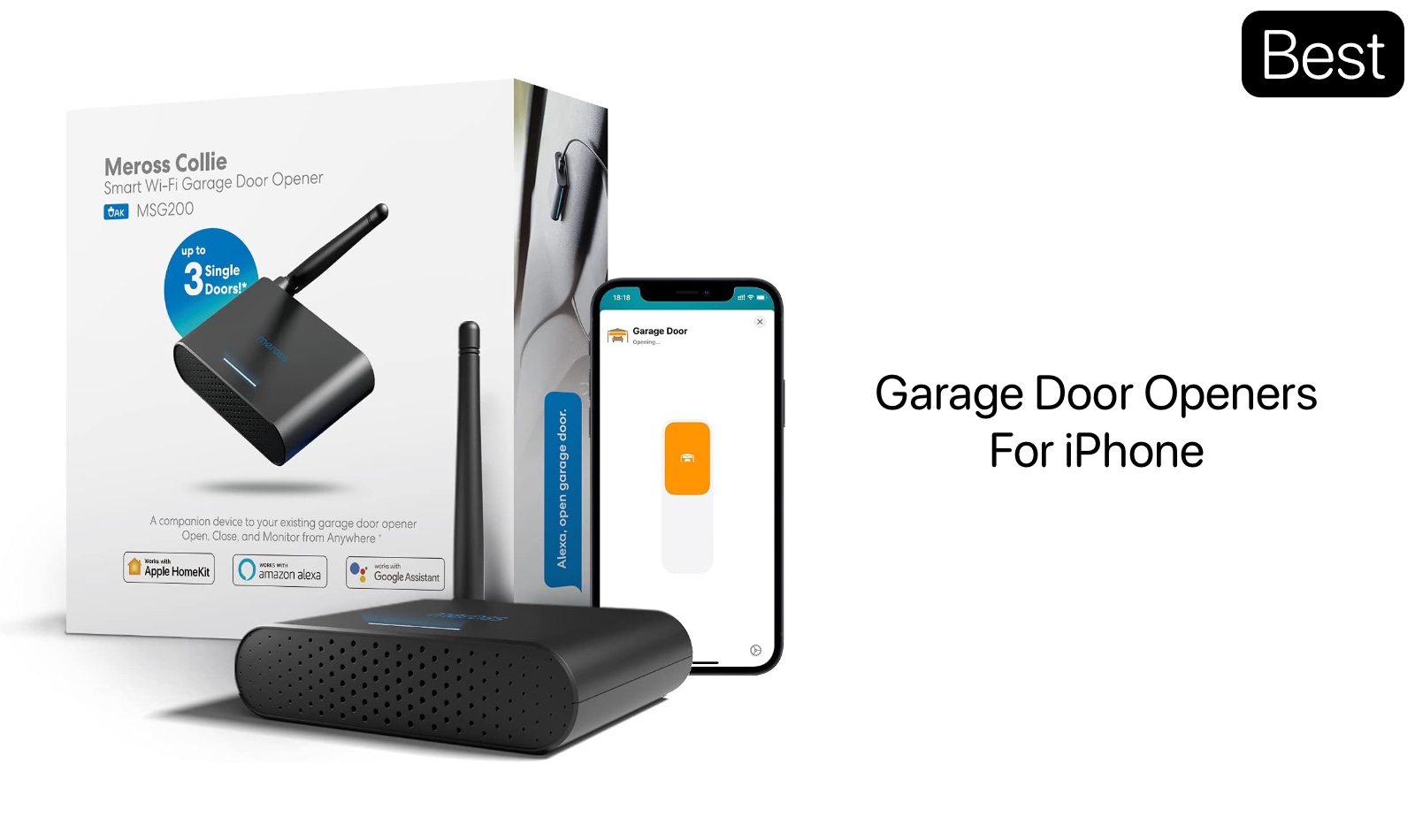 Best Garage Door Openers That Work with iPhone (2023)
In this article, we will discuss our top 6 picks of the most promising HomeKit garage door openers so you can enjoy the perks of modern conveniences and smart capabilities.
Whenever we think of smart homes, remotely controlling appliances, lights, thermostats, and other devices using a smartphone comes to mind. But, that isn't where smart home tech is limited. 
Smart home technology provides homeowners with security, comfort, and convenience. These perks blanket just as much outside the home, as they do inside. 
By enabling Apple's HomeKit garage door opener you can automate and monitor the comings and goings without a hassle. On the days you can't seem to remember if you shut the garage door before leaving, the smart tech could save you a stress-filled trip back home.
Open and close hefty garage doors thousands of times for a long time right from your iPhone. Could it get any better than that?
Update your existing garage door without getting looped into the hassle of wiring or any added expense. We've created a list of 6 tried-and-tested garage door openers that work with iPhones. You can buy these without giving it a second thought.
1. Refoss Smart Wi-Fi Garage Door Opener
The Refoss Smart Garage Door Opener is a new generation smart technology equipped with voice control, remote control, and door sensors. It is also compatible with Apple HomeKit, Siri, Alexa & Google Assistant, and Carplay. 
Although it only supports 2.4GHz WiFi networks, it lets you update your existing garage door and control or monitor it from anywhere anytime. More importantly, it won't lure you in and then ask for a monthly or subscription fee. Just make the one-time purchase and you're good to go.
As for security concerns, this HomeKit garage door opener promises precision and stability. The highly sensitive sensors monitor the status of your garage door like a hawk. There's no chance of any hiccups or mistakes.
Buy the Refoss Smart Wi-Fi Garage Door Opener HomeKit for $45.99.
2. Meross MSG100HK Smart Garage Door Opener Remote
Meross HomeKit garage door opener is reliable, precise, and compatible with over 200 garage door brands. This ensures that you won't be needing any extra accessories. Before you make a purchase, run a quick compatibility test to confirm that your garage door is compatible with the device. 
The best part? If any accessories are missing, you can contact the seller and have them ship the missing parts right away. 
Moving on to features, the smart tech is compatible with voice control which means it is also compatible with Amazon Alexa, Google Assistant, and Siri. Add SmartThings, multiple notification modes, and no requirement for a Hub to the list and this becomes one of the best smart garage door openers.
Buy the Meross MSG100 Smart Garage Door Opener Remote starting from $44.99.
3. Meross MSG200HK Smart Garage Door Opener Remote
Yep, this HomeKit garage door opener deserves two spots on the list. The one we mentioned above is quite similar to this one. The main difference lies in the external antennas. 
The Meross MSG200 and MSG200HK are equipped with an external 2 dBi antenna that ensures that the device receives better WiFi signals. Moreover, the MSG200HK can support up to 3 garage doors while the MSG200 can support 2 garage doors at a time. 
Once you connect it to your garage door, use the app on your iPhone or voice commands to control the gadget as needed. Stay alerted 24/7 as the app sends reminders and notifications pertaining to the garage door status. 
Buy the meross MSG200 Smart Garage Door Opener Remote starting from $69.99.
4. Remootio 2 Smart Garage Door Opener
When looking for HomeKit garage door openers connectivity and precision are the two most important factors involved. 
Remootio's smart garage door opener is compatible with not just WiFi but Bluetooth as well. So, if your internet is down, you can always go for Bluetooth connectivity. But, yeah, you can only enjoy this perk when in close vicinity.  
Is that all? No way! Although Remootio 2 only works with 5V DC voltage, it makes up for it with other features. 
Our favorite feature about this gadget is that it offers virtual access to 20 individuals. You can share a virtual key through a QR code or text message to anyone you want to share access with. If you change your mind later on, you can always revoke the access without a hassle. 
Buy the Remootio 2 Smart Garage Door Opener for $119.00.
5. Nexx Smart Wi-Fi Controller (NXG-300)
You'll find this smart garage door opener in the Editor's Choice section of most related blogs you find. Why? Because, frankly speaking, that is its rightful place. 
By far, this is the easiest to install and use, most convenient, and most reliable HomeKit garage door opener we could find on Amazon. The NXG-300 wireless sensors accurately detect the up and down motion of the garage door and send you alerts instantly. 
But, here's the winning feature. You can open, close, and schedule your garage door from your iPhone anytime, without any limits to your physical presence. Additionally, if you're going on a vacation or out of town, share access with anyone you want safely and securely.
Lastly, while you can control the gadget with WiFi from anywhere in the world, you can also use Bluetooth connectivity in case of no WiFi. 
Buy the Nexx Smart Garage Door Opener (NXG-300) for $79.99.
6. eKyro Smart Garage Door Opener
eKyro garage door opener with CarPlay is compatible with Siri, Alexa, and Google Home and can control up to 3 door security systems at a time. You can control it from your iPhone or your iWatch super easily.
This HomeKit garage door opener offers stellar control over a long distance when connected to WiFi. If you keep forgetting to close the garage door or have to rush out to work with no time to even open the app, use the scheduling option. 
Additionally, share or revoke access with your friends, family, or employees as needed.
Buy the eKyro Smart Garage Door Opener for $39.95.
The Bottom Line
Smart garage door openers should be judged based on quiet operation, lifting capacity, durability, safety and security, connectivity,  noise levels, and user-friendly design. 
Any of the above-mentioned HomeKit garage door openers comply fairly with all these factors. But, if you want extra assurance, read some user reviews before making the final decision.