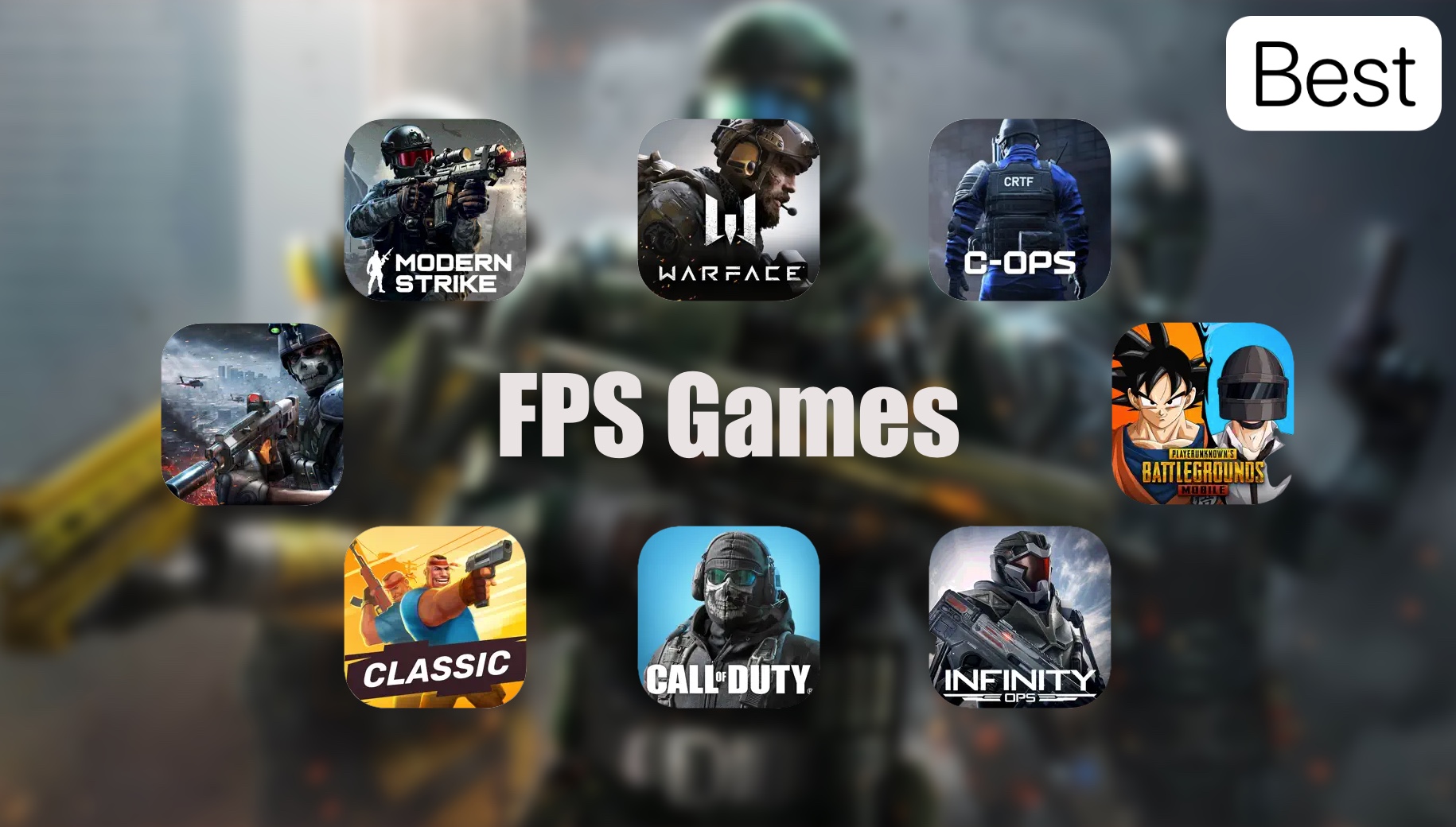 Best FPS Games For iPhone And iPad In 2023
In this article, we're going on a wild adventure to uncover the absolute BEST FPS games for iPhone that will make you go, "Whoa!" We're talking about finger-blasting action, epic battles, and heart-pounding excitement.
Gone are the days when mobile gaming meant squashing fruit and building virtual cities. 
Today, we're talking about becoming the ultimate virtual sharpshooter, the fearless frontline soldier, and the tactical genius. All while having a blast.
Embark on heart-racing solo missions, team up with friends for epic battles, or even survive an all-out war in a gripping battle royale. 
We've rounded up the best shooter games that have it all – and they're tailor-made to give you the adrenaline rush of a lifetime.
Lock and Load! The Best FPS PvP Games for iPhone Revealed
Not only will these FPS games put your reflexes and strategy to the test, but they'll also transport you to immersive worlds with jaw-dropping graphics and captivating storylines. 
So, if you've ever dreamed of being a virtual hero or a masterful gunslinger, now's your chance. Get ready to unleash your inner warrior, engage in tactical brilliance, and dive into hours of entertainment right on your iPhone. 
Let's go!
1. Call of Duty
The classic (and the best shooter game) that never gets old, Call of Duty on iOS is like having a portable warzone in your pocket. But, with Call of Duty, you're not just getting a taste of the iconic franchise – you're diving headfirst into a world of immersive gameplay. 
Engage in heart-pounding MP modes like Team Deathmatch, Domination, and Kill-Confirmed. And let's not forget those epic maps – Shipment, Raid, and Standoff – they're all here to amp up the excitement.
Not into MP? Take on the challenge of the 100-player Battle Royale mode, where survival instincts and cunning strategy come to play. One of the best FPS games for iPhone, it offers console-quality HD gaming, complete with customizable controls, voice and text chat with your friends, and stunning 3D graphics and sound. 
The game surprises you with fresh, seasonal content. New game modes, maps, themed events, and rewards keep the excitement alive.
Download Call of Duty now.
2. Guns of Boom 
Guns of Boom is an explosive multiplayer shooter with eye-popping graphics and easy-to-master controls. 
A perfect pick for all aspiring sharpshooters, it is considered one of the best FPS games for iPhone due to its stunning visuals that will keep your eyes glued to the screen. And guess what? Even if you're using an older device, the game supports older hardware requirements, so you won't miss out on the eye-candy action.
Now, here's where the real adrenaline rush begins – engaging in PvP battles. Team up with your friends and dive into thrilling team-based fun across a variety of maps and game modes.
One of the best shooter games, in GoB you get to create your unique character by using a combination of perks and equipment skills. Not to mention the hundreds of cosmetic items to choose from. Find that perfect look that suits your style and set yourself apart from the crowd.
Download Guns of Boom now.
3. Warface GO: Combat Strike Zone
Warface GO iPad FPS game is all about intense tactical combat in bite-sized chunks. Team up, strategize, and dominate the battlefield on your morning commute – all in a day's work. Plus, the game offers easy-to-learn controls and jaw-dropping graphics, making it the best FPS game for iPhone users.
Warface: Global Operations is a living, breathing game, constantly growing and evolving. With each update, you get treated to new maps, weapons, equipment, and character skins. 
Plus, unique game modes and daily events shower you with valuable rewards. The developers are all about providing the best gaming experience for fans of mobile FPS, continuously optimizing and refining the matchmaking system.
But, hold onto your helmets because Warface has a lot more to offer. From 7 maps for dynamic PvP battles, 4 game modes, and over 20 mini-events to 200+ types of customizable weapons and equipment and 15 skins for character customization, it's got it all.
Download Warface GO now.
4. Critical Ops
If you're looking for a game that's pure adrenaline, Critical Ops FPS game for iPad has got you covered. Jump into fast-paced action and unleash your inner sharpshooter. 
As a 3D multiplayer first-person shooter, it puts your fast reflexes and tactical skills to the test, and boy, is it a thrill. 
The game offers competitive combat in beautifully crafted maps with challenging game modes. You can team up with your buddies or go solo to top the scoreboard. You can create or join a clan, host private matches, and take your friends along for the exciting ride. 
As for the game modes, you have three challenging options to choose from; Defuse, Team Deathmatch, and Elimination. And if you're wondering how to play, Critical Ops has got you covered with different matchmaking options: Quick Game, Ranked Game, Custom Game.
With the best FPS game for iPhone, enjoy a fair-to-play scene as the game offers no in-app purchases that give competitive advantages. It's all about skill and strategy here.
Download Critical Ops now.
5.  Modern Combat 5
Brace yourself for stunning graphics and an engaging single-player campaign in Modern Combat 5. Create your squad from a selection of 11 classes, and team up with friends to take on online rivals from across the globe.
Prefer going solo? Dive into the thrilling solo play campaign as you embark on a mission to save the world from a lunatic's apocalyptic plans. Shoot your way through dire situations and emerge as the hero the world needs in the best FPS games for iPhone.
Watch players engaged in live FPS battles and eSports competitions in Spectator mode, and get ready for guns-a-blazing team play in Squad vs. Squad matches. The Battle Royale mode will keep you on the edge of your seat as you fight for survival against up to 70 players. 
As you play, rank up, and unlock higher-tier guns and weapons as dynamic arenas and Battle Royale warfare await you in this best FPS game for iPad in 2023.
Download Modern Combat 5 now.
6. Modern Strike Online: Shooter
This 2023 FPS game for iPhone is a shooter's paradise. Modern Strike Online packs incredible graphics, thrilling gameplay, and tons of weapons to choose from. 
With 7 exhilarating game modes to choose from, you'll never run out of action. And hey, with 14 unique PvP maps featuring various landscapes and styles, the excitement just keeps on coming. 
But the real fun begins when you pick your soldier – from SWAT Fighter to Sniper and even Undercover Agent, the choices are endless. This is why we had to add this one to the list of the best FPS games for iPhones.
Upgrade your soldier skills with the skill trees to fit your fighting style. Plus, play every day to grab those awesome free daily rewards. Engage in intense battles, improve your shooting skills, and explore different locations. 
But why stop there? Create your perfect weapon from an impressive array of choices, from sniper and assault rifles to pistols and shotguns. Go crazy, customize it, and unleash it on your opponents.
Download Modern Strike Online now.
7. PUBG MOBILE
Drop onto an island, scavenge for loot, and be the last one standing in PUBG MOBILE. It's the ultimate battle royale experience on your iPhone – winner, winner, chicken dinner.
This original mobile sensation is the king of all shooting games and promises an adrenaline-fueled experience like no other, thus making it the best FPS game for iPhone.
You'll find yourself in epic 10-minute battles that will keep you on your toes. Climb to the top, respond to the call for battle, and fire at will. With a plethora of maps and gameplay mechanics, PUBG MOBILE ensures that every match is a thrilling survival experience. 
Whether you're playing with friends or going solo, there are tons of modes to choose from. But, what makes it one of the best FPS PvP games for iPhone is that PUBG MOBILE is made especially for mobile phones. 
The game features customizable controls, a training mode to sharpen your skills, and voice chat with friends. It's the smoothest control experience with the most realistic firearms right at your fingertips.
Download PUBG MOBILE now.
8. Infinity Ops: Sci-Fi FPS
Step into the future with Infinity Ops and battle it out in futuristic settings with high-tech weaponry. It's like Star Wars meets Call of Duty – what's not to love?
Similar to all first-person shooter games for iPhone and iPad mentioned above, you'll dive headfirst into team PvP combat, taking on roles like Recruit, Saboteur, Tank, and Assault, each with their unique features and abilities.
You can create your very own clan, invite friends and other players, and forge unbreakable bonds while wreaking havoc together in the game. And when it comes to arming up, Infinity Ops offers an arsenal that will make any weapons enthusiast drool. From plasma rifles to laser machine guns and grenade launchers, each weapon comes with its own distinct properties and features.
You don't have to worry about gravity – or lack thereof. Low gravity lets you jump high and far, while universal gravity can affect your running speed. Plus, with an intuitive interface and easy-to-master controls, you'll be a pro in no time, unleashing your full gaming potential when playing the best FPS game for iPhone.
Download Infinity Ops now.
Ready, Aim, Fire!
Your iPhone is now your gateway to action-packed adventure, and boredom will never stand a chance again. And you know what the best part is? The action never stops.
With these best FPS games for iPhone, you can be the top-notch soldier, the ultimate gunslinger, and the master strategist anytime, anywhere. 
Grab your iPhone, rally your squad, and get ready to immerse yourself in gaming glory. Your trigger finger is itching, and victory is just a shot away.