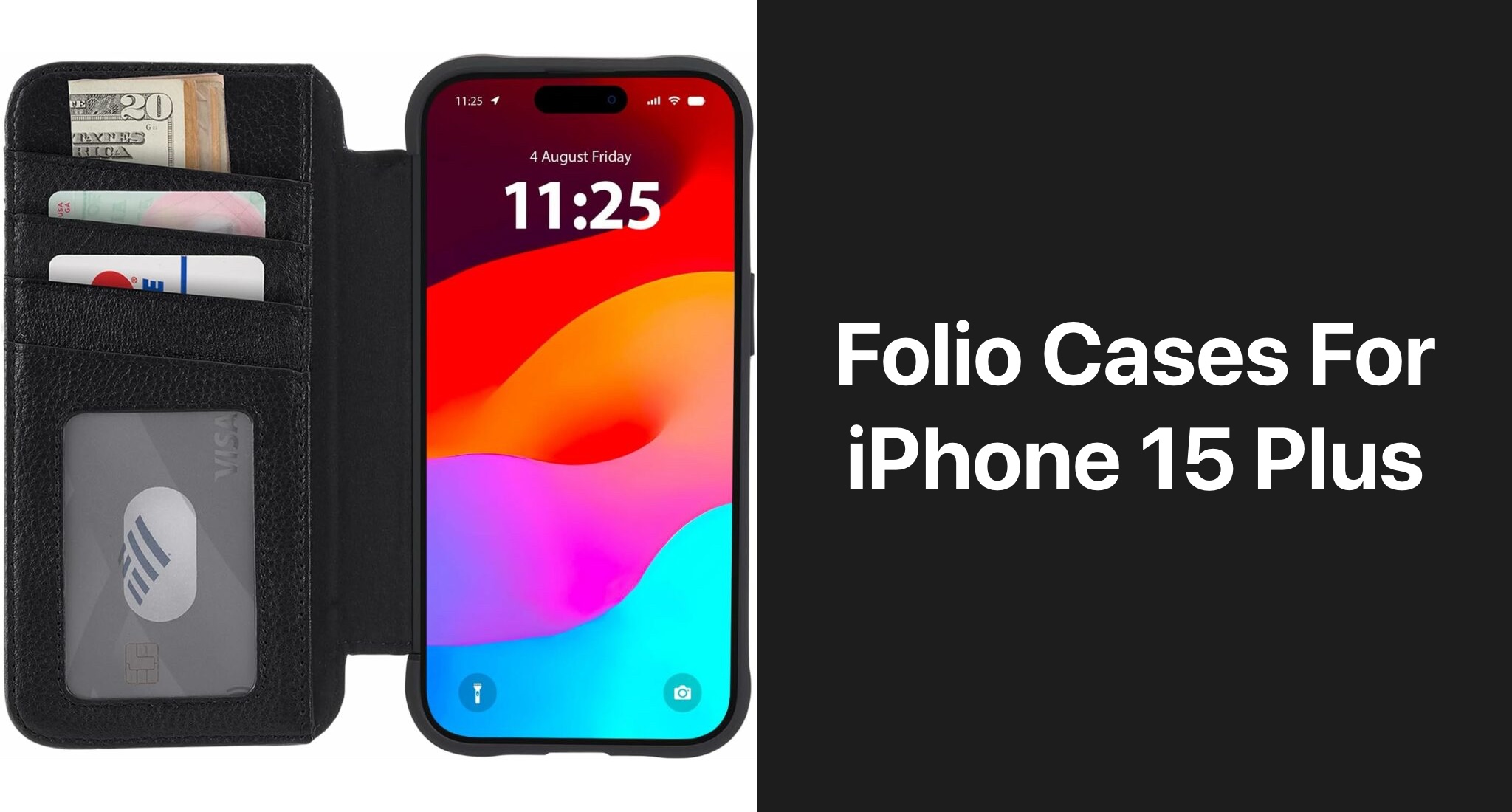 Best Folio Cases For iPhone 15 Plus
In this article, we have featured some of the best iPhone 15 Plus Folio Cases that you can buy for your shiny new iPhone.
Are you tired of playing a high-stakes game of "Don't Drop Your iPhone 15 Plus" every time you take it out of your pocket? We've all been there, desperately trying to juggle our beloved gadgets like they're made of glass (spoiler alert: they are).
Well, fear not because we've embarked on a quest to find the absolute best folio cases for iPhone 15 Plus for your prized possession. These cases are like the James Bond of iPhone protection – sleek, stylish, and ready to take a hit for the team. So, if you've ever wondered if there's a better way to safeguard your new tech treasure or just want to jazz up your phone with some fancy fashion, stick around as we unveil the secret agents of iPhone armor.
It's time to dive into the world of the best iPhone 15 Plus cases with wallet and card holder.
Need a good Leather case? Then check out these leather cases for iPhone 15 Plus.
Best Folio Cases For iPhone 15 Plus
Here are the best folio cases that you can buy for your iPhone 15 Plus for 2024. All of these cases provide all-around protection to your device with added benefits.
1. OCASE Wallet Case
The OCASE Wallet Case is designed to impress and protect. With three card slots and a wallet compartment featuring a magnetic closure, it ensures your essentials are safe and sound while maintaining a sleek profile.
Crafted from premium PU soft leather with a TPU inner case, this iPhone 15 Plus case is a blend of durability and elegance. The TPU inner case prevents unsightly scratches and fingerprints, while the natural surface texture offers a luxurious tactile feel. What's more, the TPU case boasts raised edges and extra cushioning for all-around shockproof protection, making it more than just a pretty face.
And here's the cherry on top: this case is all about convenience and style. It comes with precise cutouts for easy access to all ports and features without messing with your phone's signal or sound. Plus, it's available in a range of stylish color shades to suit your personal taste.
Buy OCASE Wallet Case for $19.99 here.
2. SHIELDON Wallet Case 
The SHIELDON iPhone 15 Plus leather cases have been crafted with precision from top-tier cowhide leather; these cases are not just accessories; they're an expression of your lifestyle. As the leather ages, it develops a unique patina, making it truly yours.
But it's not just about aesthetics; these cases are designed to protect your precious device. The soft full-body interior shell, complete with a shockproof edge, acts as a fortress against scratches, drops, and bumps. Your camera gets its own fortress, too, thanks to the raised lips.
Now, here's where things get interesting. This isn't just a phone case; it's a wallet in disguise. With three card slots and a full-length pocket, you can conveniently stash your driver's license, cards, and some cash. The RFID shielding technology in the card slots has you covered, protecting your personal info from unauthorized scanners.
Buy SHIELDON Wallet Case for $30.99 here.
3. Arae Case with Card Holder
Next on our list of the best Folio cardholder cases for iPhone 15 Plus is the Arae Case, with a cardholder. It has been crafted with high-quality PU leather, this case isn't just a phone accessory; it's a style statement. The premium leather used here is handpicked for its quality, strength, character, and grain, ensuring your device not only stays secure but looks classy while doing so.
You'll have easy access to all your phone's buttons, camera, speaker, and connector, ensuring you can use your device without any hassle. Inside, you'll find four convenient card slots and a pocket that'll gladly hold your ID card, driver's license, credit cards, and some cash.
The soft TPU inner skin cover ensures your device stays scratch-free, and you can even answer calls without flipping the case open, making life just a tad more convenient.
Buy Arae Case with Card Holder for $9.99 here.
4. QIXIU Wallet Case 
The QIXIU Wallet Case doubles as a multifunctional clutch pouch and a phone case all in one. It's equipped with mini buttons, a folio flip design, card holders, a zipper pocket, and a dedicated phone shell compartment. This all-in-one design lets you leave your bulky wallet at home.
No need to part with your convenience when it's time to charge up – this iPhone 15 Plus wallet case is compatible with wireless charging. No need to remove the case; simply place it on the charger, and you're good to go.
And, if you're looking for a hands-free experience, the built-in kickstand in landscape mode is perfect for watching movies or video chatting. Plus, easy access to all ports and controls means you can use your phone without any restrictions.
Buy QIXIU Wallet Case for $32.99 here.
5. Dreem Fibonacci Wallet Case
The Fibonacci Wallet Case is designed with your protection in mind. It boasts a raised bezel to safeguard your screen and RFID blocking to keep your personal information safe. The microfibre lining wards off annoying scratches, and the security flap with a magnetic clasp provides unmatched security for your essentials.
Crafted from durable, stain and water-resistant vegan leather, it's not only easy on the eyes but also easy to care for. The shock and shatterproof TPU make sure your phone stays safe even in unexpected drops. And here's the cherry on top – the case magnets are strong and designed to work seamlessly with MagSafe charging, ensuring you never miss a beat.
When it comes to aesthetics, the Fibonacci Wallet Case truly shines. It's slim and elegant and features best-of-class button access. The high-quality faux leather and beautiful stitching come in gorgeous colors, making your iPhone 15 Plus look and feel luxurious.
Buy Dreem Fibonacci Wallet Case for $47.77 here.
6. Case-Mate Wallet Folio Case
It's time to bid adieu to your old wallet! This sleek and versatile case is designed to streamline your life, allowing you to carry up to 3 credit cards, 1 ID card, and some cash, all in separate pockets. No more fumbling through your pockets or handbag. Plus, it's equipped with cutting-edge RFID shielding technology, keeping your card information safe from identity theft.
This wallet case for iPhone 15 Plus isn't just about convenience. It's built tough with superior impact and shock-absorbing materials, complete with soft cushion corners to provide 360-degree protection for your precious iPhone 15 Plus. Those raised bezels around the corners add an extra layer of security, safeguarding your phone from drops, bumps, dirt, and scratches.
Here's the icing on the cake – the Case-Mate Wallet Folio Case comes with perfectly aligned built-in magnets. This means you can kiss goodbye to the hassle of wires, as it makes wireless and magnetic charging faster and easier.
Buy Case-Mate Wallet Folio Case for $64.99 here.
To Conclude
In the world of iPhone 15 Plus accessories, the quest for the perfect folio case ends here. We've taken you on a journey through some of the finest options, each tailored to meet your unique needs and style. With a blend of protection, aesthetics, and functionality, the best iPhone 15 Plus folio cases provide a harmonious balance.
Disclosure: iOSHacker may receive a commission if you purchase products through our affiliate links. For more visit our privacy policy page.