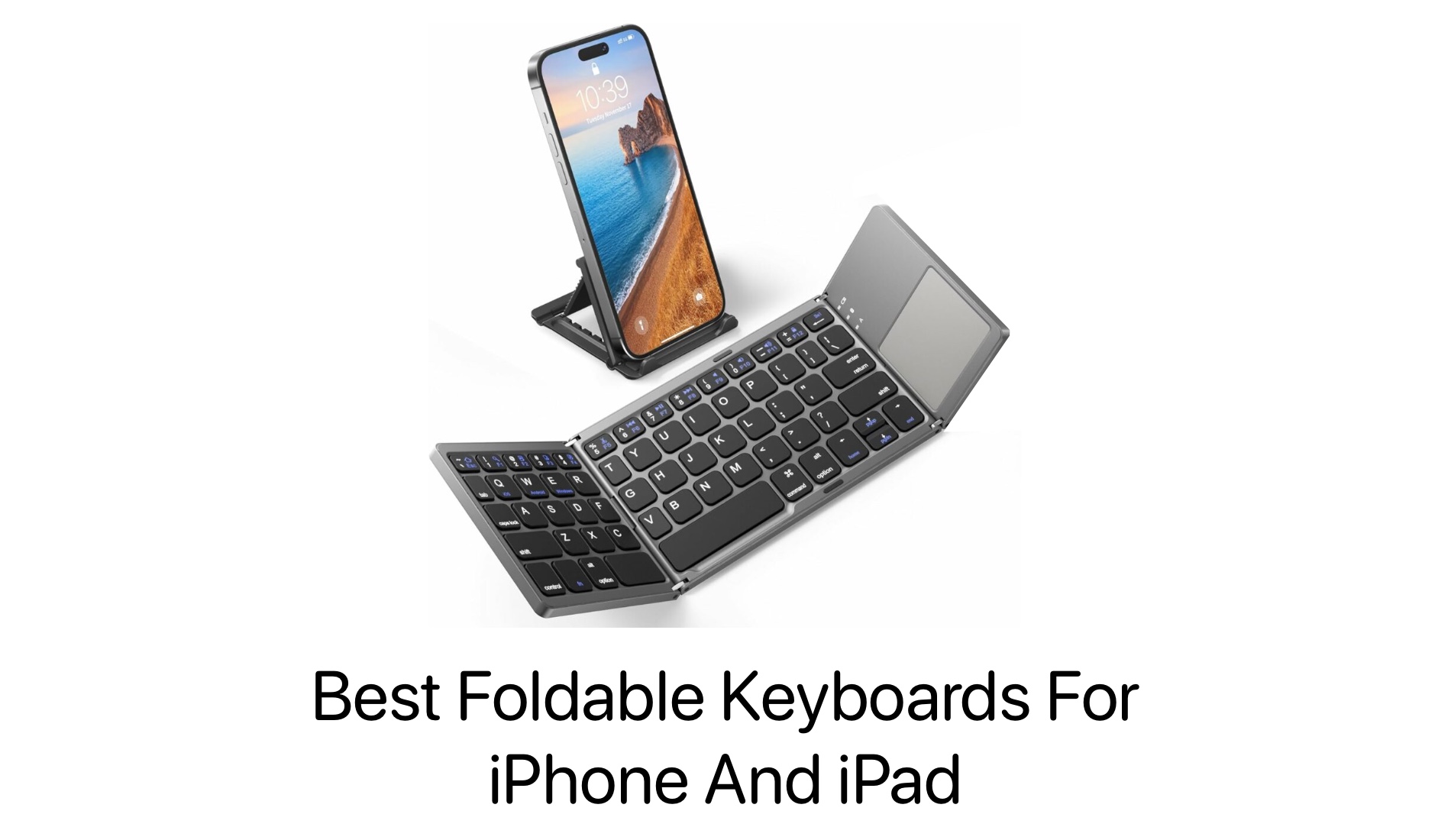 Best Folding Mini Keyboards For iPhone And iPad
In this blog, we discuss the best foldable mini keyboards that effortlessly transform your compact Apple devices into mini workstations.
We've all been there, caught in a situation where our trusty MacBook or laptop isn't within arm's reach, and our iPhone or iPad becomes the last-ditch solution. It's our go-to lifeline for quick tasks, communication, and information at our fingertips.
But, let's face it, the struggle is real when it comes to typing on that tiny screen. It's like trying to squeeze the last drop of juice from an orange – it's not only challenging but also a bit of a mess. It's clear that those tiny screens were designed for scrolling and tapping, not for marathon typing sessions.
That's why they came up with mini foldable keyboards. 
Foldable Freedom: Your Guide to iPhone and iPad Mini Foldable Keyboards
You don't have to struggle with autocorrect mishaps and cramped thumbs when there's a perfectly viable solution available. So, let's explore the best foldable mini keyboards:
1. Gimibox iPhone Foldable Keyboard
The Gimibox mini keyboard for iPad is not only compact but also features a touchpad for added versatility. It boasts a super thin and ingeniously designed structure that's smooth to the touch. The lightweight and palm-sized design allows you to fold it up, making it incredibly portable and easy to carry around, fitting right into your pocket.
Thanks to Bluetooth 3.0 technology, it can connect to iOS, Windows, and Android systems with ease, making it one of the best foldable mini keyboards. It has a maximum working distance of up to 10 meters, providing you with the freedom to work or type from a comfortable distance.
The built-in rechargeable Li-ion battery is a value-added feature that makes this keyboard energy-efficient. With just two hours of charging, you can enjoy up to 30 days of standby time. Plus, it comes with an auto sleep power-saving function that activates when the keyboard is not in use for 10 minutes, preserving power.
Buy the Gimibox iPhone 15 Foldable Keyboard for $29.99 here.
2. Arteck iPhone Foldable Keyboard
Arteck's foldable keyboard for iPad boasts a slim and sleek design. The keys are responsive and quiet, making it perfect for on-the-go productivity. It seamlessly pairs with all major operating systems, including your iPad 10.2-inch, Air, Pro, Mini, and even your iPhone. This compatibility extends to Android tablets like the Samsung Galaxy Tab and Google Nexus, as well as various Windows devices.
The ergonomic design ensures that you can type comfortably for extended periods. Plus, the keyboard's durability is second to none, thanks to its aircraft-grade aluminum alloy texture, which is why it's considered one of the best foldable mini keyboards.
Now, let's talk about one of its standout features – the built-in rechargeable Li-polymer battery. With a single charge, you get over 60 hours of effective usage time. And, just in case you forget to power it down, the auto power off and sleep mode function kick in to help conserve that precious battery life. 
Buy the Arteck iPhone 15 Foldable Keyboard for $35.99 here.
3. Geyes iPhone Foldable Keyboard
The Geyes iPad Pro foldable keyboard is ultra-compact paired with an extended battery life feature, making it a great choice for travelers. Compatibility is a strong suit here, as it works seamlessly with a wide range of devices. 
Its aluminum alloy housing not only adds a touch of luxury but also enhances durability. Unlike similar keyboards made of plastic, this one is built to last, giving you a premium typing experience. What's more, it features built-in kickstand holders. These holders not only provide a stable platform for your device but also allow you to position it at the perfect viewing angle, making it an ideal companion for both work and entertainment.
What makes it one of the best foldable mini keyboards is its support for dual channels. With two Bluetooth memory slots, it enables you to effortlessly switch between two connected Bluetooth-enabled devices. 
Buy the Geyes iPhone 15 Foldable Keyboard for $33.98 here.
4. Samsers iPhone Foldable Keyboard
Samsers foldable Bluetooth keyboard for iPhone is a favorite among many users. Its extremely thin and compact design makes it a breeze to carry around, easily fitting into your pocket or bag without hogging valuable space. Plus, it comes with a free stand holder that not only complements the keyboard but also provides the perfect screen angle for your tablet or laptop. 
The keyboard's near-standard size layout offers accurate and rapid typing, akin to your trusty desktop keyboard, and the keys are impressively quiet, ensuring a focus-friendly environment for all your tasks. With multi-touch support, it lets you navigate your device without the need for a mouse, simplifying your workflow. 
And here's the best part – the built-in rechargeable battery can last up to 48 hours on a single charge, making it the best foldable mini keyboard. In standby mode, it can go as long as 560 hours, meaning you won't have to stress about battery life during your short business trips or vacations.
Buy the Samsers iPhone 15 Foldable Keyboard for $31.99 here.
5. Acoucou Mini iPhone Foldable Keyboard
The Acoucou foldable Bluetooth keyboard for iPad offers a unique folding mechanism, making it one of the most portable options amongst the best foldable mini keyboards. It can connect to not one, not two, but three devices simultaneously, thanks to its triple Bluetooth channels, making it incredibly versatile and perfect for users who juggle between multiple devices.
Compatibility is king, and this keyboard nails it. It effortlessly works with iOS, Android, and Windows systems, making it a universal tool that can be used with Bluetooth-enabled phones, desktop computers, laptops, and tablets. The best part is that it remembers your devices after the initial pairing, so there's no need to constantly reconnect.
And it's not only user-friendly but also power-efficient. It features an automatic on/off function, putting the keyboard to sleep after 10 minutes of inactivity. A simple tap on any key wakes it up, saving power and extending its battery life.
Buy the Acoucou Mini iPhone 15 Foldable Keyboard for $24.99 here.
6. VssoPlor iPhone Foldable Keyboard
VssoPlor's foldable travel keyboard with Touchpad is a portable powerhouse that's designed to enhance your typing experience and make your on-the-go tasks a breeze. When folded, this keyboard is incredibly compact, not much larger than your typical smartphone, yet it delivers a laptop-like typing experience that virtual keyboards can only dream of.  
Its noise-reduced scissor-switch keys keep your typing experience quiet, allowing you to focus on your tasks without disturbing those around you. This feature makes it the best foldable mini keyboard for editors or anyone who values a noise-free environment.
Moreover, it's constructed with aircraft-grade aluminum, ensuring excellent stiffness and making it highly durable and bump-resistant. When closed, the magnets on the frames keep it securely shut, preventing dust from sneaking in and protecting the keyboard from scratches when you toss it in your bag. 
Buy the VssoPlor iPhone 15 Foldable Keyboard for $28.99 here.
7. Sikai Case iPhone Foldable Keyboard
The Sikai Case pocket keyboard foldable boasts an American Broadcom chip, ensuring seamless and fast Bluetooth connectivity with a wide range of devices, including cell phones, tablets, laptops, and desktops. Plus, its ergonomic design and 60-key format make typing a breeze, and the matte finish touch buttons provide a comfortable feel, even during extended typing sessions.
You can conveniently prop up your device while you type using the built-in magnetic stand. It's compatible with iPads up to 11 inches in size, and the horizontal fold design makes it easy to hold. Weighing only 250 grams and measuring just 7.97″ x 1.83″ when folded, it easily fits into your handbag, duffel bag, or even your jacket pocket, making it the best foldable mini keyboard. 
Plus, its energy-efficient design ensures the keyboard can last for up to 90 days on standby or up to 45 hours of continuous typing on a single charge, making it an excellent companion for short business trips or vacations. 
Buy the Sikai Case iPhone 15 Foldable Keyboard for $55.99 here.
Conclusion
While the iPhone and iPad's tiny, on-screen keyboard is great for quick texts and social media updates, it can be a bit of a finger-twisting challenge when it comes to tackling emails, documents, or simply those long and detailed messages. 
That's why iPhone or iPad Air foldable keyboards have become an absolute necessity.
No matter what, whether you prioritize portability, ergonomic design, or a combination of both, these are the best foldable mini keyboards you'll find. And when we say they're the best foldable keyboards for 2024, we're not just throwing around empty words. These keyboards have been put to the test by tech enthusiasts like you and me. So rest assured that you're getting the best of the best and make a choice today.
Disclosure: iOSHacker may receive a commission if you purchase products through our affiliate links. For more visit our privacy policy page.