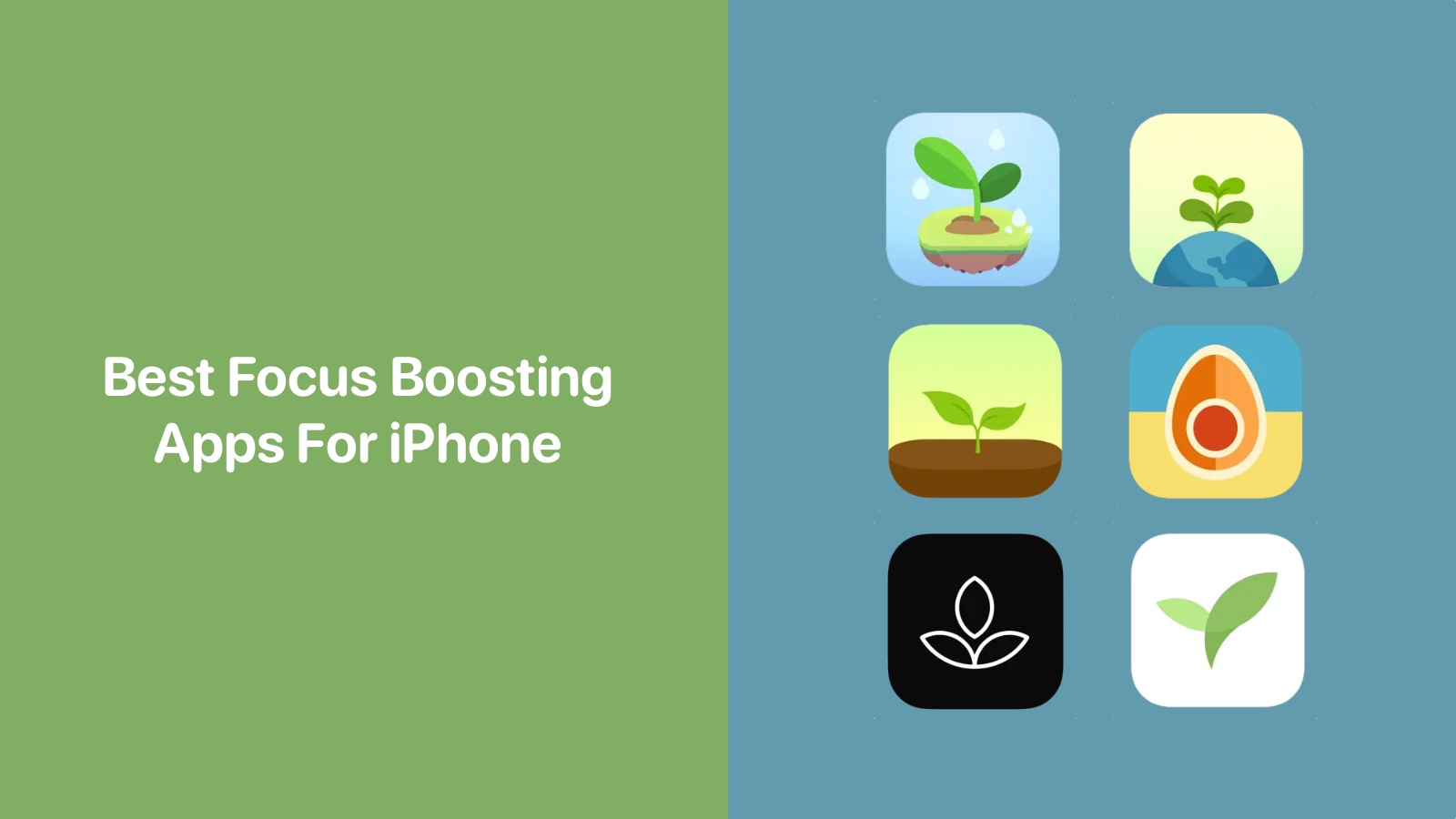 Best Focus Boosting Apps for iPhone, iPad, And Apple Watch
In this list, you will find the best focus boosting apps for iPhone and iPad. Many of these apps also have dedicated apps for the Apple Watch, which means you can take advantage of these apps and improve your productivity.
Let's face it, smartphones make life just as difficult as they make it easy. 
How can one get any work done when distractions are just a click away? Whenever I sit down to work, it always gets so hard to focus because there's some notification popping up reminding me what I'm missing out on.  
So how do we counter this problem? Put some guardrails in place, simple.
To help with noise distractions I listen to white noise. To help with distractions on my iPhone or iPad, I use focus apps. 
User-Favorite Focus Boosting iOS Apps
Focus apps for iPhone are the guardrails that help avoid distractions and ensure you stay on-task. While each app offers different features, most target specific distractions, habits, or any barrier that may keep you from getting things done. 
Here are our top picks for some of the best Focus boosting apps for iPhone:
1. Forest: Focus for Productivity
The Forest app offers the ideal blend of the Pomodoro technique and gamification to motivate its users to stay focused on the task at hand. 
You plant a seed when you start working, set the timer and the tree keeps growing as you work. Only when you exit the app, will the tree start withering and eventually die triggering the timer to start over.
The more you work, you end up creating lush green forests – in real as well! In partnership with Trees of the Future, the app has allowed users to plant over 1,500,000 real trees.  
The sense of achievement and responsibility is the biggest motivator to stay productive and that – along with other stellar features – is probably why Focus is the top productivity app in 136 countries with over 2 million satisfied users.
Download the Forest: Focus for Productivity app now.
2. Plantie – Stay Focused
Plantie is a time management app where you can grow and harvest your favorite fruits while staying productive and 100% focused on your work. This is one of the best focus boosting apps for students from the ones we have tested.
The simple design isn't cluttered or complicated in any way, making it easy to navigate when starting off without getting stuck in the app beating the very purpose of avoiding distractions. 
If you're studying for an exam and want to stay organized, then what are you waiting for? Get Plantie, one of the best free focus-boosting apps on your iPhone now!
You can keep track of your performance, collect badges, and unlock more fruits as you progress.
Download the Plantie – Stay focused app now.
3. Flora – Green Focus
If you are looking for free focus boosting apps, then try Flora – Green Focus app. Flora follows a similar gamification technique as the Focus app mentioned above. You start by planting a seed and it grows into a tree as you continue to work. If you stay without interruptions, you get to unlock a new tree. Otherwise, as soon as you exit the app, the tree you planted dies away.
In our opinion, the best focus apps for studying or working without distractions should help build positive, life-changing habits – and that is exactly what Flora does for you. 
The multi-user tree planting app can also be used for friendly competition. Challenge your friends to plant trees together and see who lasts till the end and get rewarded with an additional tree in the end. 
The app, in partnership with tree-planting organizations in Africa and East Asia, has allowed users to plant 80,000+ real trees while also helping 3000+ farmers and families. This is one of the best focus apps for studying.
Download the Flora – Green Focus app now.
4. Focus Plant: Pomodoro Timer
Focus Plant is a gamified focus boosting app for students that lets you nurture plants, collect raindrops and adorable plants, and save the world all while you're focused on studying.
The app uses cute gamification elements to make focusing a bit more motivating. For instance, the time you spend focusing on your task will be converted to raindrops once the timer buzzes off. These raindrops can be used to discover and grow more plants. 
You save barren lands and bring life to this virtual world by sowing seeds and cleaning up trash. These magical plants take root so you can manage your time better and stay focused on what's important in life. 
Download the Focus Plant: Pomodoro timer app now.
5. Emphasis – Focus Timer
If you lean on the non-cutesy side of things and prefer a more sleek and minimalistic approach, then Emphasis is the perfect fit for you. 
One of the focus boosting apps of 2023, Emphasis brings organization, productivity, and results to your workflow. 
The app utilizes the Pomodoro technique which means you don't get to laze around once the timer goes off. It limits distraction and procrastination while helping you achieve better results than expected.
Start by defining your task and making a task list. Once done, set the timer and get to work. 
You can take breaks as frequently as you want, the app does not hold you accountable for it. Instead, the creators encourage taking as many breaks as you want as they believe it increases productivity and helps in achieving better results. 
With Emphasis, take notes, create checklists, and track analytics, while enjoying a minimalistic design and beautiful color themes.
Download the Emphasis – Focus Timer app now.
6. Avocation – Habit Tracker
Concluding our list of focus boosting apps 2023 is Avocation. The Avocation app is an offline growth assistant that will help you create positive habits, organize daily tasks, set reminders, schedule notifications, and track progress.
This app is solely focused on helping you create healthy habits. Whether you want to stop procrastinating or stay more organized and structured, the app can help you build a new habit in the most fun way. 
You can start by creating your habits and organizing daily routines and can later customize colors and icons as you please. These habits will then be visualized in circles to give you an overview of your to-do list. 
When you complete a habit, you can start growing a baby plant. But, the plant requires water to grow. Increase your statistics to fill up the water bottles, so, as you grow, so can your baby plant. 
Download the Avocation – Habit Tracker app now.
Going Forward
Juggling multiple deadlines and managing a never-ending stream of incoming tasks can be a handful. 
You don't need to do it alone, though. 
Seize your moments from mindlessly playing games or scrolling social media feeds and get back on track to achieve your dreams. Get a focusing app on your phone and break free of all diversions. 
Work without distractions today so you can live a better future tomorrow.
So guys these are the best focus boosting apps in 2023 that you need to check out on your iPhone, iPad or Apple Watch.
Have you ever used a focus-boosting app? Do you think they work? Let us know in the comments below.