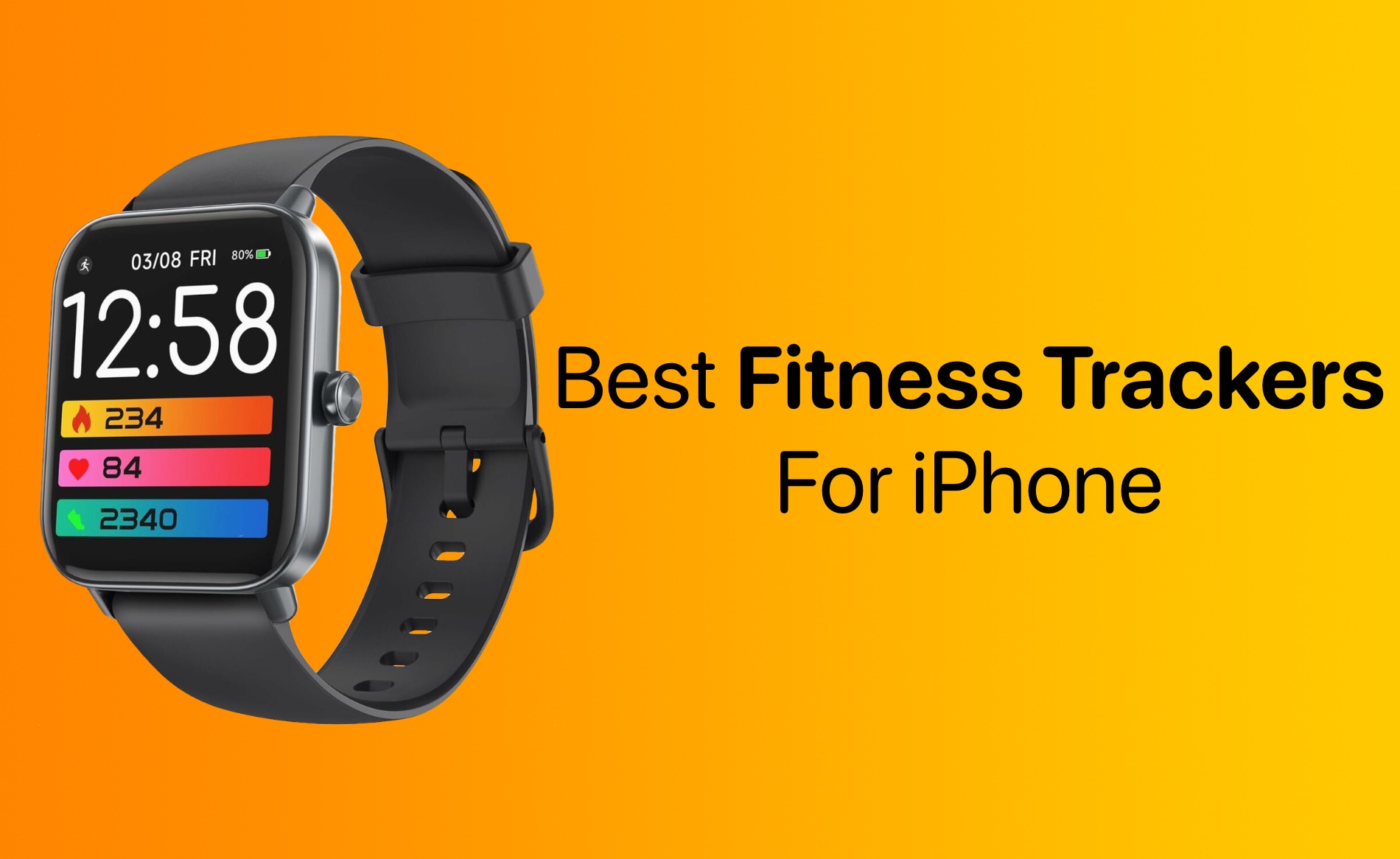 Best Fitness Trackers That Work With iPhone
In this post, you will find some of the best affordable iPhone fitness trackers that are a great alternative to the Apple Watch.
Are you tired of your iPhone constantly whispering sweet temptations to your couch, leaving your workout ambitions buried beneath a pile of snacks and streaming services? Fear not, for the cavalry has arrived in the form of fitness trackers with health tracking for iPhone that sync seamlessly with your beloved Apple device!
Bid farewell to those half-hearted promises to start your fitness journey 'tomorrow,' because today, we're about to introduce you to a world where your iPhone and a fitness tracker form the ultimate dynamic duo in your quest for a healthier, more active life.
Best Sports Watches for iPhone Users
Now, you might be wondering, which fitness tracker is the right sidekick for your iPhone? Do you go for the one that counts steps like a pro pedometer or the high-tech wizard that tracks your heart rate with the precision of a medical marvel?
Well, hold onto your gym socks because we're about to take you on a journey through the whimsical world of the best fitness trackers that work with your iPhone and help you choose the one that's as compatible with your lifestyle as peanut butter is with jelly!
1. Amazfit Band 5 Activity Fitness Tracker
The Amazfit Band 5 Activity Fitness Tracker is your trusty companion for a life on the move! Say goodbye to daily recharges because this little marvel is all set to power you up for two whole weeks on a single charge. No more charger hunting during your adventurous trips; you're good to go!
With the Amazfit Band 5, you're not just tracking your steps and calories. You can measure your blood oxygen saturation with OxygenBeatsTM, giving you valuable insights into your physical well-being. It's perfect for intense workouts, marathons, and gym sessions.
This nifty health tracker comes equipped with the Huami-proprietary BioTracker TM2 PPG optical sensor, providing you with 24/7 real-time heart rate monitoring. It'll even give you a heads-up if your heart rate spikes. And when it's time to catch some Z's, Band 5 takes the lead, interpreting your sleep stages and quality, helping you fine-tune your sleep habits.
Buy Amazfit Band 5 Activity Fitness Tracker for $28.98 here.
2. Fitpolo Smart Watch
The Fitpolo Smart Watch is your new partner in health and convenience! This sleek and stylish device is a game-changer in the world of fitness watches. Featuring a generous 1.33-inch TFT-LCD full touch screen, it's a breakthrough in button touch technology.
For the health-conscious, this smartwatch is a lifesaver. It automatically tracks your real-time heart rate and your sleep patterns, distinguishing between deep sleep, light sleep, and awake time. This information helps you make the necessary adjustments to live a healthier lifestyle.
Plus, there's no need to worry about getting it wet – it's designed with an IP68 waterproof rating, making it suitable for swimming. With its large capacity and low power consumption, it offers extended battery life, providing up to 7 days of normal use and an impressive 35 days in standby mode.
Buy Fitpolo Smart Watch for $31.99 (down from $49.99) here.
3. Amzhero Fitness Smart Watch 
Whether you're burning the midnight oil, jet-setting around the globe, or embracing the great outdoors, the Amzhero watch has your back. Track your heart rate, blood oxygen levels, and stress – get professional insights on how to unwind in a healthier way. Ladies, it's got you covered too, with menstrual cycle tracking.
But it doesn't stop there. The Amzhero Fitness Tracker is a game-changer for your workouts, supporting a whopping 100 sports. From walking to swimming, yoga to cycling, it's your fitness sidekick. Set custom goals, monitor steps, distance, calories burned, and get pro-level analysis to improve your game.
Did we mention it is one of the best smartwatches with built-in Alexa? Yes, talk to your watch! Get weather updates, news snippets, set reminders, ask questions, or have it play your favorite tunes. This smartwatch is all about making your life smoother, whether you're at home or on the move.
Buy the Amzhero Fitness Smart Watch for $49.99 (down from $79.99) here.
4. Choiknbo Smart Watch
The Choiknbo Smart Watch is your ideal companion for a healthier, more connected lifestyle! This smartwatch is packed with an array of practical features that cater to both men and women, making it the perfect choice for anyone seeking a more holistic approach to health and fitness.
Let's talk about fitness tracking – the Choiknbo Smart Watch has it all. It boasts a Pedometer to count your steps, tracks Calories burned, and monitors the Distance you cover. It's like having a personal trainer on your wrist. But it doesn't stop there; this cheap fitness tracker with iPhone support also has a Heart Rate Monitor, Pressure Monitor, and Sleep Monitor to keep tabs on your overall well-being.
And let's not forget the stunning 1.69-inch TFT-LCD color display. It's a visual treat with outstanding HD quality. The watch itself is both stylish and comfortable with its zinc alloy case and silicone strap.
Buy the Choiknbo Smart Watch for $19.25 here.
5. FITVII Smart Watch
The FITVII Smart Watch is the perfect blend of style and functionality to elevate your daily life. With its stunning AMOLED display, every detail is vividly brought to life on your wrist. The large clock face ensures you won't miss a thing, making it a must-have for your everyday activities.
One of the standout features of this fitness tracker for iPhone is its ability to make and receive phone calls when connected to your smartphone. No need to dig around in your bag or pocket – everything you need is right on your wrist. Messages and notifications are just a glance away, thanks to the handy vibration reminders.
Stay on top of your health game with 24/7 heart rate and blood pressure monitoring. It's like having a personal health assistant always by your side. The upgraded sleep tracking feature helps you understand your sleep patterns and improve the quality of your rest, ensuring you wake up refreshed and ready to conquer the day.
Buy the FITVII Smart Watch for $59.99 here.
6. SKG Smart Watch
The SKG V7 Pro smartwatch is a wrist-worn marvel that seamlessly integrates into your life. Picture this: effortlessly controlling your music playback, asking burning questions, catching up on the latest news, checking the weather, setting alarms, and even commanding your smart home devices, all with the power of your voice through the built-in Alexa. It's like having a personal assistant right on your wrist, making life simpler and more enjoyable.
With its built-in speaker and Bluetooth connectivity, this smartwatch isn't just a silent observer; it's your direct line to family and friends. Make and receive calls without reaching for your phone, and stay on top of your game with smart reminders for incoming calls, texts, and social media messages.
The V7 Pro isn't just about brains; it's got the brawn to match. High-performance optical sensors turn it into a fitness tracker extraordinaire. Keep tabs on your steps, distances, calories burned, heart rate, blood oxygen, stress levels, and sleep quality.
Buy SKG Smart Watch for $79.99 (down from $99.99) here.
7. Yihou Fitness Tracker 
The Yihou Fitness Tracker is your ultimate companion for a healthier lifestyle! This smart bracelet does more than just monitor your heart rate and sleep quality; it keeps tabs on your daily activities, including steps taken, distance covered, calories burned, and the time you spend being active.
One of the standout features is its real-time body index display. With a quick glance at your wrist, you can check your measurement results and sync them with your mobile phone app. This means you can effortlessly keep an eye on your physical condition and make informed choices to improve your well-being.
The Yihou Fitness Tracker doesn't miss a beat when it comes to your rest either. It automatically records your sleep time and provides insights into your sleep quality. You'll also get a clear picture of your daily calorie consumption, which can be a game-changer for managing your diet.
Buy Yihou Fitness Tracker for $39.99 (down from $49.99) here.
8. FITVII Fitness Tracker
Are you ready to take your fitness journey to the next level? Meet the FITVII Fitness Tracker, your ultimate companion in achieving your health and wellness goals. This smartwatch is more than just a timepiece; it's your personal fitness guru.
It keeps a vigilant eye on your exercise routines, diligently recording your blood pressure and heart rate 24/7. The FITVII automatically tracks your deep sleep, light sleep, and wake-up time, providing you with invaluable insights into your sleep patterns. It's like having a sleep expert right on your wrist.
But that's not all. This IP68 waterproof wonder boasts 8 sports modes to cater to your daily workout needs. It is your ultimate fitness tracker to count steps, burn calories, and exercise distance, helping you stay motivated and on track.
Buy FITVII Fitness Tracker for $43.99 (down from $49.99) here.
To Conclude
With these top iPhone Smartwatches by your side, your journey to fitness is about to get a whole lot more exciting. So go ahead, pick the one that suits your style, slap it on your wrist, and let the data flow in! These gadgets are like the cool sidekicks your iPhone never knew it needed, and they're here to make your health journey as smooth as a freshly blended smoothie.
Your iPhone and these Apple Watch alternatives that are cheap are about to become the dynamic duo that your health and wellness goals deserve!
Disclosure: iOSHacker may receive a commission if you purchase products through our affiliate links. For more visit our privacy policy page.