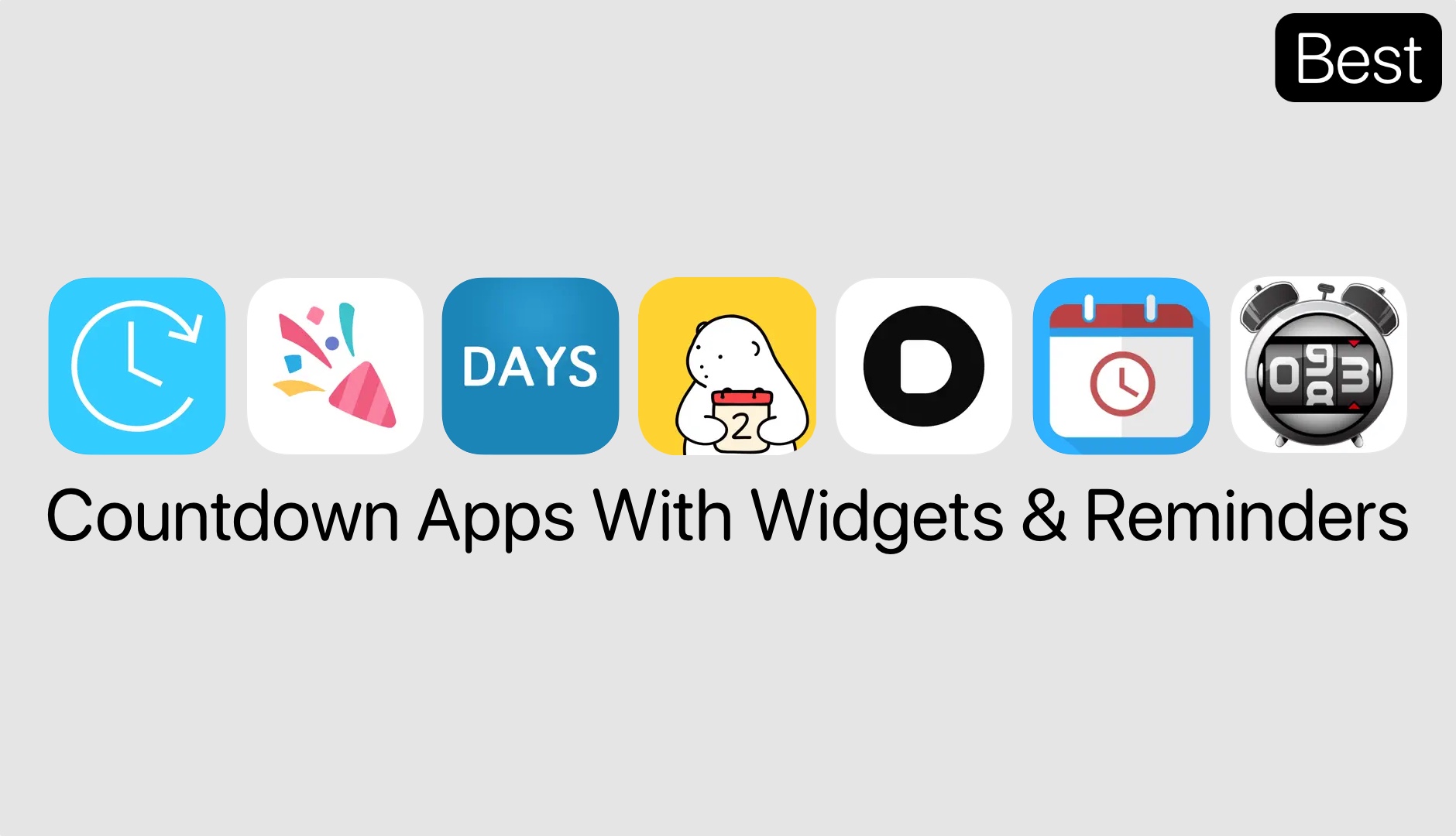 Best Countdown Apps With Widgets And Reminders For iPhone
In this app list we have highligted some of the best countdown apps for iPhone and iPad users. These apps allow you to create fun countdowns widgets and reminders for your upcoming events.
Ever find yourself eagerly waiting for a big day, whether it's a vacation, a birthday bash, or the much-anticipated release of the latest gadget? The wait got much more exciting with countdown apps packed with widgets and reminders for your beloved iPhone. No more crossing dates off your calendar or setting alarms that get lost in the shuffle of your notifications.
We've dived into the App Store to round up the crème de la crème of iPhone countdown apps with widgets designed to track time, grace your home screen with stylish widgets, and nudge you with timely reminders.
Best Countdown Apps For iPhone
So, if you're ready to transform your waiting game, keep reading as we unveil the best countdown apps that'll sprinkle a little extra enchantment into your moments of anticipation.
1. Bears Countdown
Discover Bears Countdown, your ultimate companion for counting down to those special moments – birthdays, anniversaries, vacations, and even those inevitable work deadlines.
Your upcoming occasions will be right in your Notification Centre, a constant visual cue to keep your excitement levels up. But that's not all – jot down event-specific notes that serve as your guides. Whether it's brainstorming birthday surprises, outlining anniversary ideas, creating pre-trip checklists, or even nailing down crucial points for impending work deadlines – this one of the best iPhone countdown apps got you covered.
Revisit past events and relish the notes you penned – it's like unwrapping nostalgia. But wait, there's more! Envision plans that are still brewing – set intentions sans dates. Maybe it's reconnecting with that long-lost friend or embarking on a fresh fitness journey.
Install Bears Countdown from the App Store today!
2. Days • Event Countdown 
Imagine having all important events at your fingertips, elegantly displayed on a single screen. A quick swipe lets you gracefully navigate through each one, each accompanied by captivating full-screen event photos that paint a vivid picture of the joy they hold.
You can now engage in the excitement of your impending events right from your lock screen, thanks to the new Lock Screen Widgets feature on iOS 16. Your home screen also becomes a canvas for anticipation, adorned with our exquisite widgets, making counting down a visual delight.
Stay in the loop effortlessly, as Days provides real-time updates on how far away each event is – without needing to open the app. It's like having a personal countdown assistant in your pocket.
Install Days • Event Countdown from the App Store today!
3. Event Countdown – Calendar App 
Gather up all your important dates and house them in one convenient spot. But that's not all – feel free to create as many event countdowns as your heart desires. Counting up or down, you can track the years, days, hours, minutes, and even seconds leading to or following those events. And to make things even more visually captivating, splash some color onto your events. With a spectrum of choices at your fingertips, each event can shine in its unique hue.
But wait, there's more! This free countdown app offers a collection of 450 icons for you to pick from. So, whether it's a birthday bash, a graduation gala, or a vacation voyage, you can find just the right icon to encapsulate the essence of your event.
Install Event Countdown – Calendar App from the App Store today!
4. Countdown
Inject some pizzazz into your countdown experience by adding these nifty widgets onto your lock screen with this one of the best countdown apps for iOS. It's as simple as setting up your countdown in the Countdown app and giving your lock screen a little pull-down action. Long-hold any empty spot, and you'll spot the "Customize" option – tap that, and boom, you're on your way to counting down in style!
You can drag that countdown widget and park it wherever it tickles your fancy. You have complete autonomy to slap your photos as the backdrop. Fancy an Instagrammable or Facebook-fabulous moment? Go ahead and make it happen! And in case you're feeling indecisive, the app got your back with a grand buffet of free background photos. Swipe through these picturesque options while the countdown clock keeps doing its thing.
Install Countdown from the App Store today!
5. Countdown to an event day app
This app is a true joy when it comes to crafting exquisite countdowns. You can personalize them according to your preferences, easily share them, and display them on your widgets.
With every countdown you create, a unique live website can be generated for you to share with anyone you'd like. The beauty is that it's fully responsive and works like a charm on all devices, whether smartphones or personal computers. It seamlessly integrates with social media, messaging platforms, and emails.
In just a matter of seconds, you can whip up a countdown. Plus, you get the perk of adding notes and to-dos for each countdown and the added power of custom-made reminders. Sharing your countdowns is a breeze as they transform into live websites that function seamlessly across the board.
The app offers an impressive collection of over 20,000 premium wallpapers. Sprucing up your countdowns is made even more exciting with advanced decoration options.
Buy Countdown to an Event Day app from the App Store today!
6. Reminder & Countdown 
This app doesn't just help you remember – it enables you to remember in style, collaborate globally, and stay on top of your life's happenings, all with a casual, intuitive vibe.
And the features? Oh, they're as diverse as they come. You can set up multiple reminders, watch the countdown in real time, choose the time units you want to see ticking down and sort your entries by date, name, or any way you prefer. Each entry can be personalized with its name, date, and time options and fall into different categories. With many icons, you can give each reminder its unique touch.
Don't want to forget those recurring events? You're covered. You can customize the intervals for repeating events and even control alerts before or after the due date. And let's talk about personalization – backgrounds, fonts, and date/time formatting are all in your hands. You can make it happen whether you want the full monty, a quick summary, or just the essentials.
Install Reminder & Countdown from the App Store today!
7. Countdown & Count Up Timer 
Introducing yet another one of the ultimate countdown apps with reminders! Whether you're eagerly awaiting a big event or want to keep track of the good times that have passed, this app has got you covered, all for the grand price of zero dollars!
What's the deal with this app, you ask? Well, it's like your personal event DJ. You can throw in your events, and it'll keep track of the days like a pro. Counting down to something special? Check. Counting up the fantastic days since a life-changing event? Double-check. It's like a time machine on your phone.
Oh, did I mention? This app is like that cool friend who's always down to hang – completely unlimited and totally free. So go ahead and add as many events as you want. Want to see all your upcoming shindigs in one place? The app's got a neat list for that, too. It's like your own event command center.
Install Countdown & Count Up Timer from the App Store today!
Let the Count Down Begin!
In a world driven by schedules and deadlines, the convenience of countdown apps with widgets and reminders for iPhone is truly unmatched. These apps effortlessly blend functionality with style, providing users with a seamless way to stay organized and motivated.
So, elevate your iPhone experience by choosing any of the above-mentioned countdown widget apps that resonate with your lifestyle and embrace a more organized and exciting way of approaching each moment.